Have you ever thought that an email call to action could be a reason for poor response rates? Even conversion. I bet you have. Yes, the best email CTAs bring results, while the worst ones mislead.
It leads to the idea that the surefire CTA is as important as a subject line, introduction, body, or signature.
However, how to use the call to action in email campaigns? Where to place them? Which CTA template to pick depending on a goal? What do email CTAs' best practices tell us?
We have answers for you.
What is a call to action in an email?
First things first, a call to action in an email is a button, line, or sentence that encourages a recipient to take action and proceed with an offer provided by a sender.
What precisely does the email marketing call to action do?
underlines the intentions of the email

reflects the campaign goal

instructs on a prospect's next step.
In the end, upon clicking a link in one of the call to action sentences, the prospect moves from one stage of the customer journey to the next one.
Characteristics of an effective call to action for email
Positive. The emotive words that encourage the action are more likely to get a response.
Non-intrusive. Common CTAs, filled with cliches or too aggressive wordings, may impede communication.
Relatable to the recipients' needs. The CTAs relevant to the audience's pain points have more chances to interest the leads.
Enthusiastic about the offer. The strong call to action for email campaigns should be vivid and has a human touch, showing your enthusiasm for getting the answer.
Correct grammatically. Poorly written email CTAs can cost you a good impression.
Clear. Convincing call to action sentences finalize the message and explain what you expect from the recipient.
Note.The CTA always reflects the goal of the email. Thus, the best tactic is to develop the email body around the CTA, not vice versa. Moreover, you can write call to action email subject lines resonating with the encouraging phrases at the end of the email.
Where should the call to action be in email marketing?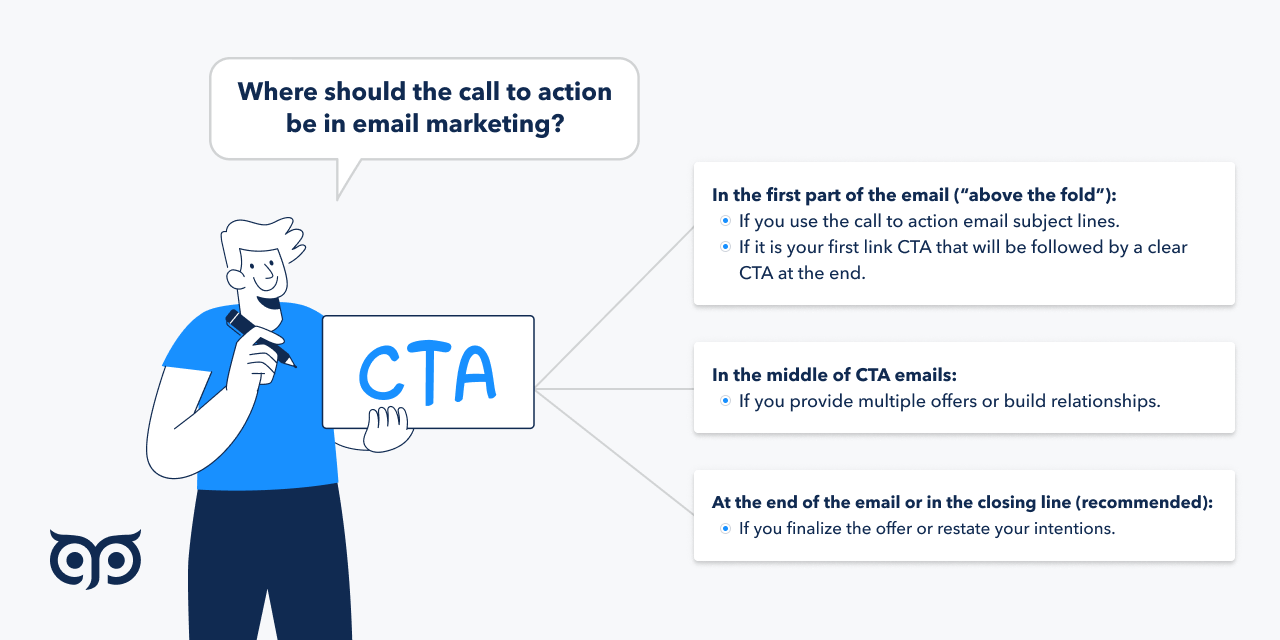 The accepted email marketing practice is that calls to action should be at the end of the message, even though the approaches vary. Simultaneously, some experts underline that CTA emails should have a link or button in the visible part of the email to make sure the leads will see and interact with it.
What do specialists think about the placement of the call to action in emails?
Andres Muñoz, Growth Manager at NachoNacho, sheds light on the risks that putting CTAs early in the text can bring:
«I've tried placing CTAs at the beginning of emails, but they can sometimes distract from the main message of the email. I think it's better to place the CTA after the reader has a chance to decide if they're interested or not.»
Aubrey Wallace, Co-founder of Dandelion Branding, having profound CTA experience, shares that the insertion of the email marketing call to action should align with strategy and situation:
«The placement of your CTA depends on the goal of the email. If there is one main standalone HTML email with one goal, like a sale, data shows that two links are perfect. I introduce the topic with 1-2 sentences and then put a CTA right away with a link. Then I add more details and another CTA at the bottom with a button.»
That way, a marketer can capture the attention of interested people with the first link, elaborate more and then finish with a solid call to action.
On the whole, inserting a CTA at the beginning or the middle of your CTA emails can be the right thing. Treating your CTA as an independent unit applicable to any email part will give you an advantage.
However, ensure your call to action sentences fit the flow and structure of an email and do not confuse the reader.
How many CTAs in an email should you use?
Most experts agree that you should use at most 2 CTAs in one email. Usually, one CTA is enough to serve the needs of the email, even though you can add a secondary CTA. That way, you strengthen the message of the email and help funnel the recipient to the action.
Notably, our HARO request shows that around 30% of email specialists use multiple call to action sentences in email campaigns.
Jess Percival, Digital Marketer at Exposure Ninja, perfectly describes why many of them ignore the general practice:
«What's great about email is that you can offer more than one CTA – the first being the action you would like this customer to take, depending on the stage of the funnel they are at; and the second (likely at the end) being more high level, for example, the consultation or demo.»
That way, they can pursue several campaign goals at the same time and maximize their efforts.
Use different CTAs in email sequence when:
You are curious to know whether the customer wants to go to the next stage of the sales funnel or not.

You have several options that you believe will suit the recipient.

You use two creative email CTAs in emails to present the value and then instruct on the actions.
For example, if you send a nurturing email that offers new material for the recipients, you will use the primary "Get your access" phrase or similar call to action ideas. At the same time, you can add a secondary one, where you offer a product of yours with a promo valid only for several days.
Here is how Lemlist used this principle, showing materials first and then inserting a pretty straightforward "Grab your access now" CTA: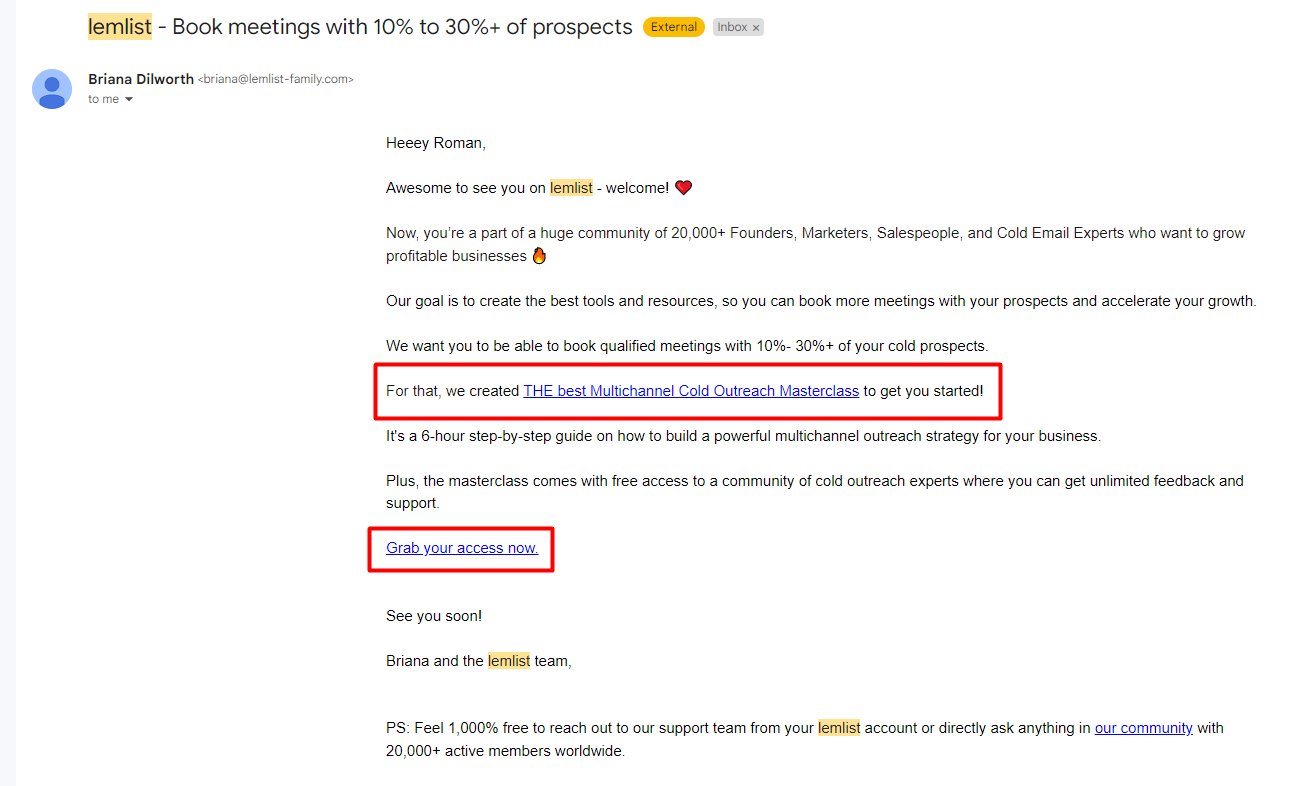 In the end, be careful and apply multiple CTAs only if they suit the content and the goal. Otherwise, you have all the chances to confuse the prospects and water all the power of the message down.
30+ Email call to action examples for various email types
For sure, it matters how and how many call to action sentences you insert. Simultaneously, much depends on the email goal and type.
Check our collection of practical CTAs ideas that salespeople, entrepreneurs, and outreach specialists can use in campaigns:
Call to action email examples for cold outreach
Email call to action examples for closing or pushing deals
Call to action email examples to ask for a connection
Email call to action examples asking to subscribe to a newsletter
Call to action email examples for setting a meeting or a call
Call to action email examples for cold outreach
This type refers to the common CTAs for offers and suggestions. They are great for cold and business emails when you ask about the possibility of cooperation.
"If you're interested, please let me know, and I'll send you more details."
This is a pretty simple yet effective call to action for email templates used in a mass outreach campaign. The only downturn is that you may need to follow up if a person considers your message dry.
"Please, let me know if my offer is worth your attention."
With this call to action, you admit that the recipient is busy and pay respect to them. It appeals to professionalism and is polite enough for a B2B cold email.
"Contact me if you have questions or if my offer is attractive to you."
Above is another good email marketing call to action that will suit bulk cold email campaigns. It is multi-purpose and can serve the main approaches used in outreach campaigns.
Note. Even though the simple phrases work, personalizing CTAs can positively affect response rates. Therefore, do some data enrichment and use the new info to appeal to the recipients.
Tip: Add some personalization to customize your CTA emails.
Make your cold outreach more personalized with extra information about your leads
Email call to action examples for closing or pushing deals
"Register in the next 24 hours to benefit from this unique offer."

"Special discount only this week. Do not miss out!"

"Just a few slots left, reserve your place now. Join our event on CTAs improvement and get unique insights."

"Hurry up! Offer valid until the end of this week and limited in quantity!"
As you can see from these examples, the CTA emails that marketers send to close deals may sound a bit pushy. It is due to urgency and specific words. They are only applicable if targeted at the leads who are in the final stages of the lead funnel and are interested in the product.
Great call to action phrases for email to sound less pushy
"Please reach me if you have questions or if my offer is attractive to you."

"So, [Name], if you are interested in our product, we will be glad to provide even more details. Just give me a hint!"
These CTAs usually finalize the cold emails or go after the connection emails.
Interestingly, the second example shows us: by inserting a name and making wording more casual, you sound more friendly, encouraging a deeper connection.
We recommend using the first call to action email template when your leads are cold and the second if you feel you are on the same page with the prospect.
Call to action email examples to ask for a connection
Sales and business people often ask for connections to start a collaboration or find the right person who may be interested in their product. There are various ways to approach a person and ask for the contact of another.
The following email CTA examples are polite and work great for the B2B niche.
"Are you the right person to discuss this with? If not, who do you suggest I should contact?"

"[Name], who would you recommend I write to take this forward?"

"Will you kindly refer me to the person in your company who can be interested in such an offer?"
Email call to action examples asking to subscribe to a newsletter
When you share valuable facts, and people are already interested, the most compelling call to action sentences are the simplest. Thus, you need just to support the quality content with an encouraging CTA such as these:
"Find out why…"

"Excited to find out more?"

"Subscribe to get more insights."

"Let's bring this and even more to your inbox."

"To get your access, please click on the button below and fill out the short form."
Call to action email examples for setting a meeting or a call
Salespeople often insert a CTA with the request of the offer to have a call. It is convenient, especially if you are targeting a b2b audience and want to organize the call and discuss people's concerns or solutions to their business.
To organize a call, you better use the particular call to action examples:
"Can I steal you away for a 10-minute phone talk tomorrow between 3 to 5 PM? + (link to the calendar)"

"Let's schedule a quick chat today so that we can discuss the main issues? + (link to the calendar)"
The best email CTAs offer either specific time or at least certain time frames. Why? Asking to set up the call at the exact time can be the wrong tactic, especially if a person has a hectic schedule.
Note. provide 1-2 slots with different times available for the meeting to show more flexible options for prospects.
Email marketing call-to-action tips that can improve the response rate
Now, you get an idea of what the effective call to action is. However, what are the tricks to support the solid offer you have in the email body?
The email call to action best practice tells us that there are multiple ways to improve your response rates:
Tip#1. Ask Yes/No questions
Tip#2. Restate your value proposition
Tip#3. Insert a calendar link
Tip#4. Make your CTA more casual
Tip#5. Add urgency
Ask yes/no questions
The good trick to improve response rates is the request to confirm your suggestion right after you identify the issue or solution. Making such a request will help you qualify the recipient for the interest stage of the funnel.
Here is how it works. Imagine you share the specific insight or a problem that your clients experience:
"Managers spent 30% of their working time researching and finding data on B2B clients."
Upon stating the issue or fact, you can lay the ground for a deep conversation with the following call to action email template:
"Does this issue resonate with you? We help managers save their time."
Yes, this CTAs is unlikely to bring conversion, but it is excellent for breaking the ice when writing cold emails.
Other great call to action phrases for email with yes/no question:
"Are you experiencing a similar issue that you want to deal with?"

"Does it sound familiar?"

"Have you ever considered the [type of solution, product, tool, service] to solve this issue?"
Restate your value proposition
As email CTAs finalize the sender's thoughts, they depend on the arguments and the value you state in the email body. That is why repeating them in the CTAs will add clarity to an email and remind the recipients of what they can get.
Call to action ideas to restate value:
"Download our checklist here to create an effective strategy!"
It will likely bring the response if you underline the leads' poor results or underperformance as the main issue.
"Get our product trial and start automating the tasks!"
This phrase should be used if you mention repetitive tasks as a possible pain point for the customer.
Insert a calendar link
For CTA emails aimed at establishing calls or meetings and promoting webinars or workshops, the usage of calendar links is necessary. Why? To be effective and not lose momentum. Thus, insert hyperlinks whenever it is appropriate.
Here is a good call to action email template with a link :
The link should follow the most relevant text piece, the action-oriented one, to make it easier for the recipient to respond. That way, you encourage the reader to act and do not limit them within a specific timeframe.
Make your call to action more casual
You already know that a strong call to action in email campaigns has to be vivid and positive. Its main goal here is to appeal to the reader. That's why you should add a human touch and softer tones to some CTAs, even make them emotive. That way, they will not look basic or cliche.
Look at this call to action email template:
The template shows that, except for personalization, you may add humor, casual phrases, and rhetorical questions depending on the business you are operating in. Moreover, this very example also illustrates that an additional CTA may be effective in the P.S. line
Besides, take a look at the creative email CTAs that Armand Farrokh, Founder and Host at 30 Minutues to President's Club (podcast about sales), considers suitable for cold emailing.
"Open to taking a peek?"

"Horribly opposed to checking it out?"

"Even moderately interesting?"

"Open to seeing how it works?"
They have a soft tone and are rather informal, offering less pressure. Yet, remember that the phrases should suit your brand's tone of voice and style.
Add urgency
Yes, adding urgency is a tactic widely used by salespeople. Why? It provokes a reaction and can significantly help sell the service if the leads are ready.
How does this work? Under email CTA best practices, the sales specialists usually stick to two approaches:
State that a prospect can lose an opportunity to gain due to time. ("Don't miss out. You have 8 hours left to register for an event.")

Undermine that the prospect can get something that is of limited quantity. ("Register for the webinar now! There are only a few slots left")
These strategies are effective as the leads can buy because of fear of missing out on a great opportunity.
Here are more call to action email examples for the B2B audience:
"We know that your current program expires in a month. Renew your new package until next week and get a free premium for one month."

"Thank you for subscribing! We have reserved you a slot for a webinar next week. Register now to keep it!"
They may have a different effect within B2B sectors due to decision makers' high resistance to marketing pressure. Yet, if you provide the correct value, you have all chances to get responses.
Lastly, the email CTA best practices underline that you should do a lot of testing. Try various examples and templates, both formal and casual, with and without humor.
How to write call to action in follow up email
The call to action for follow up emails should be different from the ones you use in the initial email. The reason is that you develop the next call to action sentences based on the recipient's reaction or lack of it.
From there, you can apply the next tactics:
Use warmer language

Ask smaller requests compared to the previous one

Try to interest them with a different value
The reason for such a change in relation to the call to action in emails is grounded in that the recipients either do not like the offer or do not connect with you. Therefore, a change of language or subject can help.
Ajay Goel, Founder of GMass, merge and email system for Gmail, shares his insights on how email CTA examples can differ if they are following up upon the sales message:
«You can be slightly more casual in your follow-up CTA, writing, "I still have some slots available, grab a time." Also, as you get into the later stages of a follow-up sequence, your CTA also might shift to a smaller ask. For instance, if your initial ask was for the person to schedule a demo, by the fifth or sixth follow-up, you might just want them to let you know if they're interested at all or have any questions.»
In the very end, developing your email CTAs starts from the desire to connect better with a reader, meaning you will need to appeal to the needs and react to the behavior of the recipient.
Summary
Call to action is a vital part of the email: a clear and action-oriented phrase that reflects all the main points and encourages a person to go to the next stage of the customer journey.
Use no more than 2 call to action sentences, and put the call to action, preferably at the end of the email (closing line), to funnel the prospect.
There are various CTAs depending on the goal of the email; a cold email call to action is usually polite, even boring; the sales CTA is rather pushy, while the CTA of a nurturing email is pretty straightforward.
You can improve the response rates of CTA emails by asking Yes/No questions, restating your value proposition, inserting a calendar link, making your CTA more casual, and by adding urgency.
When you use a CTA in a follow up sequence: use warmer language, shift to a smaller ask, and change the value proposition if you see that the prospect is not interested.
CTAs in emails - FAQ
Should every email have a call to action?
Yes, a call to action is a must for every email. The goal of any email is to encourage the recipient to do a certain action: register, subscribe, buy, etc. That way, a marketer can move a prospect through the customer journey.
What is the best day of the week to send a call to action email?
The best days of the week to send a call to action are Tuesdays and Wednesdays due to high average open rates across various niches. Also, as Mondays are busy days, you should send calls to action if you have urgent offers.
Does CTA help to improve email response rates?
Yes, a CTA helps to improve email response rates, despite the idea that including multiple CTAs can bring the opposite effect. The CTA can encourage people to reply to the email if it is relevant, action-oriented, and appealing to the reader.