Black Friday Sale: our plans with 50% OFF for first 100 users
Email verifier
by getprospect
Make cold mailing more effective with the 12-step email verification process that will guarantee 97% deliverability
Verify your first 200 email addresses for free instantly after signing in!
30,000
Happy GetProspect
users
100,000
Emails verified within
5 minutes
300
Reviews with an average
rating of 5 stars
Email Verifier features for any of your goals
Bulk email verification
Upload your mail list of any size in CXL or XLS format and get reliable email addresses. Download only verified emails, by connecting the list to your email sending service or integrating with other tools.
Single email address verification
Verify important emails one by one and get extra information on certain people as a bonus from the GetProspect lead database. If we have the contact that you are looking for in our database of 50M emails, you will also be able to get profile data and company information from LinkedIn.
Email verifier API
Integrate the understandable and simple GetProspect API to any of your products or applications and you can create a more efficient process of getting potential clients with accurate email addresses.
Email verifier with enrichment features
With GetProspect, you could enhance the prospect database with extra information about your leads and the company such as LinkedIn URLs, locations, job positions, and 15+ other datasets. You can also extend your lead list by finding new e-mail addresses by domain and name.
The 12-step email verification process guarantees you complete confidence before pressing the Send button
Main advantages of the GetProspect email verifier
Any size email lists
Upload large files with email addresses no matter how big they are.
CRM features
Organize email addresses in folders or lists using free built-in GetProspect CRM features.
Duplicates detector
You will be notified in case a duplicate is found and never be double charged for the same email.
Verification in real-time
We never use historical data in our verification processes and always check every e-mail relevance
Data safety guaranteed
All the email addresses you download to GetProspect are secure and can only be used by you or your team members.
Smart filtering
You can download the whole list with email statuses or use filters to choose only the list of email addresses that are valid, invalid, catch-all, or etc.
Created for team work
Use the credits among your team for email verification and other GetProspect services within a single workspace.
Business and private emails
We can verify any e-mail address and it won't matter whether it is personal or corporate.
High-level support
We are ready to help you with any issues via online chat or email.
Connect the email checker with your favorite services
More than 2,000 tools and services are available through Zapier. Sign in now to test the integrations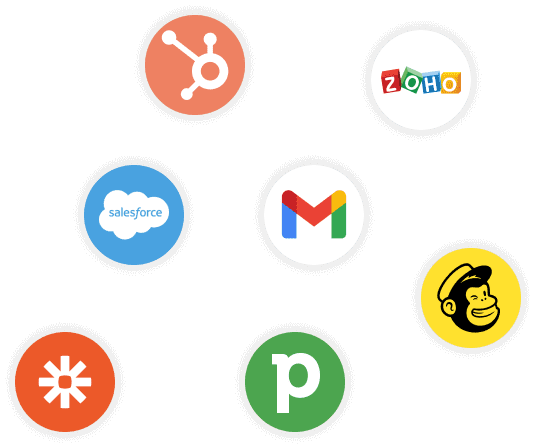 Email validator pricing
One email address verification equals 0.5 credit
If you are searching for new email addresses through GetProspect, you don't have to pay extra for email verification at all
Upload your file
Right after signing in, you get 100 credits to verify 400 e-mail addresses every month for free.
All prices are in US dollars. Plans can be shared with unlimited users.
There is much more in the GetProspect tool
FAQs about email address verification
Can I check an email address for free?
Check up to 200 email addresses for free every month. Register to GetProspect and get 100 free credits. Use half a credit to verify each email. Click the "Verify" button next to the email address you want to verify to use the credit. Every month your GetProspect account will be replenished with 100 new free credits.
How does email verification work?
The email verification works through checking in real-time the status of the email address domain, email provider, mailbox, etc. As a result, we provide accurate and reliable data on whether the email address is valid or not.
How can I validate email addresses in real-time?
For validation email addresses in real-time, you can upload a list of email addresses into your account and click the "Verify email" button. Each email address will be checked in real-time automatically. You will get back the list of emails along with their statuses.
Can I verify private email addresses?
You can check private and business emails to find out if they are valid. The same processes are used for all types of email addresses.
How many email addresses can I verify?
Check up to 200 email addresses for free each month right after creating an account on GetProspect you will get 100 credits. You can use each credit to verify two emails for free. Click the verification button next to the email you want to verify to use the credits.
Can I download only valid emails after verification?
Using smart filtering, you can choose the status of email addresses you want to extract after their authenticity has been verified. For example, you can create a list of valid emails alone and use it for cold emailing. This way, the bounce rate will be at its lowest.