Black Friday Sale: our plans with 50% OFF for first 100 users
We are a Ukrainian company. We stand with our colleagues, friends, family, and with all people of Ukraine. Learn more
GetProspect email finder add-on for Google Sheets
Google Sheet extension to find and enrich contact list effortlessly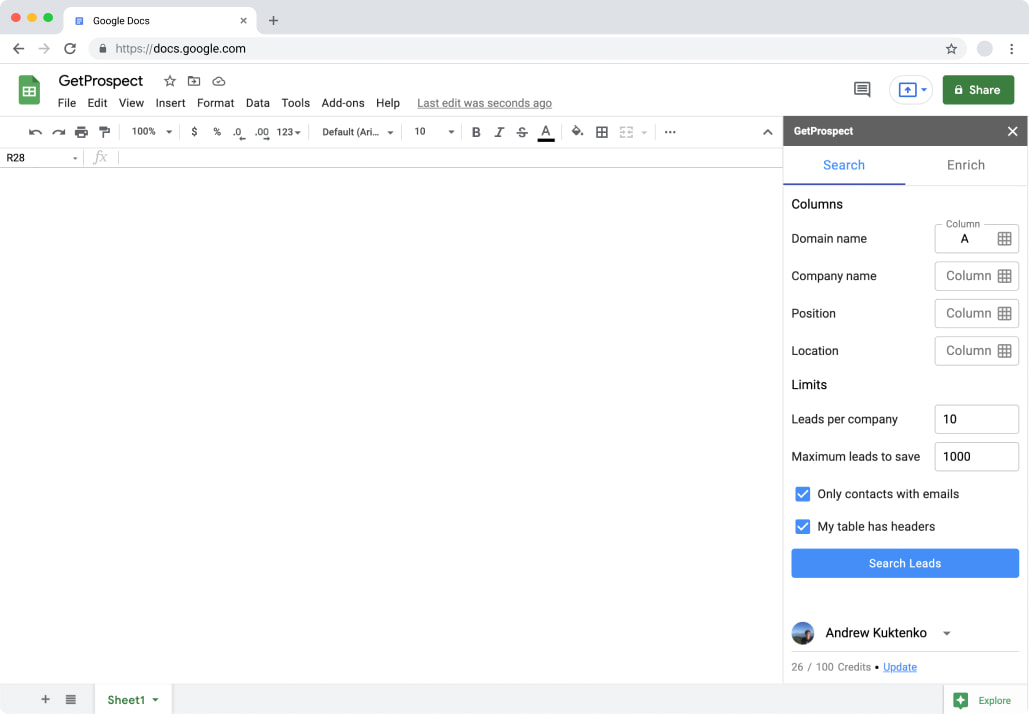 | | A | B | C | D | E | F | G | H | I |
| --- | --- | --- | --- | --- | --- | --- | --- | --- | --- |
| 1 | First name | Last name | Position | Company name | Domain | Email | | | |
| 2 | Vladislav | Solodovnychenko | Head of Growth | DDI Development | ddi-dev.com | | | | |
| 3 | Valeria | Drach | IT Recru | Archet Software | archrium.com | | | | |
| 4 | Yuliya | Tkach | Senio IT | Archer Software | archerium.com | | | | |
| 5 | Ray | Hilbrt | CEO | Truth At Work | truthatwork.org | | | | |
| 6 | Vladislav | Solodovnychenko | Head of Growth | DDI Development | ddi-dev.com | | | | |
| 7 | Vladislav | Solodovnychenko | Head of Growth | DDI Development | ddi-dev.com | | | | |
| 8 | Valeria | Drach | IT Recru | Archet Software | archrium.com | | | | |
| 9 | Yuliya | Tkach | Senio IT | Archer Software | archerium.com | | | | |
| 10 | Ray | Hilbrt | CEO | Truth At Work | truthatwork.org | | | | |
| 11 | Vladislav | Solodovnychenko | Head of Growth | DDI Development | ddi-dev.com | | | | |
| 12 | Vladislav | Solodovnychenko | Head of Growth | DDI Development | ddi-dev.com | | | | |
| 13 | Valeria | Drach | IT Recru | Archet Software | archrium.com | | | | |
| 16 | | | | | | | | | |
| 17 | | | | | | | | | |
| 18 | | | | | | | | | |
| 19 | | | | | | | | | |
| 20 | | | | | | | | | |
| 21 | | | | | | | | | |
| 22 | | | | | | | | | |
| 23 | | | | | | | | | |
| 24 | | | | | | | | | |
| 25 | | | | | | | | | |
| 26 | | | | | | | | | |
Empower familiar tools with email finder add-on
Find emails directly in the spreadsheets, implementing intuitive email finder add-on's functions. The GetProspect Google Sheet extension offers an essential part of an email extractor service for the well-known tool.
Enjoy convenience of working in one interface
How to find email addresses in Google Spreadsheet?
The algorithm is super easy, follow the simple steps:
Step 1.

Add GetProspect as a Google extension in one click.

Step 2.

Open the add-on in your Google Sheets.

Step 3.

Configure the search for your file in several clicks, using 4 simple fields.

Step 4.

Press a button and get the result in a couple of minutes.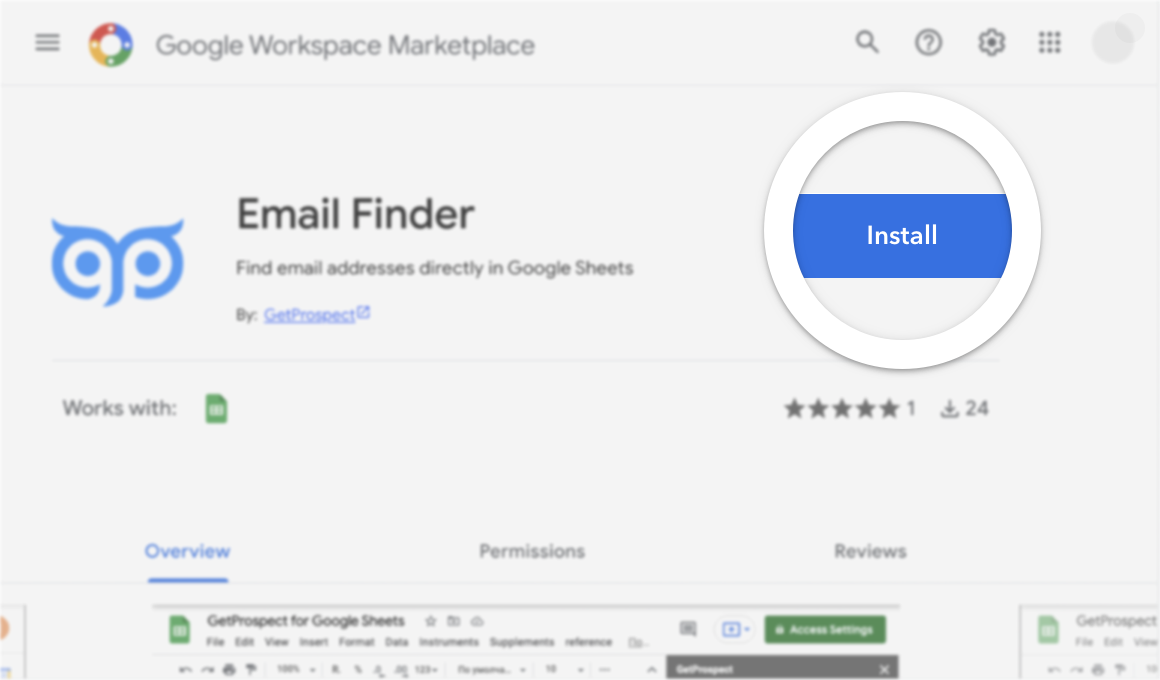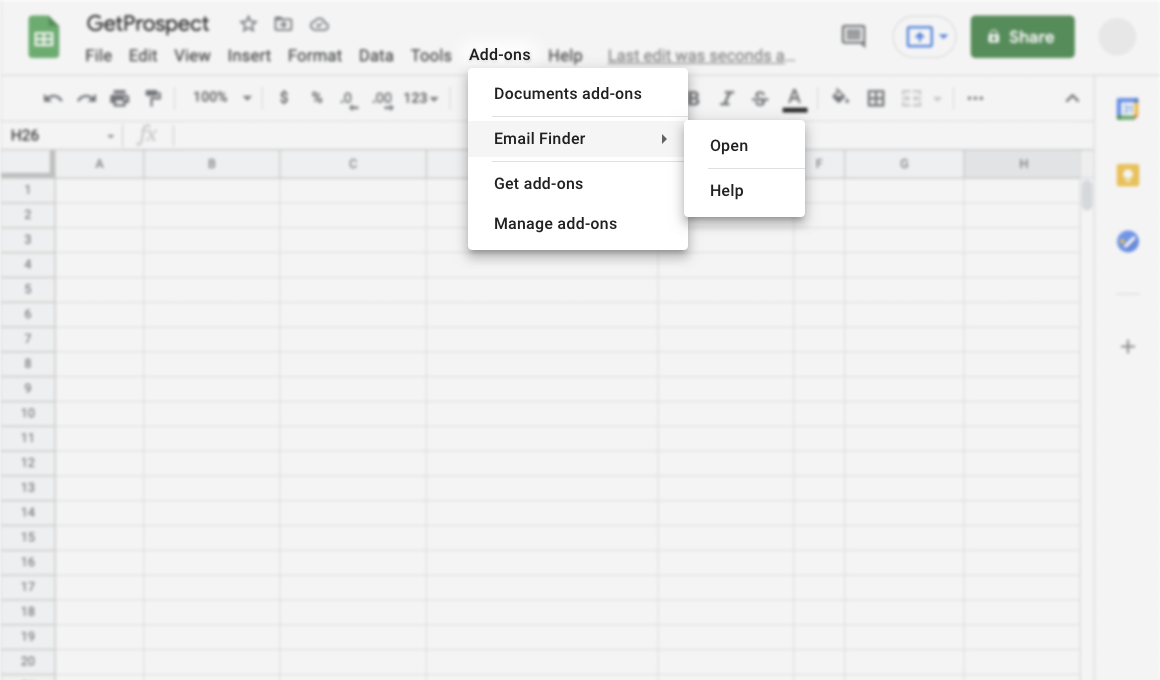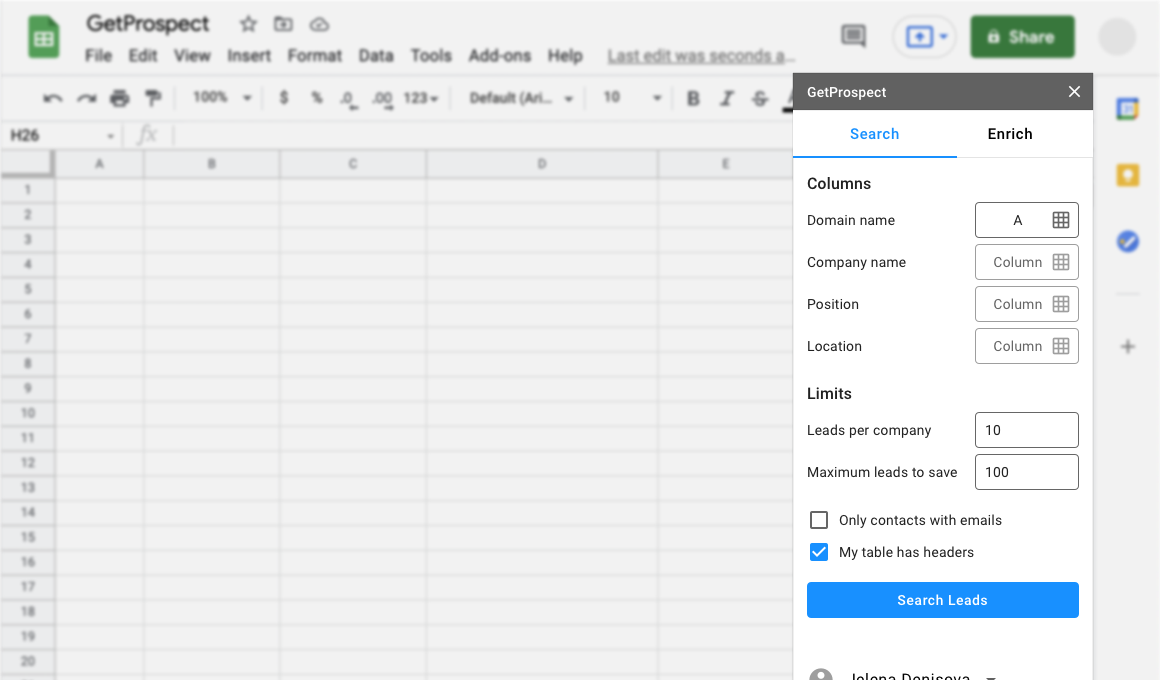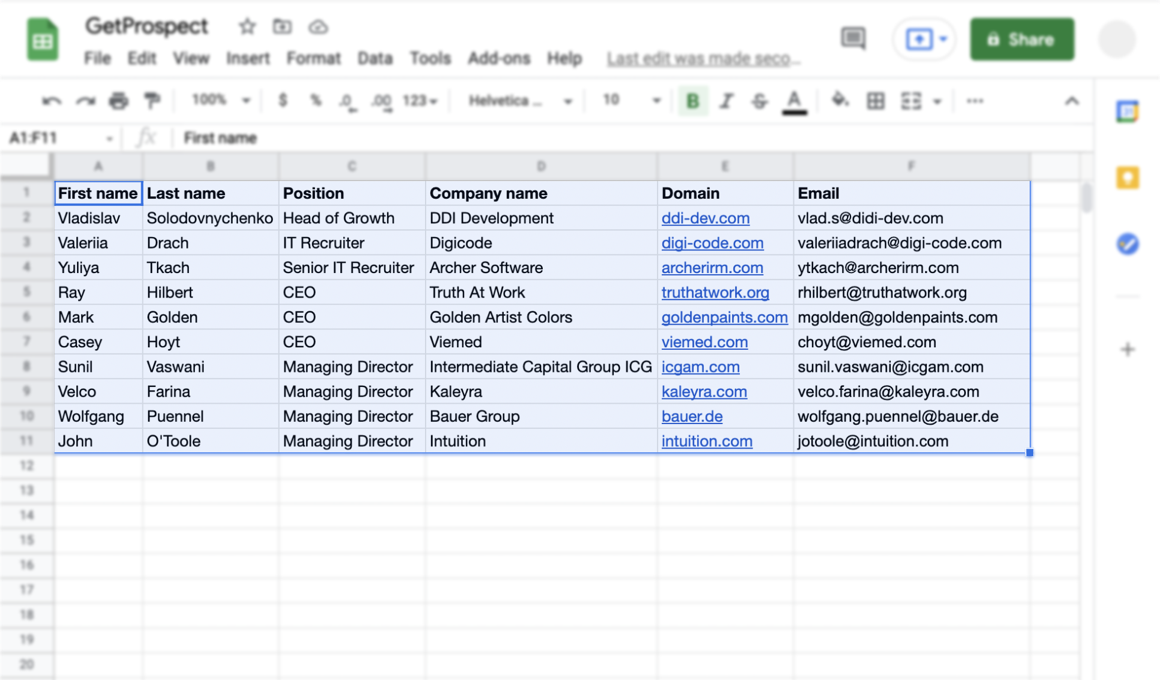 Looking under the hood
Perform the search by the specific criteria
The GetProspect Google Sheet extension helps you to arrange a Google Sheets contact list in a couple of clicks. Set a specific criteria to get the prospects and gather the required ones by company domain/name, position, location, etc. You are to choose the necessary number of contacts too.
Enrich your Google sheet contact list
You can add lacking details to your personal database. Find and incorporate emails, positions, companies and their industry, locations, and LinkedIn URLs.

Choose the columns with the existing information and let GetProspect GetProspect fill the gaps in your contact list with the required details.
Get the complete prospects data
Using an email finder add-on for Google Sheets, you get full information about your leads, including full name, company, and LinkedIn URL in a matter of minutes.
Find emails by domain
The GetProspect Google Sheet extension allows finding email addresses by one or many domains directly from spreadsheets. You only need to choose the column containing domains and define the required number of contacts.