Imagine this: you've invested time and effort into building an email campaign, creating valuable content, and eagerly clicking the «Send» button. Yet, some of your emails bounce back undelivered, while others end up unnoticed in the spam. Fortunately, there's email verification software to solve this problem.
This article will guide you into the world of email validation and explain how these email verification services work, their benefits, and how to pick the right one.
But first, let's answer some questions you might already want to ask.
What is the best tool to verify email addresses?
| | | |
| --- | --- | --- |
| Email Verification Tool | Free Plan/Trial | Price for 10K verifications |
| GetProspect | 100 verifications credits | $99 /mo |
| ZeroBounce | 100 verifications credits | $64 |
| NeverBounce | Free trial | $50 |
| Reoon Email Verifier | 100 verifications credits | $12 |
| Valimail | Free trial | Only on request |
| Bouncer | 100 verifications credits | $60 |
| Emailable | 250 verifications credits | $30 |
| VerifyBee | 100 verifications credits | $45 |
| Clearout | 100 verifications credits | $58 |
| Debounce | 100 verifications credits | $15 |
Which is the best tool to find and verify emails on LinkedIn?
The best tools for finding and verifying email addresses are specific platforms with extensions for scraping leads on LinkedIn. Their functionality generally includes scraping email addresses, finding relevant information about prospects, finding and verifying emails, etc. Multipurpose tools, like GetProspect, will help you to find and check if they are valid.
Verify 100 emails for free
Check an extensive list of leads in bulk in a matter of seconds. Enjoy high accuracy and make sure there are no duplicates so you don't waste your money.
How accurate are email validation services?
The accuracy of email validation services varies and largely depends on the provider and operating method. The best email verifiers provide a high-level accuracy that exceeds 95%; some of them even reach 99%. They typically check emails on different criteria, like domain validity, MX records, disposable email addresses, etc.
What is the best ​​email address verification software in 2023?
Checking out the best tools to verify email address
GetProspect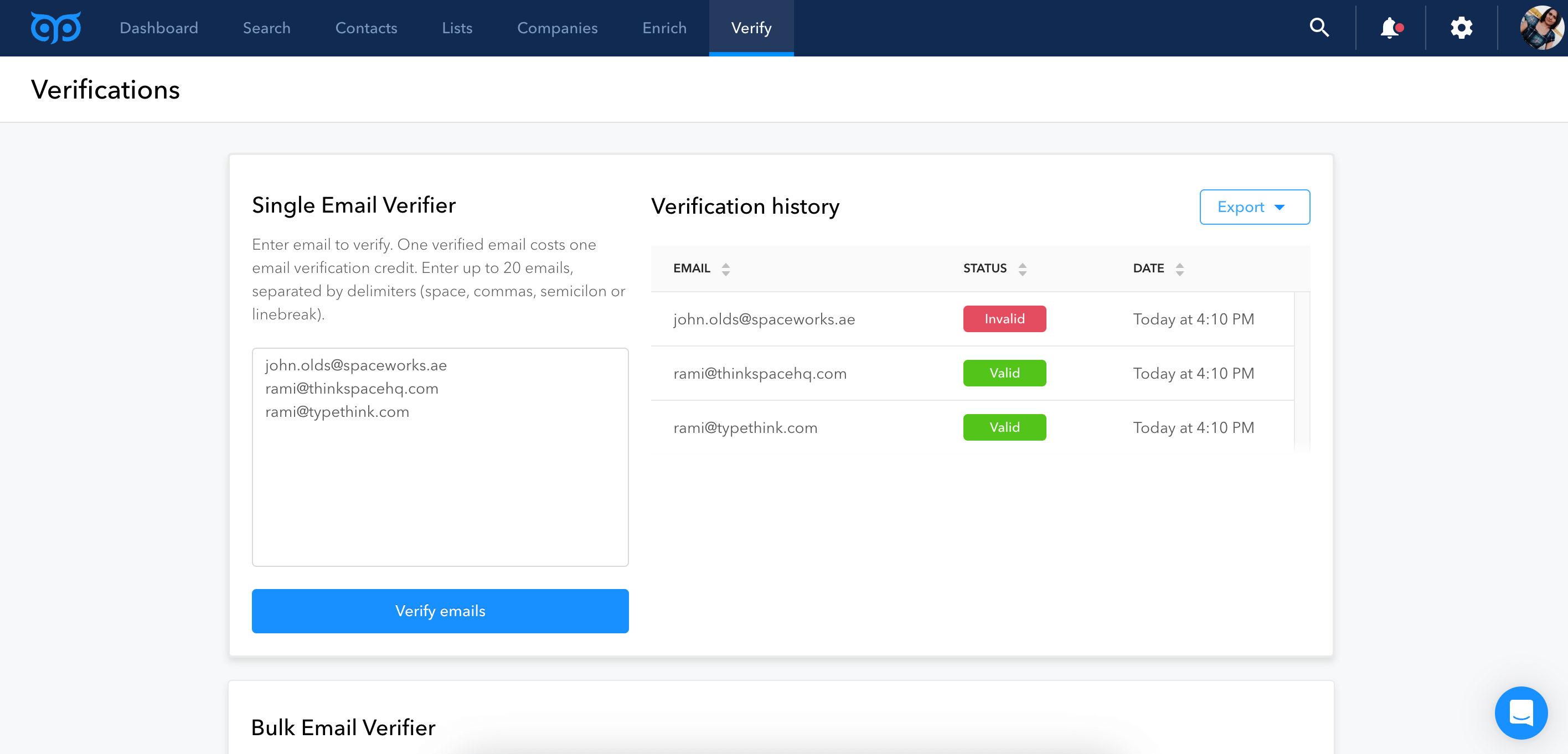 GetProspect is a multipurpose lead generation solution, including email enrichment, LinkedIn email scraping and email verifier, literally a Swiss army knife in the world of email solutions.
GetProspect email verifier is famous for its intuitive user interface and powerful verification features. You can easily verify one separate email address or entire list with it. What really sets GetProspect apart is its accessibility, which suits various businesses with free and paid plans.
According to Getprospect and its competitors' testing, the findability of verified emails is mostly 84% (this figure exceeds many competitors we've tested - RocketReach, Hunter.io, Snov.io, Skrapp.io, ZoomInfo, etc.).
This factor moves the platform to the top of the market. Thus, GetProspect guarantees the users a high percentage of deliverability and a low bounce rate. Also, in most cases, GetProspect has more than 95% in the Discovery Rate testing, which is better than the competitors.
GetProspect key features
Streamlined and smooth user experience
Granular and precise email verification
Bulk email verification
Seamless integration with other popular CRM (Zoho, Hubspot, Salesforce, etc.)
Real-time API validation
Enrichment features


Price: A free plan offers you 50 valid emails and 100 verifications.
GetProspect offers different options for small businesses and big enterprises. There are three monthly/annual plans: Starter, Growth, and Agency.
Starter — $49 monthly or $412 annually ($34 monthly)

Growth 5k — from $99 monthly or $832 annually ($69 monthly). Also you can choose Growth 20k - $199 monthly , and Growth 50k - $399 monthly.

Agency — $2 999 monthly (here only a monthly subscription is available)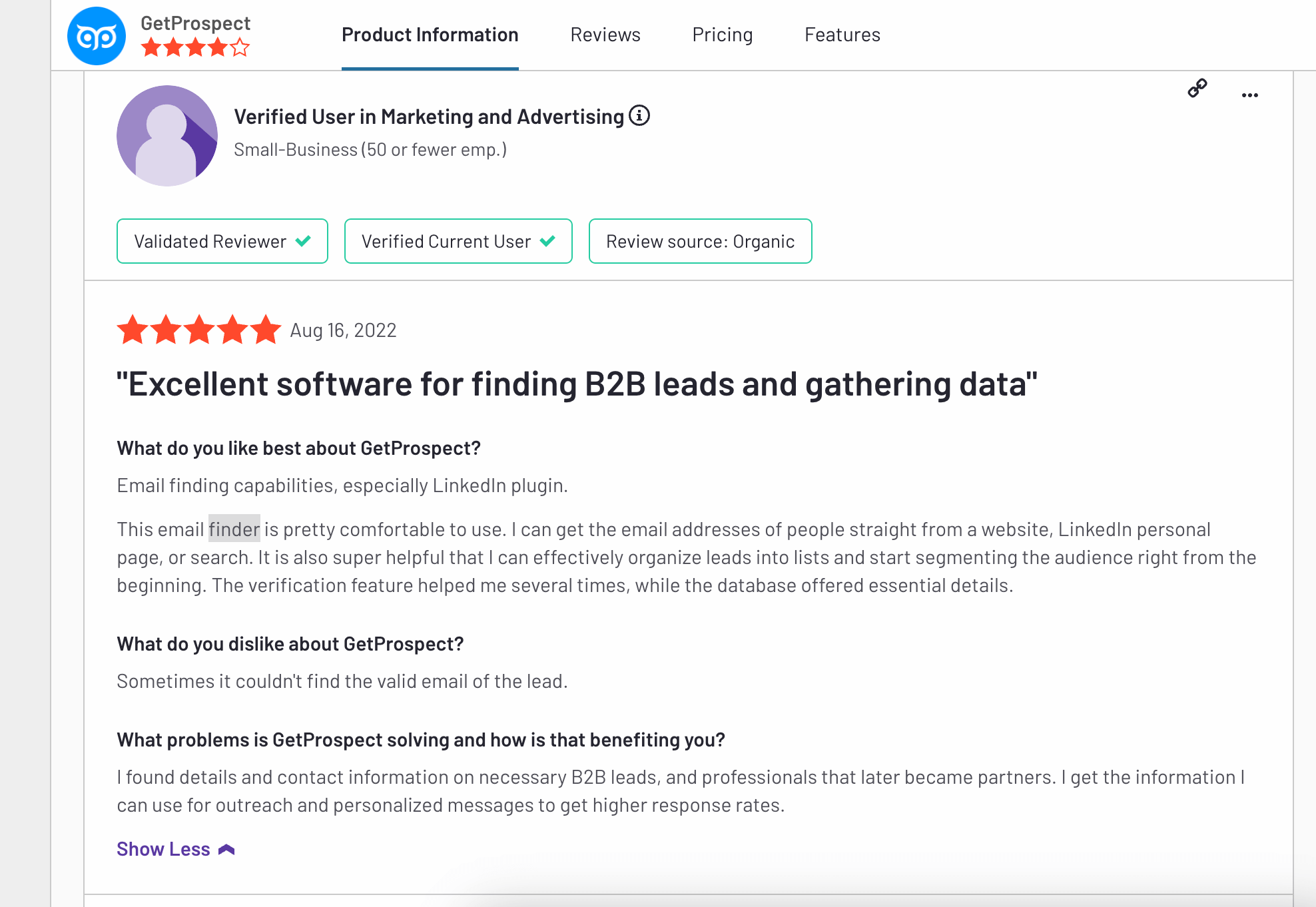 ZeroBounce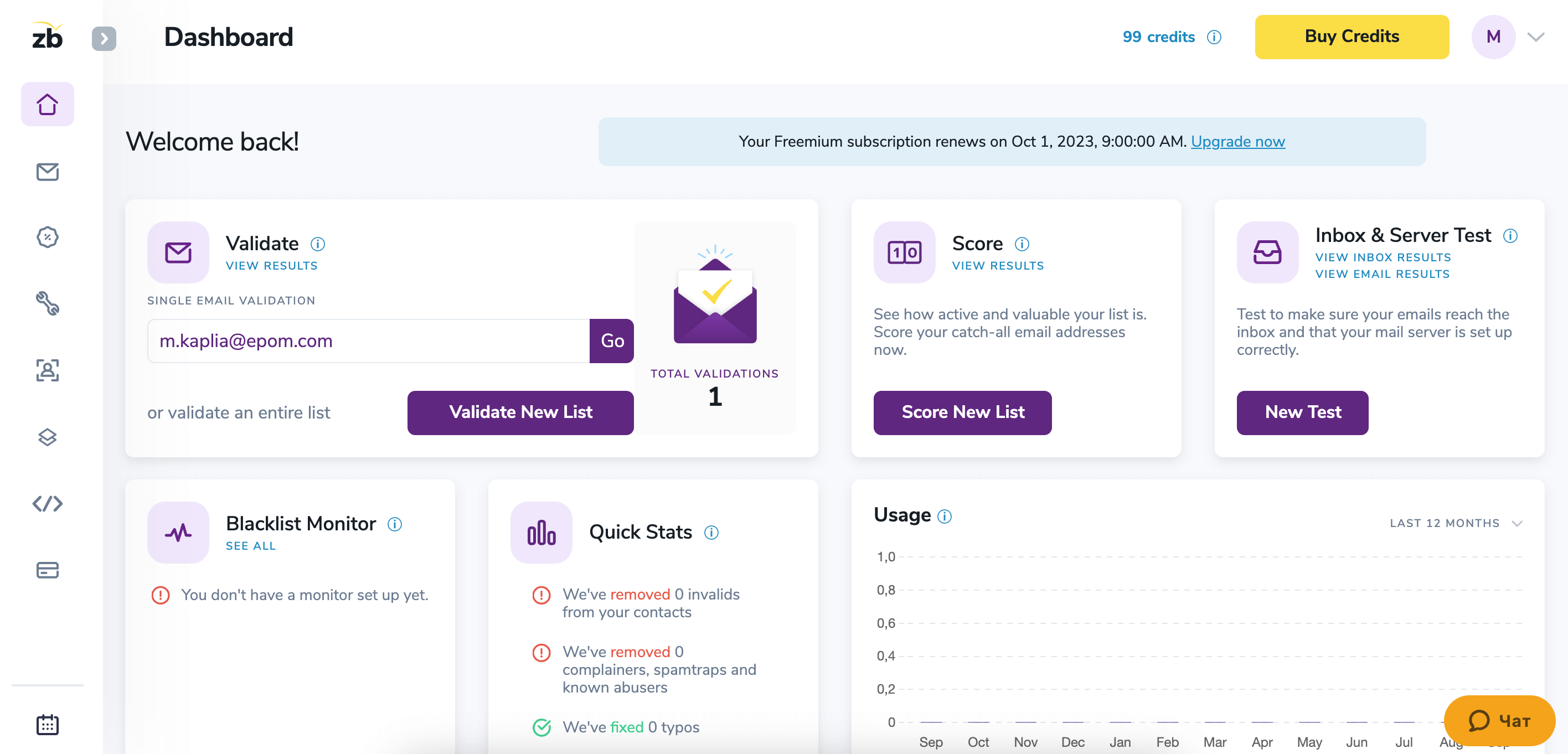 ZeroBounce is an email verifier that earned its reputation as a top-tier email verification service. Look at the list of big names with which it worked: Netflix, Intel, and Airbnb. It has an impressive accuracy rate of 99%, which makes it the go-to choice for businesses worrying about their email hygiene.
ZeroBounce goes beyond bulk email validation. It equips users with AI-powered tools to track subscribers' activity. With this feature, you can send campaigns that achieve higher engagement rates.
ZeroBounce key features
Email scoring capability
Integration with popular CRM (Hubspot, Zoho, Salesforce, etc.)
Duplicates checking and removing
Real-time blacklist monitoring
Inbox delivery and testing for email servers
Import in CSV, XLS, and XLSX formats


Price: If you're interested in just trying ZeroBounce, they allow you to send up to 100 emails for free and test.
ZeroBounce offers a competitive monthly subscription plan starting at only $15 per month for up to 2,000 emails. Otherwise, you can choose the pay-as-you-go option, which is $16 for 2,000 emails.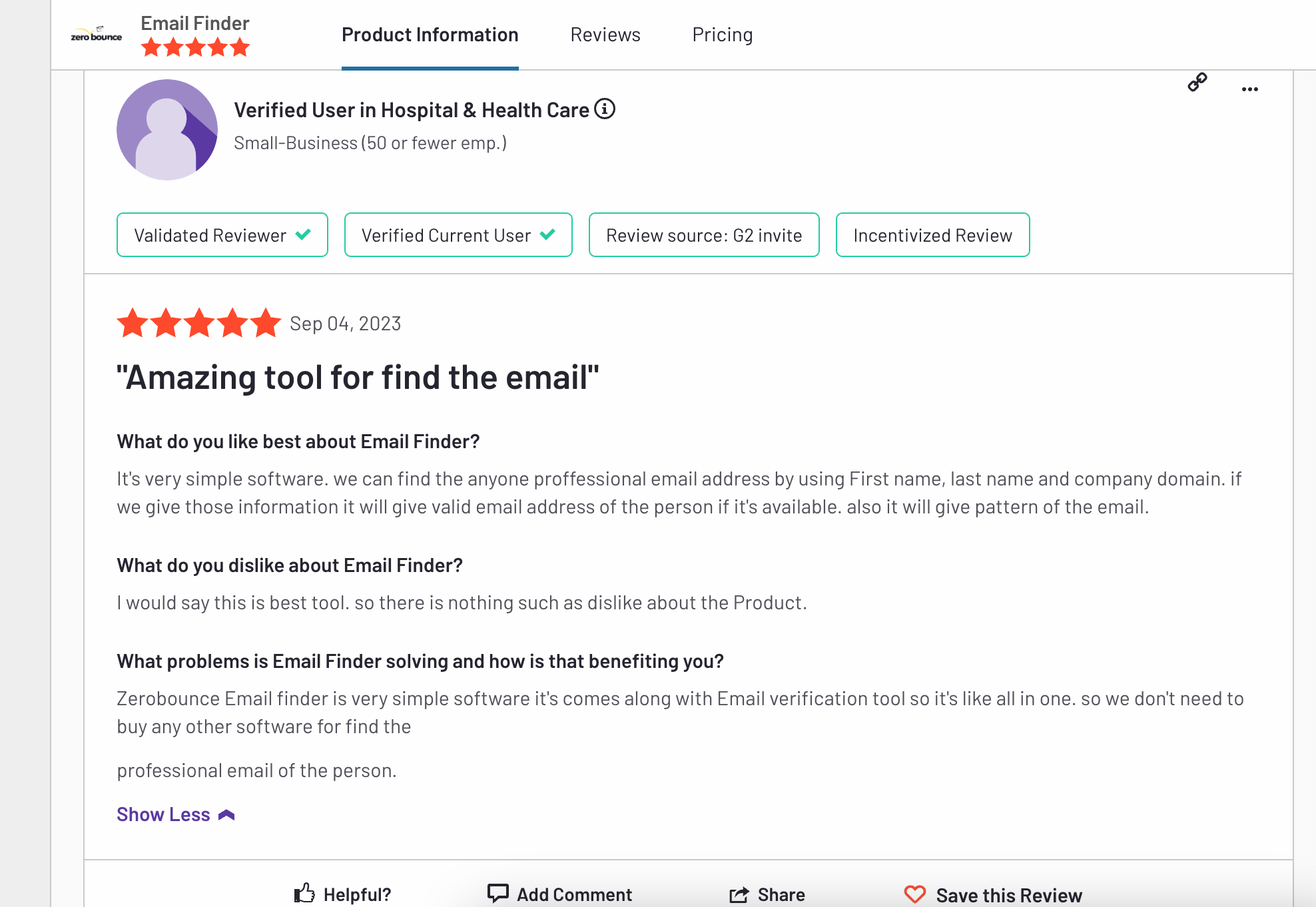 NeverBounce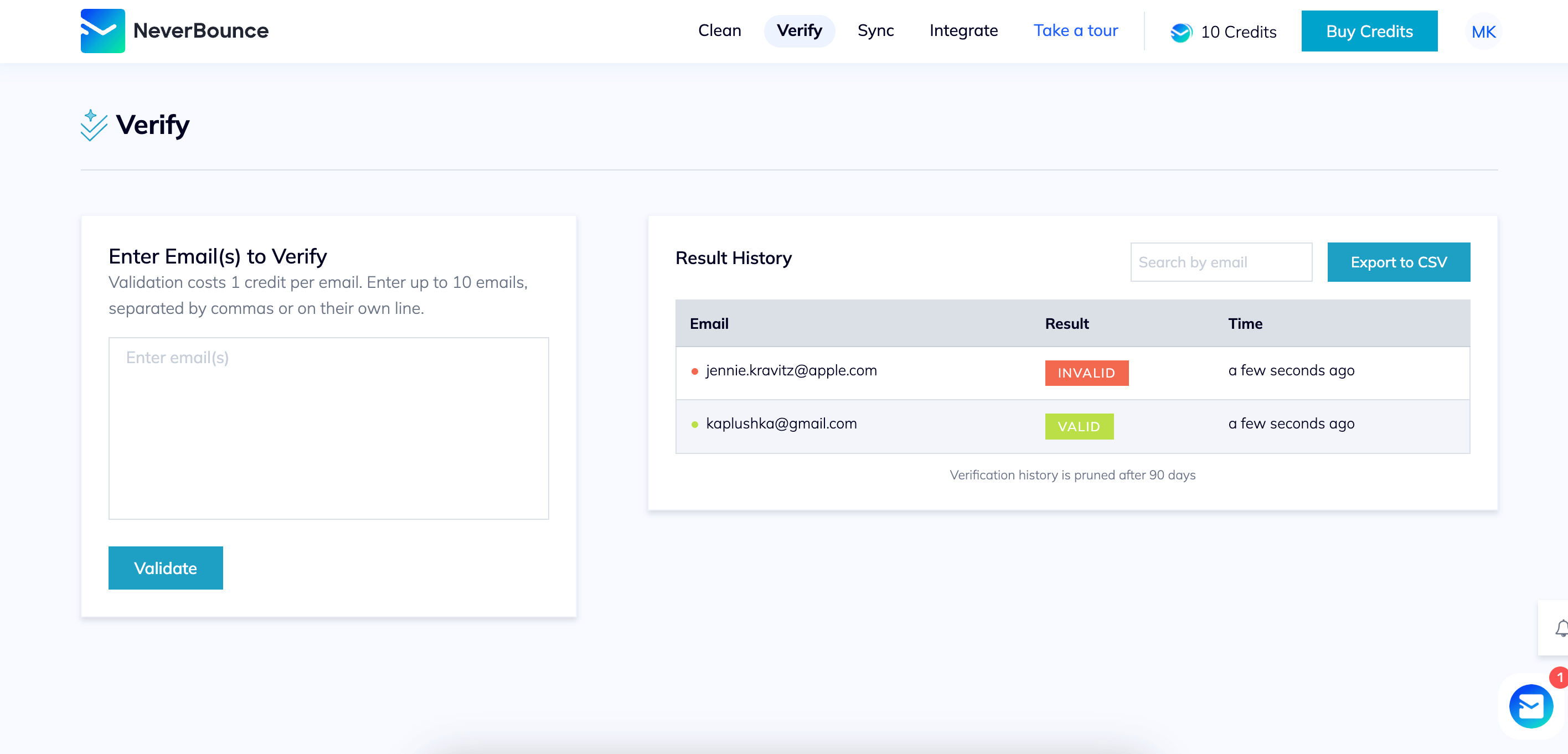 NeverBounce stands out as an email verification tool that enhances your emails' delivery rates using automation features. It has a rather powerful bounce analyzer that eliminates all bounced emails (up to 99.99%) from your list and ensures they reach the intended recipients.
Additionally, you can perform domain health checks and conduct advanced mail server validation to keep the optimal performance of your emails. The user-friendly dashboard saves your verification history and offers useful insights about your campaigns.
Mark Coster, Co-Founder and SEO Specialist FairyDigital:
«NeverBounce dashboard is highly intuitive, making it easy even for new team members to make email verification. Also, it breaks down your email list into multiple categories like Valid, Invalid, Disposable, Temporary, etc.

This granularity allows us to segment our campaigns better. Speaking about speed and scalability, whether we're checking ten or ten thousand emails, NeverBounce does everything quickly, so it fits campaigns of all sizes.»
NeverBounce key features
Bulk email list verification
Validation of DNS records
API and JavaScript Widget integration
High-level risk detection
Top-tier security
Price: NeverBounce provides a free trial, but you only get free credits after you book a demo with the sales team.
This verifier has only one way to pay for validation – a pay-as-you-go model where you only pay for the emails you validate. Prices start at $0.008 per validated email up until 10,000 emails.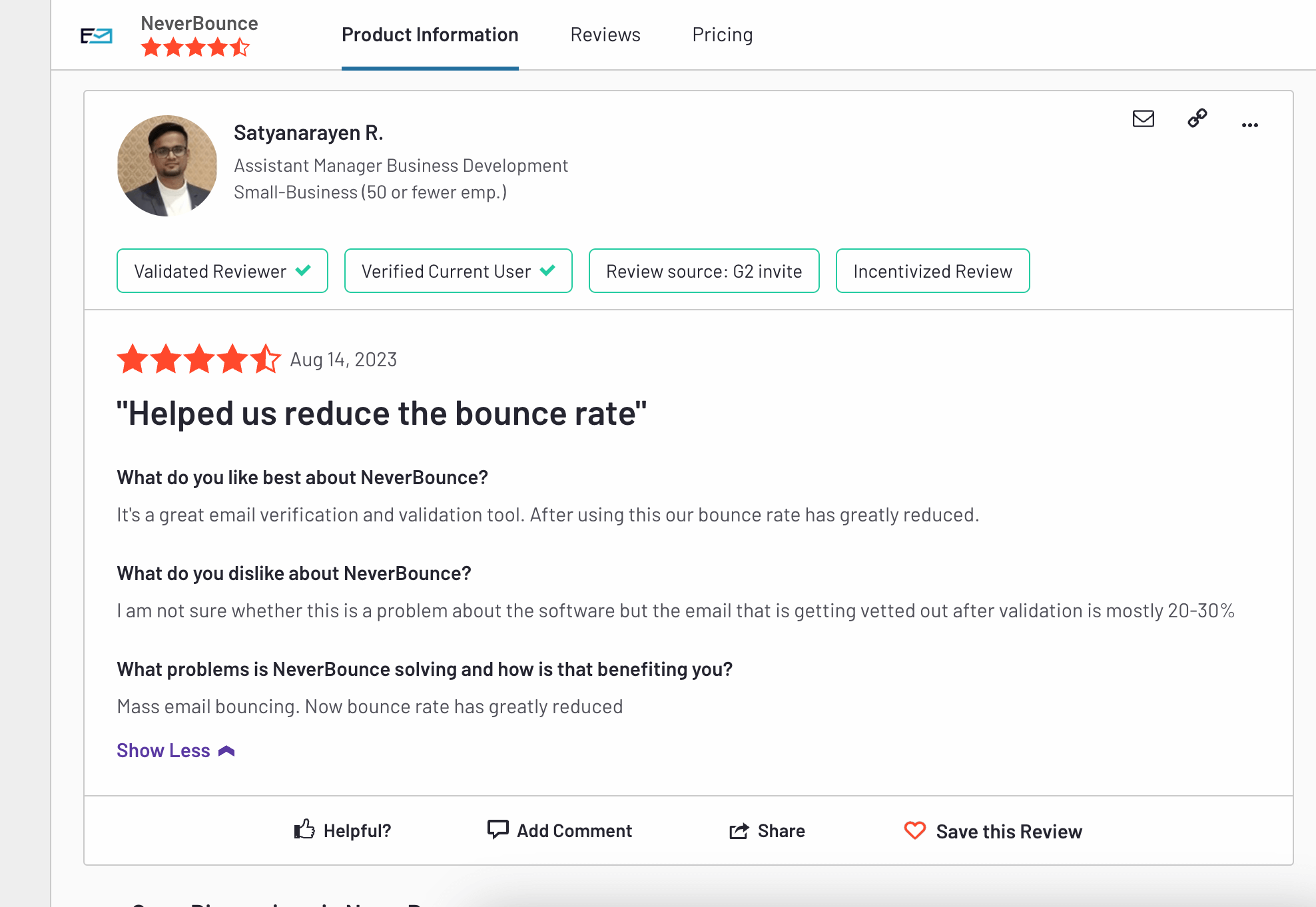 Reoon Email Verifier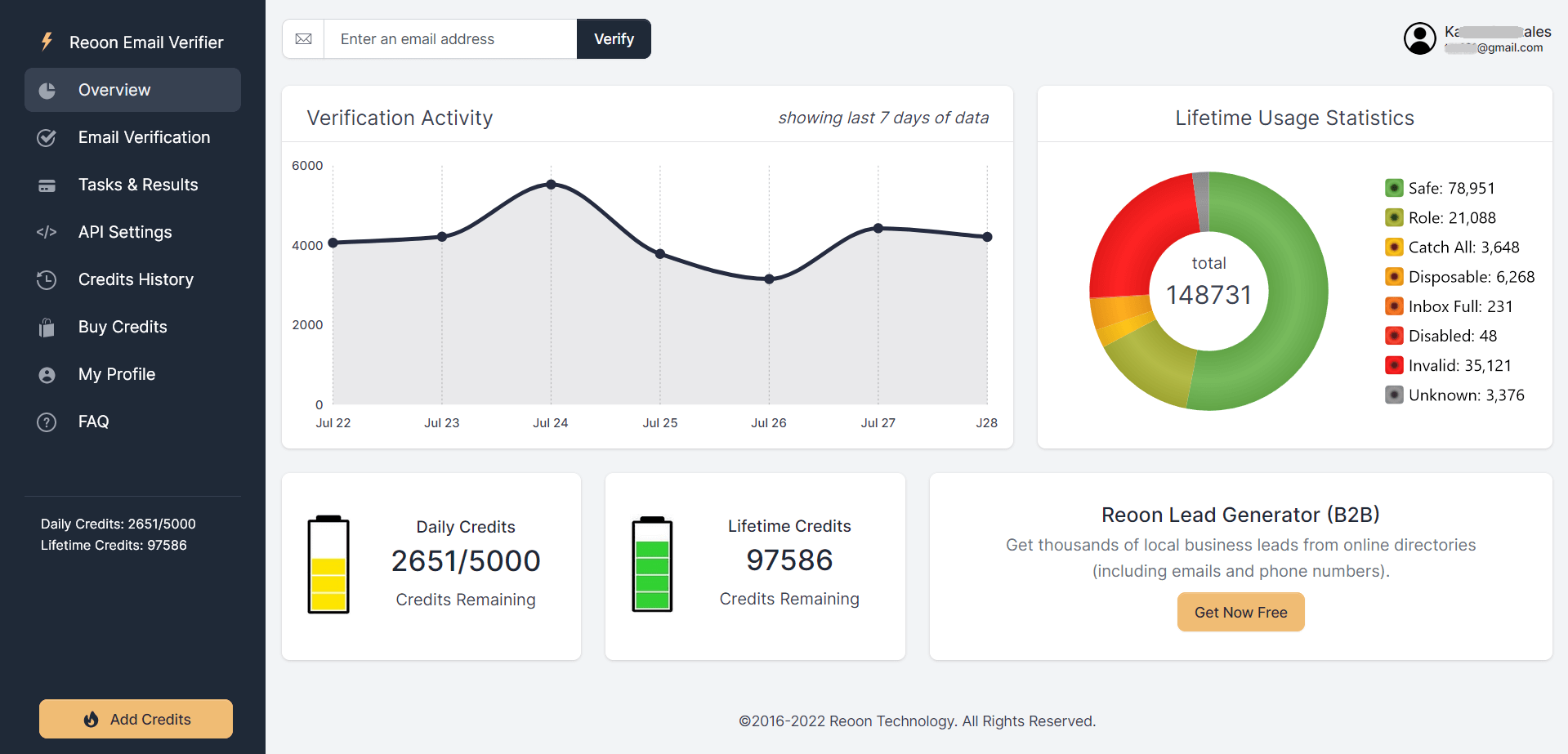 Reoon Email Verifier is another high-quality email validation tool that offers both precision and affordability. With an accuracy rate of 99%, it has gained the trust of over 5000 companies worldwide. Reoon Email Verifier is a cost-effective solution that effectively detects bounces and temporary emails while helping you save money.
Apart from that, Reoon verifies Yahoo and Microsoft domains, offers quick API validations, and supports flexible list formats and deliverability testing.
Revoon Email Verifier key features
Bulk email validation
Dynamic temporary mail detection
High-accuracy validation (99%)
Real-time API validation (within 0.5 seconds)
Categorized results download
User-friendly interface
Price: Within a free account, you get 20 credits plus 100 extra credits that you get instantly after registration.
The Daily Credits (500 credits/day) plan will cost you $9 per month; the credits renew every day. For a Lifetime Credits plan (where credits will never expire), you'll pay $12 and will be able to validate 10,000 emails.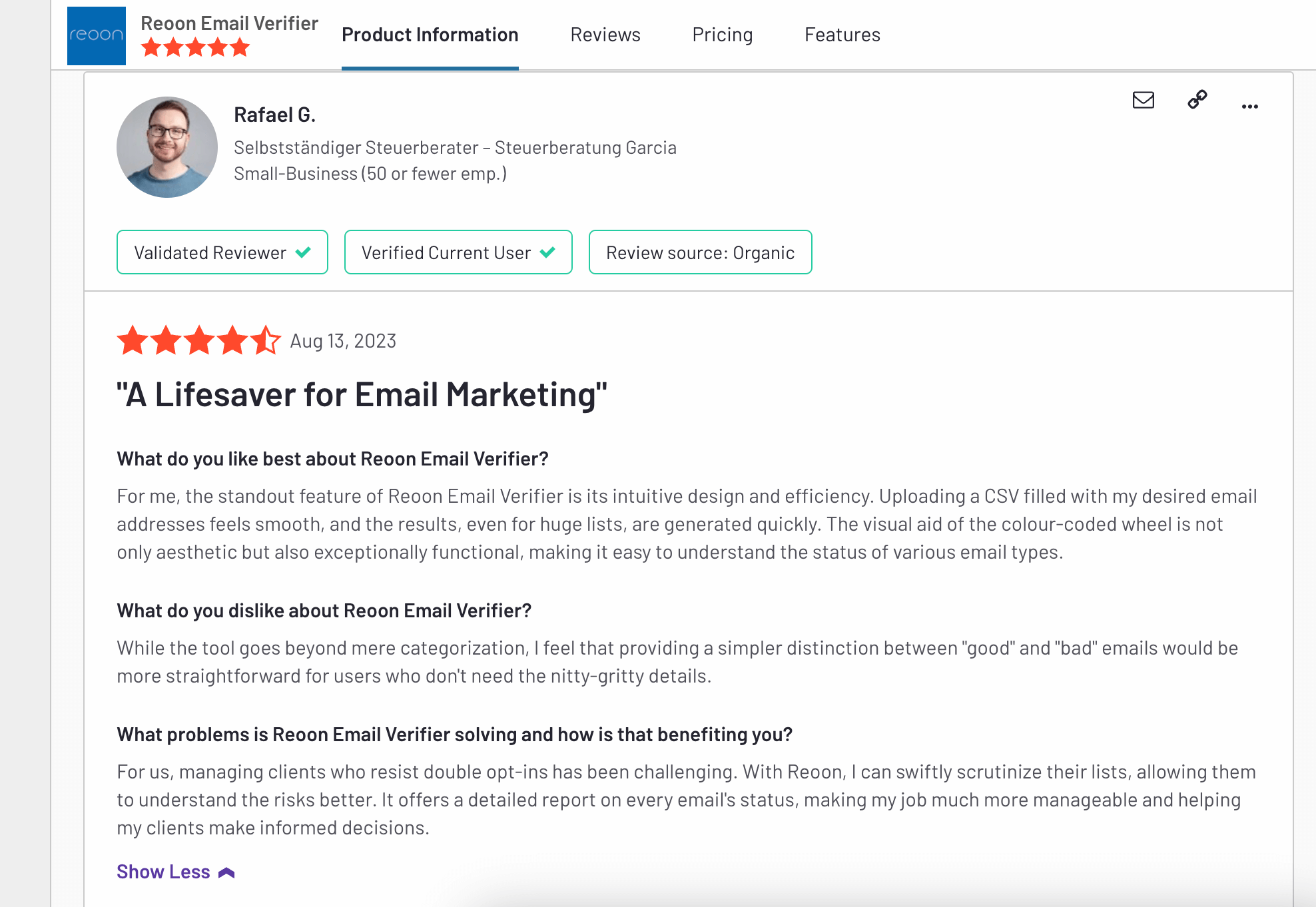 Valimail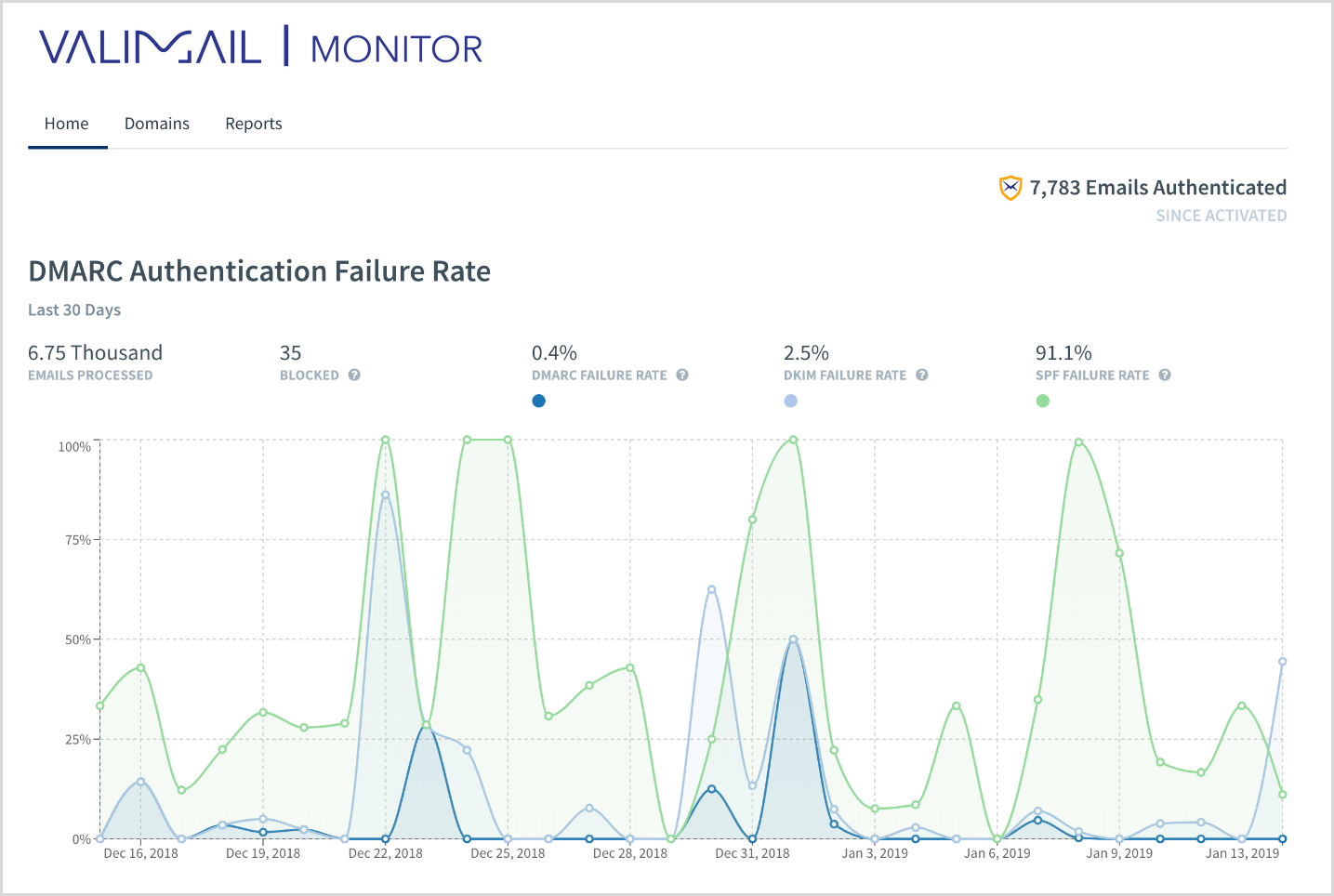 Valimail is another email verification service which focuses on domain-based email authentication. It's an effective solution against email impersonation and phishing attacks. By providing robust security measures, Valimail protects your email campaigns and domain from risks.
Valimail helps organizations implement strong email authentication protocols like SPF (Sender Policy Framework), DKIM (DomainKeys Identified Mail), and DMARC (Domain-based Message Authentication, Reporting, and Conformance) to prevent email spoofing, phishing, and unauthorized use of their domain names.
Valimail key features
Domain verification
Email authentication protocols
Advanced security (esp. against phishing)
Easy integration into the existing email infrastructure
Establishing trusted sender status
Price: You can make use of Valimail 14-day free trial to test the product.
In other cases, with custom pricing plans tailored to the needs of your business, Valimail suits both startups and big companies.
Valimail has four plans: Free, Starter, Premium, and Enterprise. You need to book a demo to know the prices for Starter and Premium. In the case of Enterprise, you have to talk to sales.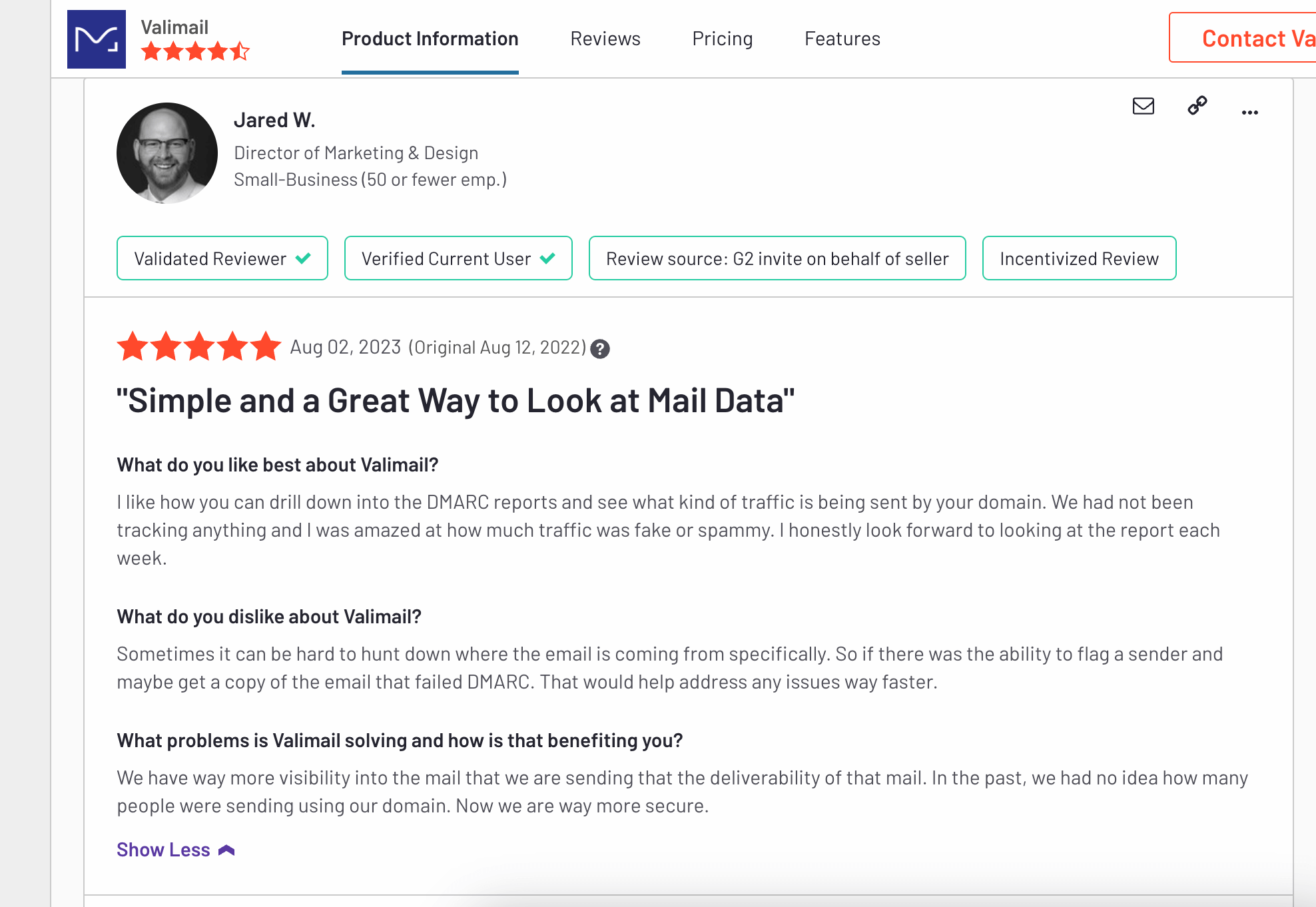 Bouncer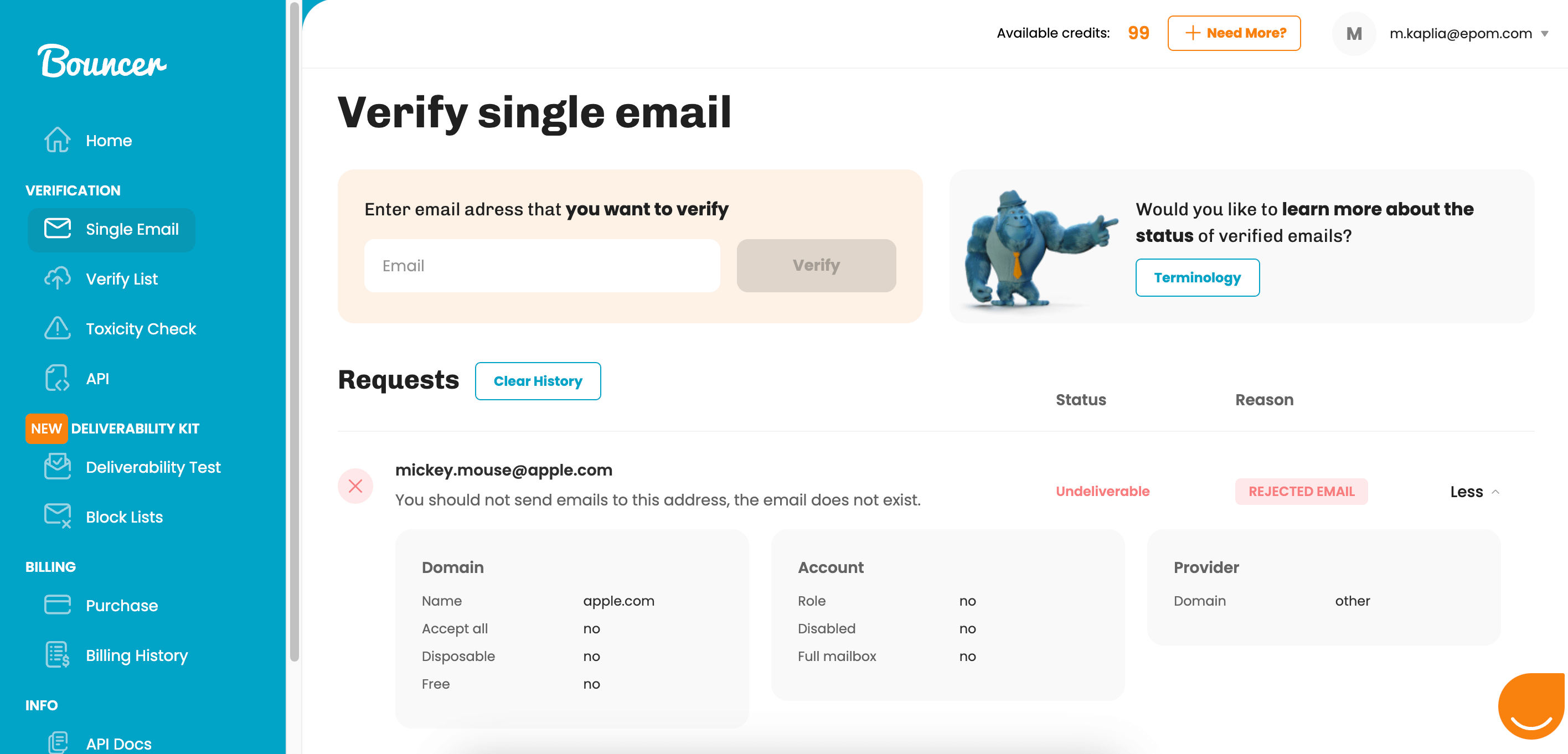 Like other email verification services, Bouncer aims to help businesses create reliable email lists. It detects and eliminates invalid, disposable, and potentially risky email addresses.
This email checker also performs an email toxicity check, which helps to identify hacked email addresses or spam traps and protects your sender's reputation. Also, it integrates with various email marketing services, such as Moosend, Mailchimp, AWeber, etc.
Bouncer key features
Role-based email detection
Real-time verification API
MX record detection
Syntax and domain validation
Customizable download options
Price: You can register a free account and get full access to all features and 100 free credits that never expire.
Also, Bouncer has a pay-as-you-go pricing system, starting at $8 for 1,000 emails, which is a minimum purchase. For 10,000 emails, you'll pay $60, and for 100,000 — $400, respectively.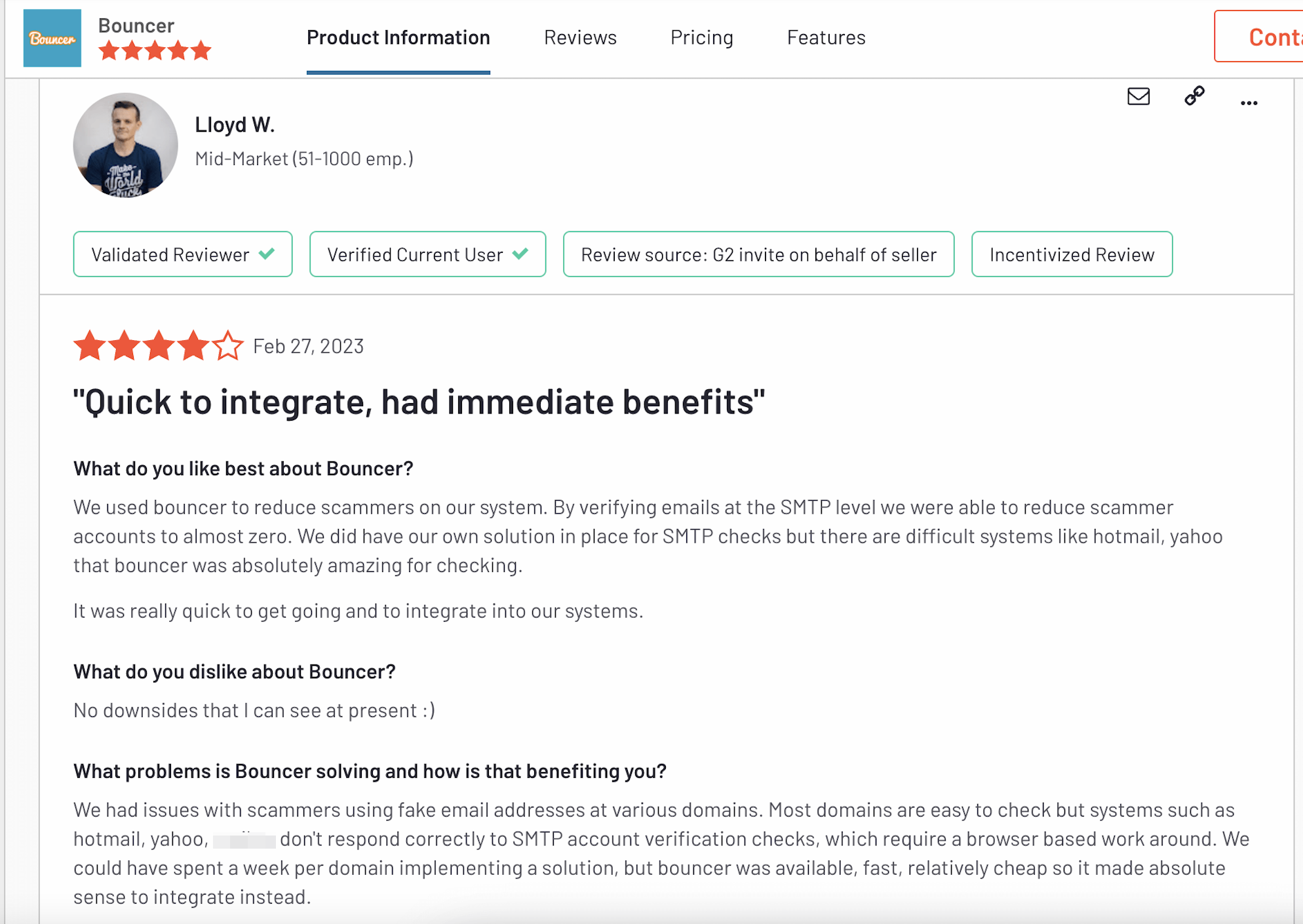 Emailable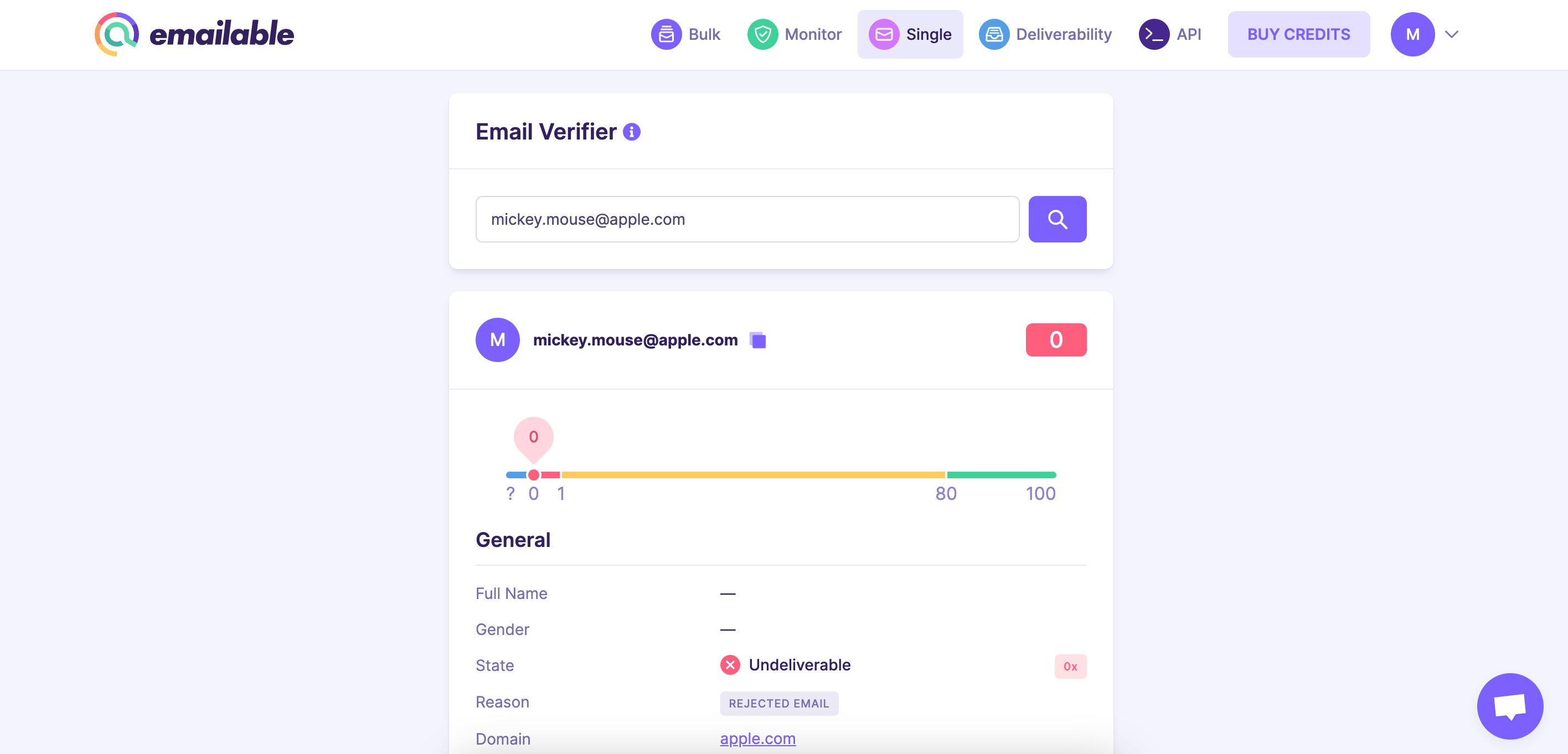 Emailable is another email address verification software with an impressive accuracy rate of 99%. Users can easily upload their email lists from computers and import them seamlessly from email and marketing platforms. One of the things that makes Emailable unique is its user-friendly interface, which is accessible to non-tech-savvy users.
The most notable feature of Emailable is its Monitor module, which allows users to choose how often their email lists are verified. This option enables checks on lists within your email and marketing platforms. Additionally, Emailable provides features like name and gender detection, which enriches your email lists with extra details.
Emailable key features
Role-based email detection
Detailed inbox reports
Over 80 email marketing platforms integration
Email verification API
Misspelled domain detection
Syntax and domain validation
Price: New users receive a welcome with 250 email credits.
Emailable provides two types of pricing models — monthly and pay-as-you-go. Monthly prices are 15% lower; still, if you choose a monthly plan, you'll need to wait another month for the credits to be renewed if the previous ones expire.
You can begin with a pay-as-you-go plan, which starts at $30 for 5,000 credits. Alternatively, you can opt for a Monthly plan and get 5,000 credits at $25.5 per month.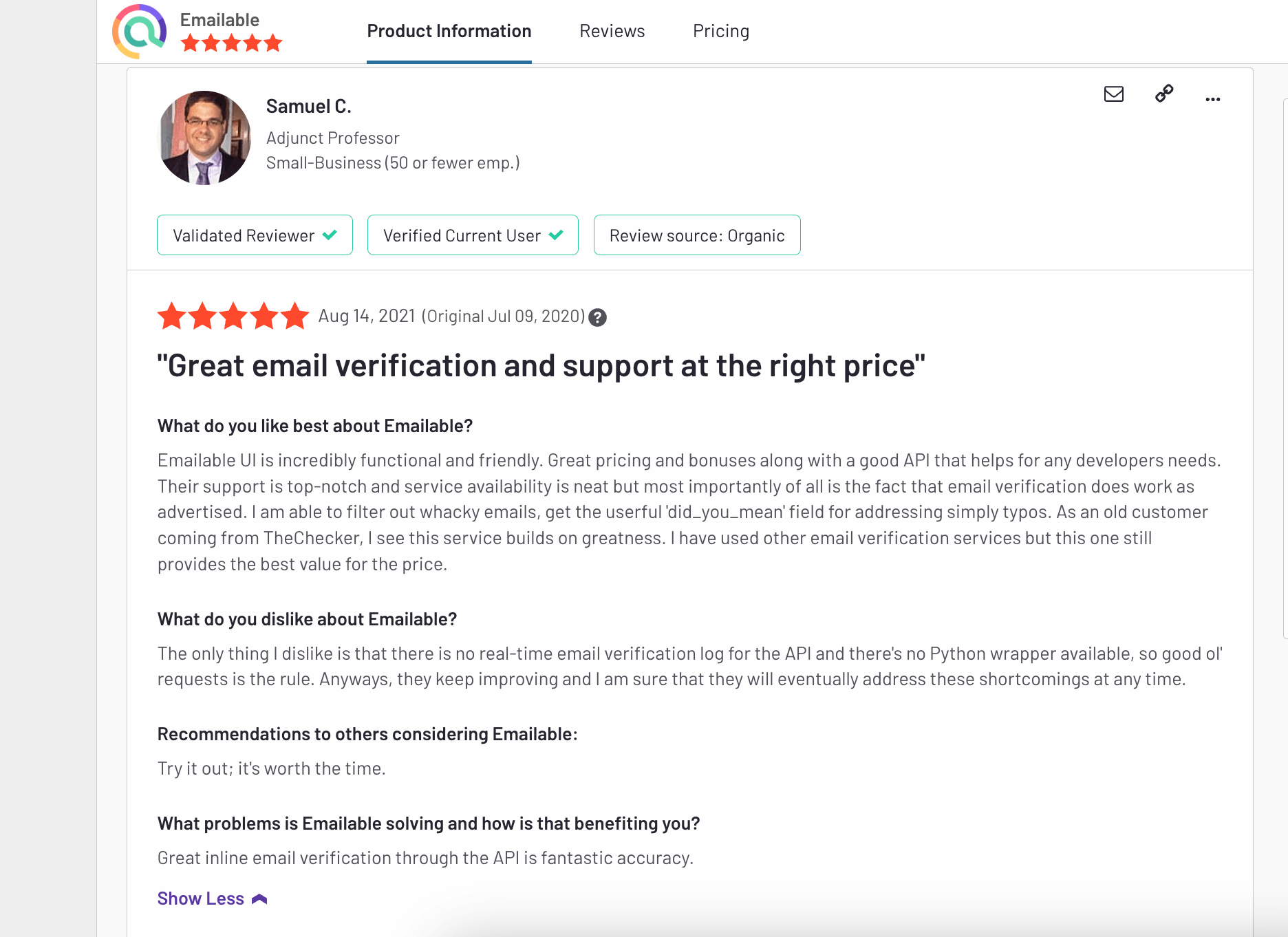 Keep your sender's reputation perfect
GetProspect completes the 12-step email verification process in seconds before you press the Send button.
VerifyBee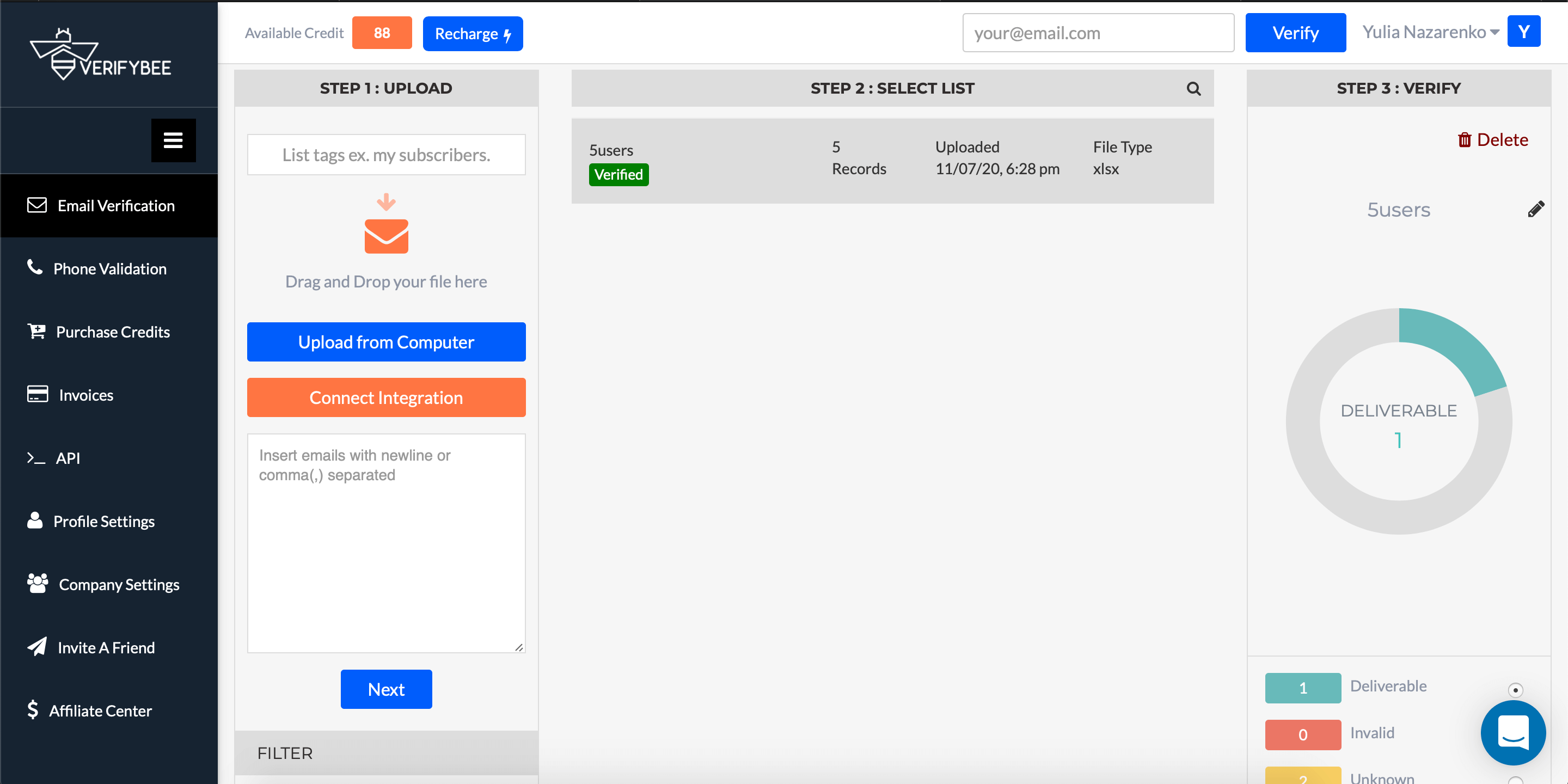 VerifyBee is an email validation tool that ensures your emails successfully reach their intended recipients. One of the cool VerifyBee features is its ability to streamline the email list verification process. You can easily upload the email list from your customer, copy-paste it, or integrate it with the existing CRM system.
The VerifyBee email validation process starts with identifying and eliminating any duplicates or syntax errors in your email list, followed by server pings to ensure real responses. You can also generate detailed reports with useful insight into deliverable emails, catch-all domains, and invalids.
VerifyBee key features
Phone number validation
Bulk email address verification
Email verify Chrome extension
Partner B2B business lead database
Price: right after registration, you get 100 verification credits.
VerifyBee charges monthly fee, so if you need to verify more emails, there are the following rates:
2,500 verifications costs $19 per month

10,000 verifications — $45 per month

100K verifications — $299 per month

1M verifications — $1099
Clearout
Clearout is an email validation tool that offers quick and effective mass email verification for e-commerce, scale-ups, new businesses, independent contractors, and bloggers. With a focus on security and rapid validation for 1-10 email collections, it ensures high-quality email verification. Clearout identifies possibly harmful emails and keeps track of blocklists.
Steve Feiner, Managing Editor of Tech Jive and CEO of ABF Group:
«I believe one of the 98%+ accurate email validation and verification solutions is Clearout.io, which can do more than 20+ in-depth validation tests. More than 15 million email IDs can be verified daily to get rid of erroneous and temporary addresses, spam traps, and abuses.

Top CRMs and email service providers (ESPs) are also compatible with it. A few of Clearout's distinctive features include the availability of WordPress plugins, Google Sheets Add-ons, secure data, full compliance, safe data transmission, real-time verification, and more.»
Clearout key features
Detecting and eliminating bounced email
Solid fraud protection
Bulk email list verification
API integration
Blocking spam leads at the entry point
Price: When you register a free account, Clearout provides you with 100 free credits to test the service. Also, there is a 60-day refund guarantee no matter the reason.
There are two payment options: a pay-as-you-go model and a monthly/annual subscription. Each price depends on the number of verifications you need to make.
10,000 credits/month will cost you $52,2. If you sign up for a yearly subscription, you buy at once 120,000 credits for $336 (billed annually).
10,000 credits within a pay-as-you-go model cost $58.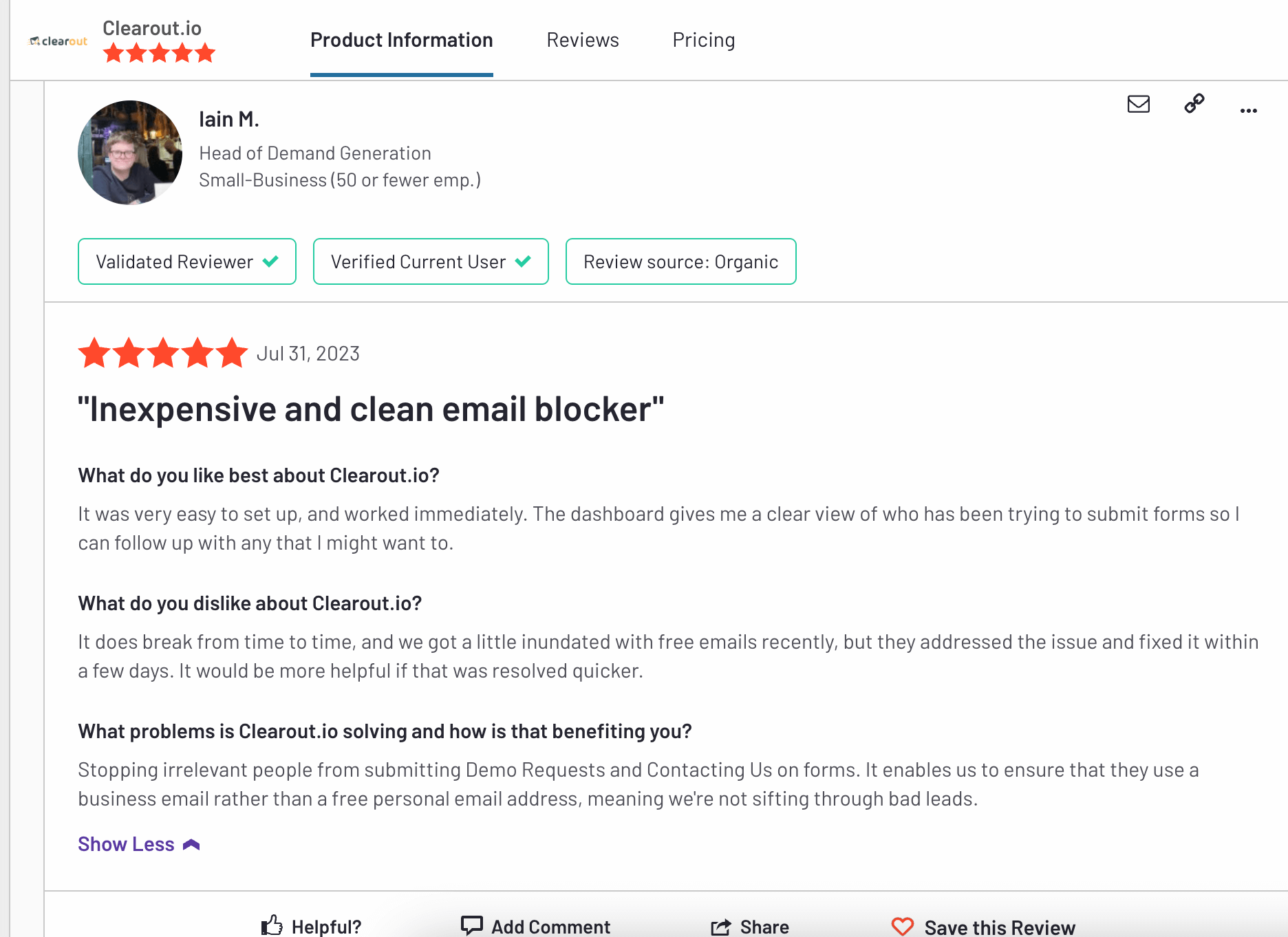 DeBounce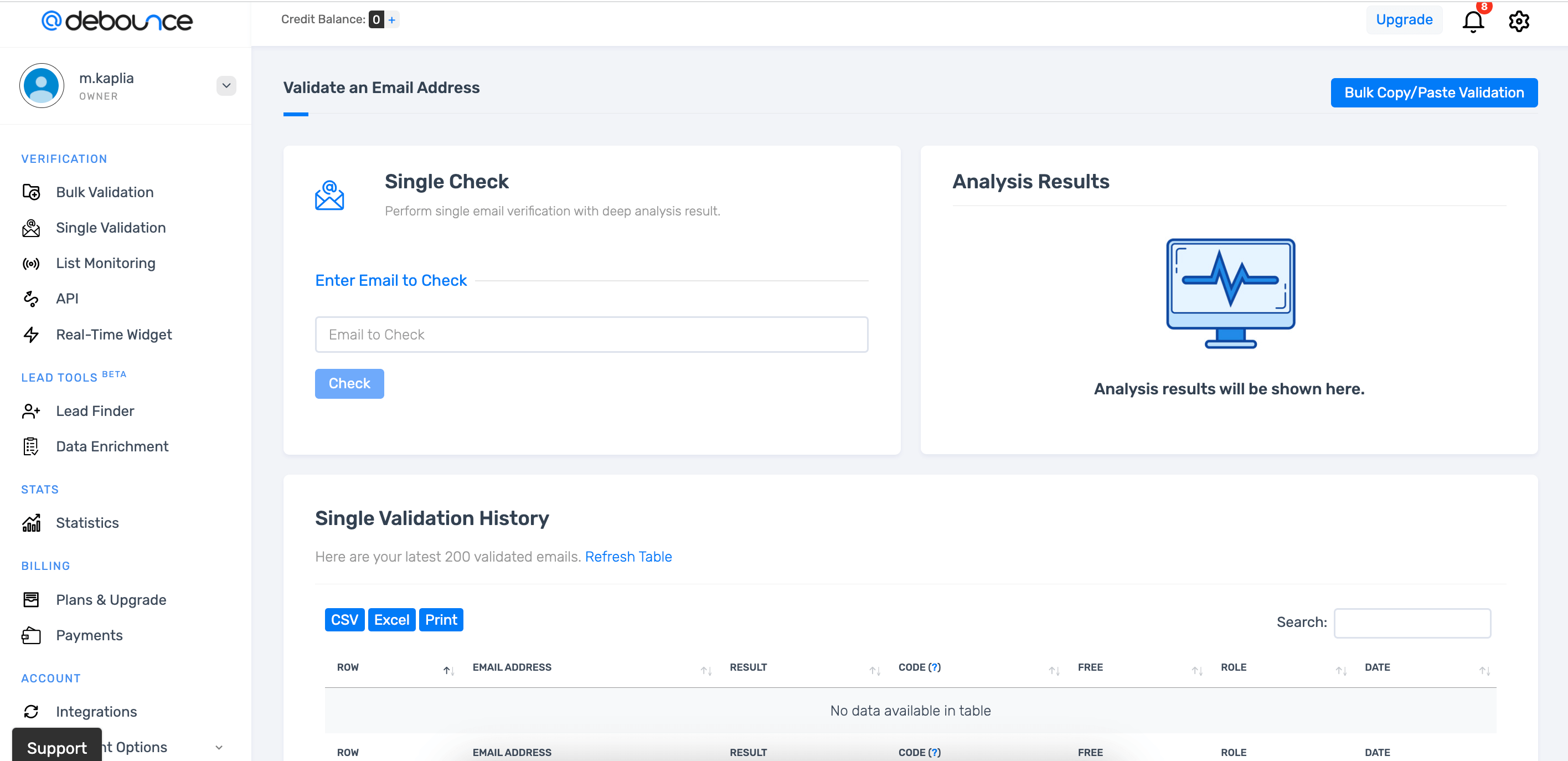 DeBounce is another email validation tool on which different world brands rely, for example, Siemens or Samsung. This email verifier offers a set of features that minimize bounce rates, from disposable email checks to email deduplication.
Also, DeBounce helps to find catch-all domains, remove spam traps, and provide credits to your teammates to collaborate in the email verification process. This solution also gives access to detailed reports with the insights about your email list.
DeBounce key features
Straightforward dashboard and intuitive interface
Selectable download options
Syntax elimination
Domain validation
MTA confirmation
Price: You get instantly 100 free verifications after you register. According to DeBounce, there is no monthly payment, no upfront fee, and credits never expire.
DeBounce uses a pay-as-you-go model, starting from $10 for 5,000 verifications ($ 0.002 per verification) to 5M verifications ($ 0.0003 per one). If you need more, contact the sales for additional information.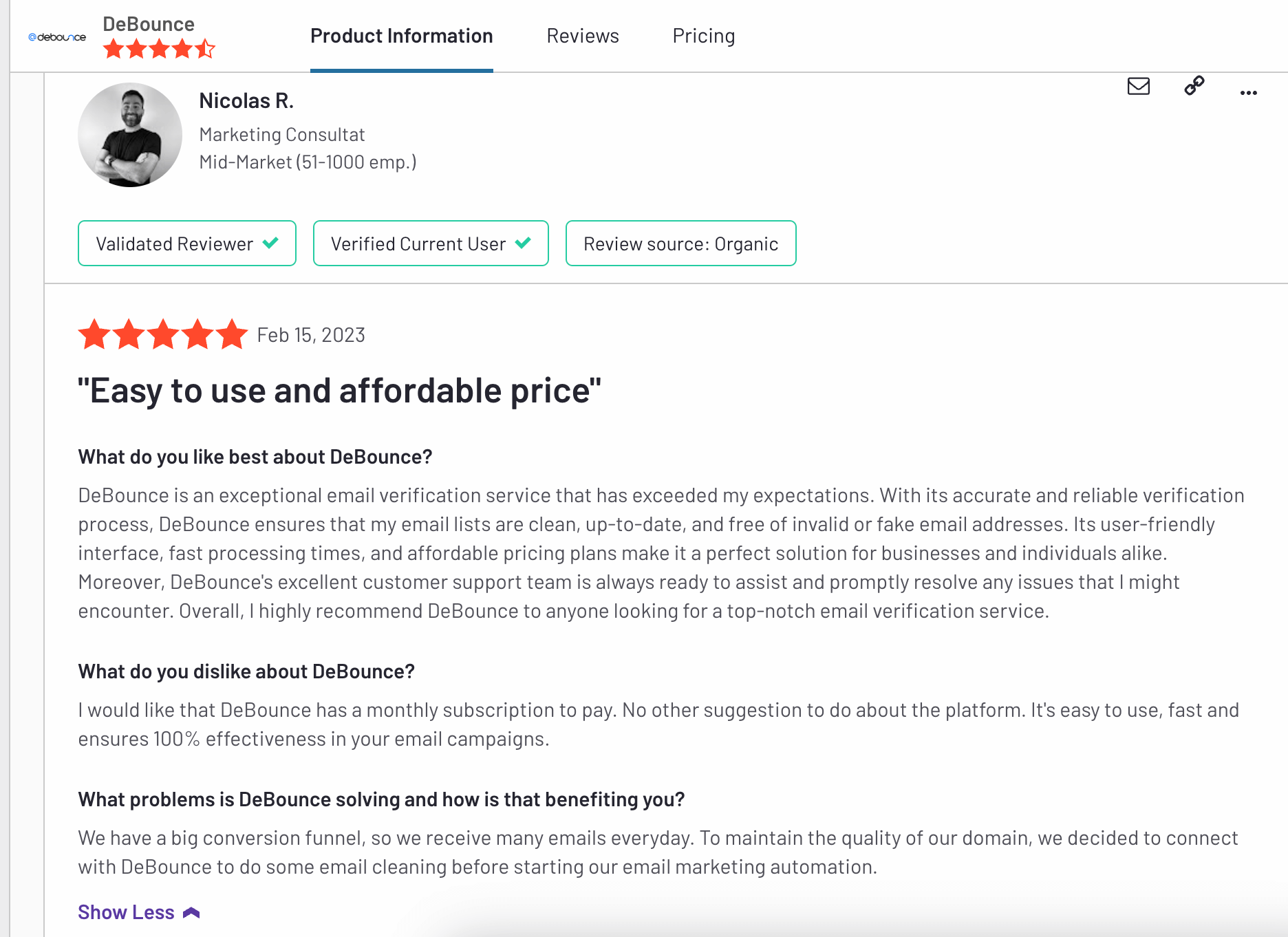 Why to use email address verification software
They skyrocket emails' deliverability
You have the open rates that shine
Your emails dodge bounce bullets
You become the sender that ISPs love
You make more out of your dollar
Higher engagement is on the board
Your emails evade spam traps
You always stay compliant
Granular segmentation is an extra benefit
Data-driven dominance is guaranteed
How to choose the best email verifier
Step #1. Look for high accuracy
Begin with searching for an email verifying tool that is more accurate than a sharpshooter. It should effectively eliminate role-based emails, disposable emails, and more. To verify its accuracy, read reviews. Consider giving it a trial run.
Step #2. Consider your budget
A dollar serves as both our ally and toughest critic. Take into account your constraints and explore available options. Some email verifiers offer pay-as-you-go plans, while others charge based on verifications performed. Find a pricing model that aligns comfortably with your needs and financial situation.
Step #3. Find a user-friendly experience
Nobody wants to grapple with an email address verification solution that's as complicated as assembling an IKEA cupboard without instructions. Prioritize a user interface that you can navigate effortlessly without tech skills. Seek out a tool with a design that welcomes you with arms, eliminating any steep learning curves.
Step #4. Ensure seamless integration
Make sure that the tool works well with the email marketing platform you prefer. Compatibility is key to keeping your workflow smooth. You wouldn't want any «communication breakdowns» messing up your marketing efforts, right?
Step #5. Check if the Support squad is ready
Having a customer support team is like having a trusty sidekick. It's crucial to have them by your side in case you face any obstacles or have burning questions. Check for the support channels and how quickly they respond.
Summary about best email verification services
Email address verifier software is the solution designed to validate email addresses and check if they can receive emails. It is crucial to verify the emails of your leads before contacting them to prevent bounces and keep your sender's reputation clean.
The best email verification services are GetProspect, ZeroBounce, NeverBounce, Reoon Email Verifier, Valimail, Bouncer, Emailable, VerifyBee, Clearout, Debounce.
The main features of such email verifiers online are bulk email verification, API availability, CRM integration, detecting bounced emails, and domain health checks.