Don't undervalue cold sales, because this tool is quite powerful, if you implement it correctly in your work. To do this, you need to train managers who are in contact with clients, have effective cold-calling scripts, and much more.
We will help you get the benefit of cold calls and tell you about this sales technique, provide useful cold calling sales tips and of course give examples of cold calling scripts.
What does cold calling mean?
The best definition of cold calling is:
This is a direct sales tool, which is one of the ways to introduce your products to new leads, find out what's important to them, what problems they face, and make them your potential customers.
According to a study from RAIN Group, almost 70% of people respond to cold calls, which means there is a chance to make contact with some of them and close the deal.
How to make a cold call that will get you better results? Cold calling sales tips
To make a cold call and get the maximum return, you need to have thorough training on these 7 main factors:
set of goals;

a base of contacts;

emotional aspect;

availability of complete information and onboarding;

understanding of a proper result;

the quality of calls;

B2B cold calling scripts.
Let's walk through these points in more detail next.
The perfect cold call factor #1. Set goals: decide what result you want to get at the end
Cold calling techniques must include goals, otherwise you will act chaotically. Here are some examples:
Intelligence. Find out all the data about the person (e.g. position, position in the company, whether they are responsible for decision-making, pain points).

The number of leads increase. Get information about the interest, agree on the next call/book the prospect for the product demo.

Announce your product/services. Make your presence known to the market, for example, when you just launched a new product.
Your goals may be different, and you can just as easily search for online registration, decision maker contact data, or other information.
Note. Don't ask a million questions on the first call so as not to bore the person. Learn the basics and tell the person everything they want to know. This call is not a sales call, most likely no one will listen to you for more than a few minutes and immediately make a deal with you. This conversation is for the sake of the meeting and getting the lead interested.
The perfect cold call factor #2. Contact database: keep all data in order with CRM
Collect contacts of leads in one place and lead prospects through the sales funnel from the start to the conclusion of the deal.
Try GetProspect CRM for this, where you can not only keep all your leads, but also find work emails in bulk.
Organize your leads in GetProspect CRM
Keep your leads in one place, search for new ones in the database, and lead them through the sales funnel.
The perfect cold call factor #3. Emotional aspect: make a good first impression
The first 3-4 seconds determine the outcome of the conversation. So you need to remember the effect of the first impression and be prepared.
This prep involves an emotional acceptance that the answer to your cold call will not often be received positively by the contact. So you must be strong and believe in yourself. Start the process of communication with each potential client solely in a good mood and keep an eye out for their mood too.
Your emotions affect your main cold-calling tool: your voice. That is why, always stay confident and positive in order to hook the lead and get the results you want.
The perfect cold call factor #4. Onboard your employees: provide all the data and training
Information savvy is always a good thing. Cold sales managers should not just read out a script during calls, they should be ready to answer any question about a product, company or service.
Addressing a potential client should sound simple and clear. The client must understand everything at any stage of the conversation.
It is impossible to know all this at once. The sales department should include training on cold calls, providing all the necessary data. It is useful to make test calls, listen to your voice and make adjustments.
The perfect cold call factor #5. Right results or not: don't forget to get the lead's consent
No matter how nice the interviewer is on the other side of the wire, it is of little use if your potential client does not agree to what you offer them.
So you need to write down which cold calls will be the right result for you, and which will not.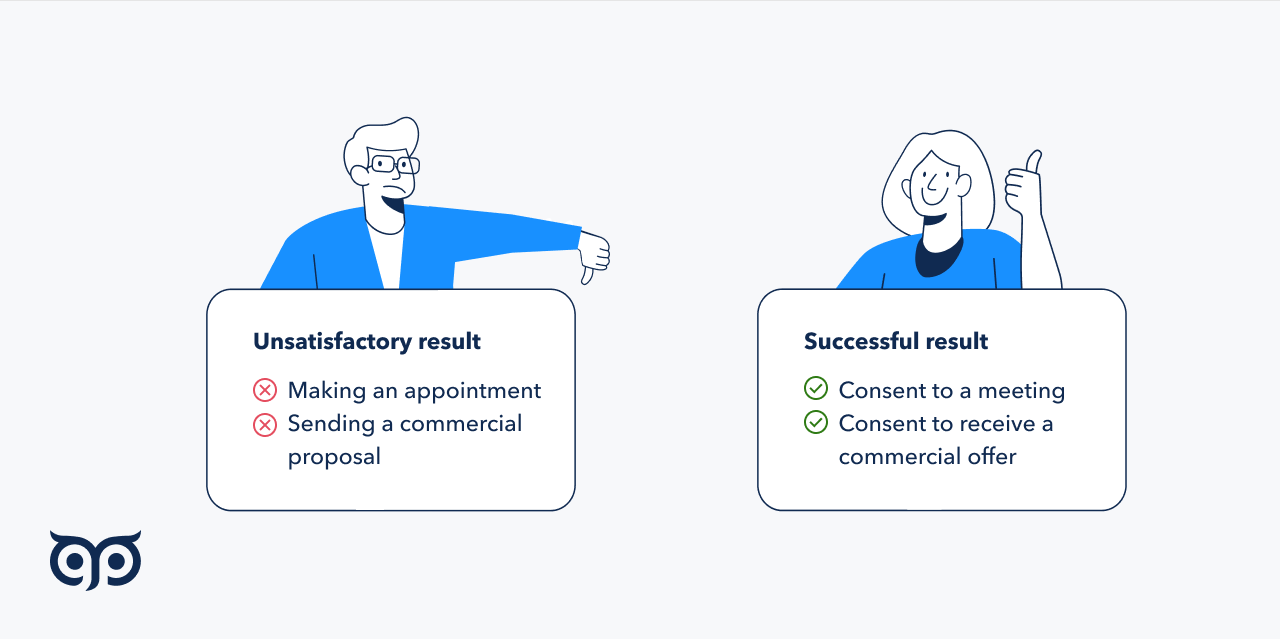 This applies not only to the goals listed in the table, but all the others that you will have.
The perfect cold call factor #6. The quality of calls: analyze the team performance
The results of all actions to make a simple contact, a lead, and then a customer and a regular client, must be instantly recorded. We have already mentioned that all the data should be in the CRM. But beyond that, you need this tool to keep analytics.
The more you can record and track, the better you can measure the success of cold calls, what brought the best results and what was not effective.
In addition to CRM, in order to evaluate the effectiveness of your sales activities, it is essential to establish key performance indicators of your cold calling techniques:
Key indicator #1. Number of outbound calls
It is necessary to assess the performance of sales managers. Find out how many calls they make, and it is better to estimate this figure in different time periods of a week/month/quarter.
It is necessary to analyze how many total outgoing calls are made and the number of them each manager is responsible for. If the number drops, for example, from day to day, or from week to week, it may indicate a decrease in managers' motivation, and lead to lower results in attracting leads through this sales tool.
Key indicator #2. Average call time
This indicator will let you know how effective cold calling is
A cold call should be short enough and convincing enough to interest a person who is hearing about you and your company for the first time.
The sales manager should pay attention to how much each manager spends on average on calls. How much was spent on calls with positive and negative outcomes.
If it has been noticed that some of the professionals spend a lot of time on cold calls and there are no results, you need to better train your employees, do some work on their mistakes, teach them to be more direct, persistent, and not spend too much time on the first call.
An analysis of the best employees, those who have their own secrets of the perfect cold call, can also help improve performance. You need to study their techniques and share them with the rest of the team.
Key indicator #3. Call answering frequency
The speed at which calls are answered and their number is also an important indicator of effective cold calling. By analyzing this data you will get the following information
how high the quality of your sales databases is,

what part of the day it is better to call potential customers.
Keep a record of this data, and then tailor the best approach for those in charge of cold calls.
Key indicator #4. CR to customer engagement
The first step in establishing a CR (conversion rate) is to define a single clearly defined goal for your sales department.
What kind of calculation should be there?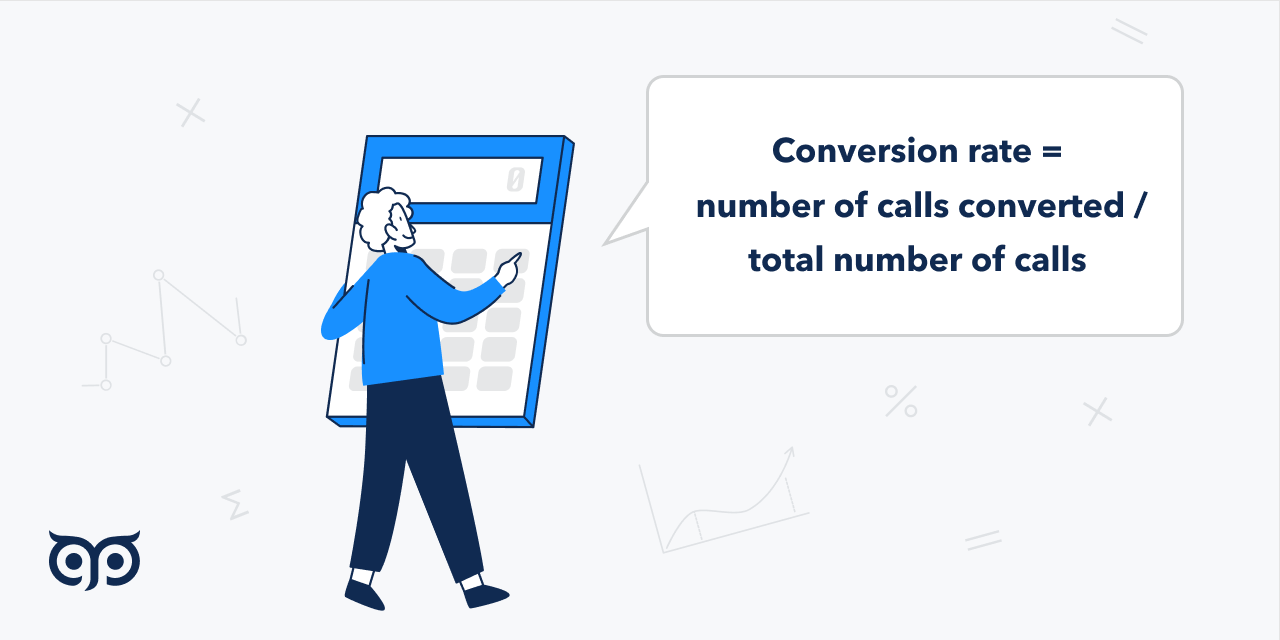 This can be tracked for each cold-call manager as well as for the overall performance of the team. This will help you identify their strengths and weaknesses and monitor their progress.
The perfect cold call factor #7. B2B cold calling scripts: Make a script for managers
In order to achieve the main goal of a cold call – to transfer the interlocutor into the category of warm clients, the manager has very little time. Therefore, the conversation must be thought through and optimized in advance. To do this, a script for a phone call is drawn up.
B2B sales scripts help the salesperson become much more confident, avoid awkward pauses, and get rid of the fear of getting rejected. But, as mentioned earlier, don't read a script like a robot off a piece of paper.
Treat this as a cheat sheet, which will help you not to miss anything. You should also be open to improvisation, because the person may ask a question that isn't on your list.
Now let's take a closer look at the meaning of cold calling seller scripts and their examples.
What are scripts for cold calling?
Sales script is a cheat sheet, usually with sales text, which helps managers make cold calls, to convince potential customers to take action – to consider closing a deal, order a product, agree to a demo and so on.
How to make a sales call script correctly? Preparatory process
The best way to start cold calling script creation is with preliminaries. You need to decide on the 2 points:
Result. The expected result is essential to write in advance, because it will depend on the algorithm of cold calls.
For example, the objectives may be to obtain consent from the potential client to schedule the next meeting, the consent of the client to send them a commercial proposal.
Reason. To determine this block you should be guided by the result, for example, if your goals are those that we have indicated above, the main reason – to solve the problem of the potential client or to offer more favorable terms.
Clearly first you need to find out what problems potential customers have that you want to run cold calls on, what similar product they may use, before you make an offer.
If you need to ask the person directly to find out about pain points, you can find out about the techniques used by Search in GetProspect using the Technology filter.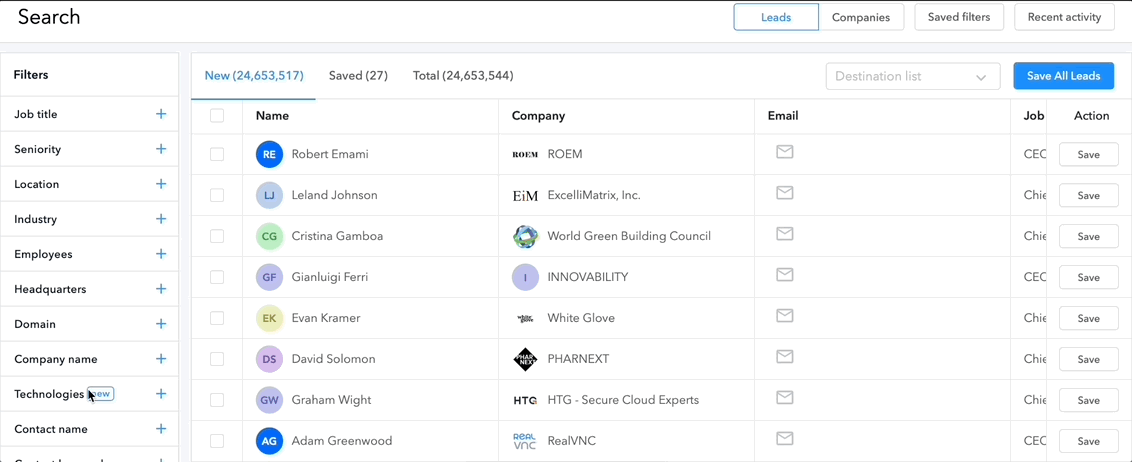 After that the preparatory process of creating a lead generation script should follow these points.
Step 1. Conduct an analysis of managers' past performance, and competitive intelligence
You need to study sales managers' cold calls, write out their best moves, and analyze your competitors' work.
If this is the first time your company is introducing cold calls, focus on analyzing the second point. Describe your competitors' strengths and weaknesses in cold scripts dialogues, and take note of useful information – what to do and what not to do.
Step 2. Divide your contact base into types and analyze your target audience
You cannot start creating cold calling seller scripts until you have identified the main customer segments and prepared an ICP (ideal customer profile).
This means you need to adapt the tone of the templates with lines, arguments and objections for each type/segment. After all, they may all respond differently to proposals and, therefore, approach decision-making differently.
How to structure a cold call script? Final question before creating script
To create useful and working B2B cold calling scripts, you need to separate each stage of the first conversation with potential customers into blocks and create a talk template for each.
Here's an approximate sequence that you can get.
Greeting, conversation with the secretary/office manager
This stage includes your interaction with the contact who is not making the decision. You need to politely go around it and get to know the DM contact. Be polite to the person, because the interaction with that contact is just as important as the interaction with the decision maker.
Identification of needs, questions to qualify the lead
Qualifying questions are essential aspects of cold calling that should not be overlooked when you write a cold-calling script.
With them, you will better understand the needs of your potential client, learn the pain points, as well as whether their company has the opportunity to buy your product/service.
Offer presentation
You learned more about the person in the previous step, you highlighted the important points, you realized what pain points you can solve. And now you need to tell more about the product and why your offer is ideal for this person and their company.
Answers to objections and additional questions
To this stage in any case you should be ready and do not respond to objections quickly, otherwise you risk misunderstanding the person and they just lose interest in the talk with you.
Take a deep breath, listen, and then give an answer. You may not have all the answers in the sales script template, but if you know your product well, the benefits of your company, you will do 100%.
The interest of the lead in your product/services
Even if you are communicating with the right person – the decision-maker, there is a chance that your potential buyer will not be interested. It is imperative to find out their level of interest during the call.
Only after clarifying this point can you move on to a unique offer, make an appointment for the next call, and so on.
Closing the conversation with the result
Closing the conversation is the final step, that is, the manager's call ends, the result of the talk should be recorded.
Received consent to the next meeting to discuss the commercial proposal.

Received consent to send a commercial proposal.
To these blocks, during the creation of a sales script template, you will need to add a description of the advantages of the company – why you are better than your competitors, information about the products/services, a list of frequent objections, and, of course, the answers to them.
What other structures might there be sales scripts for cold calling?
Example structure of cold calling sales pitch #1
Start of the call with the decision maker, greeting

Reason for the call

Questions to the leader

Commercial offer

Increase of interest

Acceptance of commercial offer or re-call
Example structure of call sales script #2
Introduce yourself and get their attention.

Tell them about the product/services.

Ask questions about the qualifications of the lead. Find out who makes the decision.

Arrange to meet with this person and the decision maker together.

Find out additional data.

Confirm the meeting.
Example structure of cold calling script for sales #3
Introduce yourself.

State the purpose of the call.

Qualification questions and after that offer.

Find out if the lead is interested.

End the dialogue on the agreement/or non-agreement of the lead to meet again/receive more information about your product/services.
Example structure of cold calling script for sales #4
Greeting and going out to the decision maker

Pain points identification and presentation.

Active sales tools – discount, gift, additional functionality.

Interest of the lead.

Answers to objections.

Closing the call.
Based on the cold calling ideas/structures you see above, you can create your own cold calling scripts – make them smaller, or larger. If one of them suits you, just create a script based on it.
To help you understand what these talk templates should look like, we have created sample cold calling scripts for you. Let's take a look at them.
Examples of sales scripts for cold calling
B2B sales scripts are the most significant points that are in the structures above, based on which you can build a full-fledged first call to potential customers.
Cold calling script for sales: interest verification
When you want to find out if a contact is interested in your product, you need to work on this scenario – talk about it, find out how you can be useful, present the offer, and give a choice in the end.
After your last offer the prospect will either want to continue communicating with you, make another appointment, or refuse.
Always give a choice, it shows that you respect them and value their time. Keep this in mind in your prospecting script.
B2B sales pitch script: identifying pain points
In the course of the conversation, determine which problem is the most prominent in the team/company of the leader right now.
Prospecting script: focus on issues
You can also build the first talk on questions that will help you better understand the needs of the leads and in the course of the conversation adapt your dialogue to the specific person you're talking to.
Simple prospecting call script: Pain points and prescreening
Here's an example of a short script if you already know the lead's pain points and know what to offer them specifically.
The best sales pitch for cold calling is born only from continuous improvement
Here you have the best cold calling script in stock, but what else do you need to know before you start creating templates and making calls?
In order for your scripts for cold calling to be effective – you need to test them before and after implementation, that will allow you to constantly improve them. From good call results, take positive experiences and use them for your strategy, from bad results, work on your mistakes.
It's simple.
Test the scripts internally before launching them. Read them aloud to your colleagues. Usually this way, when you read it, it reveals the disadvantages that are worth removing - too long sentences, piecemeal wording. The text will be shorter (which is fine), and will sound natural.
After running the scripts, record the stage at which some calls are dropped, analyze why, and fix it. This approach will increase the deal's covariance. In addition, you need to write down questions/concerns of the leads in order to implement them in the scripts later.
Summary
Cold call is a direct sales tool that can be used to attract more prospects, to get potential customers interested in your product/service, who have not heard anything about your company before.

Effective cold calling begins with careful preparation – setting goals, collecting a base of contacts, emotional preparation, information savvy, defining the end result, analysis of results, having scripts.

Before creating effective cold calling scripts, you also need preparation - analysis of past cold calls, competitive intelligence, analysis of the target audience.

To write an effective cold-calling script, you also need to make several cold-calling structures beforehand, and only then write a template for the conversation with a potential client.

Lead generation script for cold calls should be always tested before and after implementation.