According to LinkedIn, 69% of salespeople say sales intelligence and engagement software products, which include email tools, are very influential in closing deals.
Automated services for bulk email sending provide high results due to greater personalization in communicating with prospects, helping segment targeted leads, and starting conversations at the right time and with details.
Email marketing has a high ROI (return on investment) and can grow the number of potential customers faster and more efficiently. That's why it continues to be one of the most effective customer outreach channels.
Here you'll find a bulk email marketing service and know what tasks it may help you solve.
Bulk emailing services for marketing and cold mailings
Perfect for: email bulk service (+ follow-ups), A/B testing, outbound lead generation, bulk email finder, and lead segmentation.
Tasks you may face and how GetProspect can help you solve them
Digging through pages of details, collecting, entering contact in your CRM, and then verifying them manually (by sending and receiving bounces) won't enhance the quality of your outreach. The opposite might be true — you'll spend a lot of time and end up with several contacts which bounce.
With GetProspect, you can optimize your search and work with potential clients. On the platform, you can not only find customers and keep them in segmented lists but also directly launch email campaigns.
Find and segment contacts with one of the best bulk email marketing services GetProspect
Send email campaigns to different targeted leads to personalize communication with each group. Search for different prospects using 17+ filters and categorize them into different lists and folders.
Plus, with the Getprospect bulk email service, you can trigger follow-up emails and customize their sending automatically. Setting up automatic sending of follow-up emails will allow you never to forget to send a follow-up email and not lose valuable prospects.
Find and segment emailing list service with GetProspect:
Find prospects in the web app (with 17+ advanced filters) or via an Email finder extension with contacts' data like email addresses and mobile phone numbers with other relevant info for lead qualification and effective outreach.

With GetProspect, you can unearth companies using particular tech and personalize your campaign, especially for them, via the Technology filter in B2B database search.

Create lists and folders for prospects segmentation and email campaign personalization.

Divide your audience into segments based on common attributes or behavior with GetProspect software for sending bulk emails.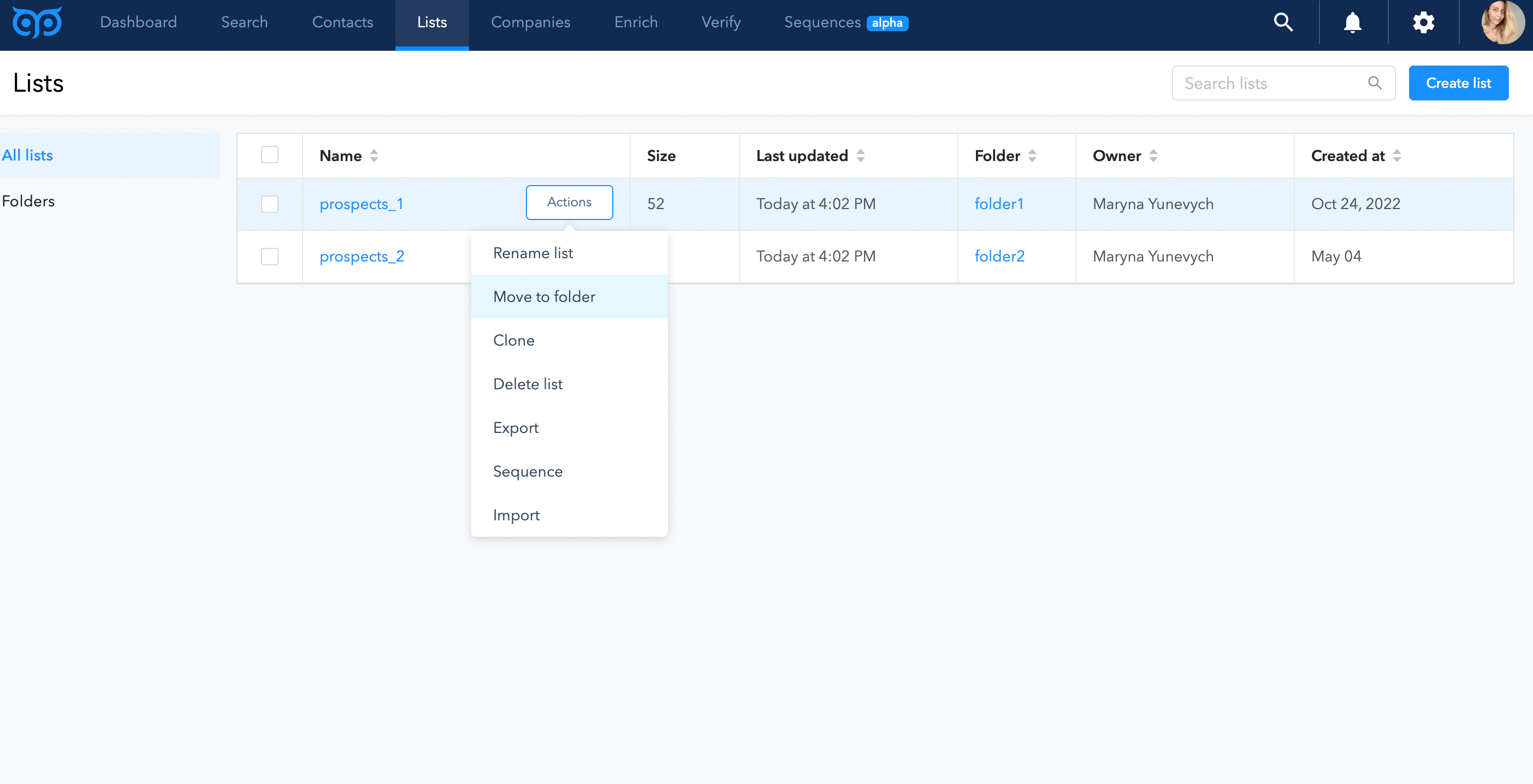 Note. Segmentation is a great part of personalizing your emails, and it is considerably speedier than composing separate emails to each prospect.
It allows you to send emails based on their attributes (e.g., job title, location) and the prospects' online behavior (e.g., connected with you on LinkedIn or attended a particular online conference).
As a result, you will have many email lists instead of one: each is dedicated to a narrow group of prospects.
Add the lists with prospects to GetProspect bulk email sender (Coming soon!):

Сreate an email template with variables for each segment.
Launch email campaigns in GetProspect bulk email service and set up A/B testing to determine the best approach to your target audience and boost sales.
Customize your follow-up emails so you don't miss out on important prospects.
Pricing:
50 valid emails + 200 verifications per month free with GetProspect B2B database data search (no limit on advanced filters - 17+), CSV and XLSX file export, LinkedIn extension, Team data sharing (share your data only with an unlimited number of teammates by adding them to your workspace), and API Access.
The free plan in the Cold Email software includes: 1 email account, 50 Active Leads, 200 Emails Monthly, 1 Sequence Limit, Automated follow-ups, etc.
Paid plans GetProspect mass emailing service start from $49 per month with 1000 valid emails, 2000 verifications, and 5 phone numbers (free for testing). In the Cold Email software, everything is available in a Free plan, plus – Unlimited Email Accounts, 1000 Active Leads, 5000 Emails Monthly, No Sequence Limit, Attachments in emails, and more.
A/B Testing is available from a Growth subscription for $99 per month. Here you'll get 5k valid emails, 10k verifications, and 5 phone numbers (free for testing).
In the Cold Email software's Growth plan available: everything in Starter, plus Unlimited Email Accounts, 25 000 Active Leads, 100 000 Emails Monthly, etc.
Try Cold Email from GetProspect for free
GetProspect bulk email service is a safe tool for cold outbound marketing campaigns: random intervals, custom domain tracking, sending limits, SPF, and DKIM checks.
SendGrid
Perfect for: single marketing email campaigns, bulk email marketing campaigns with a personalization approach, and segmentation.
What tasks can bulk email marketing software SendGrid help you with?
SendGrid has guidelines to keep emails compliant and avoid being sent to the spam email list
Ability to see your shipping speed and delivery capability
Personalize email by using merge tags and enable segmentation of email address lists based on subscriber behavior
Create emails that catch the customers' attention thanks to your own design created in SendGrid
SendGrid dedicated IP addresses and granular segmentation help deliver targeted, personalized campaigns that resonate with subscribers.
David Bitton, the Co-Founder and CMO at DoorLoop:
«As a SaaS co-founder, I rely on SendGrid for bulk email marketing. Their dedicated IP addresses and granular segmentation help us deliver targeted, personalized campaigns that 100% resonate with subscribers.

Since adopting SendGrid, our email open rates have increased by over 20%, and click-throughs are up to 15%.

The detailed analytics also allow us to iterate and optimize our messaging for each customer segment. Ultimately, the deliverability and intelligence of SendGrid have enabled us to use email marketing to nurture leads, drive promotions and strengthen loyalty across our customer lifecycle. The results have been game-changing in growing our SaaS business.»
How to send bulk emails with SendGrid?
Pricing: Free subscription available with up to 6k emails/mo, without access to dedicated IPs. Paid plans start from $15/mo to $900+/mo, from 1k emails & 2k contacts to 200k contacts & 1,000,000 emails.
ClickFunnels
Perfect for: building sales funnels, sending bulk email marketing campaigns, and creating landing pages.
How does ClickFunnels help improve email campaigns?
numerous ready-made, customizable designs
A/B testing and data tracking/conversion reporting capability to identify roadblocks
creating successful marketing funnels
ClickFunnels is so much more than a bulk mail sender. It's a landing page builder.
Sam McEwin, a founder and Director of the digital marketing and media agency BizWisdom:
«The best mass email service all-round platform for me is ClickFunnels, which is much more than a bulk mail sender. It's a landing page builder.

It houses your training program. It's your online store. But email is a part of every step, and it's implemented beautifully around these common use cases.»
How to create an email campaign in ClickFunnels?
Pricing: 14-Day Free Trial available. Plans start from $147/mo with 20 funnels and 10k contacts for 3 users and 1 domain.
Customer.io
Perfect for: launching bulk email campaigns; creating unique customer interactions across mobile and web through channels like push, in-app, and SMS.
What tasks can Customer.io help you with?
Creating successful marketing funnels - it is possible to create several at once for different needs.
Ability to view statistics, do split testing and use a subdomain.
Very easy to use, which saves employees time onboarding.
Customer.io and its robust features, including targeted messaging, behavior-based automation, and powerful data analysis capabilities.
Suraj Nair, a Digital Marketer at SocialPilot:
«At SocialPilot, we utilize Customer.io for our bulk email marketing needs. We chose Customer.io due to its robust features, including targeted messaging, behavior-based automation, and powerful data analysis capabilities. Using this tool, we've achieved significant improvements in our email marketing campaigns.

For instance, our recent campaign saw a 24% increase in open rates and an 18% boost in click-through rates, resulting in a 22% uptick in trial sign-ups. Customer.io has been instrumental in helping us engage our audience effectively and drive meaningful conversions.»
How to create an email campaign in Customer.io?
Pricing: starts from $100.00 per month with 1 million emails per month.
Sender
Perfect for: bulk email campaigns, deliverability improvement, and inbound lead gen.
The problem you may face and how Sender can help you solve it
Deliverability is the core of any email campaign. Your personalized messages are useless if they don't reach your leads.
Sender platform for sending bulk emails especially cares about bounce rates and mailbox folders you may end up in.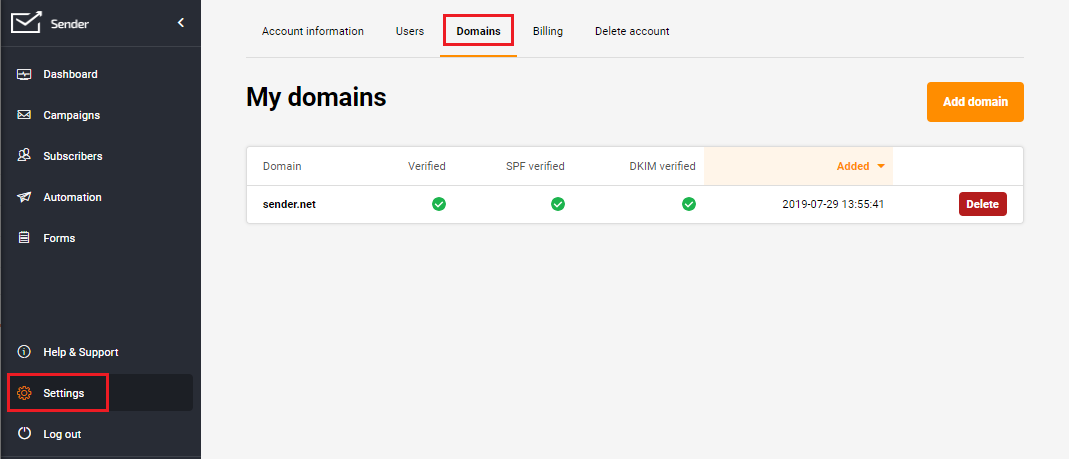 What does it mean? The Sender's team:
continuously maintain the reputation of their IPs
partners with main email vendors, so the team promptly figures out and responds if your emails appear in spam folders
instantly removes non-existing email addresses from your lists
has delivery experts who you can consult on how to prevent or manage email technical problems
How to start bulk emailing with Sender?
Pricing: free plan available with up to 2,5k subscribers and up to 15k emails/month, but all emails will contain sender branding.
Paid plans start from €9.20 - Up to 12k emails/month, and from 1k subscribers with no sender branding.
Salesmate
Perfect for: creating automated email sequences.
The problem you may face and how Salesmate can help you solve it
When you send all the emails manually, you can forget to follow up, and you have to keep track of triggers to connect at the right time.
Therefore, with this reliable bulk email service provider, you have little space for crafting original and personalized templates for each of your segments, with your own style, based on your research and voice, comfortable to the prospect.
By automating your workflow with one of the top bulk email providers, your customers get relevant responses immediately.
In Salesmate, there are 45+ triggers, email templates +ability to add your template to each segment, and A/B testing. Even automated congratulations on the holidays are available.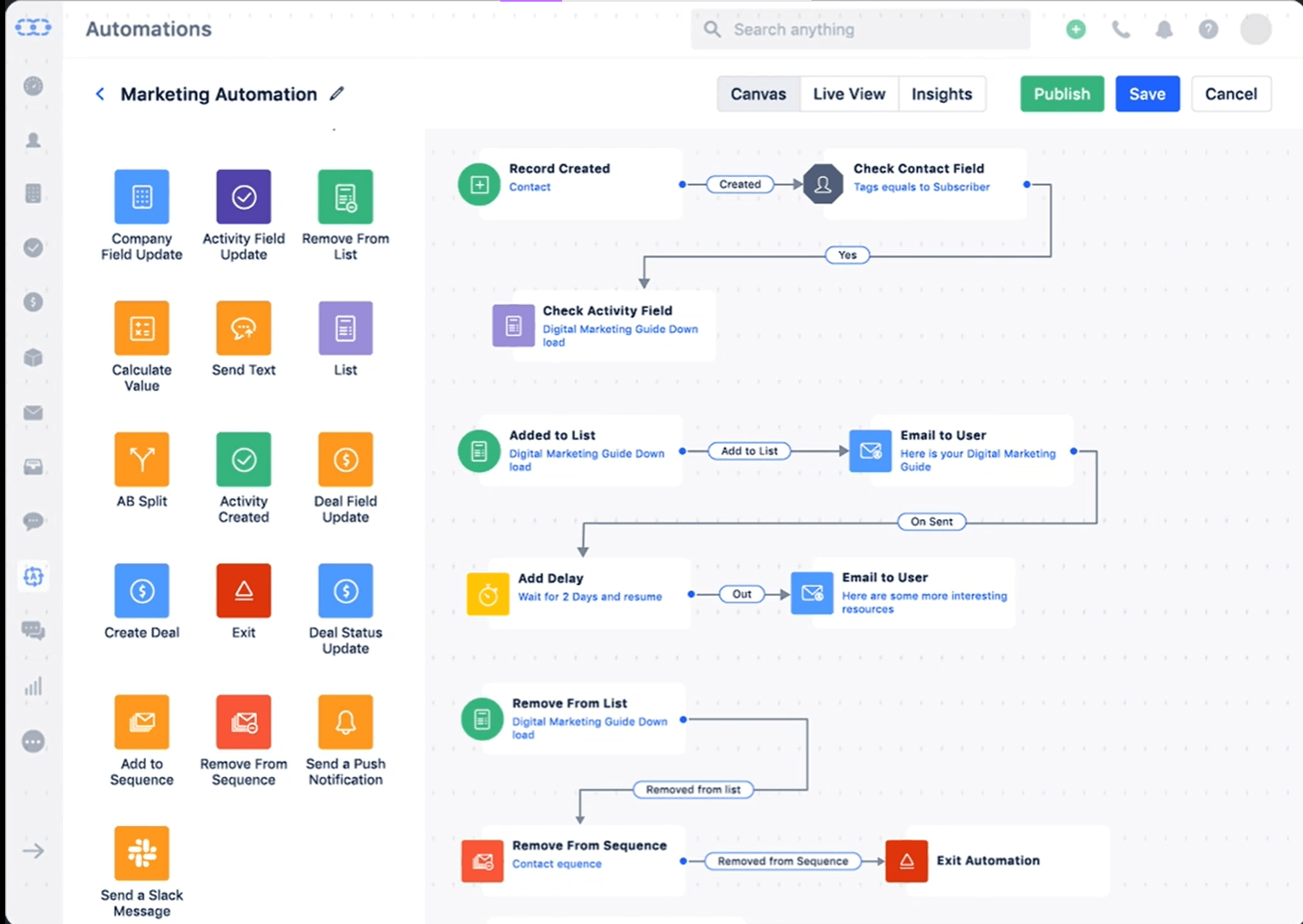 Moreover, with Salesmate, you can get notifications about email opens, link clicks and personalize accordingly. It is almost impossible to track manually.
Pricing: only paid plans from $15 per user/ month to $50 per user/ month and customization, depending on the number of features you will have.
Hunter
Perfect for: easy cold email campaigns, finding and checking the validity of email contacts.
The problem you may face and how Hunter email bulk service can help you solve it
Losing potential customers because of too much time spent on manual activities?
Instead, create effortless campaigns with Hunter
With Hunter, you don't need to send your personalized bulk email marketing campaigns manually by copying and pasting or setting notifications about follow-ups.
Hunter is a good option among free email automation services. If you find something relevant that makes your emails better — you can edit the scheduled messages.
It is possible to track sent, opened and replied to emails. Taking the data into account, you'll plan your customer interactions accordingly.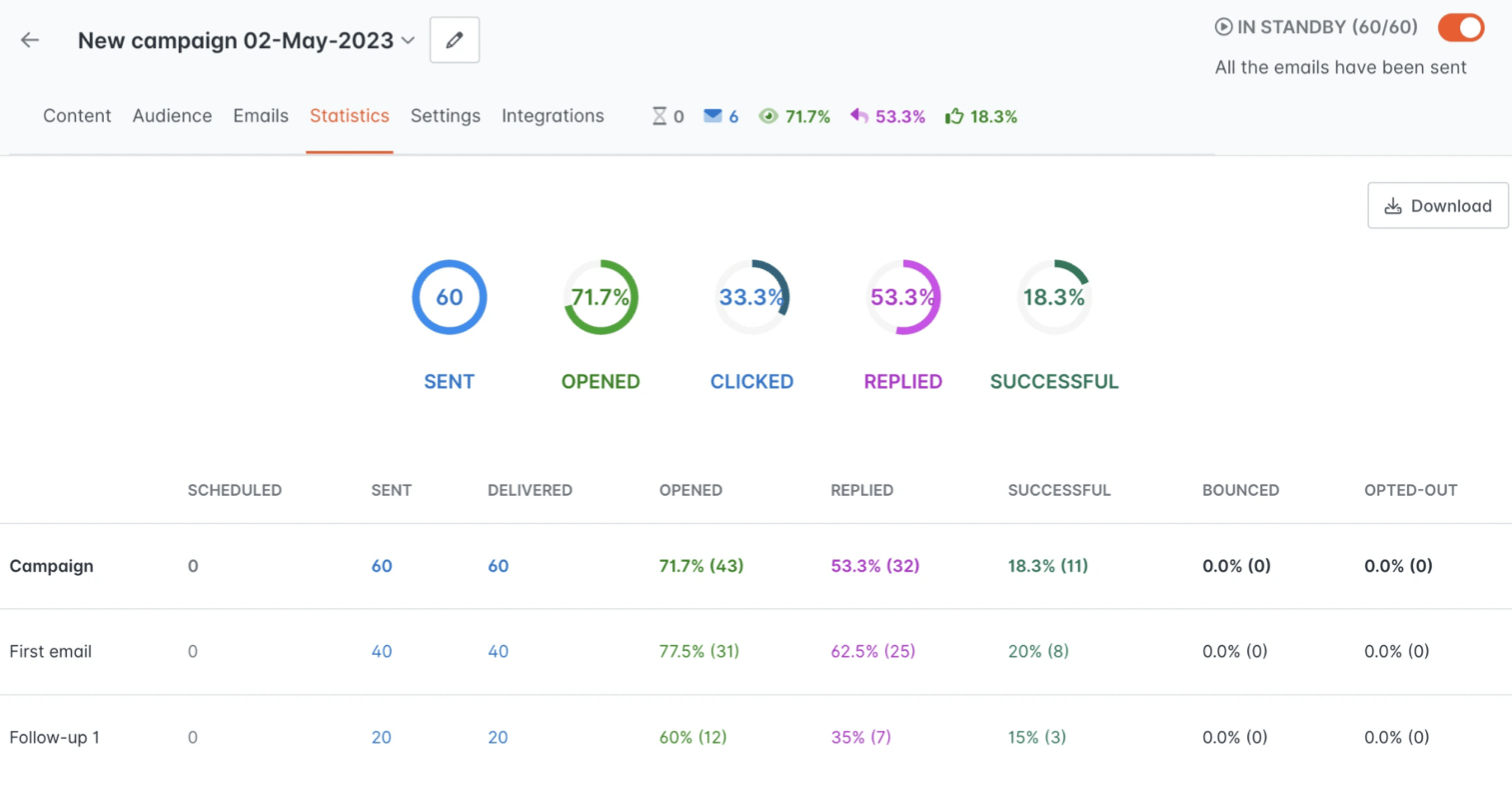 Tip: If they open an email, you can schedule a follow-up earlier.
Pricing: free version covering main features or $49 subscription per month.
GetResponse
Perfect for: inbound lead generation and bulk email campaigns.
The problem you may face and how GetResponse can help you solve it
Navigating the intricacies of email campaigns and marketing can sometimes lead to hurdles like lackluster engagement and email delivery.
GetResponse offers a toolkit of advanced features.
By allowing you to conduct A/B tests, segment your audience for tailored content, and bolster deliverability, GetResponse becomes your ace in the hole.
GetResponse bulk email service analyzes customers' behavior and delivers emails at times your audience typically engages with your content.
The email marketing automation tool allows you to turn on travel mode to ensure your clients will get the email in their local time zone.
The system offers automated sales journeys you can build with no code. When you launch it, the platform adapts to users' actions.
Pricing: Free subscription available. Paid plans start from $19/mo with unlimited newsletters and 1k contacts.
EasySendy
Perfect for: bulk mailing and newsletters.
The problem you may face and how EasySendy bulk email service can help you solve it
When delving into the realm of email marketing, the art of personalization and precise targeting often stands as the golden ticket. However, navigating the complexities of managing diverse audience segments can be akin to solving a puzzle.
Enter EasySendy, a true game-changer that presents a dynamic solution: dynamic list segmentation.

When you have several lists to send your messages to, with EasySendy bulk email service, you can customize email pages to each segment.
To refine what works for your recipients and then make your messages catchy and exciting, the email automation tool offers A/B tests.
And sure, you can use default and custom tags in your messages.
Though based on reviews, sometimes the software has problems with customer support. Occasionally, people wait for days to get a response.
Pricing: free account if sending to < 2000 recipients. Paid plans start from $19/mo for 5k subscribers.
Mailjet
Perfect for: bulk email campaigns; news, marketing, sales mailings, email template creation; deliverability improvement.
The problem you may face and how Mailjet can help you solve it
Unless you track email campaigns, it will be difficult to come up with the perfect approach to your target audience, improve your strategies, and understand the effect your work has had.
Mailjet offers a mailing list tool with detailed analytics
Mailjet bulk email service offers detailed analytics and tracking features, including open rates, click-through rates, etc. This data will help you evaluate the effectiveness of your campaigns and make data-driven decisions to improve them.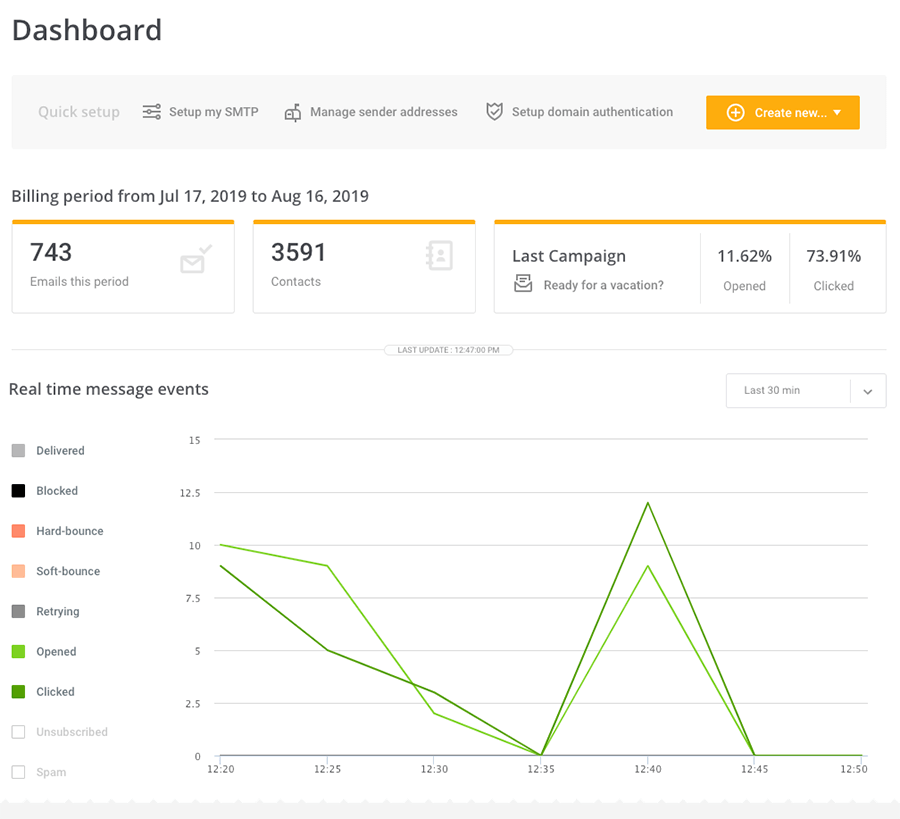 The major feature set of the mass emailing service - Mailjet
Email automation for customer interaction
Ability to segment and personalize emails
Powerful email editor to increase response from prospects and current customers
Ability to insert HTML code blocks
MJML Mailjet email builder to make email campaigns responsive and optimized on all screens
Pricing: Free subscription available, emails with Mailjet logo. Paid plans start from $15/mo with 15k emails without the Mailjet logo.
ConvertKit
Perfect for: bulk email campaigns and deliverability improvement.
The problem you may face and how ConvertKit can help you solve it
It is essential to choose a tool for the team that will have an intuitive interface and the right set of functions that will be easy to understand, even for a beginner. Otherwise, a lot of time will be wasted in order to understand the solution for email newsletters, and the most important thing will be lost - the time that you could already spend on interacting with leads and customers.
The best thing about ConvertKit mass emailing service is that it is beginner-friendly and easy to navigate.
One of the standout features of ConvertKit is its user-friendliness, particularly its simple and intuitive navigation. It boasts a wide array of ready-to-use email templates, landing pages, and form templates that you can customize with minimal effort.
Moreover, this bulk email campaigns tool offers a list management function. You have the flexibility to add contacts one by one or in larger groups, and recipients can conveniently join your list through your landing pages and forms. Subsequently, you can effectively categorize them based on tags, categories, and sources.
Pricing: Free subscription available for up to 1,000 subscribers but without automated email sequences. Paid plans start from $15/month for up to 300 subscribers with automated email sequences.
Drip
Perfect for: launching bulk email mailings for growth lead gen and sales, email segmentation, onsite campaign, and single email campaign.
The problem you may face and how Drip mass emailing service can help you solve it
Email tools devoid of segmentation features could usher in unfavorable consequences. Disseminating uniform content to a varied audience fosters irrelevance and a slide in open rates, tarnishing campaign triumph. Engagement levels dwindle as readers find the content uninspiring, possibly driving opt-outs and casting a shadow on your brand's standing.
Segmentation in Drip bulk email marketing software is one of its amazing and very useful features.
Users can increase deliverability and clicks on links in emails thanks to segmentation in this mailing tool.
Also, from the plus side, you can create automatic email sequences, work with Drip templates for email campaigns, and integrate the platform with various useful solutions.
But it is worth noting that customizing the funnel here is not so easy, especially if you are new to this topic. But Drip's support team can help you understand everything. Plus, they provide various training webinars.
Pricing: 14 days free trial available with 100 email sends. Paid plans on email bulk service start from $39 per month with 1-2,500 people, and unlimited email sends.
Safemailer
Perfect for: cold email automation, drip email sequences.
The problem you may face and how Safemailer can help you solve it
When creating and launching large-scale email campaigns for a large audience, chances are that a significant portion of these emails will end up in less desirable areas of email existence, namely not in the Inbox, but in the «SPAM» or «Promotions» folders.
SafeMailer bulk email marketing solution allows you to get around spam filters.
This platform easily mimics human behavior, such as sending emails itself, so that you always get to the recipient's Inbox and don't lose customers.
Let's take a look at Safemailer from above.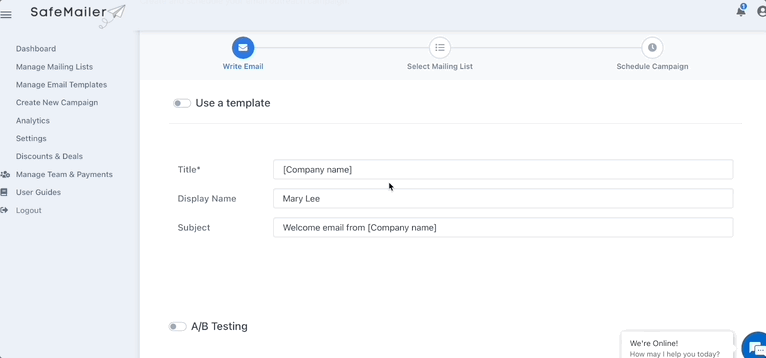 Right away, we can see that this email bulk service is easy to use and gives you everything you need to start mailings for both prospects and customers, to test email campaigns and to improve your email marketing and sales strategy.
Pricing: Free subscription available with 500 cold emails from a single account without A/B testing and tracking emails, bounces and engagement. Paid plans start from $15 per month – single sender account for solo marketers. More sender accounts (10) available in the PRO plan – $95 per month.
How to send bulk emails to get the best results? Tips
Email software alone won't give you better results, e.g., in scaling processes or enhancing customer experience. Here are several tips on how to use it smartly:
Automate tasks that are invisible to users while saving you hours.
E.g. List management and follow-up reminders, streamlining your workflow and saving valuable time.
Pick email bulk service with characteristics that are a priority for your business now.
For example, you don't have a big budget, and you need to choose the most affordable solution. Your task is to find a set of tools for finding leads to connect with them on one platform. So, if you are looking for the right solution, pay attention to additional functionality and price.
Make messages sound more human, e.g. add a sense of humor.

Сheck that everything is configured correctly.

Employ pre-designed email templates. It's essential to uphold a uniform brand image and messaging coherence throughout your extensive email campaigns, to guarantee operational effectiveness and a polished business style.
Summary on bulk email sending services
There are increasingly so many email automation solutions on the market – GetProspect Cold Email, SendGrid, ClickFunnels, Customer.io, Sender, Salesmate, etc.

List of free bulk email marketing services. Forever free subscription is available in GetProspect Cold Email, SendGrid, Sender, Hunter, GetResponse, EasySendy, Mailjet, and more.

Choosing a tool, consider what is essential at the current stage of your business: you have a limited budget; you are ready to pay for the quality associated with your brand, etc.

When comparing bulk email marketing programs, consider what features customers mention and praise most on review websites. High odds the tool specializes in that and will be good at it most. Don't believe in one-off negative opinions since tastes differ.

Using email automation, create messages that sound human rather than salesy, and before launching a campaign, make sure everything is configured correctly.