Tools to automate and optimize lead generation and sales have become indispensable for companies looking to drive business growth. GetProspect email finder is one such tool that has gained popularity due to its user-friendly interface, extensive search capabilities, and reliable data.
However, as the market for such tools expands rapidly, many other options have emerged, some of which we'll look at today. This way, you will understand if they are worth your attention and if the GetProspect platform is inferior to them in any way.
To begin with, let's look at the feedback about the solution from G2 users and experts whom I personally spoke with.
How does the platform work? GetProspect reviews
Short feedback from users on G2 about tools. What do people like most?
«It's intuitive, easy to use, and very effective in finding emails»

«Email finding capabilities, especially LinkedIn plugin»

«Email finder is pretty comfortable to use»

«Speed – usually faster than other similar programs»

«You can easily export the list and upload it to your CRM system»
Extract leads email addresses directly from Sales Navigator
If you are communicating with a lead on LinkedIn, but they fail to answer, get their corporate email and push a deal.
Other GetProspect reviews:
Lilian Chen is the Co-Founder & COO of Bar None Games:
«We use Squarespace for our website and have found GetProspect to be the most important functionality in our lead generation growth. This software has allowed us to increase our open rates by up to 20%, which has greatly benefited our business. We have also used GP tools to quickly and accurately search for leads, saving us time and money.»
Jeremy Dawes, CEO of Jezweb, shared with us that he uses this solution to increase sales growth and lead generation. He is sure that Getprospect is better than other similar platforms in its user-friendly interface and ease of use:
«The platform is intuitive and straightforward, even for those who are not tech-savvy. Additionally, the customer support team is highly responsive and helpful, making it easier for users to solve any issues they may encounter. Another advantage that matters, in my opinion, is its affordability – GetProspect pricing. Compared to other email finders and lead generation tools, Getprospect offers competitive pricing plans with flexible options based on the user's needs.»
While it's great to see the positive feedback from users highlighting the platform's effectiveness, let's still consider some alternatives so that you can choose the option that best suits your needs.
The main GetProspect Alternatives and Competitors
AeroLeads

Hunter.io

SalesQL

Skrapp

RocketReach
First, study a brief comparison table of competitor Email Finder tools and GetProspect Email Finder.
Email finder feature comparison (Free pricing plans)
More about the list of competitors and best alternatives to GetProspect
GetProspect alternative #1. AeroLeads
Platform for: analyzing sales and finding B2B prospects with the web version, extension, and data enrichment.
Main features:
Email and Phone Finder in a web app with 12 filtres

LinkedIn extension for finding prospects

Email Verifier and Email Campaigns (beta)
Pricing:
Free plan available with 50 monthly credits for adding records/prospects and 100 email verifications for 1 user ONLY. In this plan, it is not possible to transfer data to Salesforce, Zoho CRM, Mailchimp, HubSpot, FreshSales, Zapier, etc.
Paid plans start from $49 with 2000 monthly credits and 2000 email verifications for 1 user. Transfer data is also not available in this regard.
A bit of best GetProspect alternative testing:
While AeroLeads offers similar lead generation features as GetProspect, some users have noted that it's slow and takes much time to generate output. I decided to check, and unfortunately, at the very first attempt, running a search on only one filter did not get anything (similar repeats).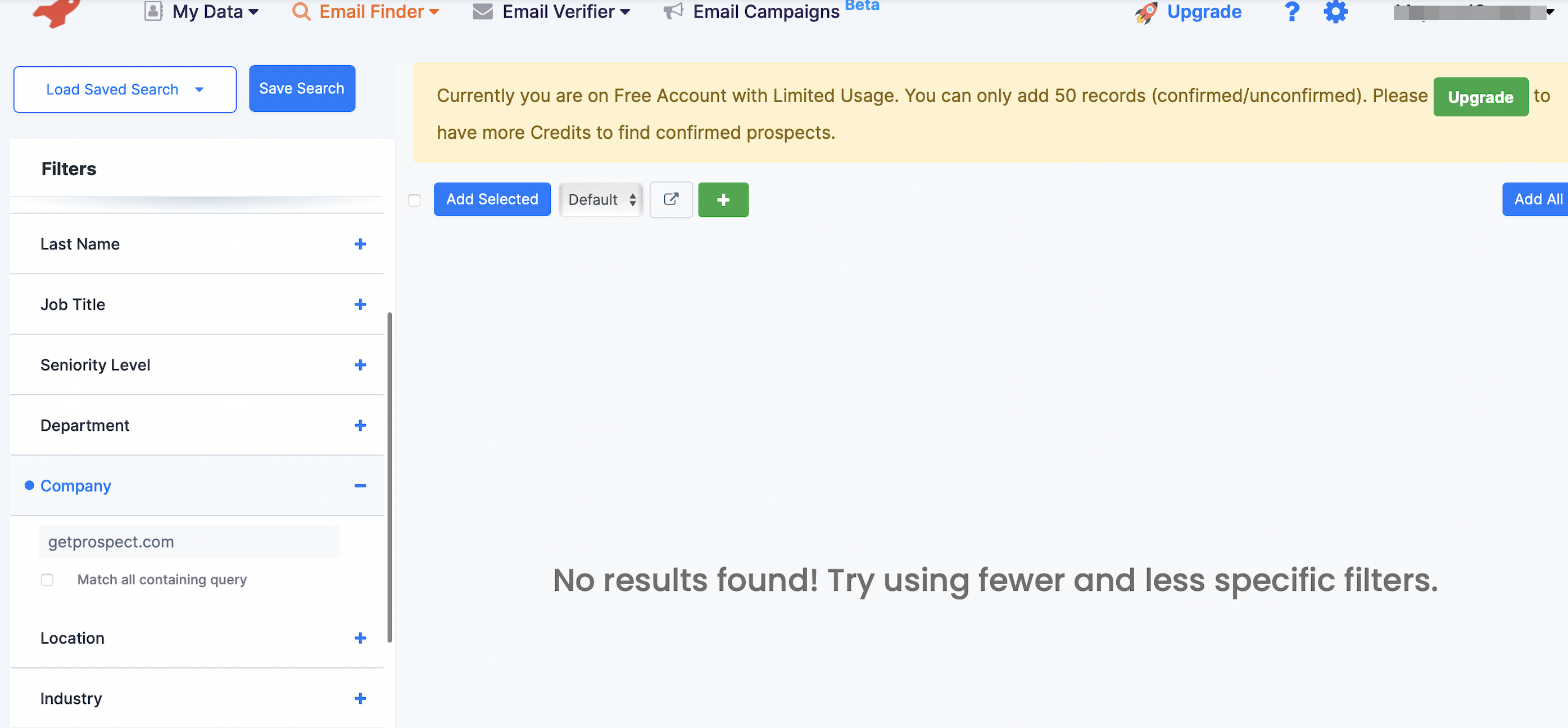 Well, let's try again with the Full Name filter. Type in Tim Soulo and «Hurrah,» and we get a contact. But unfortunately, in the free plan, we will not get anything other than this.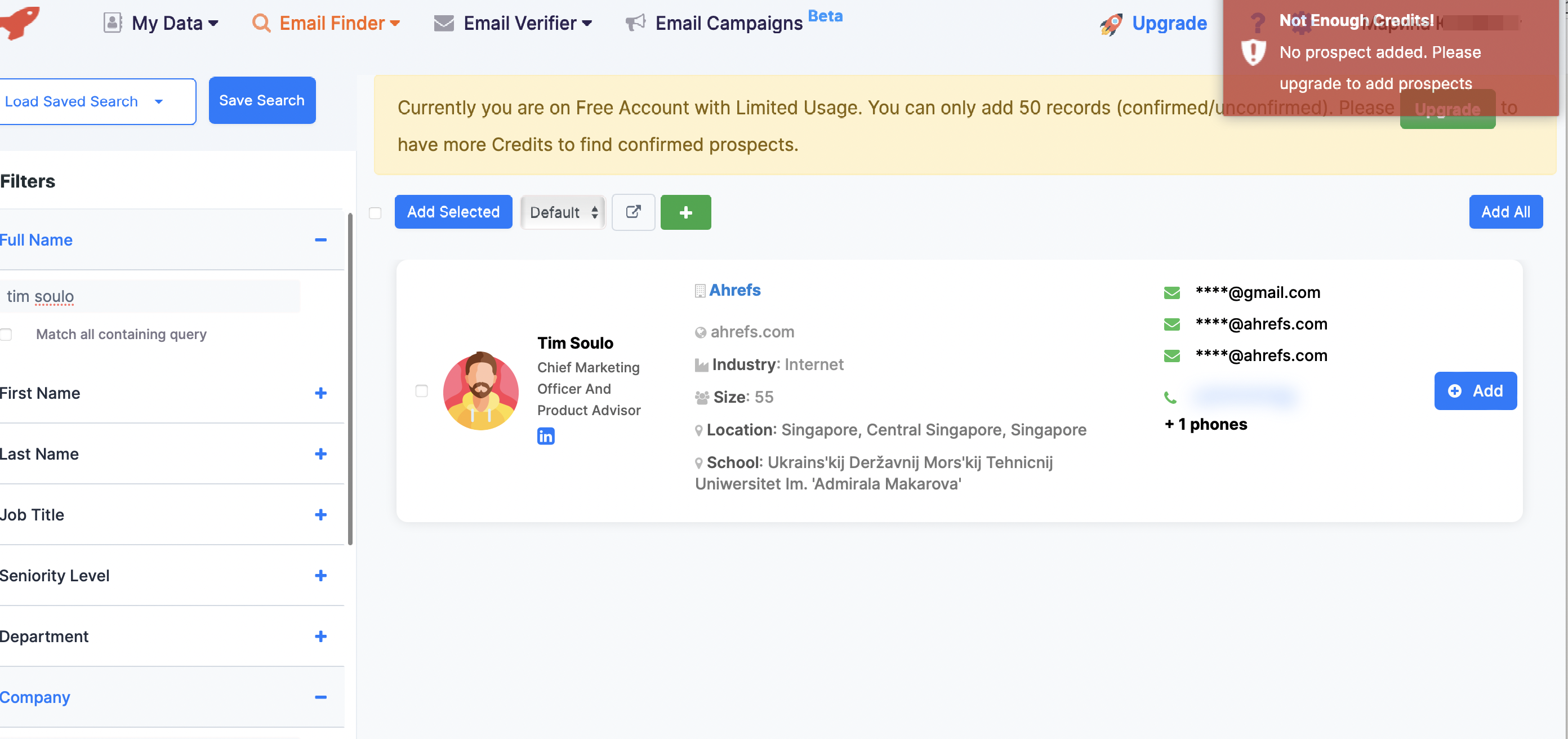 Only when I tried the extension and enriched data on this solution did I eventually get some email addresses, but unfortunately, it took time.
Whereas in the GetProspect email finder web app, you can get 50 valid emails in a free subscription, and this process is quick both in the web version and in the extension (and when you enrich data).

Get more data in seconds
Easily gather all the essential details about your current contacts and companies by leveraging bulk or individual lead enrichment.
The GetProspect alternative – Aeroleads (based on G2 reviews):
«Even with the many filters they have in place on the platform, if you're looking for specific people, they will provide those prospects along with hundreds of others that make no sense/are irrelevant»

«Aeroleads need to upgrade the UI and UX interface, which looks like the older version, and reduce the price»

«The tool may be not completely accurate, and I would advise double-checking the email addresses before sending emails. Usually, a simple Google search of the email address will confirm its validity»
The best GetProspect alternative #2. Hunter.io
Platform for: finding contact data of decision-makers, verification, and launching email campaigns.
Main features:
Email Finder in web and extension

Email verifier

Cold email software

Google Sheets add-on
Pricing:
Free plan available with 25 monthly searches and 50 email verifications for unlimited team members. This plan does not offer CVS export data, access to full results, etc.
Paid plans start from $49 with 500 monthly searches (+$10 per 100 credits) and 1000 verifications.
A bit of best GetProspect alternative testing:
According to feedback from users, the Free plan can be restrictive in Hunter.io. Well, I'll check it out. In principle, according to the terms of pricing, we get a limited amount of data in such a subscription, but let's see how critical it is. I tried a search in the Email Finder. And that's basically all I got as a result.

More results after keeping a lead.

Below are the search results in GetProspect Email Finder (Free version), which are much more advanced which you can see right away. Here's an example of a lead search. You can find leads by 17+ filters and, weed out the ones you don't need right away + get emails, job titles, and locations.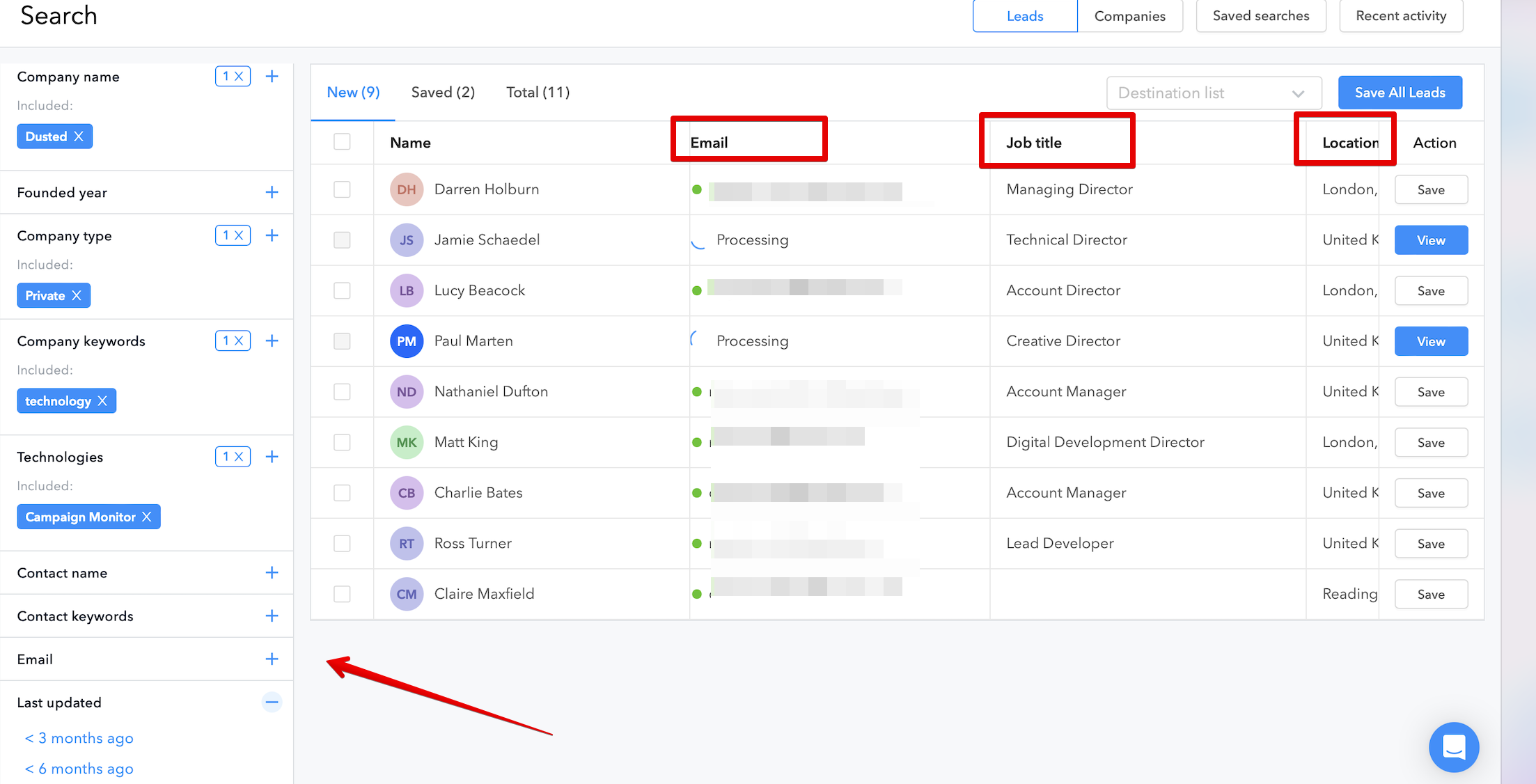 In the search for companies, these are the results by the same filters - more details about the company itself, the technologies used, and so on.
See for yourself how much better the result is 😉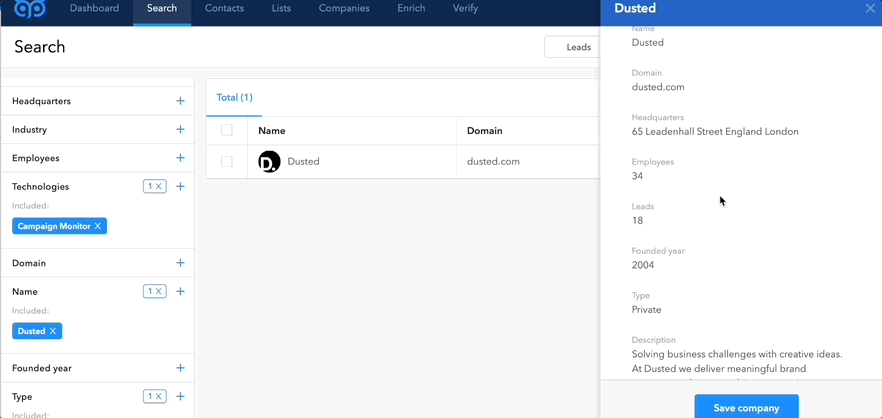 The GetProspect alternative – Hunter.io (based on G2 reviews):
«Unfortunately, Hunter does not work all the time. Oftentimes the emails that it reveals are generic or out-of-date/not correct»

«The tool can be somewhat expensive, especially if you need a large number of email addresses or plan on using it frequently»

«It's challenging to locate contact details for small or startup businesses or websites»

«I suppose sometimes the emails I get do bounce back»
More comparisons of this software with GetProspect and its other competitors in the Hunter.io alternatives article.
GetProspect alternative #3. SalesQL
Platform for: B2B companies to easily access and upload LinkedIn users' contact information through a centralized interface.
Main services:
Linkedin Email Finder extension

Export contacts

Integrations
Pricing:
Free plan available with 50 monthly credits for direct & company emails searching for 1 user. In this plan, it is not available to export data and integrations with apps.
Paid plans start from $39 with 1000 monthly credits for 1 user ONLY.
A bit of best GetProspect alternative testing:
Some users have reported issues with the accuracy of the lead data provided by SalesQL. So I decided to check how accurate the emails are because, at the end of the day, it depends on whether the potential customer will read it, whether you will get the customer, whether you will reach them, and how important it is to keep the reputation of your domain.
Taking the 100 most popular GetProspect contacts in the search, I tested the SalesQL search engine extension and got 87 valid emails, which is pretty good. I sent emails to all of them and got an 87% Discovery Rate, but unfortunately, Bounce Rate was as much as 11%, which is not a very good result.
I did the same thing with the GetProspect Email Finder, and although I received three fewer emails, sending emails to all 84 contacts gave us an 84% Discovery Rate and only a 5% Bounce Rate.
This shows that GetProspect still won in the accuracy of the emails provided.
Find email addresses in seconds
17+ advanced filters you can try in a free plan from GetProspect and get not only valid email addresses but also partially qualified prospects. Close deals like never before!
The GetProspect alternative – SalesQL (based on G2 reviews):
«You can't select the data to download, it always downloads the full info, and you have to order it in Excel»

«It is hard to search for a contact, the searcher is limited»

«It also happens that an email is verified even if it's not valid»

«The UI is not so friendly and is a bit complex. The data is large, but accuracy is a bit lower»
Alternative of Getprospect Software #4. Skrapp
Platform for: extracting relevant emails of potential customers and saving them in organized lists with the web version and extension.
Main features:
Email Lookup in a web app

Company search in a web app & Bulk company search (beta)

Linkedin and Email Finder extension

Email Verifier
Pricing GetProspect alternative – Skrapp.io:
Free plan available with 50 monthly credits. In this plan, you can't save more than 1 page on Linkedin exports, unavailable team options, list downloads, duplicate cleaning, and credits roll over.
Paid plans start from $49 with 1000 monthly credits for 2 users ONLY.
A bit of best GetProspect alternative testing:
Unlike GetProspect, Scrap.io, as well as Hunter.io, has no advanced filters. There is a single contact search in the Unit Email Finder where you need to specify First name + Last name + Company.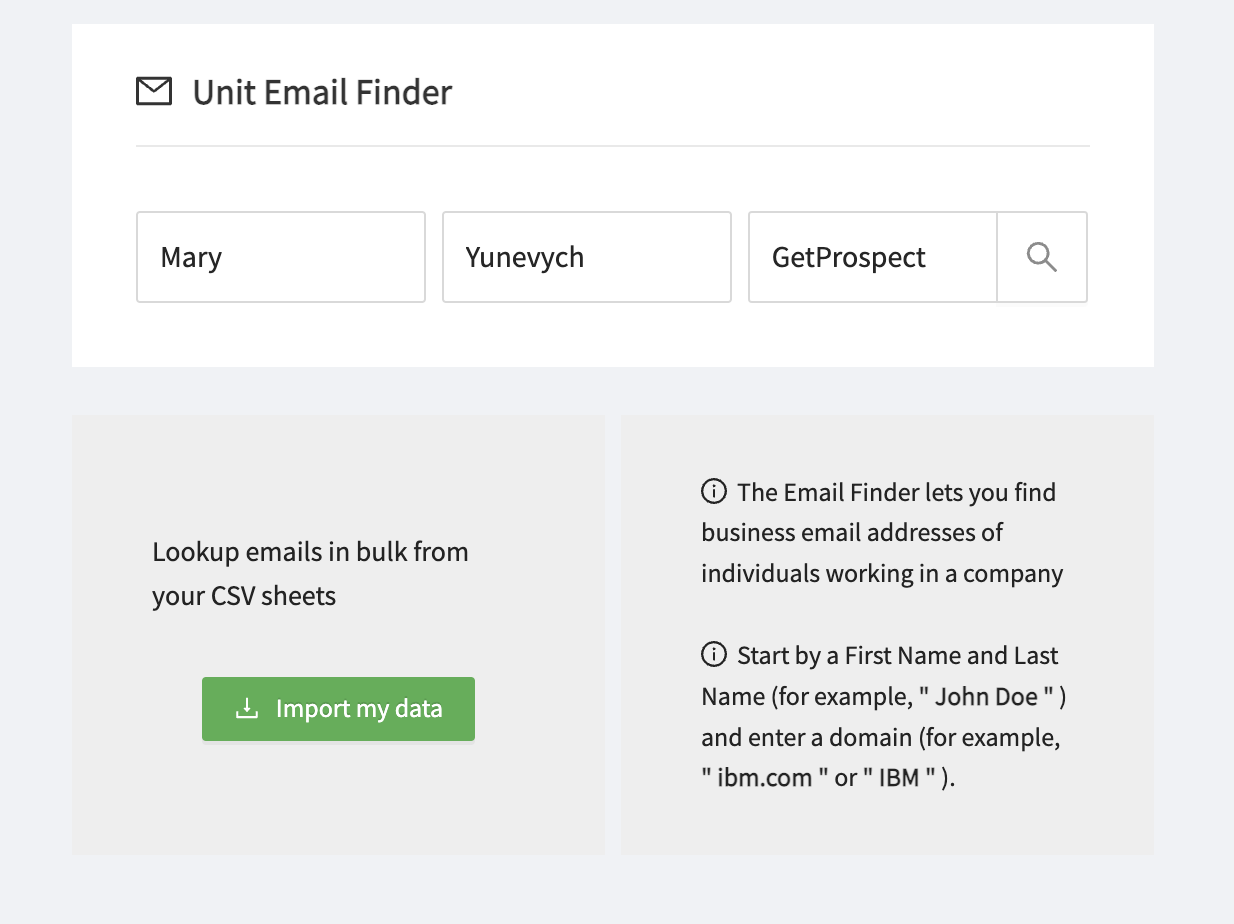 After reading the feedback from users, I realized that they are not always satisfied with the data accuracy, so I decided to check how many emails you can get by taking 100 contacts as before. In the end, I got only 72.
But perhaps we will be pleased with the openness of emails and small Bounce Rate? 🤔
Alas, with the Discovery Rate of 72%, the Bounce Rate is as high as 18%. Which exceeded the negative result of the software we discussed above.
The GetProspect alternative – Skrapp (based on G2 reviews):
«Sometimes the email address is not the good one»

«The only thing is that each and every lead is not available, and from time to time there is a discrepancy in the data of Linkedin and Skrapp»

«The user interface could use a bit of improvement and update. and there are as well some missing features that could be added to create a more cohesive product experience»
GetProspect alternative #5. RocketReach
Platform for: finding contact info for professionals around the world that helps you find email addresses, phone numbers, and social media links by connecting you with potential clients or business partners.
Main features:
Advanced Prospect data Search

Chrome Extension for email search and other data
Pricing:
Free version available with 3 email searches only for 1 user. You can't get leads phone numbers and the Exclude filter in this plan.
Paid subscriptions start from $80 per month for 1 user, with the feature finding 80 verified emails. In this plan, you can't get prospects' phone numbers.
A bit of best GetProspect alternative testing:
Well, I also saw in the reviews that sometimes the accuracy of the data can be incorrect. This means that email campaigns will not bring you the results you need, and as I said before, sending emails to non-existent email addresses will damage the reputation of the domain.
Well, let's test how things work here.
I again take 100 contacts for testing and search for valid emails on the RocketReach software. The result was only 78 (GetProspect had 84).

By sending emails to all the contacts I found, I got a 78% Discovery Rate and 8% Bounce Rate, which is better than the previous platform but worse than the GP.
So, it's not a bad alternative to GetProspect for B2B email enrichment, but it's still weaker.
It is also worth remembering that you can find and export only 3 contacts with data in the free version, and in GetProspect, in the free plan (credits are updated monthly), you can get export 50 valid emails.
The GetProspect alternative – RocketReach (based on G2 reviews):
«The search function could use a little work. Every time I log in to my account, the same company filters are saved (filters I've never used before), so those have to be switched off»

«Sometimes the data can be hit or miss, with some contact information being outdated or incorrect. It takes more valuable time to go through that data and confirm it, which may be outdated/incorrect»

«The price is a little excessive, compared to when I first started using it»
As you can see, each alternative has shortcomings, as seen in the comparison you've reviewed. If we have won you over, let us remind you of some details about our platform.
How can I use GetProspect?
So… To use the GetProspect solution, first sign up for an account on our website. It only takes a couple of seconds. Once you've created an account, you can start searching for leads by entering specific keywords or parameters, such as industry, location, job title, technology, and more (17+ advanced filters).
The platform will generate a list of leads that match your criteria, along with their contact data. You can then save them in GP CRM / download this data / or integrate it with your CRM via Zapier integration.
But these are not all possibilities.
List of main popular GetProspect features
Email finder in web app & Lead enrichment

GetProspect LinkedIn email finder

Google Sheets add-on
B2B email finder and enrichment data
Email finder - GetProspect top feature. It provides accurate B2B contact and company data from its own powerful database with 50+ million business emails and 7+ million companies. It helps users quickly find valid business email addresses of their ideal customers based on job titles, locations, industries, company size, etc (17 + filters).
With the GetProspect email finder, users can find email addresses in bulk, by domain, or by name, making it easy to enrich their prospect info with real emails.
Data enrichment feature. It helps subscribers provide their company with accurate and up-to-date data about their leads and companies. With bulk or individual lead data enrichment, they can get all the missing info about their existing contacts & enterprises, including free real-time email verification, accurate data matching, and all their leads in one CRM.
GetProspect Chrome extension
LinkedIn Email Finder Chrome extension is a powerful tool to find email addresses in seconds and export them from LinkedIn. With this tool, users can select the profiles they want one by one or retrieve multiple profile pages at once, saving all their info and email addresses with just a few clicks.
Using the «Scan Mode» feature in the GetProspect extension, users can get the emails of potential clients in large numbers and other basic data without wasting the daily limit of LinkedIn profile views. In addition, you can find prospects on any company website and uncover website technology.
Google Sheets add-on
The GetProspect email finder add-on for Google Sheets makes finding and enriching your contact list effortless.
With this add-on, users can search for prospects by specific criteria such as company domain, position, location, and more and enrich their contact list with details like email addresses, companies, industries, locations, and LinkedIn URLs.
Plus, users can find them by domain directly from the spreadsheets. The complete prospect data, including full name, company, and LinkedIn URL, can be obtained using this email finder add-on for Google Sheets.
In GetProspect, users can also find the Email verifier feature with its 12-step verification process, send to prospects and customers Cold email software (Coming soon!), and organize leads in CRM.
GetProspect pricing
Free subscription. To fully test the solution, you can use the free plan and get 50 valid emails and 100 verifications (credited monthly). The conditions of this subscription include adding unlimited users in one workspace and unlimited accept-all emails.
You can use all the advanced filters in the GetProspect email finder for free and use the function of exporting contacts with their data, including emails (in general, each subscription, including this one, has an export limit of up to 50k contacts).
Paid subscriptions:
Starter – $49 monthly. 1k valid email addresses and 2k verification emails.

Basic – $99 monthly. 5k valid email addresses and 10k verification emails.

PLUS – $199 monthly. 20k valid email addresses and 40k verification emails.

PRO – $399 monthly. 50k valid email addresses and 100k verification emails.
Note. There is a 30% discount if you choose an annual subscription.
Summary: Best Competitors and Alternatives to GetProspect
The main GetProspect Alternatives and Competitors – AeroLeads, Hunter, SalesQL, Scrapp, and RocketReach.

All email finder platforms, including GetProspect, offer free plans but with limited functionality. For instance, Hunter.io doesn't provide full access to data exports, while SalesQL & Aeroleads only offer paid integrations. Although Aeroleads and RocketReach offer a variety of email search filters, GetProspect Email Finder has more options.

To use GetProspect tools, you need first sign up for an account. After that, you can start searching for leads by entering specific keywords or parameters, such as industry, location, job title, technology, and more (17+ advanced filters). You can then save them in GP CRM or download this data, or integrate it with your CRM via Zapier integration. GetProspect also offers a Chrome extension that allows you to find leads directly from LinkedIn or various websites.
Frequently asked questions
What is GetProspect?
GetProspect Email Finder is a tool that allows users to find prospects' emails and essential info about them based on various parameters such as job title, industry, technology, and more. GetProspect has a powerful B2B database with 50+ million business emails and 7+ million companies.
How does GetProspect work?
You can find contacts and enterprises, their info, and contacts in the web app with 17+ filters and with the GetProspect LinkedIn email finder extension. You can enrich data in your existing prospect or client list, enrich data in your Excel spreadsheet with the Google Sheets add-on, verify your existing email list, and so on.
How much does GetProspect cost?
Paid GetProspect subscriptions start at $49 monthly (30% off if paid annually) with 1000 valid emails and 2000 verifications and the ability to add an unlimited number of users per workspace. A free subscription is also available.
How do I extract email addresses from LinkedIn for free?
To get prospects' emails, you need to Sign in to any GetProspect subscription (even the free one), download the GetProspect LinkedIn email finder extension, and go to Linkedin. By opening the extension, you can search for the prospects you want and find their business emails in seconds.
How do I get bulk email addresses from LinkedIn?
You can search for emails in bulk by clicking on «In LinkedIn search page». You don't need to select each contact on each page manually, but just enter the number of pages you want to get emails from. If you need specific profiles, go to the Import Links tab.