There is a lot of marketing fuss around the sales funnel topic. Many related materials sound salesy and promise you tons of money and customers by just using their magic free sales funnel template.
In reality, it is a tool for better sales operations, which as a result, leads to more closed deals. Sales processes may completely differ from one company to another. So, it isn't the best way to blindly copy the «lucrative» funnels.
Here you will find B2B sales funnel examples for various business, hints on how to strategically leverage sales funnels, and what is the return on time invested in funnel creation.
What is a sales funnel?
A sales funnel is a set of sales and marketing activities that guide a prospect to the purchase. It includes attracting the right potential clients and bringing them to the next steps of being interested and ready to buy. A sales funnel is about lead qualification and taking effective actions at each step of the sales process.
Typically sales funnel (general term) involves both marketing and sales efforts. Though there are cases where just one of the departments direct prospects to the bottom of the funnel. For instance, you will focus on creating marketing funnels for low-price products and sales-led funnels — for enterprise deals.
Find quality niche leads for the top of funnel
Here is the regularly updated B2B database with verified emails. You can use filters and search by keywords to find rare decision makers
3 reasons for creating sales funnels
You can identify black spots in your operations in good time. When you break down the process and track every stage separately, you see where you are underperforming and require improvement.

You differentiate communication at B2B sales funnel stages, so prospects are more likely to move to the next step → more leads at the bottom. It means you don't push for selling when they know nothing about your company.

You will qualify better and allocate efforts properly by devoting most of your time to those close to the bottom of the prospect funnel → you stop losing high-priority leads → more deals.

Stronger relationships with potential customers. You build credibility by giving them what they expect and need at each stage. Even if they skip for purchase, they will recommend you or return to your solution later.
Anatomy of B2B sales funnels
Each business breaks down the stages differently. To generalize, a sales funnel includes the following structure. We took the example of an offline shop as a simple lead funnel template for fixing your own stages.
1. The top of the funnel. You walk down the street or the mall and see the catchy window. You decided to go inside.
This stage may include people who are just entertaining themselves and want to buy nothing. Those who don't look for particular goods you sell, though they are interested in learning more.
Offline sellers often make mistakes and start asking «can I help you?» or pushing discounts straight away instead of just being here when a buyer is ready to know more.
2. The middle of the funnel. You liked some of the goods and want to try on or test them.
You ask the sellers about the materials, sizes, and use cases. Then you may decide to go to the competitive shops to compare the alternatives.
At that stage of the B2B sales funnels, people typically look for the exact type of goods though it isn't a high priority now.
3. The bottom of the funnel. You choose a particular good at the shop and say you will come tomorrow to buy it.
Usually, at this stage of the prospect funnel, customers discovered your shop, tested your products, compared them with alternatives, and decided to proceed with you.
There are cases when people buy from you not because your solution is the best fit but because they need a solution immediately and your «shop» is just in the right place and at the right time.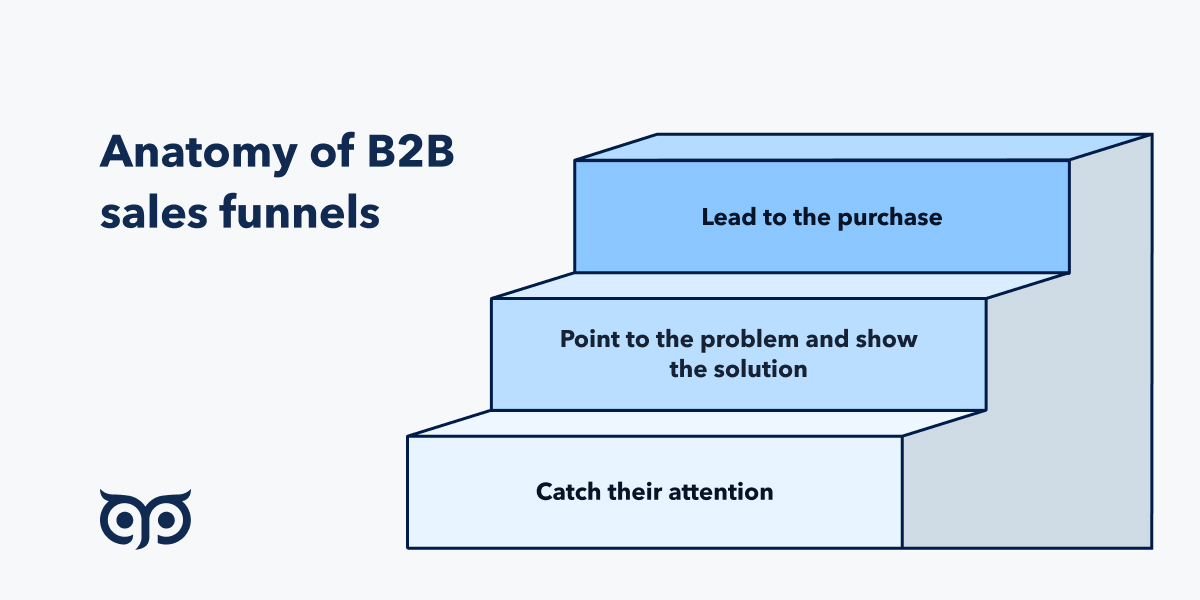 B2B sales funnel examples
Template 1. Lead funnel in marketing for a self-serve product
Template 2. SEO free marketing funnel template for a self-serve product
Template 3. Gated content business funnel template
Template 4. Automated cold outreach
Template 5. Highly-personalized cold outreach template for expensive products
Template 6. Social media lead funnel template for consultants
Template 7. Community funnel for agencies
Self-serve product
This type of funnel is for companies with:
Free-forever options

Low entry threshold

Ease-of-deployment
It means you will market to the end user. You will reach a lot of people to make your company profitable.
SEO free marketing funnel template for a self-serve product
First, prospects face some challenges and start googling to find solutions. From your side, you create SEO-optimized blogs, guides, templates, etc.
Second, they find your description in the search results. The higher you rank for the keyword they enter, the more likely they will see your page. If they find your title and description promising to solve their problem, they will visit your website.
Third, depending on how the query is close to the button of the funnel, they will just be satisfied with the material, understand that you are an expert in the topic, and come later or advise you to their friends. Or they may read the article and start testing your tool right away.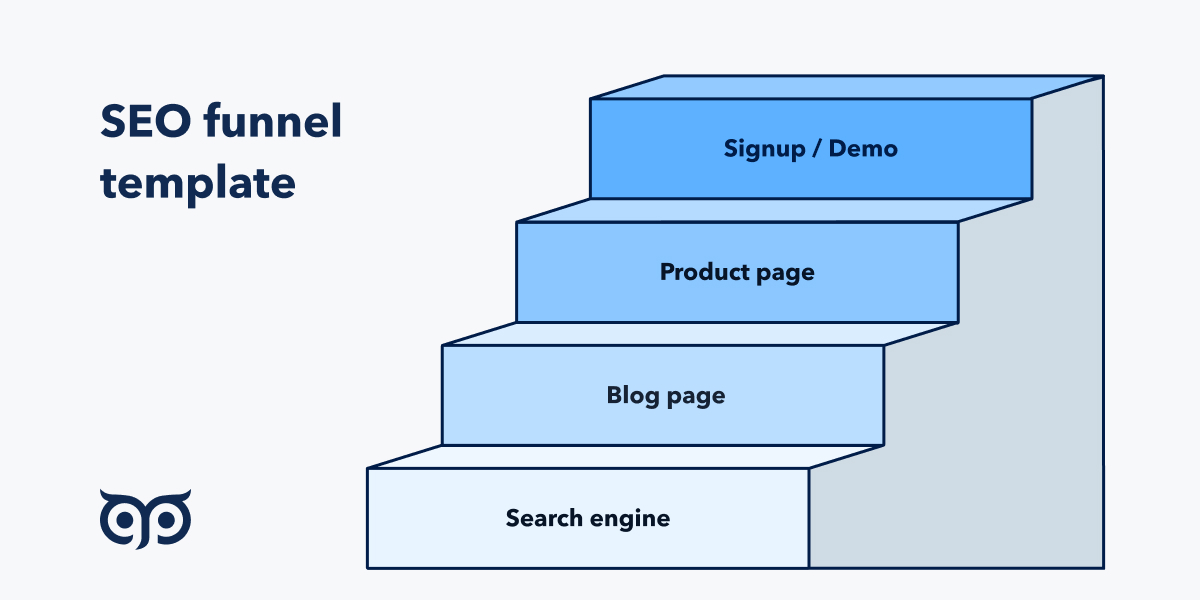 Lead funnel in marketing for a self-serve product
First, you introduce your product with the ad, which should catch the attention (design) and motivate clicking the link (copy). You offer to try a free account at this stage. If it is relevant, they need to pay nothing to start using it.
Then leads appear on your landing page, which should:
have a clear Call-to-action,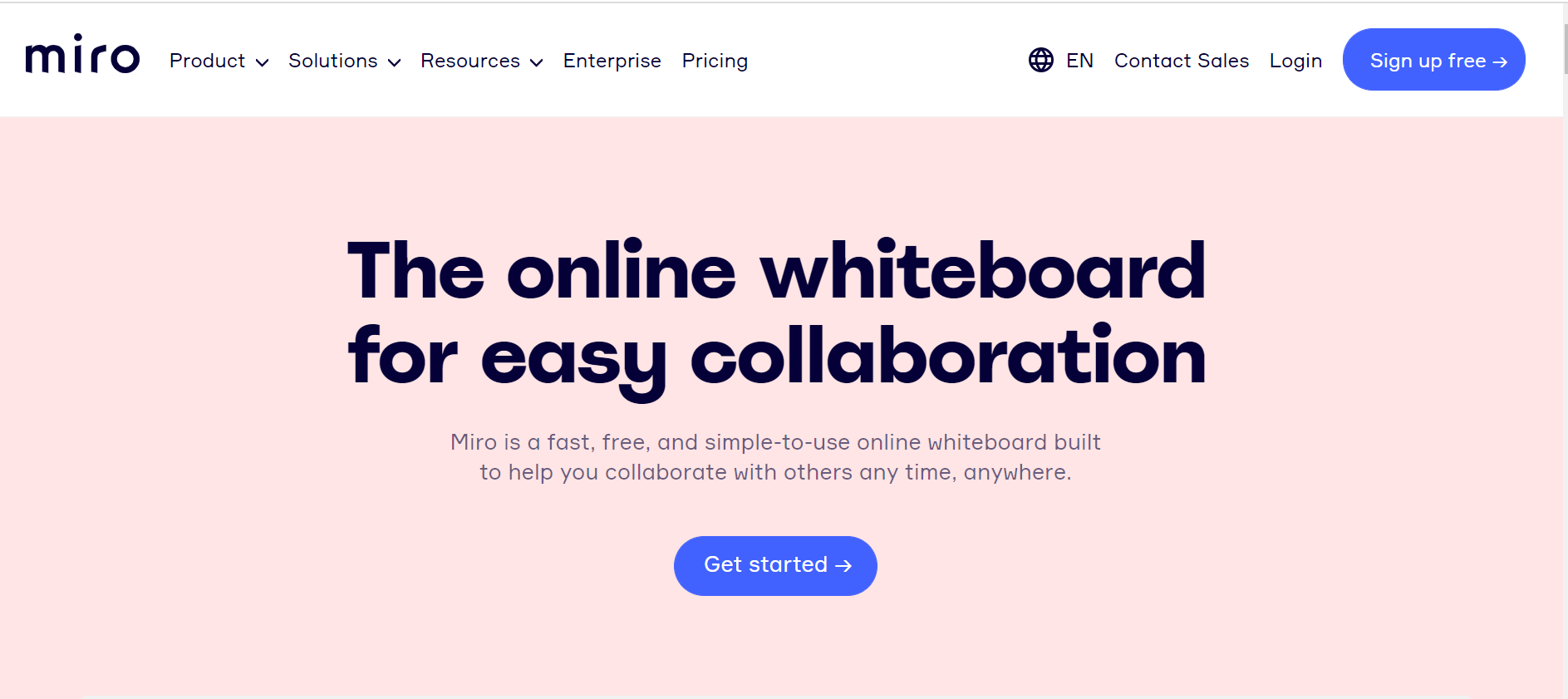 have more information about the solution (might be a demo video),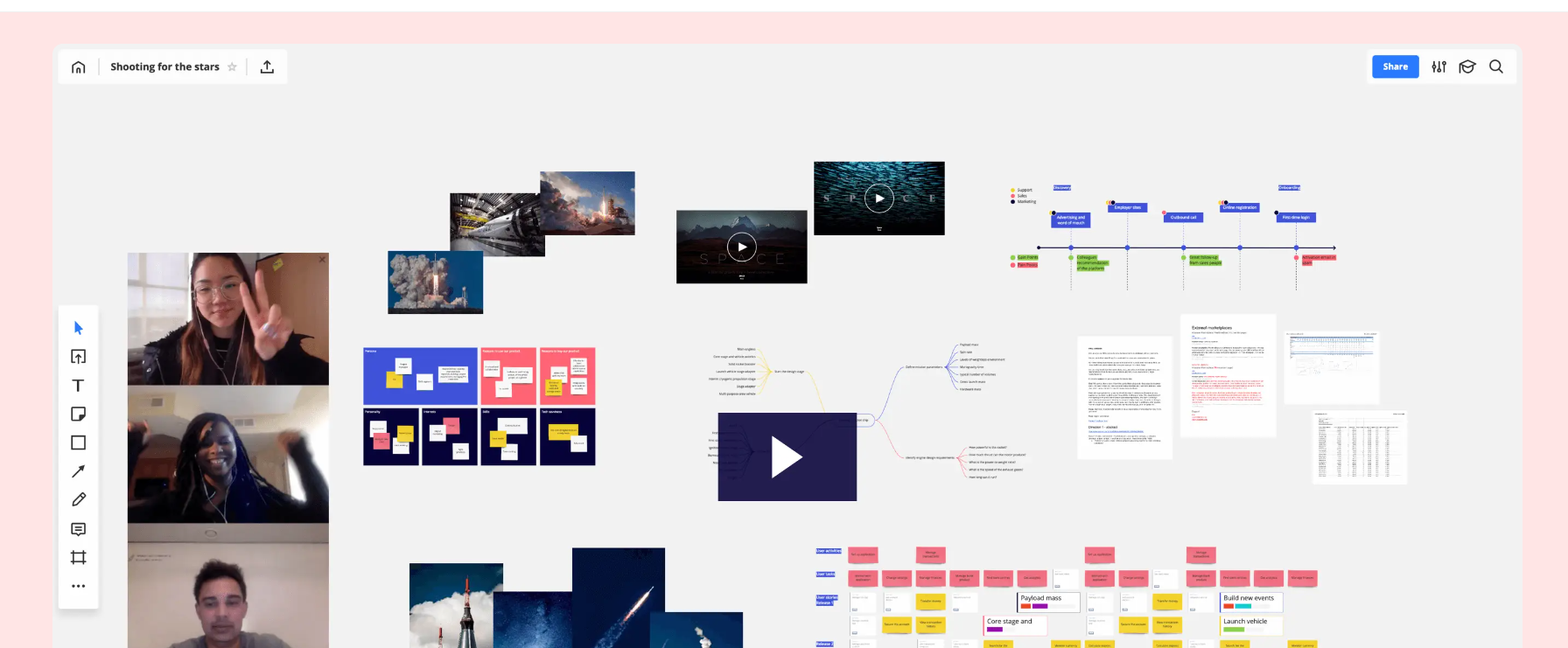 and prove your credibility.

After they sign-up in the conversion funnel template, they are automatically added to the educational email cadence. You can send webinars, how-to guides, and use cases/templates there.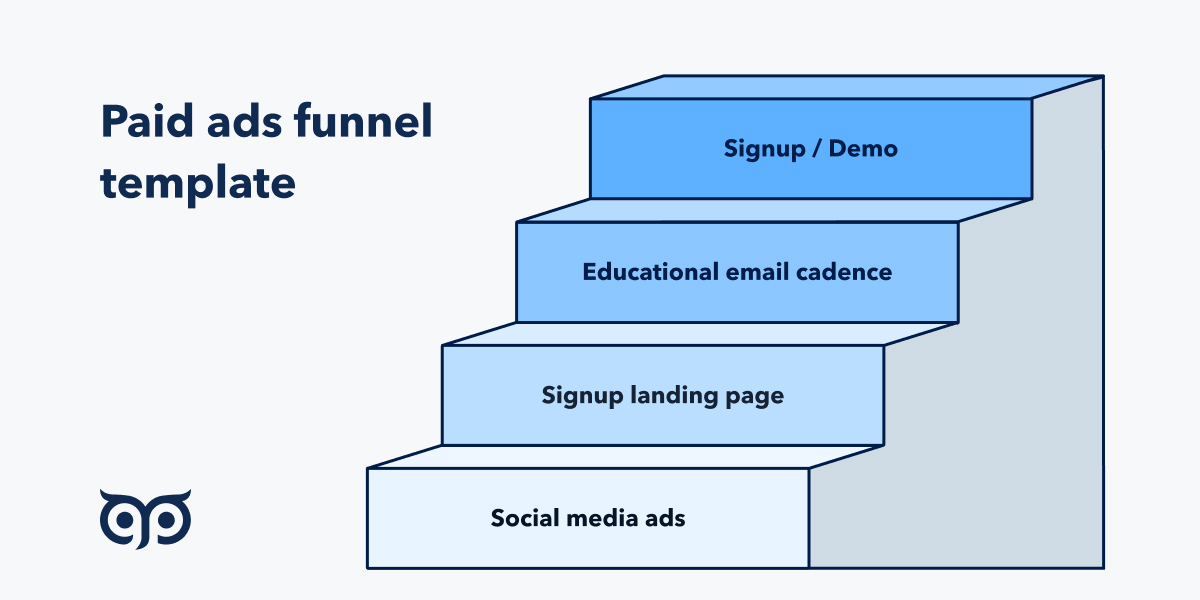 Hybrid (individual to enterprise) product
Such companies are typically
still have a free option

have higher prices than the previous type

have a sales team to navigate users through that process and/or do outbound.
GetProspect could be an example here. We have as free options as pro and custom pricing plans.
Gated content online sales funnel template
First, you promote the original content you prepare. The obvious way is to launch an ad. Though you can turn it into a free sales funnel template: making adapted to the platform posts on Reddit, sharing the link in comments with short descriptions under related posts on Linkedin or Twitter, etc.
It is important that the ad or the content description is clear enough on what this content is about.
The landing page you are linking in the lead generation funnel template should have a clear CTA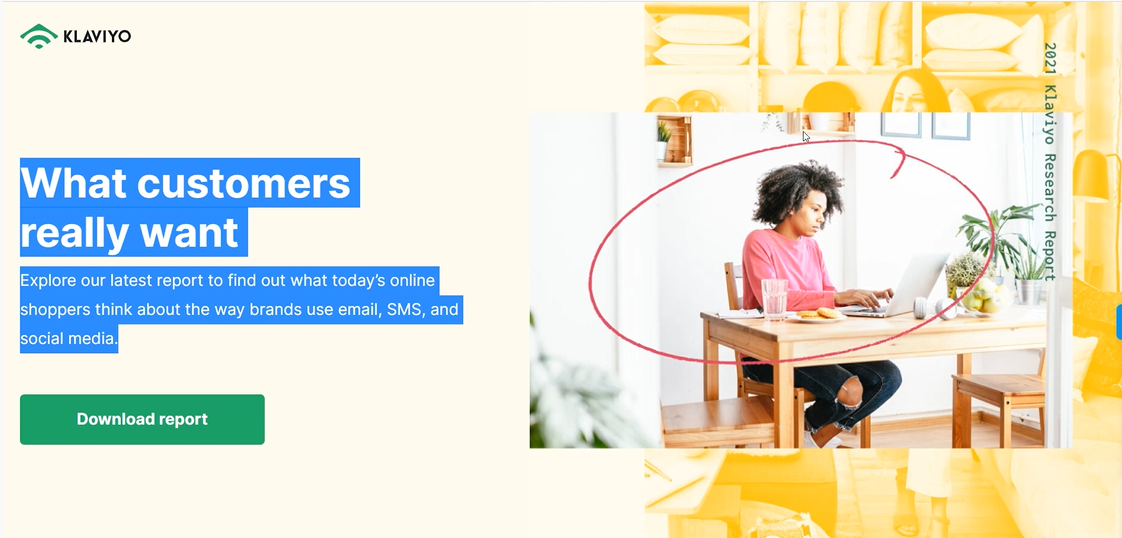 Also, describe what the content is about. The section should prove value and pique curiosity.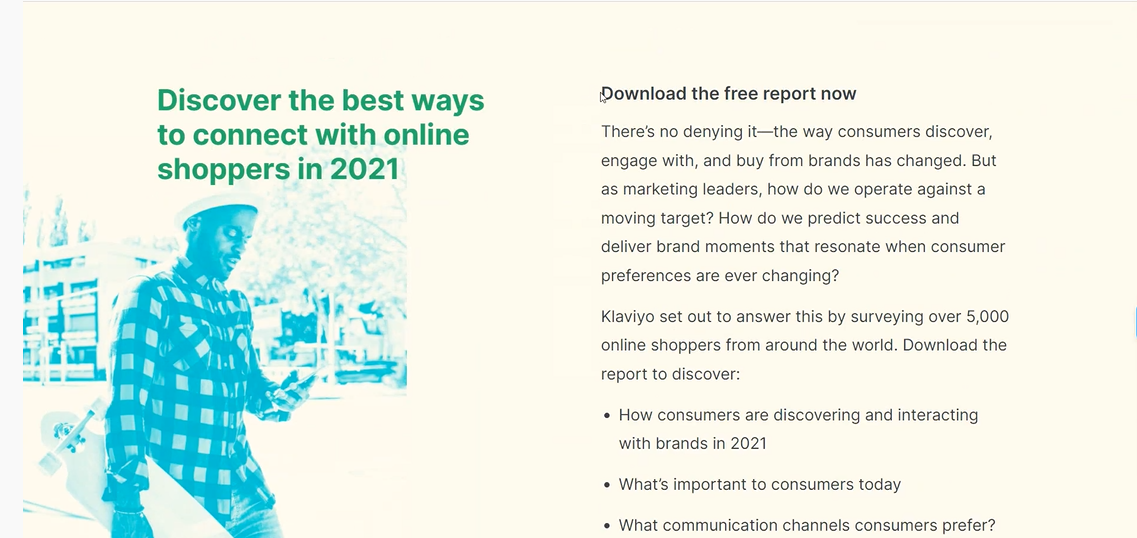 Sure, it should include the form to exchange prospect data to your content.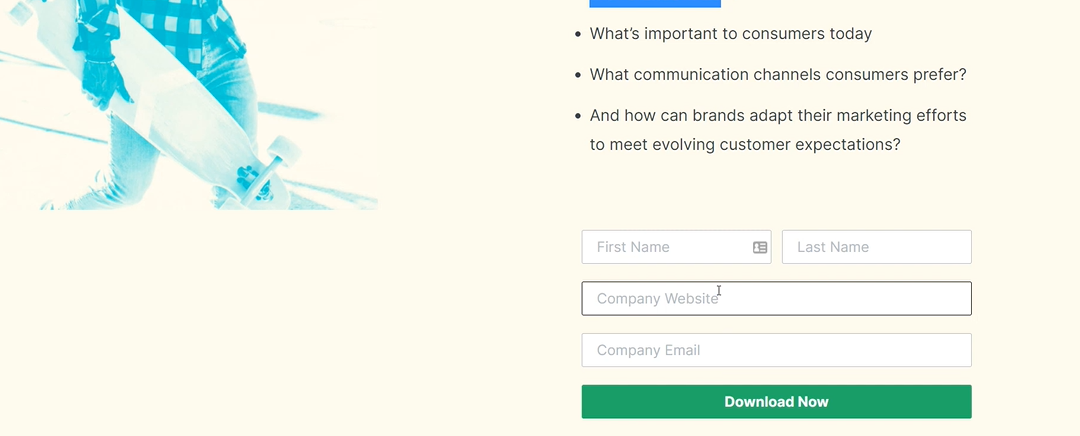 After you provide them with the content, they become a part of your email cadence. It is a good idea to share useful content related to the problem you solve. Don't hurry up with offering demos and signups.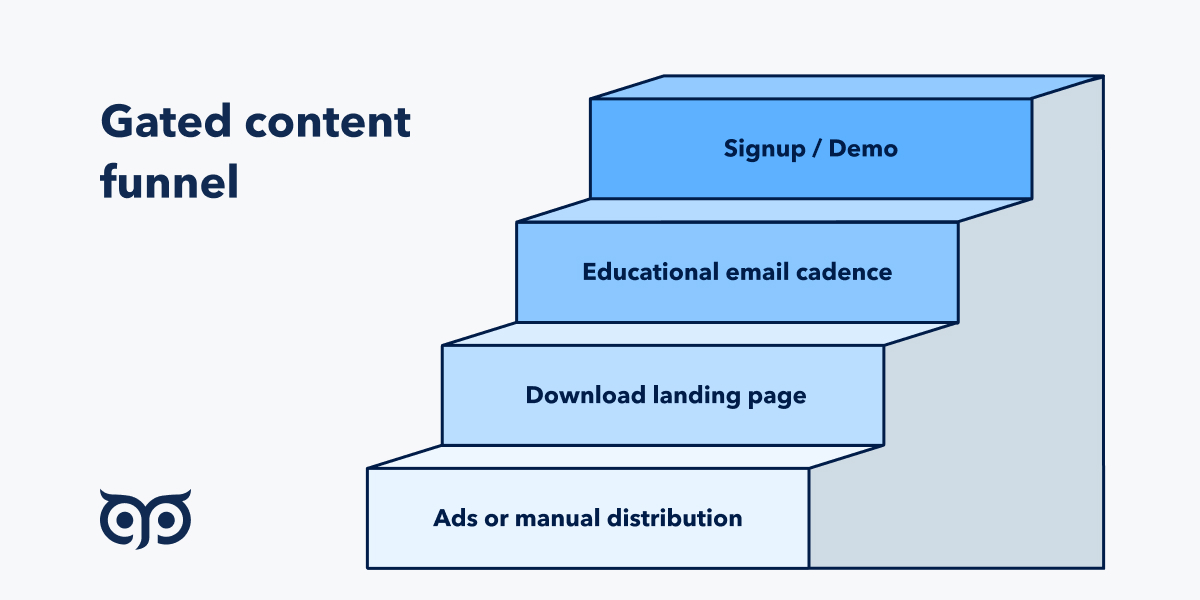 Automated cold outreach template
First, you build segmented lists of prospects for faster personalization in the blank sales funnel template. For example, there may be a group of people from the same online event who are 1st connections of your CEO on LinkedIn, who changed a job in the last 3 months or are related to a certain sub industry.
It is easier with GetProspect: you create several Lists in the app and add new leads to one of them on the way — on the company website or Linkedin.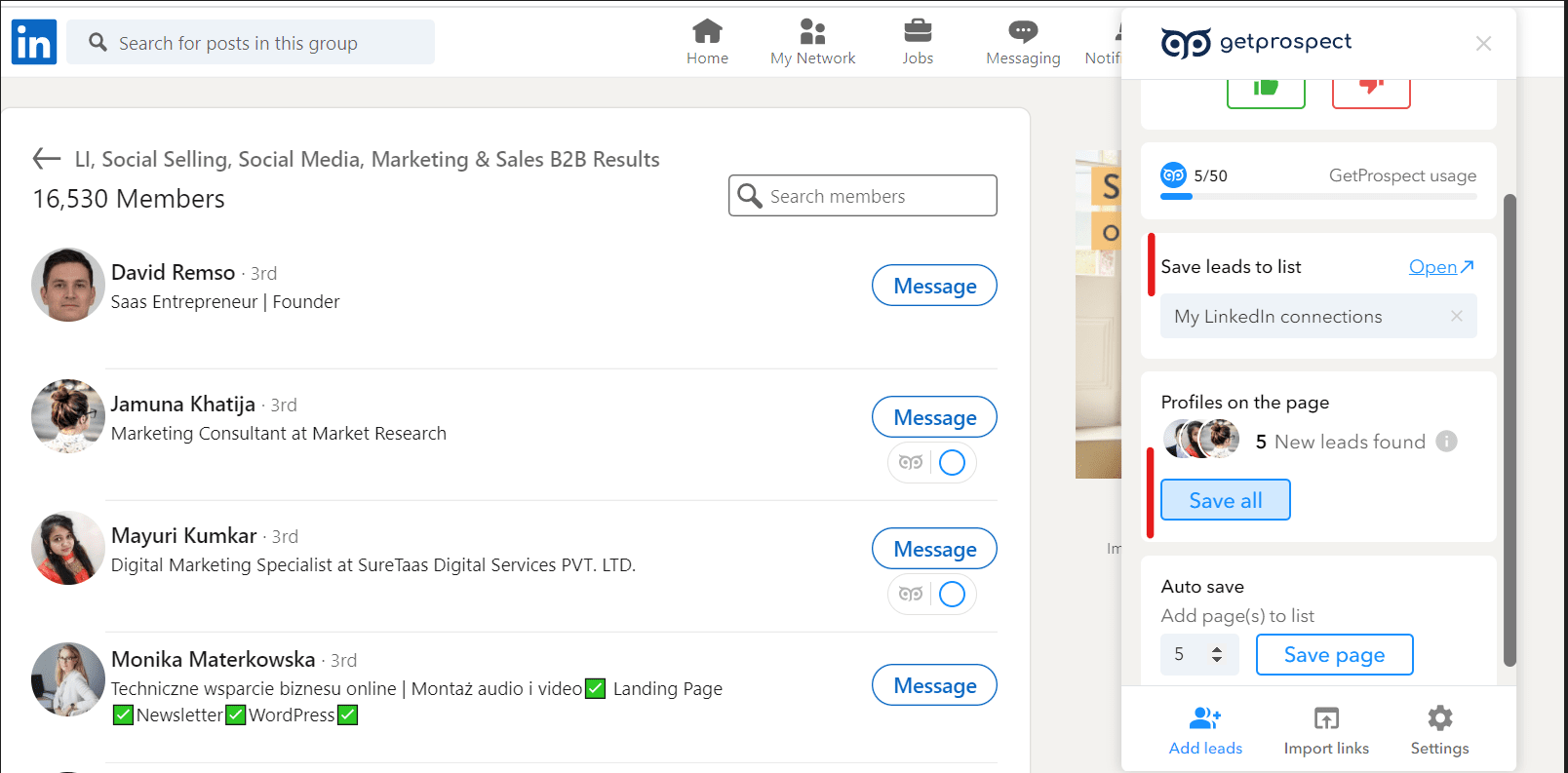 Use the tool to boost your process with lead lists
With the plugin, you find and save prospect and their real emails on the go
Then you upload their emails to your email provider to launch a cold email campaign for the customer funnel template. You plan automated and manual actions based on their reaction. After silence, we recommend providing materials to help them with their daily tasks or something funny. When they respond — you will proceed with questions about their challenge and then with product stats, use cases, case studies, etc.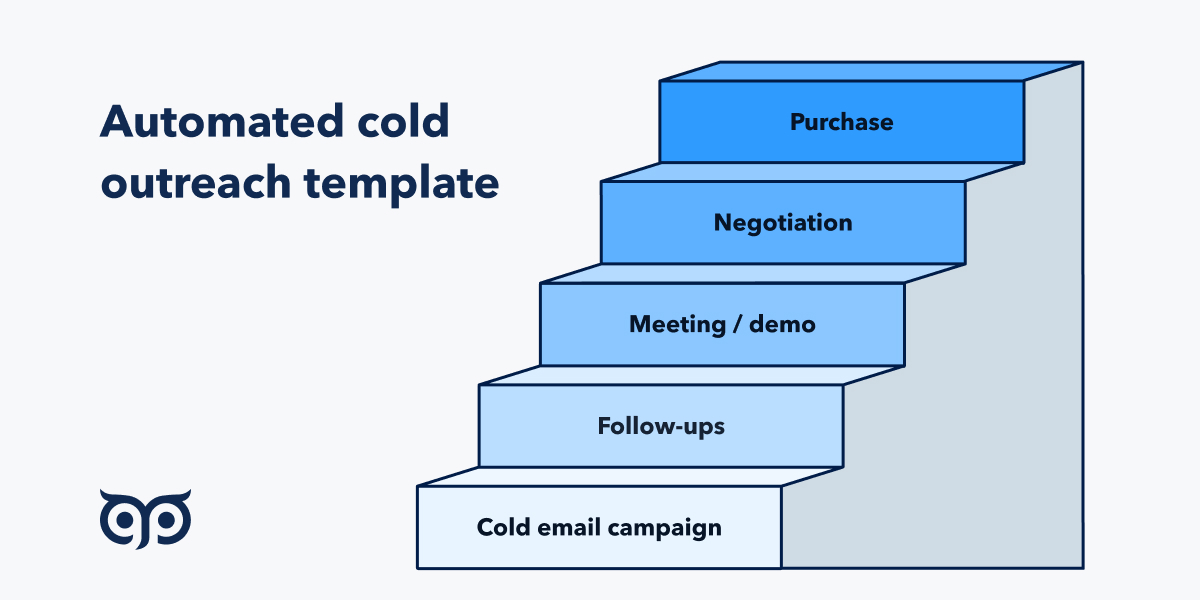 Enterprise-oriented product
It is common for such companies to have
costly products

strong sales department

custom prices

long sales cycles
If your company is related to the type of business, you will look for fewer, though highly qualified, leads to fill the top of the funnel.
Highly-personalized cold outreach template for expensive products
First, you carefully pick over accounts for the online sales funnel template. Those who match your ICP, who have triggers that they need right now or will need your product soon. You identify the decision-making panel.
Then you reach them via email or social media with highly personalized messages based on thorough research. It may include industry reports, Crunchbase, LinkedIn, Reddit, and interviews with decision-makers on YouTube or podcasts.
Third, you engage with them. Besides follow-ups and commenting on their posts, you may send gifts, arrange personal offline meetings, or invite them to relevant conferences. Often, such relationships turn into just personal between salespeople and decision-makers.
At this stage of the business funnel template, you also discuss your solution and negotiate the conditions of the deal.
After they convert, you maintain the relationship and refine the solution to their needs, so they stay with you. They are costly and time-consuming to land, so retention is a crucial part of the funnel.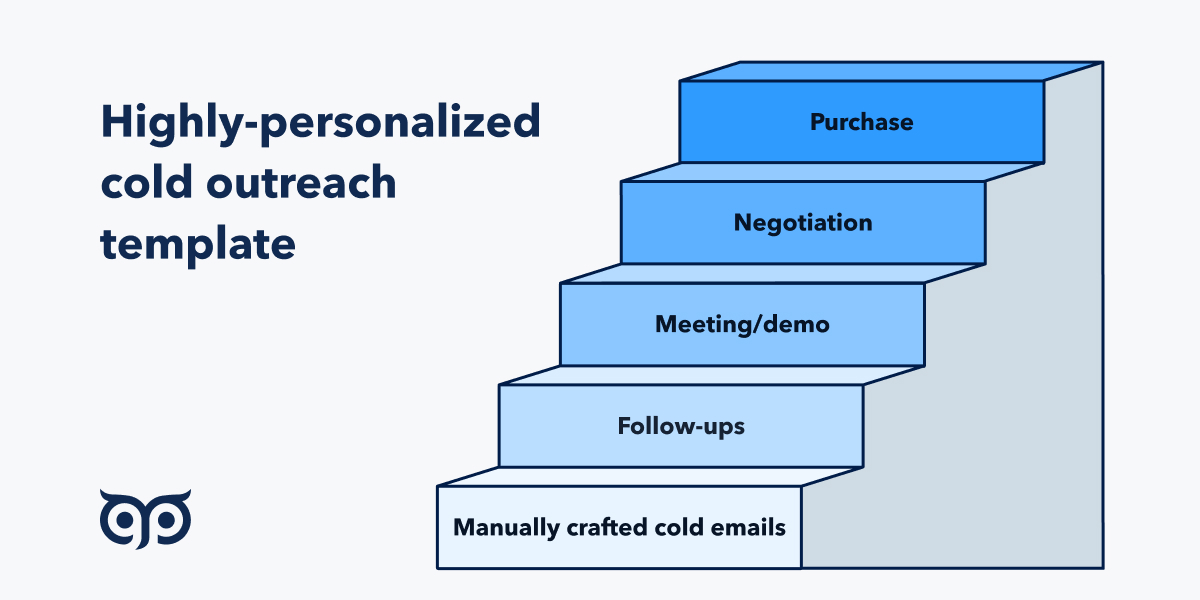 Consulting & agency
The price range here might differ, though, similarly to enterprise products, this type of company doesn't need much volume to grow.
Most of the clients come from reputation and word-of-mouth. An effective customer funnel template here is to show your expertise (thought leadership) and grow your brand.
Social media lead funnel template for consultants
First, you create niche expert content and post regularly in your account.
Then you dedicate time to growing your audience. In Linkedin, it may include regularly commenting on other influencers' posts with related topics and mentioning other creators in your posts.
When people (matching your ICP) comment on your post, connect with them and follow up with additional information to the post. Over time share something else that might be of interest to them.
At the fourth stage of the free sales funnel template, check what they post, find something related to the problem you solve, and discuss it in DM. Ask qualifying questions, offer possible solutions, including yours.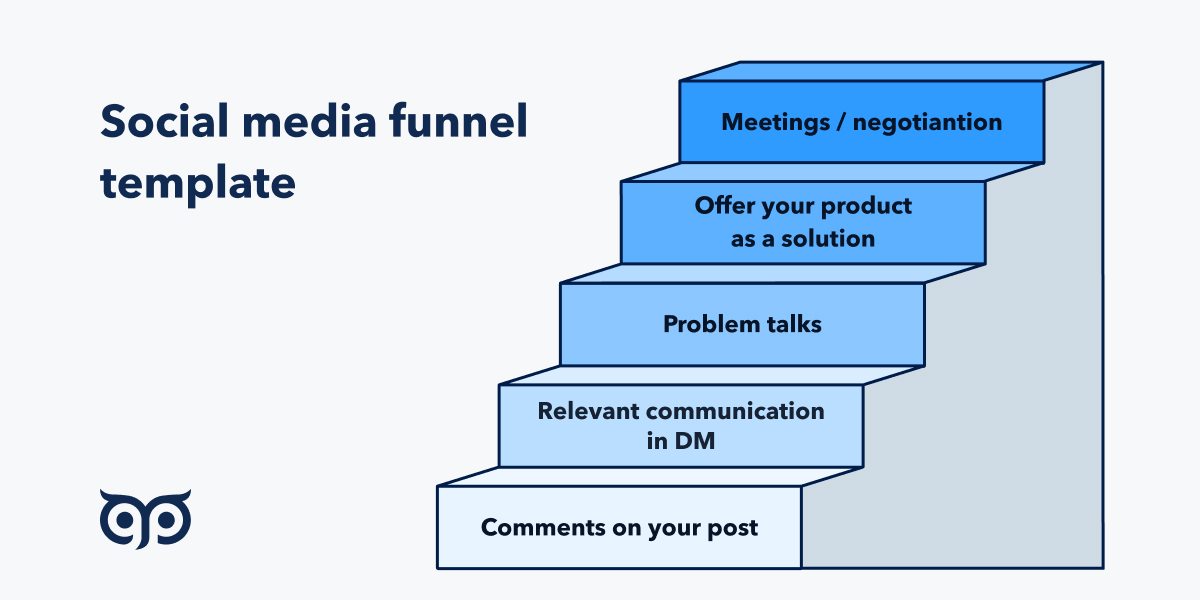 Community funnel for agencies
First, for the sales and marketing funnel template, you discover active and engaging professional communities full of your potential customers. Choose more targeted and niche. Check the community health — good ones have almost zero ads and self-promotions, and have members that engage with each other on a daily basis.
Second, become an active member. Comment, answer questions, ask questions, share funny and helpful content. Contact the admins/employees of the community to ask about collaboration, e.g. making an online event or preparing an expert content piece.
Third, (if the previous step is done well and to the targeted audience), community members will go to your website to learn more.
At the fourth step of the lead funnel template, you may go through several iterations in communication and negotiation when they finally buy from you.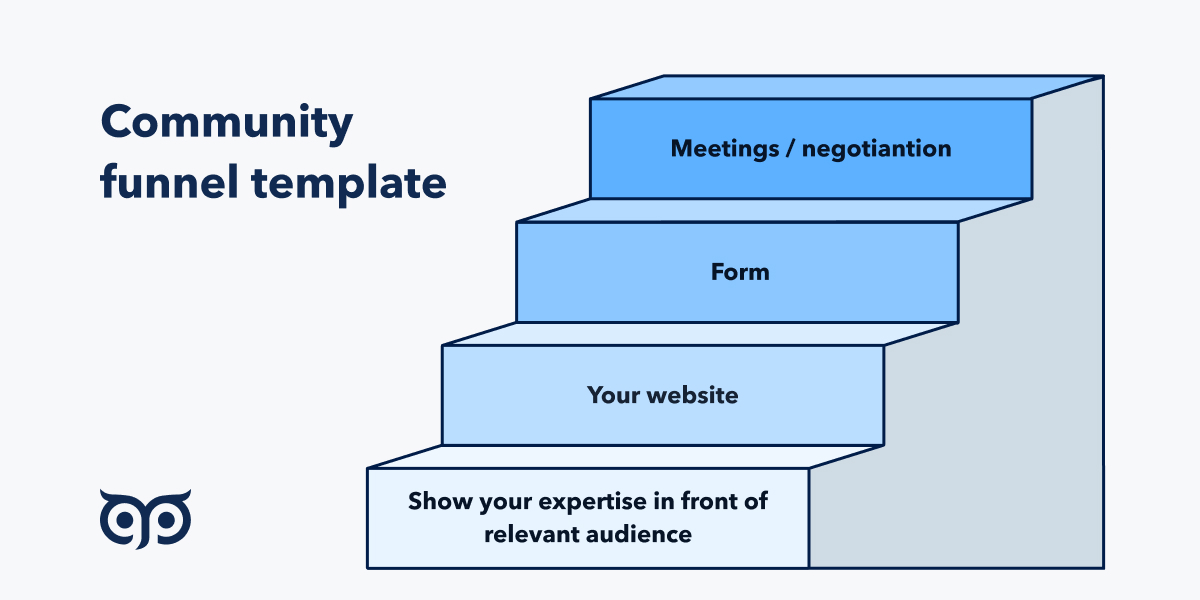 How to build sales funnels
Start with your sales goal

Create an ideal customer profile and buyer persona

Be updated on customer pain points

Take into account a customer journey map

Define your B2B sales funnel stages

Prepare different offers and call-to-actions for each funnel stage

Track the sales results of each prospect funnel stage
1. Start with your sales goal
The sales funnel will work if tweaked to your sales goals. Making more money is a broad goal. You may need to reduce customer churn, increase the number of qualified leads, decrease customer acquisition costs, reduce sales cycle time, etc.
It should be the exact number. From the final goal, you go backwards and calculate the smaller goals for each funnel stage.
In building B2B sales funnels, you will focus on the part of a sales process that needs improvement. More qualified leads ≠ more paying customers in the end since you may have bottlenecks at the middle or bottom stages. According to Outreach Sales Productivity Index 2020, turning meetings into opportunities remains a challenge for salespeople.
2. Create an ideal customer profile and buyer persona
You can't fill the bottom of the B2B sales funnels with random prospects with any type of business. You should pick out those companies who need your product and provide the most value to your company and those people who make decisions about the purchase. That is why you should identify the ICP and buyer personas for your product. Here we have guides for new and more mature companies.
This procedure will guide you on what prospects are high-priority, what channels to prioritize, and what tone of voice to use in your offers.
3. Be updated on customer pain points
Stay informed on buyers' problems, so your copy, email, or message will resonate and evoke emotions in your business funnel template.
With self-serve and hybrid products, you will generalize the problems of a mass audience. While with expensive products and services, you will discover the pain points of each company.
Understanding the pain means also understanding the general life around the pain. Let's say my problem with screenshots is that I need to put effort into making them look good. The context around the pain will include:
My goal is to have clearly and beautifully annotated screenshots for users

Constraints: I should be able to make them fast, I have limited desktop space (so I need an online platform), and I need it for the website (screenshot should be compressed)
4. Take into account a customer journey map
Build your sales funnel based on your customer journey map. Taking into account the context in which your prospect gets your communication, allows you to achieve better results with your prospect funnel. You can focus your efforts on channels your prospects go through. E.g., at the consideration stage, they will look at reviews websites, so you should motivate your current customers to leave feedback there.
5. Define your B2B sales funnel stages
Choose activities that impact your sales goals most and fit your business model. For example, you will generate volume balancing with quality or build personal relationships with lucrative long-term clients.
Based on the customer journey, polish company communication at key channels. E.g., company social media or profiles on review websites.
6. Prepare different offers and call-to-actions for each funnel stage
You should craft different offers for each prospect funnel stage. First, you will offer helpful content. If they are interested in the problem, you proceed with more product-related content. Then you help them to see why your product is the best fit for them. You may offer a test version when they select your product and most likely will buy it.
CTA correlates with your offer in B2B sales funnels. To put it simply, at the top of the funnel, you will ask for the interest, at the middle of the funnel — for the meeting/signup, and at the bottom — for the purchase/transition to the paid plan.
Tweak the offers constantly since new customer problems arise, as well as there are company and market changes, etc.
7. Track the sales results of each prospect funnel stage
One of the sales funnel goals is to highlight the steps where your sales process is underperforming. So, you should identify and track the right KPIs. Here are the examples of metrics.
Gated content funnel.
The top of the funnel — website visitors, downloads/filled forms, customer acquisition cost.
The middle of the funnel — email opens, clicks.
Bottom of the funnel — signups, demo requests.
Cold email outreach lead funnel template.
The top of the funnel — open rate, reply rate.
The middle of the funnel — meetings/demo booked.
The bottom of the funnel — deals.
Social media thought leadership funnel.
The top of the funnel — connection acceptance, open rate, reply rate.
The middle of the funnel — meetings/demo booked.
The bottom of the funnel — deals.
How to create a free sales funnel
Step 1. Define stages of your funnel.
Step 2. Figure out channels that work for your audience.
Step 3. Map the channels to the B2B sales funnel stages.
Step 4. Go to Capterra, G2, or other review websites to discover what tools exist for your niche.
Step 5. List what types of tools will help you with each channel.
Step 6. Filter pricing options with «Free».
Step 7. Pick those which seem relevant for comparison on the review website.
Step 8. As a result, you will have your free tech stack to build your free business funnel template.
Summary
Sales funnels structure your marketing and sales processes for reaching sales goals

There are 3 basic stages of almost any sales funnel, depending on how close they are to the purchase: the top, the middle, and the bottom

Sales and marketing funnel template: visitor → lead (mql) → prospect → (sql) → opportunity → customer/champion → advocate

You should carefully build or customize the sales funnel for your type of business. E.g., it doesn't make sense to launch ads when your clients require a personal approach

Key things you need to build a sales funnel: ICP and buyer persona, customer pain points, your sales goal, customer journey, assisting tools

Analyze each stage of each funnel to know where you are underperforming and what to improve
Creating sales funnels - FAQ
What is a sales funnel template?
A sales funnel template is a sample customer journey created with a particular business in mind. Typically it can be successfully customized and implemented by like companies.
How do I start a sales funnel for my business?
Analyze what tactics work for competitors

Know channels preferred by your buyer persona

Build around the problem you deal with

Refine offer to each funnel stage

Check the data to improve your prospect funnel

Tweak the offer and funnel constantly.
What are the 5 stages of sales funnels?
1 stage. Familiarity - Heard about your company
2 stage. Interest - Interested in your content/product
3 stage. Priority - Face high priority problem you can solve
4 stage. Choice - Consider your product

5 stage. Decision - Select your product for their needs
Do sales funnels really work?
To make your sales funnels work: customize them to your businesses, audiences, and sales processes. It will help you faster understand bottlenecks in your process, have more qualified leads, and have a higher quality customer experience.