Tracking down a chief executive email address is only half of the job. More important is to find a valid email so your message will reach the director's inbox rather than bounce back. Another challenge is to locate a mailbox where your email won't drown in the spam pile.
Similar articles offer countless methods and sources claiming to have the most accurate information. Some of the ways are really cumbersome. Also, only some of them are trustworthy and up-to-date.
Have a CEO name? Find their email address in minutes
Put the executives full name and company website and get verified emails
We offer options that are worth the effort and costs and, at the same time, are reliable enough to send safe email campaigns.
We will break down several tactics for an executive email address search and explain in what cases you will benefit more from this or that option. But first of all…
Is it always make sense to outreach the CEO with your pitch?
No. CEOs aren't always the best initial contact with a company.
Executives decide on buying this or that service only in small companies and startups. Once a company grows up to 50-100+ employees, there will be Chiesfs, Heads, and VPs handling such issues.
Even in small companies, chief executive officer mail is typically bombarded with cold pitches. Reaching a relevant employee who participates in the decision-making might be a more efficient tactic. Most likely, they aren't flooded with offers, and you will hear back from them. If interested, the employee will then sell your service internally.
Following the method, you will then have more chances to get replies from CEOs. You may learn details about the company and its needs and craft a better email to the CEO.
How to get the directors' email addresses: fast and reliable options
Option 1. Explore a B2B database to find CEO email addresses
Option 2. Use Chrome extension to get a CEO email from a company website
Option 3. Find a CEO's name and then use an email finder
Option 4. Collect companies' websites and enrich the list with CEO's email addresses
Option 5. Google CEO lists and enrich them with Google sheet add-on
Option 6. Discover LinkedIn and scrape emails of CEOs with a Chrome extension
The options allow you to balance quality, quantity, and cost in your prospecting efforts. It will take far less time than researching Google and social media for contacts and then verifying them. Additionally, it is far more cost-effective than buying lead lists.
Option 1. Explore a B2B database to find CEO emails
Some tools legitimately collect from open sources or generate and verify emails. GetProspect is one of them. You need to sign up for free and head to the Search section. Here you can filter the output with your ideal customer characteristics, including the technology they use, country, industry, and employee count.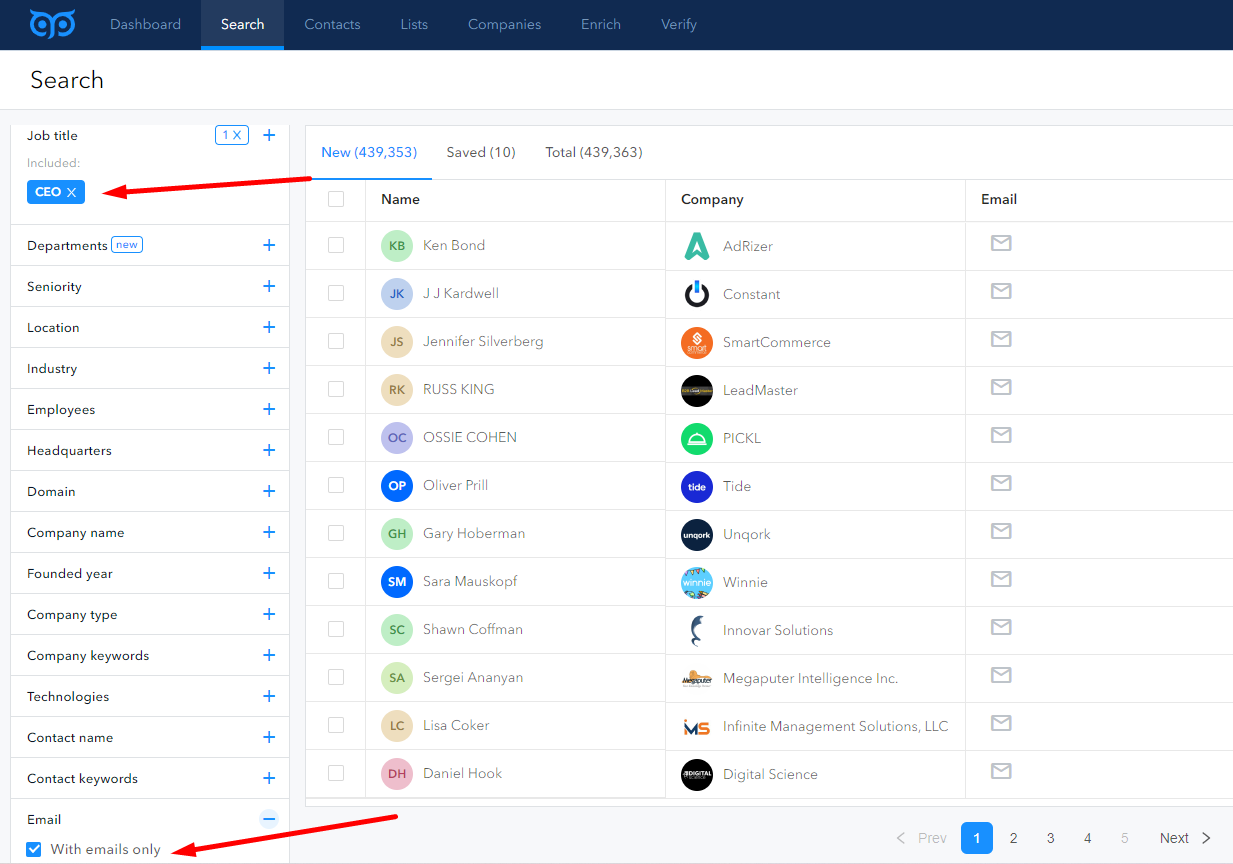 Watch the short video to get an idea of how to use the database to its full potential:
In the current context, such databases win LinkedIn in terms of collecting corporate CEO email addresses. Since the spring of 2022, LinkedIn has been implementing stricter rules for commercial users — those who look for clients and candidates.
Each profile view (where you can find a CEO email) is counted, and if there are too many such actions, you will be banned and risk losing your profile, contacts, and reputation.
That is why many of our users move to our B2B database. Last year database usage grew by 140%. You can watch an unlimited number of profiles and save valid emails. The database has 17 filters to find targeted contacts. Some of them aren't available in LinkedIn Free and even in Sales Navigator.
The downside is that the database is limited. For some niches, there may be poor results.
Option 2. Use an email extractor to get a CEO email from a company website
The option lets you collect emails as you go. You browse the web and find a relevant company that you would partner with. The email extractor Chrome extension allows you instantly get the director's email address.
You can search «CEO» in the Find lead section and then click the plus next to the executive's name. Hove over the small envelope and you will see the contact information. Clicking on the email will automatically copy it.
Besides, the free CEO email addresses will be saved to your GetProspect account with other data about the executives. You can also add the lead to a particular lead list in the Save leads to list section.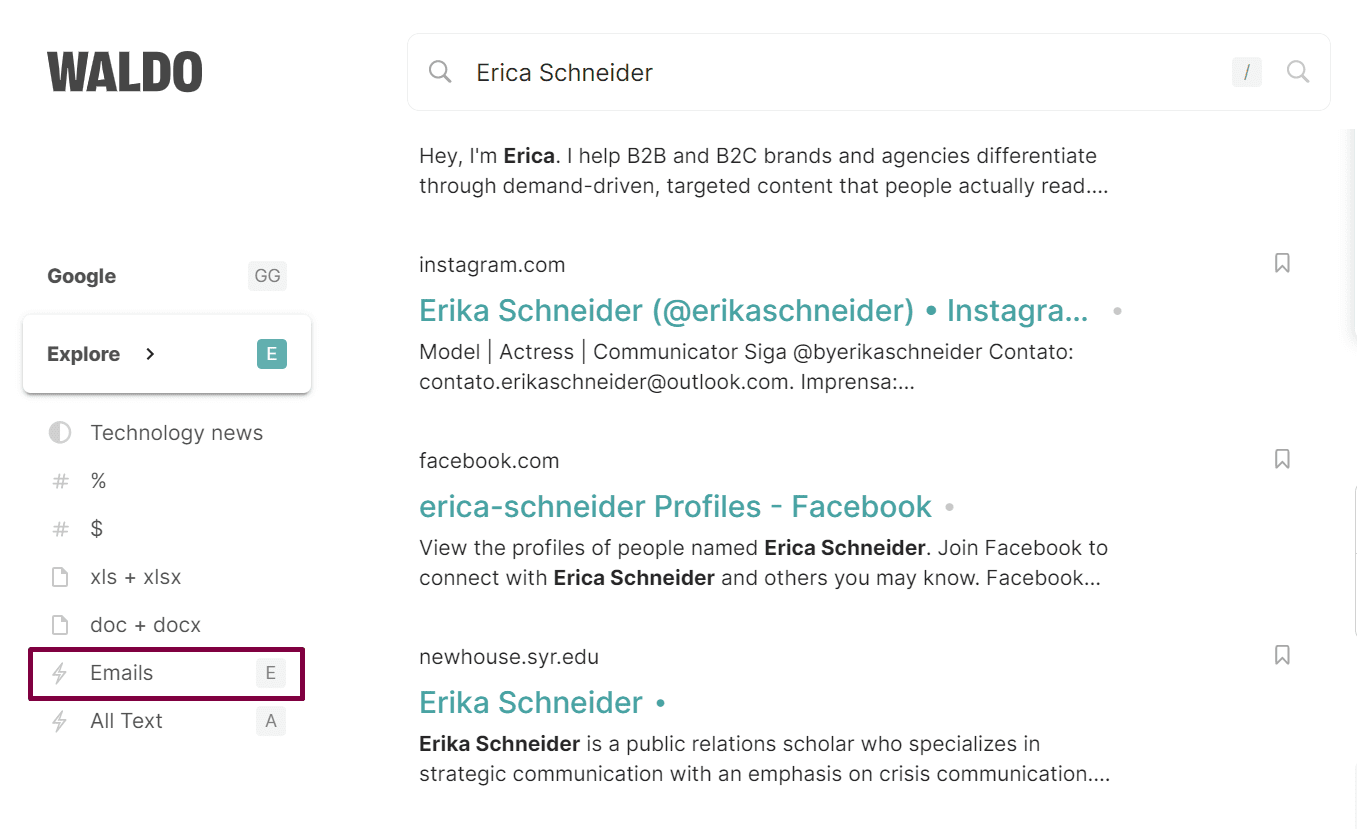 To learn how the extension works, watch the short video below:
Option 3. Find a CEO's name and then use an email finder
You can:
locate the director's name in the website's About section,

check the company org chart on The org,

browse the names with Google operators

or any other way to find CEO contact information.
Here are some Google queries I stole from a Reddit post:
«company name» + ("vice president" OR director OR CEO) + location (can be a city, state, county, country) -jobs

To find attendees of an event: Sydney + (cto OR cio OR ceo) inurl:attendee
If you search emails one by one — you will need to enter a CEO's name and company website.

In case you have a list of names and domains, you can Import it into the Contacts section and get executive email addresses from the contacts.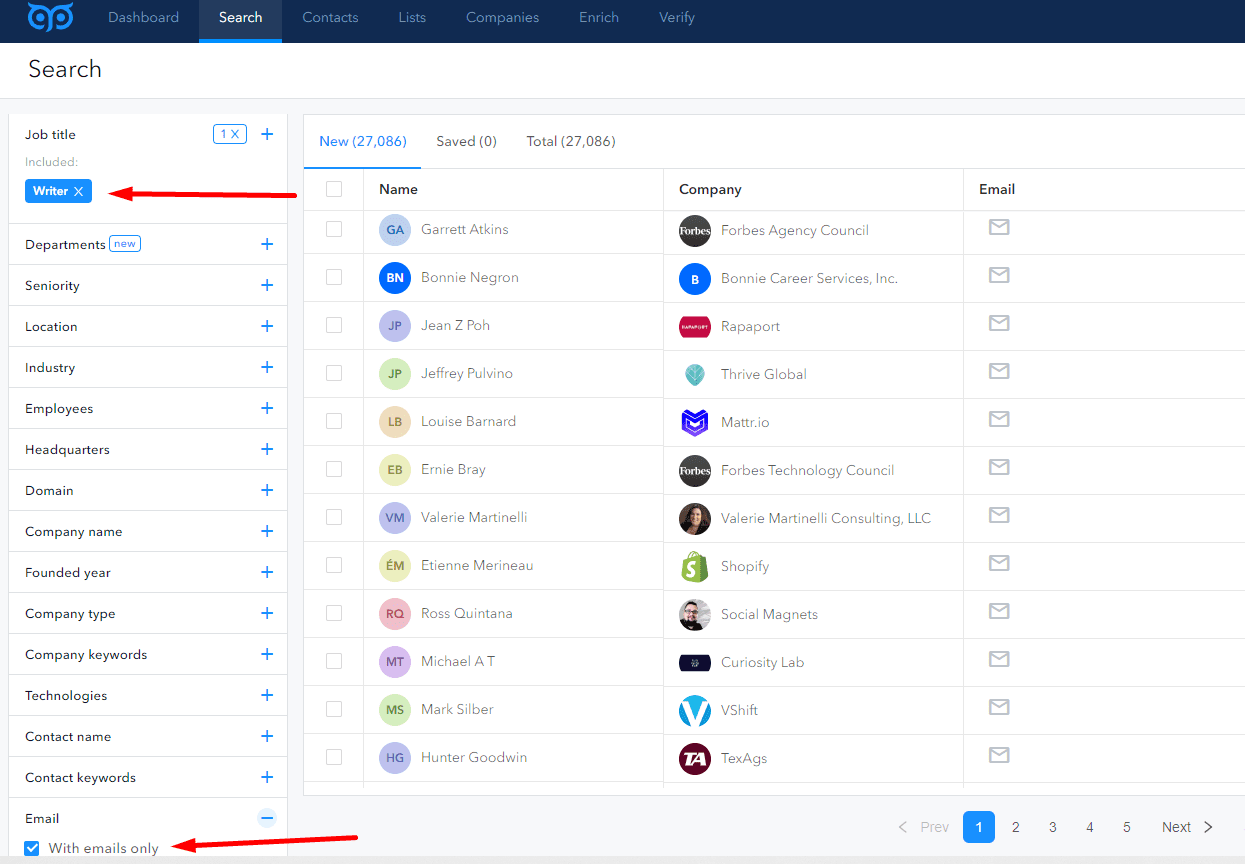 Here is a step-by-step tutorial on how to import your list:
Option 4. Collect companies' websites and enrich the list with CEO's email addresses
Let's say you've curated a list of potential clients' or partners' websites. It is easy to import the list in the GetProspect web app or use our Google sheets add-on to get names right in your document.
To enrich a list of websites, head to the Contacts section and click Import.
If you go with the Google sheet add-on, follow the installation instructions.
Then go to the Search section of the extension. Make sure the columns and properties match, and click Search leads.

Option 5. Google CEO lists and enrich them with Google sheet add-on
The practice is quite common when people create their lead lists in Google spreadsheets and share access so anyone can view the document. Some of them you can google and then use the Google sheets add-on to enrich it with CEO and CFO email addresses and other missing data.
Here is how the process works
1) Look it up on Google:
site:docs.google.com/spreadsheets [anything you want]
You can paste job titles, industries, university alumni, technologies, top 2021, regions, etc. to find ready-made lists.
Examples:
site:docs.google.com/spreadsheets uk edtech companies
site:docs.google.com/spreadsheets women health companies
site:docs.google.com/spreadsheets Northwestern Alums in Tech
2) To add chief executives' email addresses to the found list, install the Google Sheets Add-on → get verified emails for each company in 3 clicks.
By the way, the method is legal. If it doesn't seem ethical to you, leverage https://heystacks.org/ — a gathering of Google docs. Users share their content here by themselves.
Even though the tactic isn't prevalent, the problem is that the lists may be overused because they are accessible to everyone.
Option 6. Search on LinkedIn and scrape emails of CEOs with a Chrome extension
LinkedIn is the top source of B2B leads. You can search by industry, job title, followers or Connections, location, current or past company, education, etc, and then filter the search results.
Platform users are primarily aware of the risks of giving out their emails to random websites and disabling the feature in their profiles. So you likely won't find the executive's email in the Contact info section.
Still, with the GetProspect LinkedIn Chrome extension, you can get pre-verified CEO email addresses from almost any LinkedIn user. You can save the lead and their email from the profile, LinkedIn search results, or event attendees and group members.
You can find more information and a step-by-step tutorial in the video:
How to find contact information for company executives: other ways
Way 1. Research directors' social media profiles
Way 2. Turn repeated usernames in CEO email addresses
Way 3. Purchase CEO email lists (risky way)
Way 4. Dig into executives' media presence: interviews, content projects
Way 5. Check job listings to find a CEO's email
Turn to the ways when:
You want to find more emails, including personal ones of the particular CEO (ways 1, 2, 4)

You want to get many emails for free and ready to look up and verify them manually (ways 1, 2, 4, 5)

You plan to delegate collecting leads altogether (way 3)
Once you find personal or corporate CEO email addresses with ways 1, 2, 4, and 5, you can check whether they are still valid with verification software.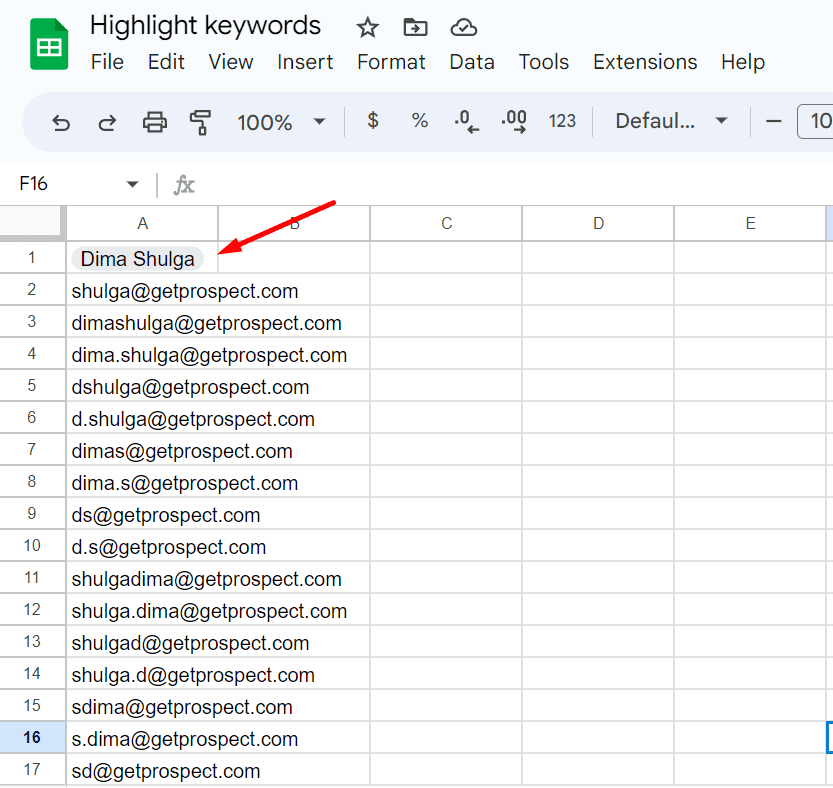 Way 1. Research directors' social media profiles
1) Сheck Bio, About, and Contact sections on LinkedIn, Twitter, Facebook, and Instagram. You can also try Dribble, Github, or other community-like platforms if the CEO has a corresponding background.
2) Besides emails, pay attention to their personal websites in social profiles. They may have contact info with a CEO email on the landing page. If not, try the Wayback Machine service to see the page updates — there may be hidden gold.
You can also use domain look-up services such as Who.is to search the website and learn the owner's email if you are lucky.
3) Leverage Twitter's advanced search or Twemex extension to check if the CEO mentioned their email address in replies and tweets.
Way 2. Turn repeated usernames in CEO email addresses
Look at their social media usernames in the profile URL

Discover patterns

Write out variations of username with @gmail.com, @outlook.com, @domainname.com, etc.

Verify them with email verifier or password recovery (a more risky and cumbersome way)
Way 3. Purchase CEO email lists
Classical lead lists imply large databases of one and all. People buy such lists to get as many directors' emails as possible in the shortest period for an affordable price.
Then you can either start pitching to everyone in bulk (a really outdated and unsafe tactic) or sort out the list and choose relevant contacts. The latter option is pretty much the same as you would do with a prospecting tool, while the list provider doesn't guarantee the data quality.
Find CEO email addresses with the prospecting tool
Here is the regularly updated B2B database with verified emails. You can use filters and search by keywords to find rare decision-makers
Also, consider that finding CEO email addresses by purchasing such lists, you won't have exclusive rights to the contacts. Other businesses that bought the list will also send their campaign to the executives. The recipients will be flooded with pitches. As a result, you will likely have a low open rate, even if your content is meticulously crafted. In its turn, it increases the cost per lead.
Increasingly the market offers options to get personalized lists. You tell lead characteristics and a provider delivers a manually crafted and verified list of emails to your inbox. Some companies send fresh contacts regularly, while others mail them by request. They may also provide personalized first lines with directors' emails. Examples: GrowthList, ListKit, CyberLeads.
Way 4. Dig into executives' media presence: interviews, content projects
When directors are guesting on podcasts, YouTube shows, webinars, etc., they typically leave their contacts so potential clients or partners can reach them.
Search a CEO's name + company name on Google, YouTube, or Listen Notes (a kind of podcast aggregator) to find materials they participate in and check the description section.
The method is helpful for CEO outreach, not only for getting emails. You may learn a LOT of information about them and their business by watching, reading, and listening to what they are talking about. The insights can be used for personalization and compelling pitch.
Way 5. Check job listings to find a CEO's email
If you search for CEOs of early-stage companies, they most likely handle hiring themselves. You may locate emails in the job description.
Additionally, sometimes companies post job listings for executive assistants or other administrative positions that include the email address of the CEO as the primary contact.
Next step: emailing CEOs
Obviously, locating the right contacts isn't enough to get replies from directors. When contacting CEOs of companies, you need to have solid content to hear back from them. Here are some tips that will help you achieve positive results:
Don't limit your outreach to emailing. Follow up or connect simultaneously via social media, phone, or even messenger. Far from every CEO is using email as the primary communication channel.

Don't «build relationships» from the first cold email. They have many people to talk to and have coffee with. Go to the point of your offer and show how you will relieve their life or help them earn more money.

Personalize — tie facts about their company to your product. Show how your solution fits their needs. It makes zero sense to personalize just for the sake of personalizing.

Put effort into crafting a subject line and opener when contacting CEOs of companies. If you aren't from a well-known organization with a strong brand and reputation, your beginning is the only reason why your email will be opened.

Add social proof to your pitch. Choose what data, reviews, client names, etc., will make you look credible in executives' eyes.

Be concise but provide the nitty-gritty — calculations, numbers, and stories on how you can help.

Play with outreach time/hours. Early morning or Friday afternoon may work out better than during the day.
Read more tips and sales pitch examples here.
Summary
CEOs may not be the best initial contact for communication. Reach other relevant employees who participate in decision-making.

Using prospecting tools to find CEO email addresses is fast and reliable at the same time, compared to other options.

Such tools typically include B2B databases, Chrome extension to extract emails from websites and LinkedIn, and can enrich lists of domains and CEOs' names.

You can also research directors' social media profiles and interviews, purchase email lists and guess emails from their username patterns.

In case you find CEO contact information outside of prospecting tools, don't forget to check them with verification software

To increase your chances of positive results when emailing CEOs, personalize your offer, provide social proof and show how your solution fits their needs.
Launch a cold email campaign to CEOs
Use cold outreach software that lands your emails into main inboxes and helps get positive replies
Frequently asked questions
What is the best way to find a CEO's email address?
The best way to find a CEO's email address is by using prospecting software. You can search the B2B database with detailed filters and scrape emails from LinkedIn profiles and websites with Chrome extension. The method balances speed, reliability, and price compared to other options.
How do I find the CEO's email address of any company for free?
Step 1. Find a CEO's full name in the company About section
Step 2. Head to email finder
Step 3. Paste the director's name and domain
Step 4. Get a CEO's email address for free
How do I extract CEOs emails from LinkedIn?
Log in to LinkedIn

Install the GetProspect LinkedIn email finder extension

Search CEOs on LinkedIn

Filter with characteristics matching your ideal customer

Pick relevant leads manually or save all leads from the page

Head to the GetProspect web app and copy found email addresses