Each agency's founding team has a different marketing background. You may have solid experience in B2C marketing and have zero ideas about how to market and sell to companies.
That's why it is OK if you struggle to entice clients for digital marketing at some point in your growth.
According to The Marketing and Advertising Agency Report 2021 from Insider Intelligence, 60% of agency executives involved agreed that they need a more profitable new business strategy.
We talked to our Head of Sales, Volodymyr Andrusyk, who is knowledgeable about selling SEO agency services, and analyzed the activities of successful marketing agencies. Here we will share what we've found out.
Specialization: define marketing clients that badly need what you do best
Good clients for a digital agency are those (for sure) profitable, those that will become your successful case, and that will retain and recommend you. To find and land them, you should know their specific characteristics.
Sure, it looks like any company may need marketing services. Though starting out and offering full-fledged marketing services to everyone, you won't be able to compete with mature agencies and win the best clients for digital marketing.
What to do?
Define the area(s) of marketing in which you and your team are knowledgeable and experienced most. So you can provide quality results, earn success cases, positive feedback and industry reputation. You won't necessarily always provide only one type of marketing service. It is a good place to start.

Think about what industry expertise you or your team members have. For example, you worked in an e-commerce company for a long time.

Research the market to get a picture of marketing service gaps. Figure out the industries and subindustries with little or zero competition. You can google SEO services for various niches and check how many competitors are out there, what they offer and how you can stand out. E.g. «SEO optimization for wedding event agencies».

Design your unique specialization for selling digital marketing services in terms of:
area of marketing. Examples: SEO, demand generation, content marketing, link building, and even creating content briefs service.

industry: climate change, commercial real estate, dental services.

pricing model: project-based, monthly, hourly.

contract length: one-time service website SEO optimization or SEO Audit vs. long-term SEO support.

targeted business type: B2B, B2C; startup, enterprise, SMB.

or a combination of the specializations: writing content for law firms, branding for healthcare startups, content marketing for B2B SaaS tech, SEO for local brands, employee personal branding for recruitment companies.
Once you've defined your specialization, you can go through our blog series on creating an ideal customer profile (ICP). Having the ICP document helps you uncover the best channels to find potential clients for digital marketing, understand whom to reach out and properly qualify inbound leads to move forward with the most perspective ones.
You can save the ICP characteristics in lead gen tool and search for marketing leads faster
In GetProspect B2B database you can save ICP template, so the search is prepared for your unique needs
What determines digital marketing leads channel choice
Mediums where you can reach the ideal customer

Channels you are good and can deliver value at (quality outreach). For example, you have expertise in and love developing Twitter accounts.

Budget (how much you can invest in testing channels)

Deadlines (you need to get digital marketing clients right now, or you can invest in long-running tactics)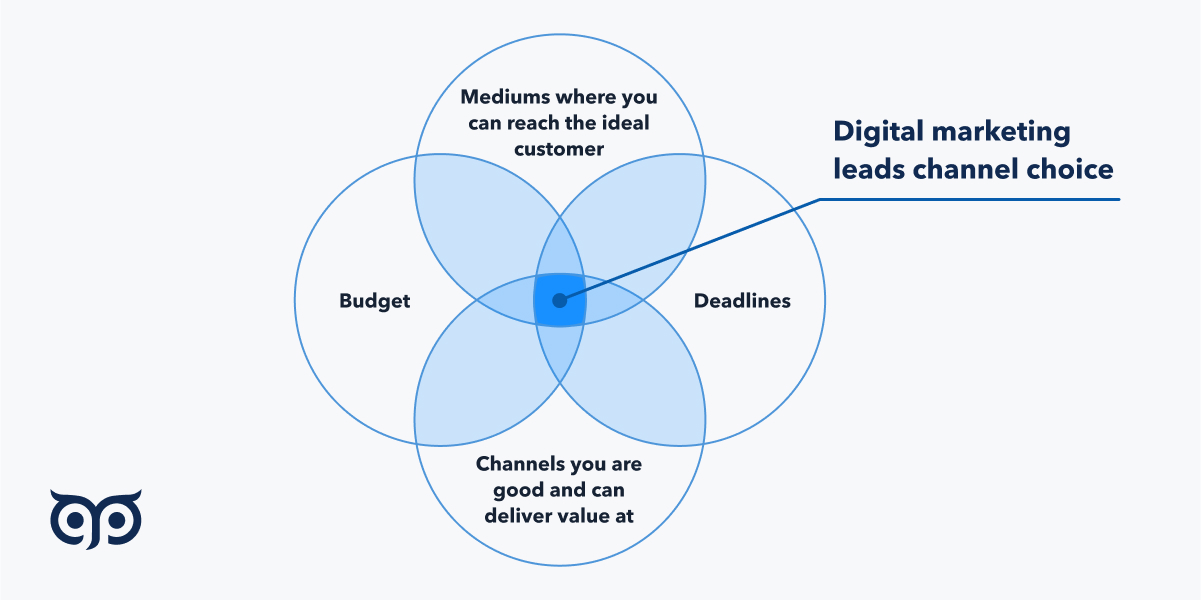 Based on the criteria, you can walk through the channels offered below and write down what matches all the requirements for your agency case.
We recommend testing them in various combinations. When you uncover the channels of stable leads flow, you can refer to other options, even those that might look ineffective at first glance. And again, test and pick the most performing ones.
How marketing agencies get clients — for the start
Tactic 1. Create a portfolio and ask for feedback
Tactic 2. Cold message potential clients
Tactic 3. Join professional communities
Tactic 4. Network hard to get new clients
Tactic 1. Create a portfolio and ask for feedback
No service should be marketed without cases and testimonials. How will potential clients understand that you are a good choice? They can't just self-test your service as they will do with a product.
How to get out of a vicious circle of «no portfolio → zero clients → no portfolio»?
Add your freelance and full-time projects

Help friends and family with their business

Ask for honest and better video feedback from the «clients»
Tactic 2. Cold message potential clients
To succeed with the channel, you should thoroughly pick leads that potentially experience the problem you can help with. Your outreach should consist of a value that shows your expertise. Actually, the examples are applicable to other cases (with warm leads too) when you need to contact and draw the attention of potential clients.
Example 1. You have an SEO agency. So you can: google the businesses from the niche you choose or those which can be difficult or expensive to market → analyze the website performance with Ahrefs (or a similar tool) → if you notice a problem → make an audit and presentation → find the decision-maker and their email and other details on the website with data enrichment tool → contact the potential clients offering the activities to improve their SEO performance.
Example 2. Open LinkedIn and filter companies based on your ideal customer attributes. Go to their people section and search «marketing» to discover what expertise is missing. Then contact them, offering potentially useful tactics. Just help, not sell. You can also attach a free little work — as a demo for your service. Potential clients will be grateful, which builds a positive attitude about your company. For example, you can create a post for their company's social media profile or an email for their newsletter.
Examples 3. If you specialize in certain marketing tools, you can filter by website technology in the B2B database and save the list of its users. When you pick and save the leads, you will also get their email addresses.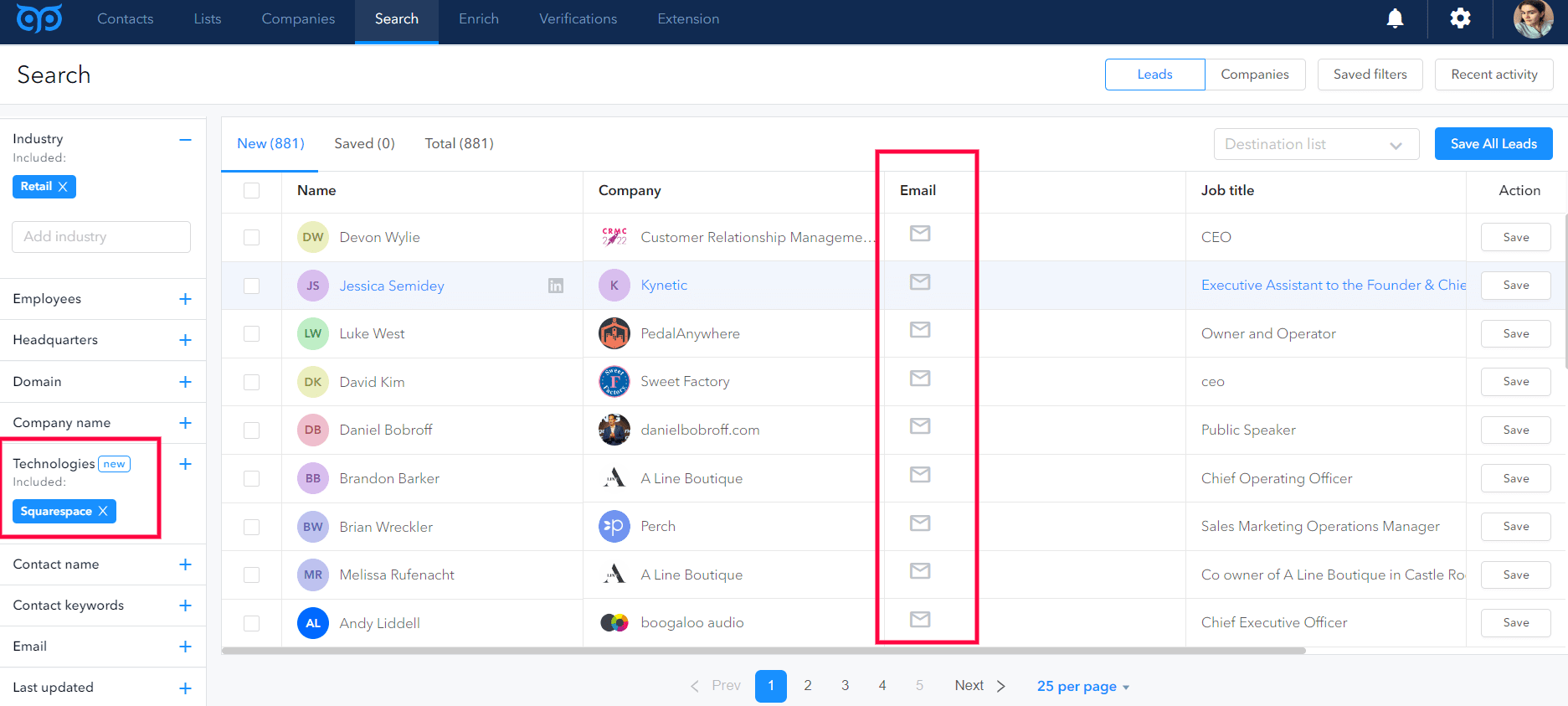 As an option, you can send them a tip on making the work with the tool more effective.
You also can filter companies that DON'T use a certain tool, so you can assist your potential client in setting it up. In the same database, hover over the tool name and click the crossed circle.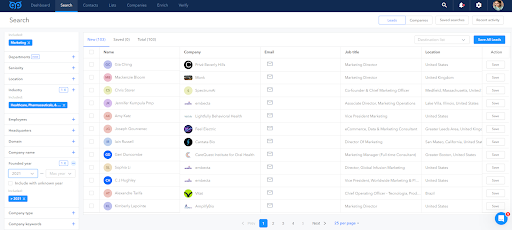 Tactic 3. Join professional communities
Pick over the local business and niche communities. Local ones might have less competition. The communities also should have quality (not only promotions) daily engagement. Otherwise, it makes little sense.
What you can do to find potential customers here:
Monitor marketing requests and then reach the person in DM to discover their problem and explain how you can promote their solution.

Become visible. Comment, answer questions, ask questions, share funny and helpful content. As a result, members might remember you as an expert and cool person and, when a struggling moment arises, will turn to you themselves or recommend you.
Important: DON'T spam communities with your services.
Tactic 4. Network hard to get new clients
Networking is the main source of clients for many agencies. It is a good idea to regularly visit industry events, join NCO projects as a volunteer and paid business clubs to meet and exchange contacts with interesting people. Essential parts of networking:
Deliver an engaging pitch on what you do so it will be clear for all marketing levels and unusual, so people remember you.

Maintain the relationships otherwise, you make zero benefits from the contact. It is up to you how to organize it. You can comment on their Linkedin posts, share industry reports or valuable tools, invite them to events, if you see how you can help your potential clients with little effort — use the chance, etc.
Note: free networking events and platforms will likely offer you low-quality contacts since they have no barrier to entry.
How to generate leads in digital marketing — long-term results
Tactic 1. Become a thought leader to get clients
Tactic 2. Ask for referrals
Tactic 3. Build partnerships to find clients for digital marketing
Tactic 4. Deliver value upfront
Tactic 1. Become a thought leader to get clients
The idea is to show the relevant audience that you and your team are experts and have original angles on the topic. This tactic overlaps with content marketing. You go to mediums where your audience tends to consume industry content and speak/post about your insights for free.
Here are some ways of thought leadership formats you can use for finding customers (sure, take into account your audience):
Own your podcast. For some consultants and agencies, this is one of the main lead gen channels where to find clients. Recently I heard a case in point from the Join Up Dots podcast.

Guest in other people's YouTube shows, webinars, and podcasts. I often see how marketing agency owners are guests at (even) paid webinars talking about their company and experiences. Until audience owners start to invite you themselves, you can pick industry mediums you like and pitch yourself. Note: it might be easier to get on a less popular platform and unexpectedly effective in terms of getting more clients.

Share your expertise on websites like HARO or Terkel to be mentioned in other people's blogs. They help with visibility as well as with link building.

Leverage social media, though, start with personal profiles. A case in point is the content marketing agency Animalz, for which Twitter became the fourth-best traffic source. You can check their amazing content piece on how to do it correctly.
LinkedIn sure shouldn't be ignored, especially if you target marketers and entrepreneurs. You can dig deeper with our manual on Linkedin lead generation.
TickTock, Youtube, Facebook, Reddit, and Instagram are also worth trying, depending on your target clients.
Remember to have distinct approaches for each social media.
Tactic 2. Ask for referrals
Satisfied clients themselves are a great source of new business. To get digital marketing clients, you can offer them discounts and extra free help in return for referrals.
You can go further and check your clients' LinkedIn connections, filter with your ICP, and single out those who potentially experience some marketing problems right now. With the list, you can go to your client and ask for a short intro to the prospects. You can find detailed instructions on the tactic here.
Tactic 3. Build partnerships to find clients for digital marketing
Starting out, you can partner with a large agency and take the boring and hard part of their work while building a portfolio and reputation.
Later on, partner with non-competitor organizations with an overlapping audience. Let's say, an SEO or content marketing agency can partner up with a web development studio for finding clients for digital marketing. When a customer gets a website, they ask about the next step and are advised to go with a particular marketing agency.
Tactic 4. Deliver value upfront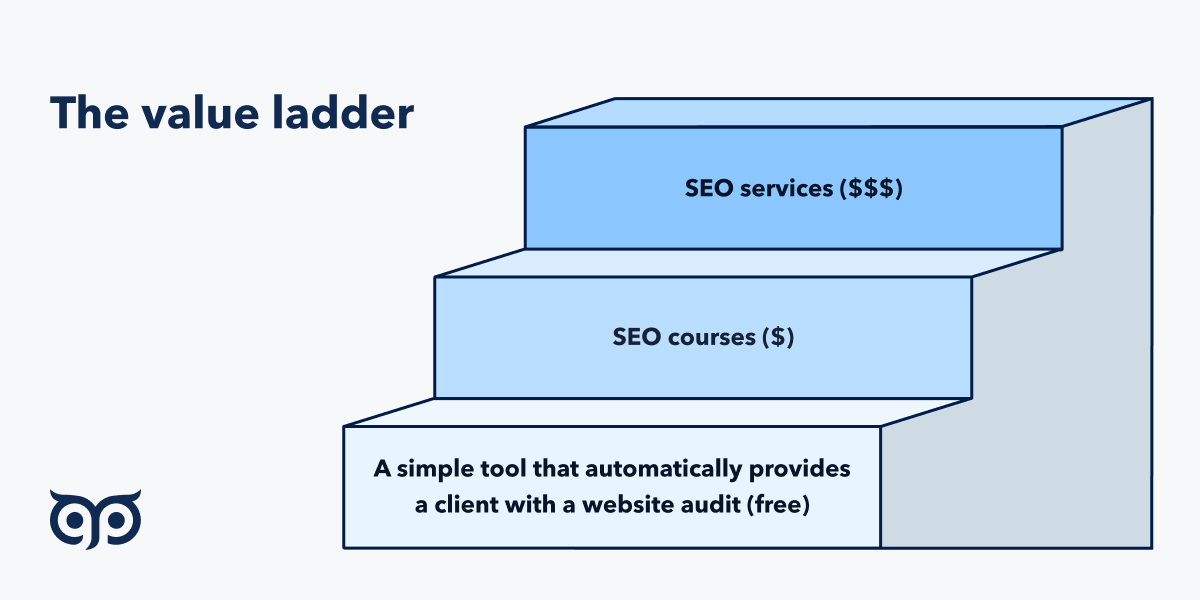 Some agencies follow the value ladder. For example, an SEO agency creates a simple tool that will automatically provide a client with a website audit (free), SEO courses ($), and SEO services ($$$). You build trust by providing marketing clients with opportunities:
to understand what SEO problems they have and what are the possible solutions;

to learn how to set up and maintain everything by their internal resources;

to delegate the part of work to you
Where to find digital marketing clients
Linkedin

Niche and local communities

Online and offline events

Your current or past clients

Friends and family

Twitter

Reddit

YouTube
Summary: how to get clients online for a marketing agency
Niche down and pick marketing craft to win your first customers in the highly competitive market

Understand your ideal customer problems and interests

Your first channels choice should come from ICP, your skills, budget, and deadlines

If you start from scratch: create a portfolio and collect feedback from friends and family, cold outreach, become an active member of professional communities, and invest in networking

If you have some established clients and need more: become a thought leader, motivate current clients to recommend your services, build partnerships, create educational products to build trust
How to find clients for digital marketing agency - FAQ
Who are the customers of digital marketing agencies?
The customers of digital marketing agencies can vary widely depending on the agency's focus and specialization. In general, the customers of digital marketing agencies are typically businesses of all sizes and industries that require assistance with promoting their products or services online.
Small businesses are common customers of digital marketing agencies to save resources. Medium to large-sized companies may also use digital marketing agencies to augment their in-house marketing teams and take advantage of specialized expertise and industry knowledge.
How do I find clients for b2b digital marketing services?
Here are several strategies to find clients for b2b digital marketing agencies:
Define your target audience
Build a strong online presence
Leverage your network
Attend industry events
Offer free resources
Invest in targeted advertising
Consider outsourcing lead generation
How to generate B2B leads for digital marketing agencies?
Here are some effective ways to generate B2B leads for digital marketing agencies:
Create targeted content - establish yourself as a thought leader in your industry and attract potential leads.
Leverage social media to engage with your target audience, share content, and build relationships.
Optimize your website - potential leads can find you when searching for relevant keywords.
Offer free consultations
Attend networking events to meet potential clients in person and establish relationships.
Use targeted advertising
Partner with complementary businesses
Ask for referrals