No success in sales, and you can't figure out why? Maybe you don't have an effective sales plan? How are you going to reach your goals without one?
A sales development plan is an essential document in your company that will show you how to grow your sales, help you set goals, measure performance over time, keep track of how well targets are executed,  and so on. 
The more attention you put into your plan, the better it will be able to serve its purpose. But it's not easy to write one, so to help you, we've created this guide with tips and sales plan templates.
What is a sales plan?
A sales plan is a key business planning and management document for each company that includes profit and sales goals for a specific period of time, all processes to achieve these goals, ways to sell the product/services to the target audience, resources that will be required, strategies that you can't do without, and obstacles that may arise along the way.
The format of a sales plan can be different. From planning for a short-term period - month, quarter, to long-term - 1-3 years (and more).
What is the role of an effective sales plan?
Sales development plan will help you:
Create real, long-term growth for you and your company.
Organize your work processes as best possible, and don't waste your time.

Choose the strategies that are right for your market.

With a sales strategy template, you will be able to periodically review your goals and improve your approach, which means - your productivity will always grow and the company's success respectively.

Set more accurate goals, objectives, and expectations, weeks, months, and years ahead.

Mitigate risks and don't panic when the unexpected happens because there is a course of action.
Who is usually creating a sales plan?
Companies choose several approaches to creating a business plan for sales:
Option 1. From managers to management,
Option 2. From management to managers,
Option 3. Combined approach.
Let's take a closer look.
Option 1. From managers to management
This is a bottom-up document creation scheme. In this case, sales managers put the goals for the volume of sales for a given period, prescribe them and other details in a tactical sales plan template, and then present it to the management. 
Option 2. From leadership to managers
This is a top-down document creation scheme. In this case, first, the sales planning template goes down the chain from the business owner to the commercial director, from the commercial director to the head of the sales department. And finally, from the head of the department to the senior manager/to the sales managers, becoming, in the end, at the last stage, a full-fledged plan.
Option 3. Combined approach
The combined approach means that managers first provide a sales plan sample to the company's management, and then managers correct it. 
How to develop a sales plan? The best examples of a good structure
To develop a good plan, you need to create the right structure, such as:
Your target market.

Your unique selling offer.

The benefits of buying from you.

Pricing strategy.

Marketing and advertising strategy.

Your sales process.

Customer support plan.

Implementation list.

Monitoring and evaluation plan.

A contingency list.

Timeline.
But your sales document's structure may differ from what we have described above. You can add, or, on the contrary, remove some sections based on your business peculiarities.
For instance, according to CEO and Founder Better Proposals Adam Hempenstall, his company prefers a slightly different sales planning process that gives his team better results.
An abbreviated version of the strategic sales plan structure:
Target clients.

Revenue targets.

Strategies and tactics.

Investments and stocks.

Timeline.

Team structure.

Market conditions.
But CEO of Managementhelp Brigit McCarthy thinks that the most necessary components of a strategic sales plan template should be:
specific revenue goals and clear objectives, 

market positioning and marketing strategy, 

tools and resources to reach the goals and objectives, 

KPI (deciphering). 
These are essential for this company to create a good sales plan. The rest can be in addition to the structure, but according to Brigit McCarthy the above 4 points should be there 100%.
To create a clear document for your team and fill in all the points on the structure, you need to start with resourcing and analysis. Even if you reduce the structure to a minimum. 
Before we move on to the sales planning example, we'll simplify your path even further. How? With advice from GetProspect and other expert companies.
How to create a sales plan? Creation guide and valuable tips
Use the top 11 steps and advice to make an effective sales plan.
#1. Set goals and select metrics
According to the structure of the sales action plan template Ms. Brigit from Managementhelp above, this is the number one item. And it's hard to disagree on its importance. This step is the first and main in the preparation of the sales plan. There should always be a clear statement of your goals and objectives, always!
Determine exactly what you want to accomplish with this document. Write out your profit goals, how much the sales department should bring in each period. Except for this, define how many units of product you want to sell in general, how much you want to sell for each market segment, and so on.
But first, choose metrics that affect your company as a whole. These could be:
Annual or monthly recurring revenue,

Churn rate or retention rate,

Average conversion rate,

Average conversion time,

Lifetime Customer Value.
For example.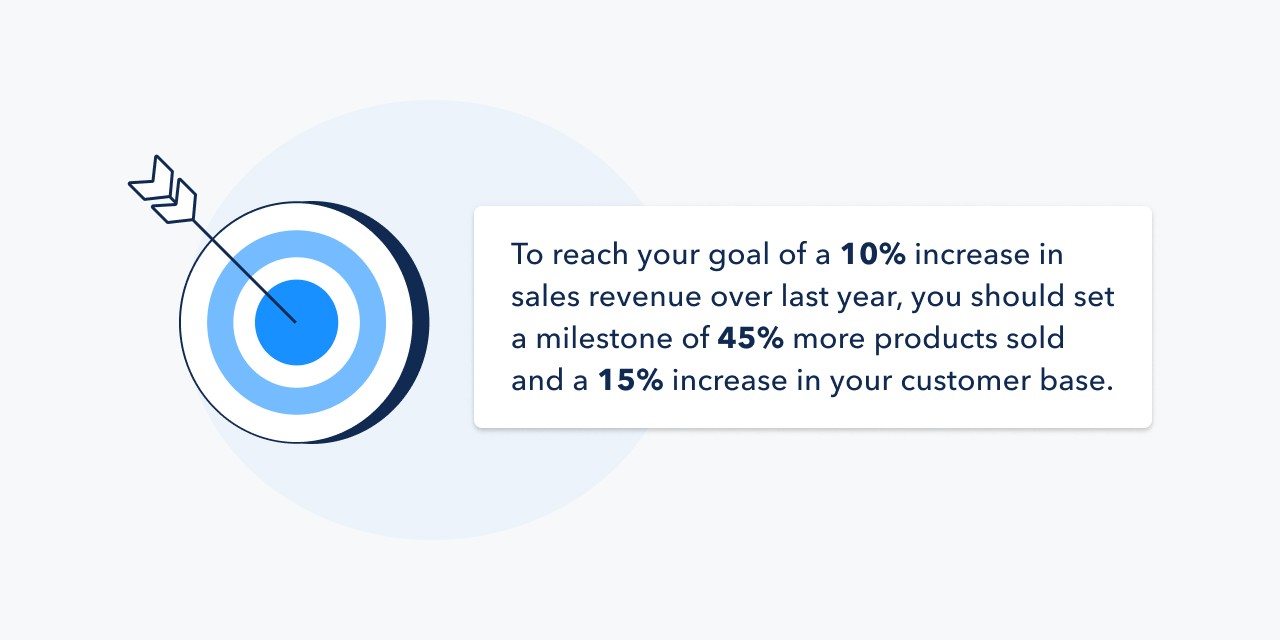 And keep in mind that having specific, measurable goals will give you something to strive for and help you measure your progress along the way. So make them up according to SMART (Specific, Measurable, Achievable, Relevant, Time-based) criteria.
#2. Analyze the market, determine who your ideal customers are
Founder at Softmany Sameed Alam: "To embrace the milestone of target and sales, strategic planning is needed. For a workable sales plan, market research is the key. Understand the product requirements for different zones or locations."
There you should also specify the distinguishing features of your company and products/services, the things that distinguish you from your competitors. For instance, a product with unique functionality, free shipping, good discounts, etc.
Brigit McCarthy, CEO of Managementhelp company, believes that an effective sales plan   
should include not only this data, but also a detailed description of your ideal customer. We couldn't agree more, so we advise you to pay due attention to this point and briefly describe the ICP (ideal customer profile).
Adding your ICP will provide insight into which approach to lead generation for prospects to use.
Marketing and sales plan: example questions to get the right ICP data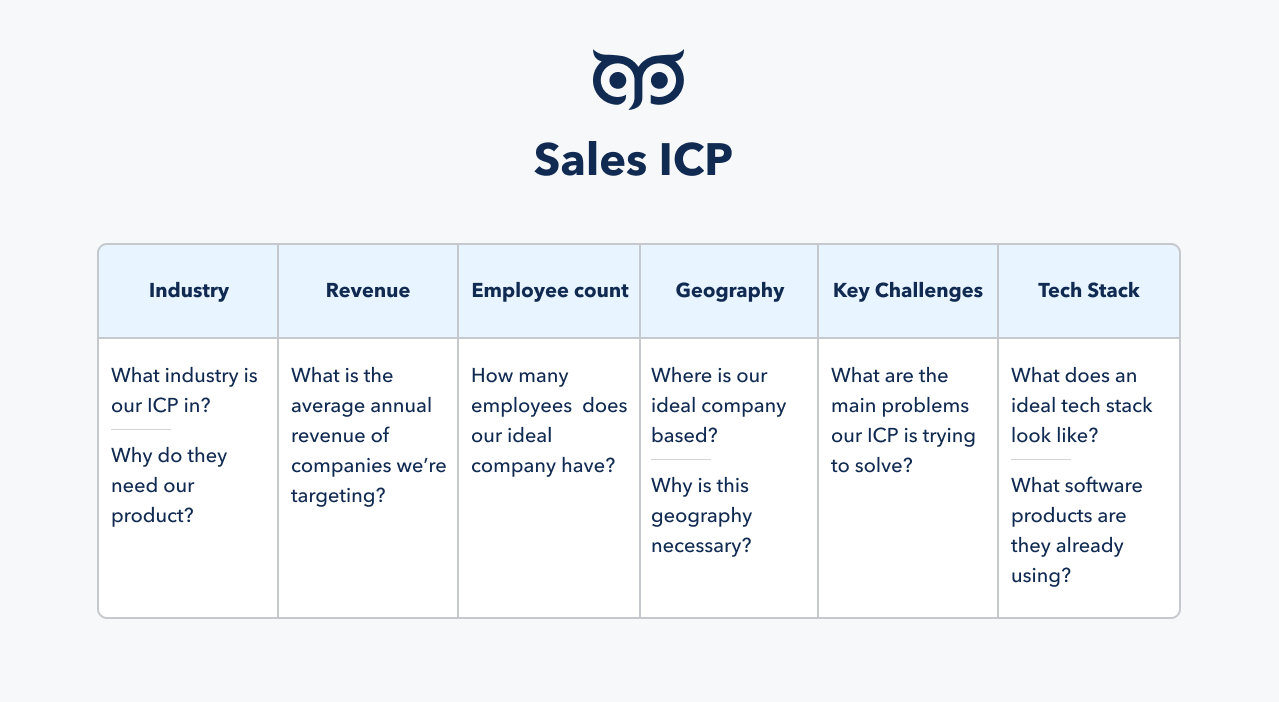 Target contacts search
Use GetProspect search to find leads that match your Ideal Customer Profile. The variety of filters in this tool will not only help you find prospects, but also partially qualify them
Start search now
#3. Don't forget the past data
Head of Sales GetProspect Volodymyr Andrusyk considers that it is impossible to do without past data when drawing up a new plan. 
«It's important to pay attention to past goals and how well they were met (as well as understanding why a particular plan was not met or exceeded. Answering these questions will help a lot when setting and adjusting new goals, as well as help you find problem areas and make a focus on them».
And indeed, the sales development plan will work for you to the maximum if it is based on well-analyzed results of your thorough research.
To do this, you and your team need to answer a number of questions. For example: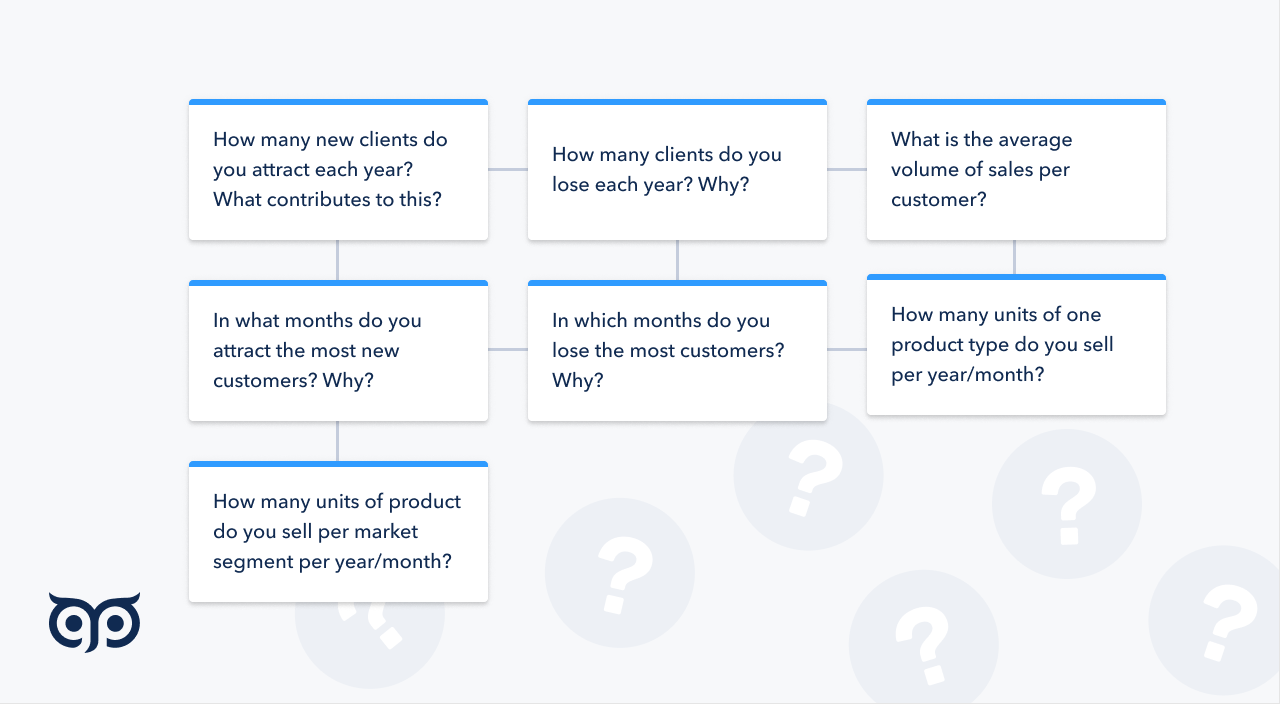 Analyzing past results will help you evaluate your efforts to achieve your goals and determine what weaknesses exist in your work and the way your team works, what hurts your processes, and what mistakes need to be corrected.    
#4. Define the company's marketing strategy to make a right strategic sales plan 
Yes, you create a sales document, but what are sales without a marketing strategy? 
Before the sales team gets prospects, which will be easier to convert into customers and loyal clients, the marketing department is engaged in attracting a target audience, fuels the interest of each user to your product or services, increases lead generation and so on. 
And of course, you have to know what main points this strategy includes, and state some essential information in the plan.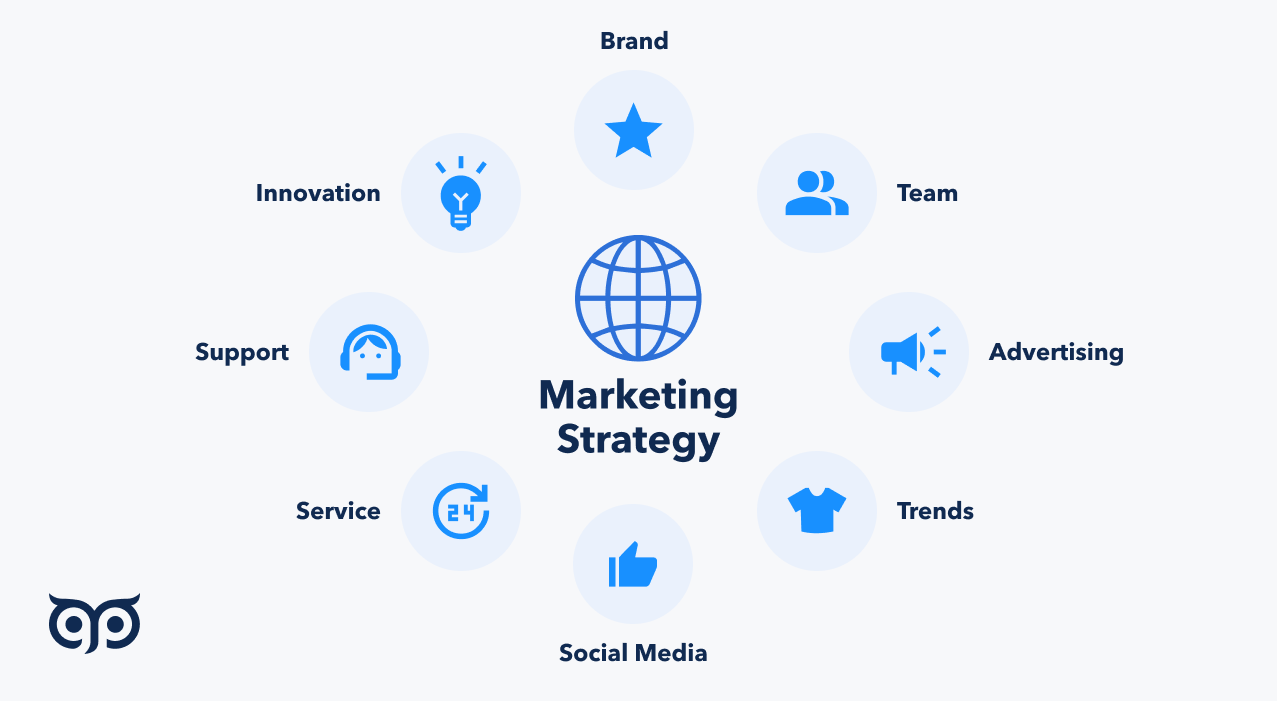 You need to describe in your sales document promotions, mention the main actions that will be taken to increase the popularity of the brand and attract the flow of leads. 
#5. Identify lead generation methods to create a proper format of a sales plan
An effective sales plan should include a brief description of the client journey and a description of how your salespeople will interact with them along the path to purchase.
We're talking about the steps from qualifying generated leads to the deal, from the deal to the purchase negotiation, from the deal to the process of moving the customer from client (1 deal)  status to loyal buyer. 
This item also includes defining the goals of the sales activities over the time period you choose and tying those activities to the desired results.
#6. Budget and clarify the steps you will take to reach your targets
Cybersecurity Specialist at Privacy Australia company Isla Sibanda is sure that this is one of the main stages in creating a sales plan, which should be given full attention.
«All the steps of the business plan for sales should fall within a certain budget. The financial constraints of a business hinder the growth of a plan. Clearly define how much money will be spent on every step of the program and divide your total financial resources accordingly.»
This is the right decision because without this action, you run the risk of facing a situation where at some point you simply do not have enough money, because in the previous stage you spent too much budget. 
To avoid such a situation, it is necessary to determine an approximate budget for each stage of the sales document. It's preferably at the end you will have money left, rather than something will be lacking and need additional funding.
#7. Choose the best CRM and other automation tools during the sales planning process
Content Producer Fit Small Business Jess Pingrey says the most effective sales growth planning strategies involve using customer relationship management (CRM) software to organize leads, store information and documents, and collaborate with team members.
Obviously, without a good CRM in today's world, you can forget about success in sales. Without this automation tool you will be many steps behind your competition. It is an indispensable assistant for the sales department at all stages of the sales funnel. 
For a long time it's not a question of working with CRM or not, now the question is to choose the best solution, the one that suits your business and doesn't go over your budget.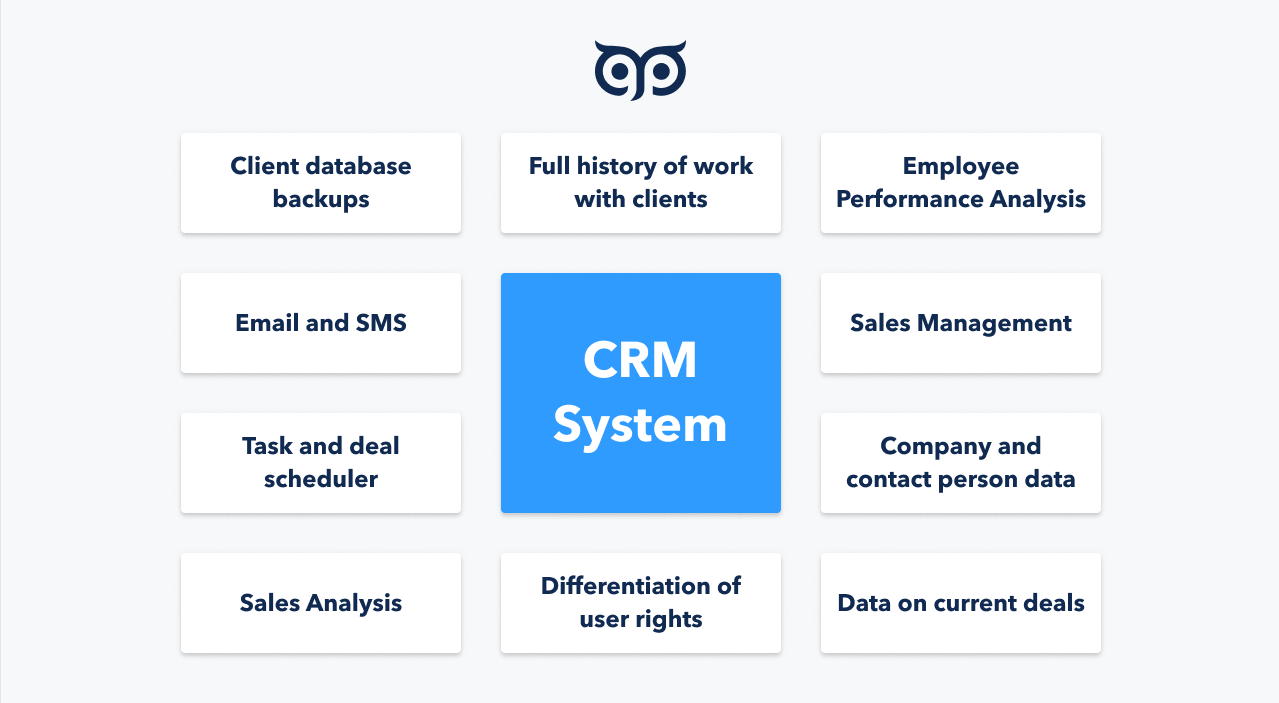 The CRM you can consider and select for your sales plan: GetProspect, HubSpot, Zoho.
Organize your leads in GetProspect CRM
Keep your leads in one place, search for new ones in the database, and lead them through the sales funnel.
Try it now
There may also be other tools in your business plan for sales that your salespeople will use to succeed. For instance, platforms for making and maintaining documents, for creating presentations, onboarding platforms and tools, platforms for meeting with clients, and so on. 
#8. List all the members of your group and properly describe each manager's area of responsibility
List the names and responsibilities of the people in your team. This will make it easier for you to identify any role gaps you may have in your current team and help you stay organized.
As the CEO and founder of Better Proposals told us, you have to delegate tasks and you have to do it right. That way you reduce workflow duplication and increase accountability. It will also allow you to track your team's progress and manage goals.
You can do this by answering these questions:
Who is responsible for finding leads or warming up?

Who will be the first contact with potential customers? (call, email)

Who will conduct product demonstrations/training?

Who will be responsible for the deal-making phase of the prospectus?
These and other questions will help you build the right chain of responsibility for each member of the sales team.
#9. Сreating a sales plan don't forget to set deadlines
When you have already written down which employees are responsible for what process, it is important to write down deadlines for goals and tasks. As the Head of Sales GetProspect Volodymyr Andrusyk rightly pointed out – deadlines are our everything!
«Every plan should have a deadline to meet, every salesperson should have a specific figure and a date by which it's necessary to close the plan.»
Volodymyr also emphasized that when prescribing deadlines for communications/actions with clients, it is vital not to forget to think about the next moves. Remember, after each communication/action - there must be the next step.
#10. Be realistic about what you can do
An overly ambitious sales plan can lead to disappointment. When setting goals, be realistic about what you can achieve given your resources and current market conditions.
Head of Sales GetProspect Volodymyr Andrusyk: 
«It is important to understand what is real and what is not. Just from the sky the growth of sales by 2 times does not happen. If we leave costs at the previous level, and we only work on point conversions. It is necessary to realize that we can plan the growth based on the potential increase in conversions. Everything has to be supported by numbers.»
#11. Make your sales plan flexible. Always have plan B
This is to understand how to act when unforeseen problems arise or when new opportunities arise. That's why you need to have some flexibility in planning everything. This will help you adjust the document as you go along and reach your goals, even if things don't go quite as planned. 
Also in creating a plan that includes flexibility, we advise you to do a SWOT (strengths, weaknesses, opportunities and threats) analysis. This will help you not only to overcome difficulties, but to figure out  what areas are better to strive for.
SWOT Analysis

Strengths

Opportunities

Weaknesses

Threats
Here's one example from our Head of Sales GetProspect of what the unforeseen (good unforeseen) can happen that may not be in the plan, but you have to be prepared for that too:  
«We are sales managers - we work with people, salespeople are people, our clients are people too. Can be everything! That is why it's vital to be flexible. 
If a salesperson didn't close a plan for a month, but in 2 days they will close a deal for $100000, which they devoted a month of work to - they are not an outsider, but an example to follow.»
7 sales plan templates and examples
Feel free to use templates to write the perfect sales plan to level your income.
Monthly sales plan template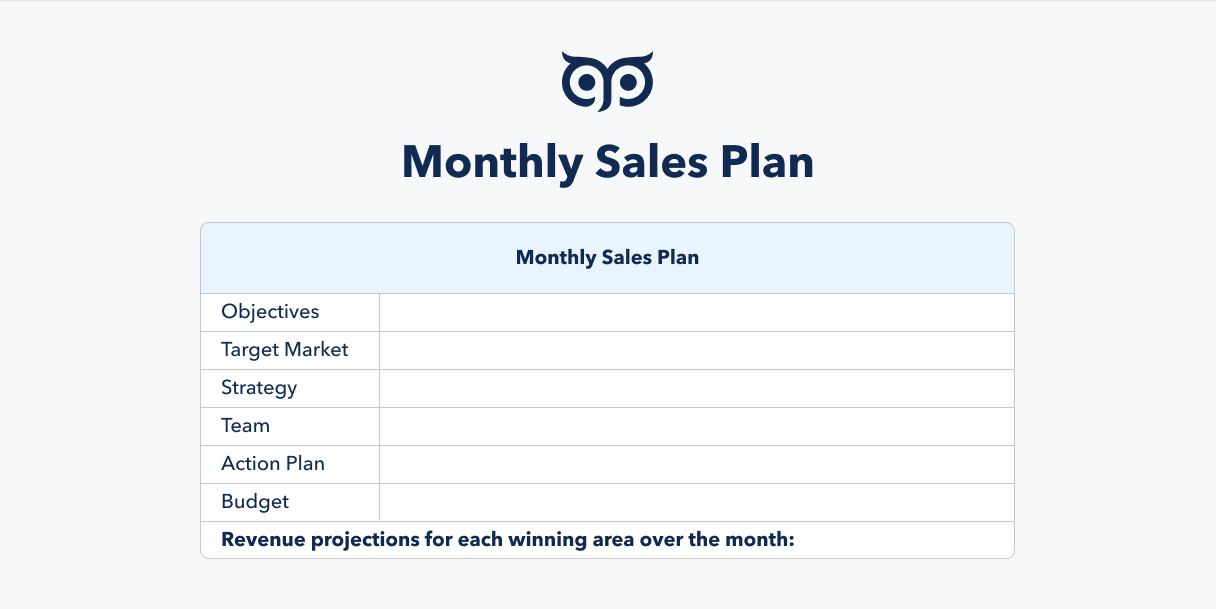 This is a sales planning example for each month. Of course, you can start making your monthly plan from scratch, but we suggest you make it easy to use the sample as a guide to building your own sales plan. 
Plus, right in Template.net you can create your own version of the document very quickly.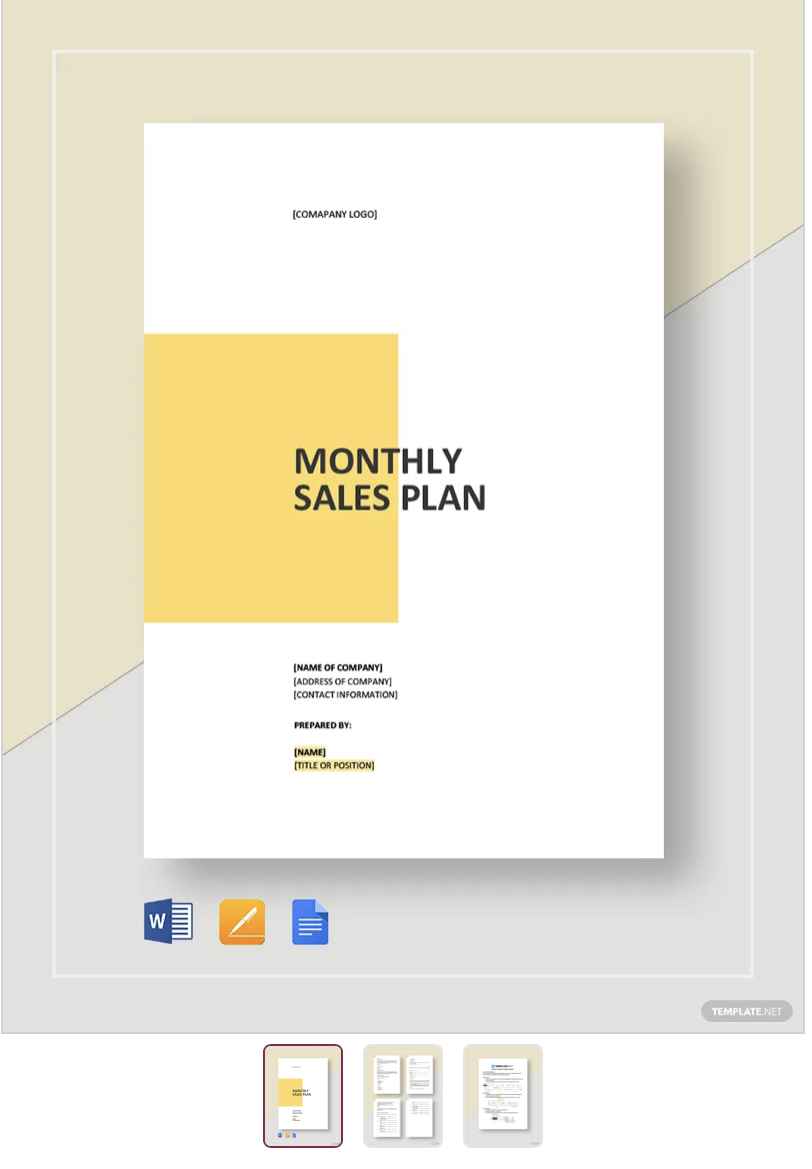 30 60 90 days sales plan template
The most popular type of plan for sales departments.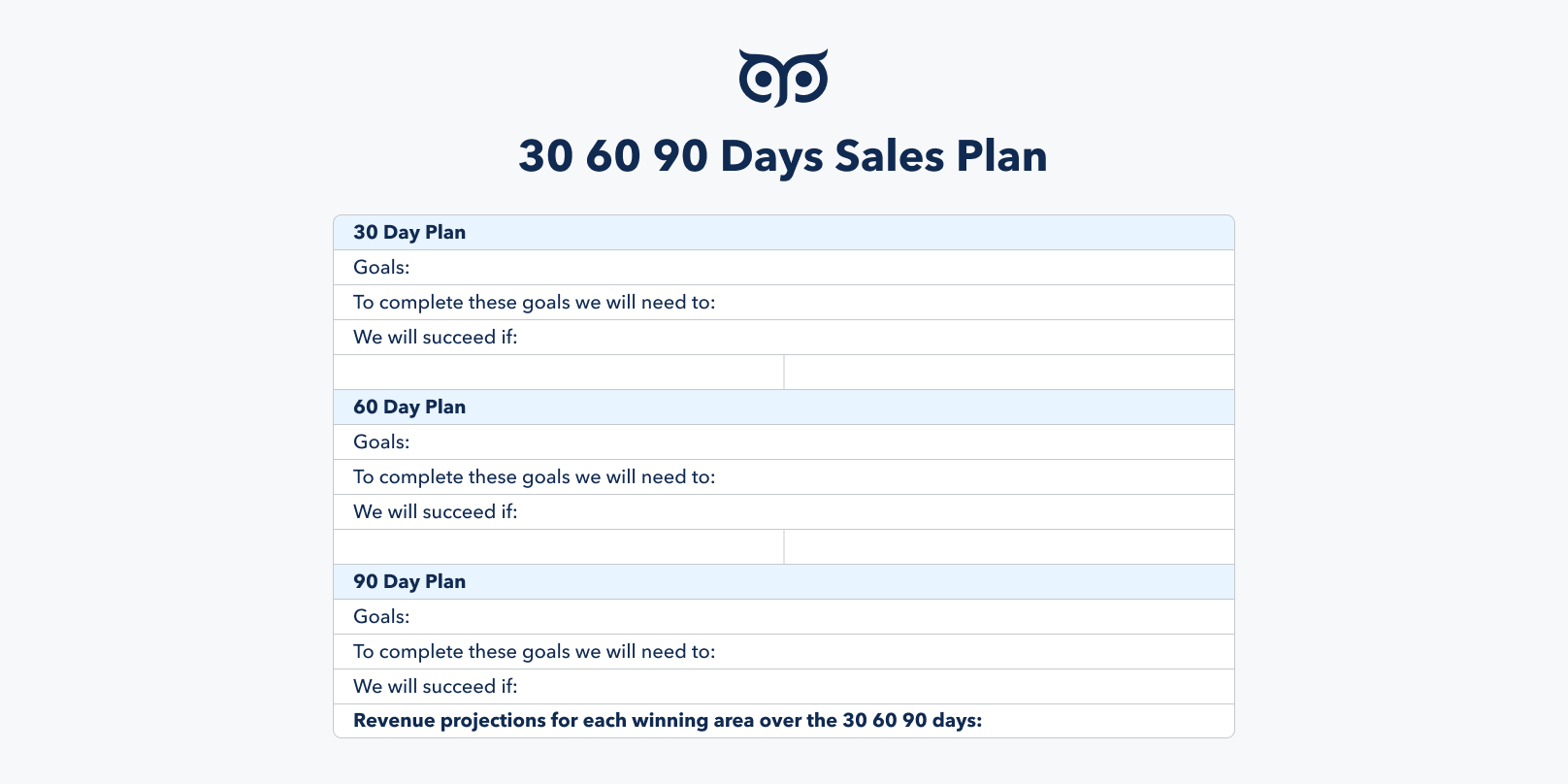 The 30-60-90 day sales plan is usually the one chosen to use most often. Because it covers short-, medium-, and long-term goals.
90 day sales plan examples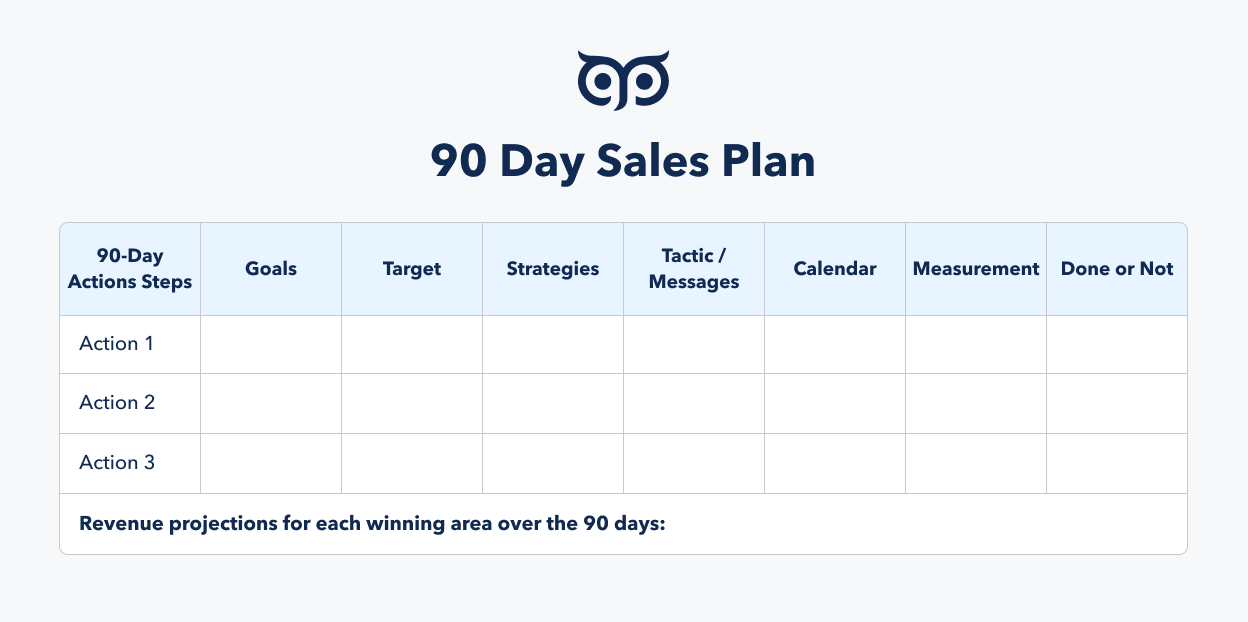 Besides, you can use this sales plan sample from Template.net. Fill it out and directly create your variant on this platform. 
Make up your plan for the next 90 days using these examples. Develop it by dividing it into these steps, tasks. Be sure to give answers to all the key questions.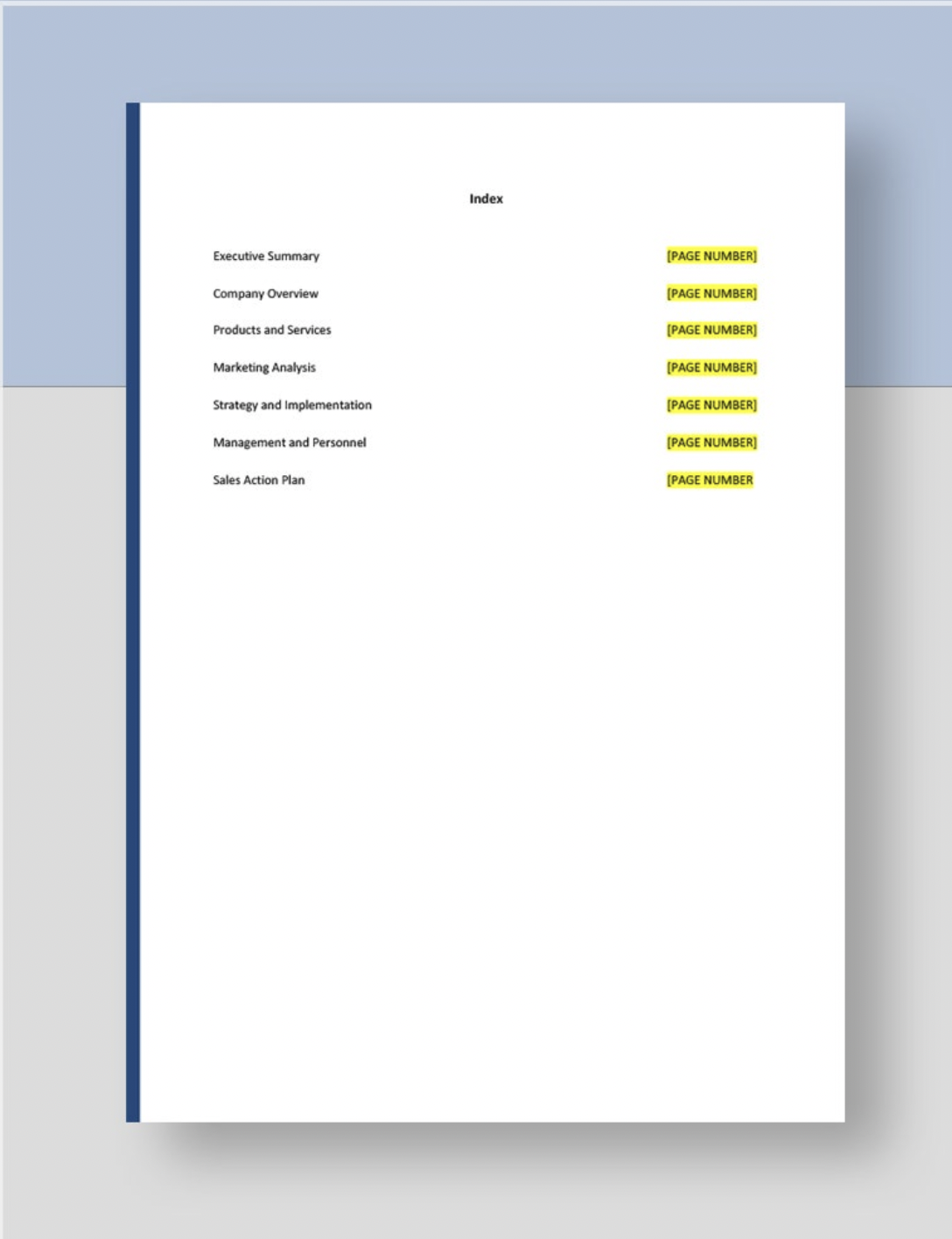 Annual sales plan template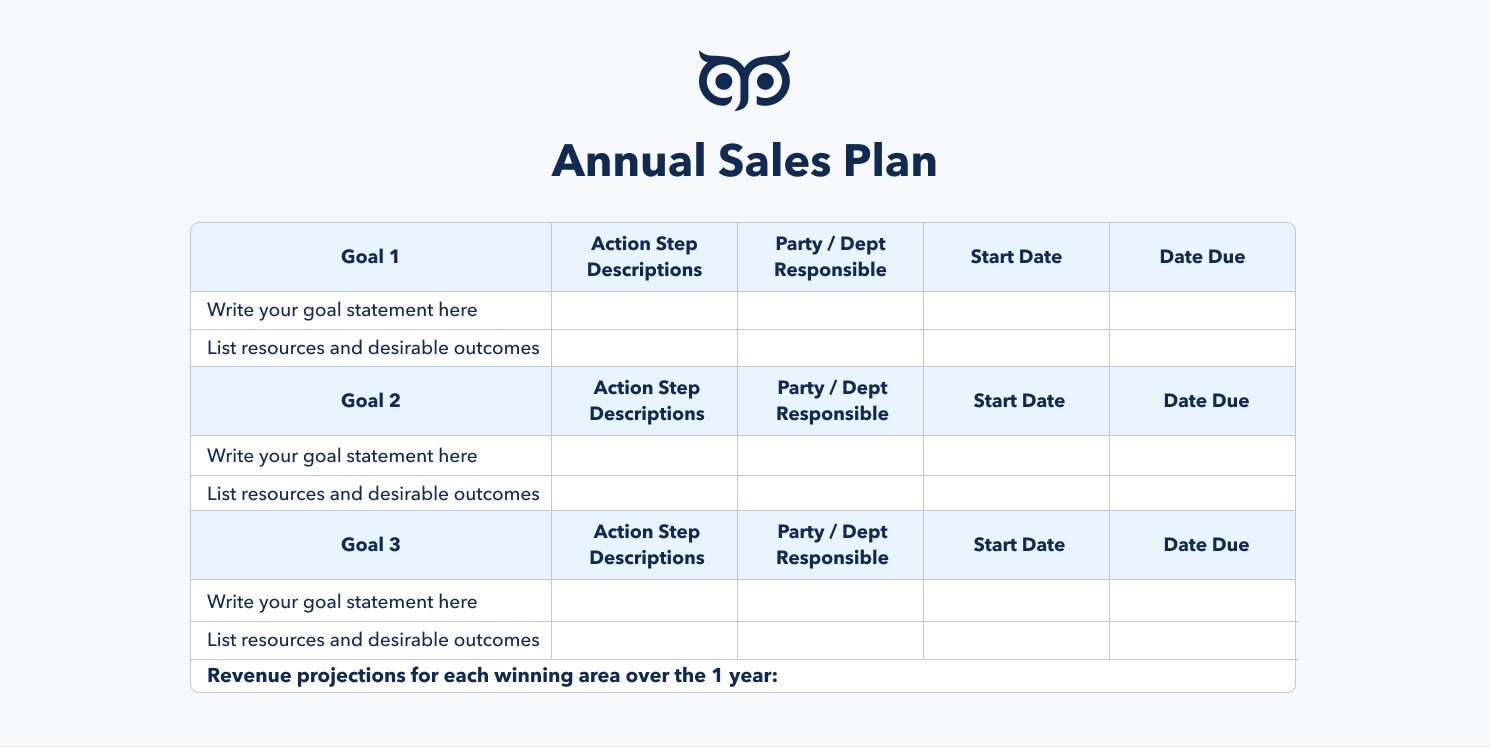 An annual plan is a traditional sales business plan that includes revenue goals, tactics, and a specific time period by when it is due.
3 year strategic sales plan template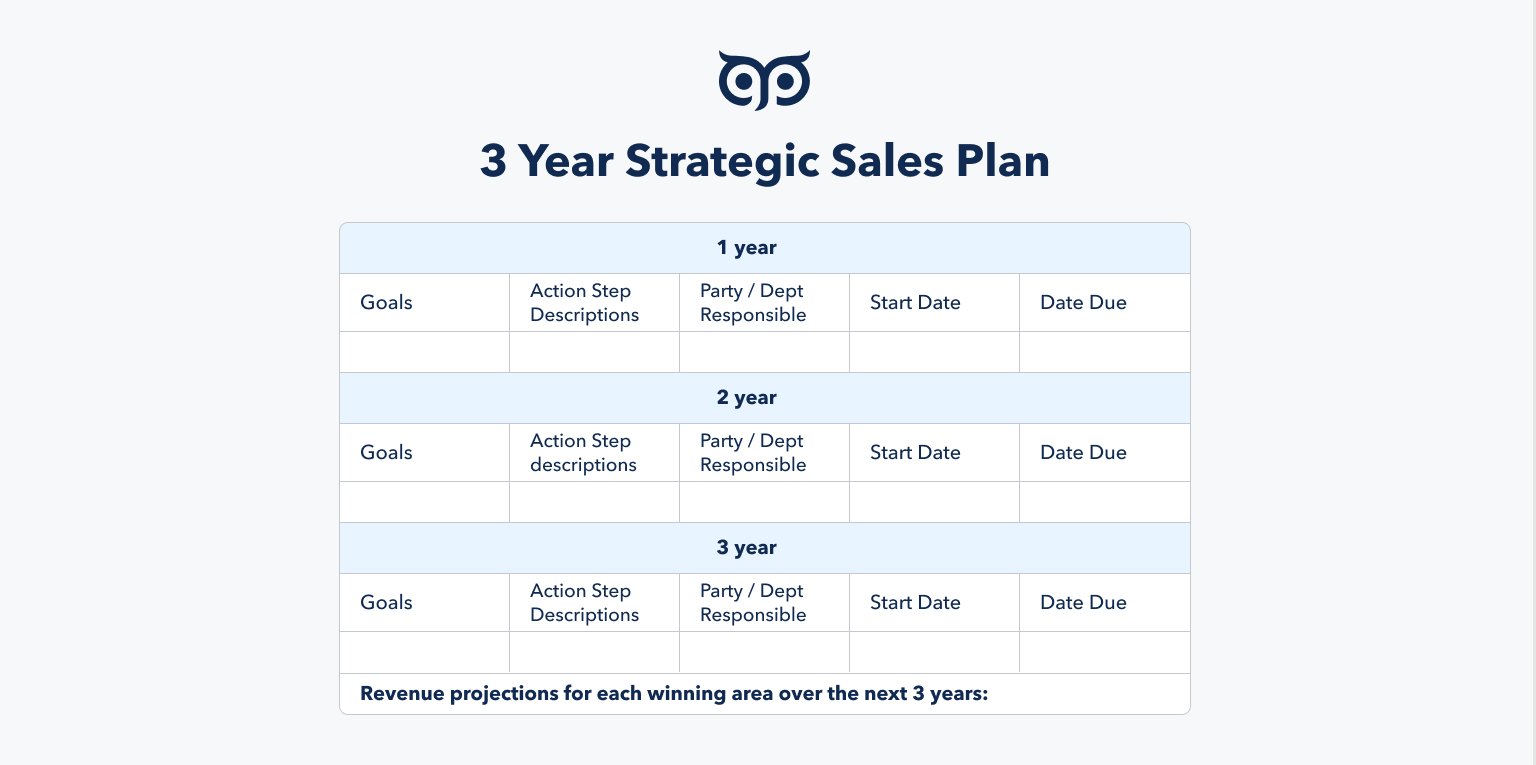 This sales plan sample, although the structure is the same as the annual and other plans, is not divided into months or quarters, but it will be much more difficult to make. This is so because you will need to look at the long term. 
But if you make it correctly, not hastily, following our advice, then you will have a reliable tool/document that you can supplement in the future and it will be very useful to you and your team, and will lead your company to reach success.
Let me remind you! All our templates can be supplemented at your discretion. We give you the basic data that should be in the sales plans for different periods, which should be entered in the business plan for sales for your team.
Summary
A sales plan is a key business planning document that includes profit and sales goals for a specific period of time, all processes to achieve these goals, ways to sell the product/services to the target audience.

Sales development plan will help you create real, long-term growth for you and your company, organize your work processes as best as possible without wasting your time.

There are several approaches to creating a business plan for sales – from managers to management, from management to managers, combined approach.

To develop a good plan, you need to create the right structure, set goals, analyze the market and past data, define the company's marketing strategy, identify lead generation methods, budget and clarify the steps you will take to reach your targets,  choose the best CRM, properly describe each manager's area of responsibility, and not forget to set deadlines.