Check out our latest updates! From enhanced search filters to streamlined workflows, these updates will help you find your ideal customers more efficiently than ever before.
#1. Get notified of 100+ new leads from your recent searches automatically
Let's start with a new feature that will give you even more routine process automation.
When you save all leads from our Database according to your filters, you no longer have to recheck if new appear.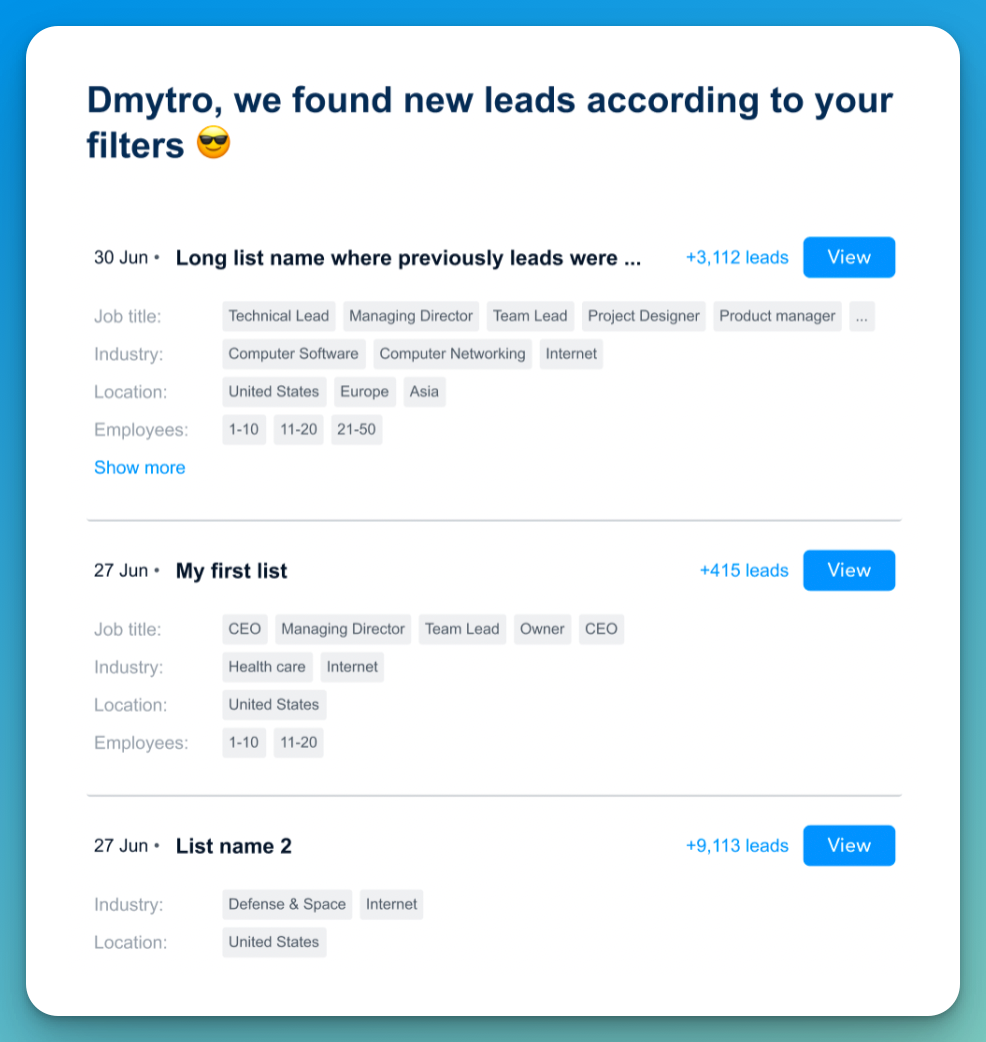 This tool keeps working with your searches in the background, thereby taking away a layer of routine work, so all you need to do is initiate a Search.
After that, we'll work with each new contact that we receive according to all criteria and build a batch of 100+ email addresses.

In the end, you'll get an email notification when the work is complete.
And the final step left is to click on the link and add these contacts to your sales funnel.
#2. Use new & upgraded filters for better Database Search results
Now we have 17 filters + sub filters! As you can see, a few new ones were added, and a few were enhanced. So you can find more relevant contacts and companies just in a few simple steps.
Industry and Departments
In the Departments filter after selecting, for example, «Engineering & Technical», you will see subcategories of different departments – Engineering, DevOps, Mobile development, etc.

The same with the Industry filter. If you select some industry, for example, Education, you can choose a type - E-Learning, Education Management, etc.
Our filters you're sure to be excited about: Location & Headquarters filters, Founded year, Company type, Company keywords, and Technologies.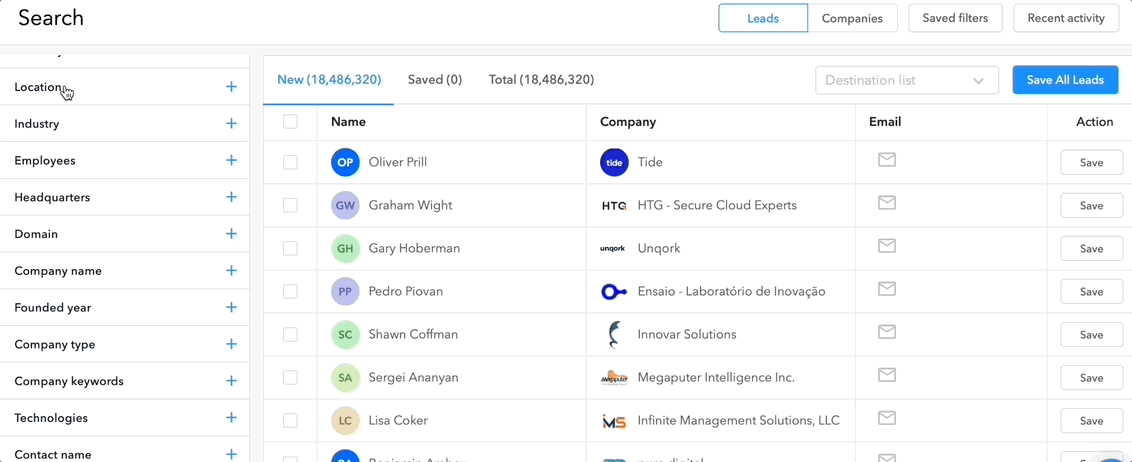 Location & Headquarters filters. Search prospects not just by Region but also by Postal code.

Founded year. Specify the year when the company was founded. Therefore, contacts or companies will be selected by this filter.
Company type. Choose from Private, Public, Education, Government, or Nonprofit companies.
Company keywords. Choose keywords that will make the contact search even more accurate - technology, marketing, retail, artificial intelligence, innovation.

Technologies. Select the available industry - E-commerce, CMS, Analytics, Advertising - or add some other one like Shopify or WordPress using the search.
Find out how you can start your search right now by watching this short guide video.
#3. Get search notifications in your account
Another upgrade in the platform will help you save a significant amount of time, as you no longer have to wait until your prospecting is done before you can start other tasks.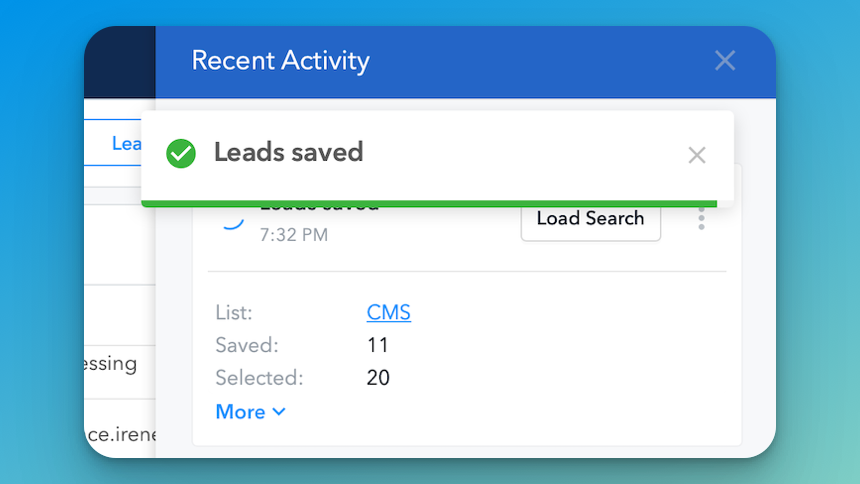 Just run the search and move on to other tasks. You'll be notified through the website and by email when your search is complete, indicated by a bell icon.
#4. Discover key metrics with our enhanced Dashboard
All info you really need will be at your fingertips thanks to the new user-friendly block Dashboard.
It provides a convenient way to access essential data while using the platform. This includes details such as your current tariff plan, available credits/verifications, team member information, upcoming renewals, your saved lists, recent and saved searches, and analytics for your account.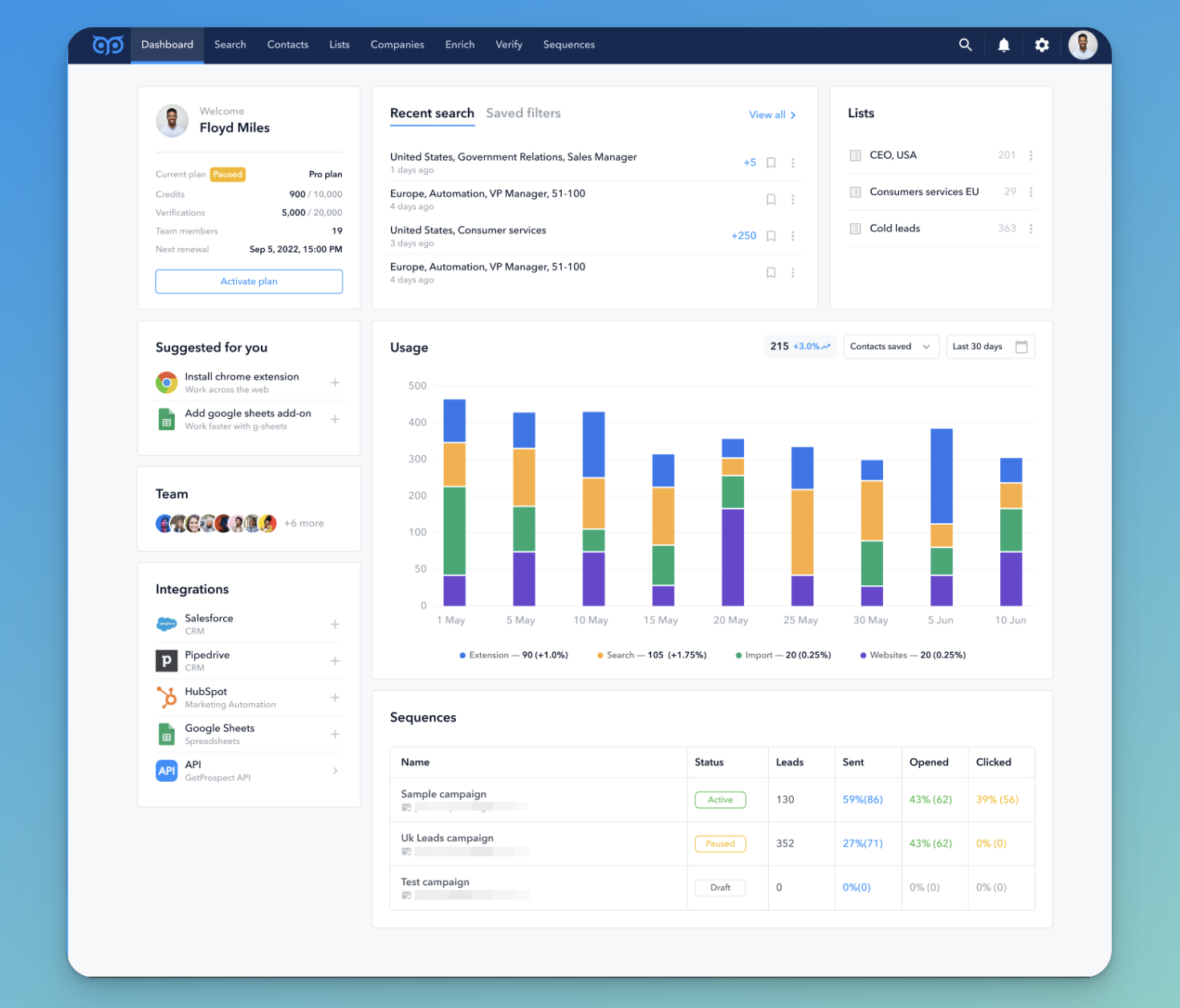 In addition to this, you can view available integrations, receive recommendations for other platform features in the «Suggested for you» section, invite team members, and view email campaign analytics.
Wait for other updates from us soon. Thanks for your support!