Every day you devote most of your time loading your pipeline, and it doesn't seem the efforts match the pay-offs.
This is a fairly common problem. Pipedrive reports that more than half of respondents regularly (24%) or usually (21%) fail to find enough sales leads.
It is a hot topic, and we are here to offer possible upgrades to your B2B lead generation strategies.
What a Lead Generation Strategy is
A lead generation strategy is a set of ways to unearth interested individuals and turn them into potential buyers. The approaches cover researching publicly available info on the people, looking for contacts, creatively reaching them to catch their attention, and delivering your ideas.
What inbound and outbound lead generation strategies are
Inbound lead generation strategies are methods to attract customers through content. It drives them to engage with your company site and social media and finally choose your products. The organic lead generation strategies tend to build a strong brand and long-term partnerships with the clients.
Outbound lead generation strategies are tactics of actively searching and contacting relevant people. Those who have challenges your solution can resolve or at least alleviate. The methods are more costly than inbound, while you can expect faster results in revenue growth.
The article goes over some of the B2B sales outbound lead generation strategies. We provide you with a new lens to well-known channels and offer less common methods for inspiration and experiments. It is a good practice to have 1-2 lead gen channels in testing mode.
Which B2B Lead Generation Methods Work Best
The best B2B lead generation strategies are:
Engage with prospects on LinkedIn

Catch leads' attention with cold emails

Get fast feedback through cold calls
The HubSpot benchmark data (from >100k users) illustrates that the number of cold emails sent and calls performed grows exponentially. It evidences that the methods are still among the top lead generation strategies.
LinkedIn
According to LinkedIn data, Sales Navigator is used by 59% of the Forbes Global 500 companies and 64% of the Forbes fastest-growing businesses.
LinkedIn sometimes may seem like a shortcut to tons of hot B2B leads. In reality, top performers are more likely to get high conversions from the social network (37% agreed), compared to average performers (20% agreed).
Actions to take to make LinkedIn b2b lead generation methods work:
Work out whether your audience is оn LinkedIn and routinely use it. The buyer persona is to help you. Just search it on LinkedIn and see the search results volume and how active they are.

Make sure you reach proportionally: those who are actively posting and commenting on LinkedIn and those who have «nothing to see for now» in their Activity section. Focusing only on the first group you are considerably limiting yourself. They might be active readers or visit LinkedIn just to check messages and connections once a week.

Forget mass outreach throughout InMails. According to LinkedIn data, it usually fails to usher planned outcomes. You can use it as an additional tool, only with a proven offer targeting a narrow audience.

Have a completed profile. It doubles chances to meet or overperform your goals with the platform.

Position yourself as a person who is looking for a win-win partnership, rather than pushing unwanted products. It means sharing industry knowledge and engaging with customers in comments and groups, showing genuine curiosity.
Cold mailing
We still get bad cold emails very often. Below is a typical example: direct push of their services and zero personalization.

It is glad tidings for those who use unique B2B email lead generation approaches and personalization.
What is Email Lead Generation
Email lead generation is a process of gathering email addresses and sending cold sales emails to potentially interested people your company hasn't engaged yet. The technique is more true of business leads.
Avoid confusing it with email marketing B2B lead generation, which implies gathering names and email contacts via opt-in forms and nurturing the recipients with valuable newsletters.
Here are email lead generation techniques for a good cold email:
Utilizing ICP, you find the right people

Employ email finder to collect actual emails

Personalize, though don't get bogged down in the process. As Will Allred is proposing: take 5 minutes to find 5 facts. OR сarefully segment the recipients. For example, some recently raised funds, some attended a particular event.
The subject line is why the recipients open your email. While being honest, make it catchy and short. Example: use cliffhangers — «know about this?»; customize to the person's career — «recent promotion»; use shared LinkedIn connection surname — «via Yulo»

Spice up the email with the human touch. Jokes, expressing emotions, personal stories, etc.

You will constantly overlook leads if you habitually stop on the 1st NO. That's why, structure and set up email cadence. Avoid overprsonalization — arrange all nuggets you have over the follow-ups.

Make friends with the technical part of cold emails. Watch out for deliverability. Even top professionals are at the risk of getting into low priority categories (spam, social, promotions, etc.).
Bonus: employ email finder to collect actual emails
With the app, you can find all prospect's valid professional emails
Cold calling
Far from all salespeople are ready and can make cold calls. This is a more extreme setting and requires fast decisions and even being a polite asshole to draw the prospect into the discussion.
Nevertheless, 49% of the poll respondents find the phone one of the priority cold lead generation methods and strategies, with 30% choosing emails and 19% — social media. The principal advantage of the approach: even the most likely «no» and «I am not interested» can be turned into a discussion. Сonversely, in emails, they just ignore your message if they don't find it relevant. You will be left with zero additional info.
To make cold calls less stressful and one of your successful lead generation strategies, take the tips into your sales routine:
Always have a script/plan in front of your eyes. To feel calmer and simply save your prospect's time. Spontaneous speech will always have redundant elements. Keep in mind the script ≠ rigid rule. When you read from the page, what's the difference between you and a robot then? The script is just a guide and you should keep your speech human.

Remember that you really help the companies you are calling. The feeling will grow if you meticulously choose the prospects to call. Since when you call, you know you will offer the solution to one of their top priority problems.

Genuine interest is a crucial part here too. Everyone loves to talk about their problems. Prepare questions and involve them in a talk. You will get a ton of insights and earn a positive attitude from them.

Listen to the top sales cold calls recordings, collect tips and then implement it with your own style. For example, some influencers make live cold calls — check Trent Dressel's one.

Relisten your calls recordings with peers to exchange customer insights and improve.

Know when your leads are available. For example, calling C-levels, choose times when they are less overwhelmed, such as Friday afternoons and weekday mornings till 10 am.
Paid channels (social media ads, google ads, etc.)
It is one of the business-to-business lead generation strategies used when you have enough budget. We will explain. Until you have a field-proven offer, the channel requires a lot of testing = loads of money. When you have a budget, here are the cases when you will turn to the method:
When testing demand for a new product

For fast results (comparing e.g. to content marketing and SEO)

Online or offline event registrations

Lead magnet distribution
Less Common Lead Generation Strategies to Grow Your Business
Industry companies reviews
Learn what users say about companies with which you have an overlapping audience. Let's say, using an email finder, they will probably lack an email campaigns service. What's more, with the lead, you get the personalization idea — «I saw your review… you said, you lack such and such a feature… we have the features in one place…».
How to handle the tactic:
Take large companies that have a lot of feedback.

Visit their profiles on ProductHunt, Capterra, G2, Google reviews.

Heed the review date.

Mainly, reviewers have their real names and photos. Some of the platforms even show titles.

Search them via the B2B database.
Twitter
The social network is one of the excellent SaaS lead generation strategies. Typically employed for additional touchpoints and gathering customer data. Prospects are less overwhelmed here compared to inbox and LinkedIn. It is easier to catch their attention and initiate communication.
Here are several ideas of how it can be employed:
Look for prospects in likes and comments of industry influencers.

Subscribe to your clients and potential clients to gather intel (you will find nuggets for your personalization) and engage.

Add prospects in private lists to segment and observe them.

Search the appropriate keywords related to the pains your product deal with. Offer your help in the comments or DM.

Watch your potential clients to be on time when they complain about certain problems related to your product.

Leverage industry Twitter chats as online events. Ask questions, provide valuable information to earn trust, keep an eye on the intent of attendees.
Reddit
The platform is known as vulnerable to any selling and marketing. Most subreddit admins instantly ban promotions, while visitors lash out at such messages. It indicates that Reddit owns high-quality users for a ton of niches. Sales lead generation methods how you can leverage the medium:
Routinely look for subreddits and comments where users describe problems your service can help with.

Spot when it is super natural to add that you are actually selling a solution for their challenge. For example, one of the features of GetProspect is a LinkedIn email finder. LinkedIn has limits for viewing profiles and searching. Our tool protects you from being banned, as it will stop when the amount of opened leads is achieved. So we commented on the post sounding off about LinkedIn account restriction.
Tip: avoid naming the service or adding a link to your website. Below are the cases of how salespeople are prospecting right in the comments.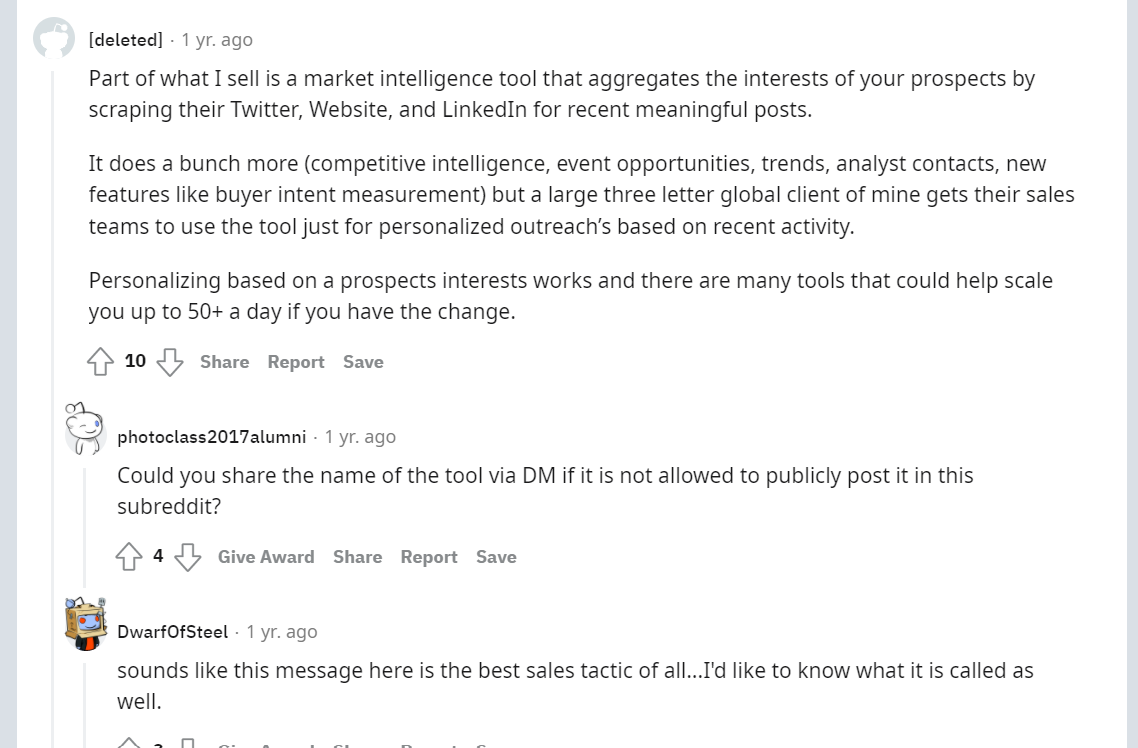 Check how many leads they acquired. The users are eager to know details, try, and even have a call shortly.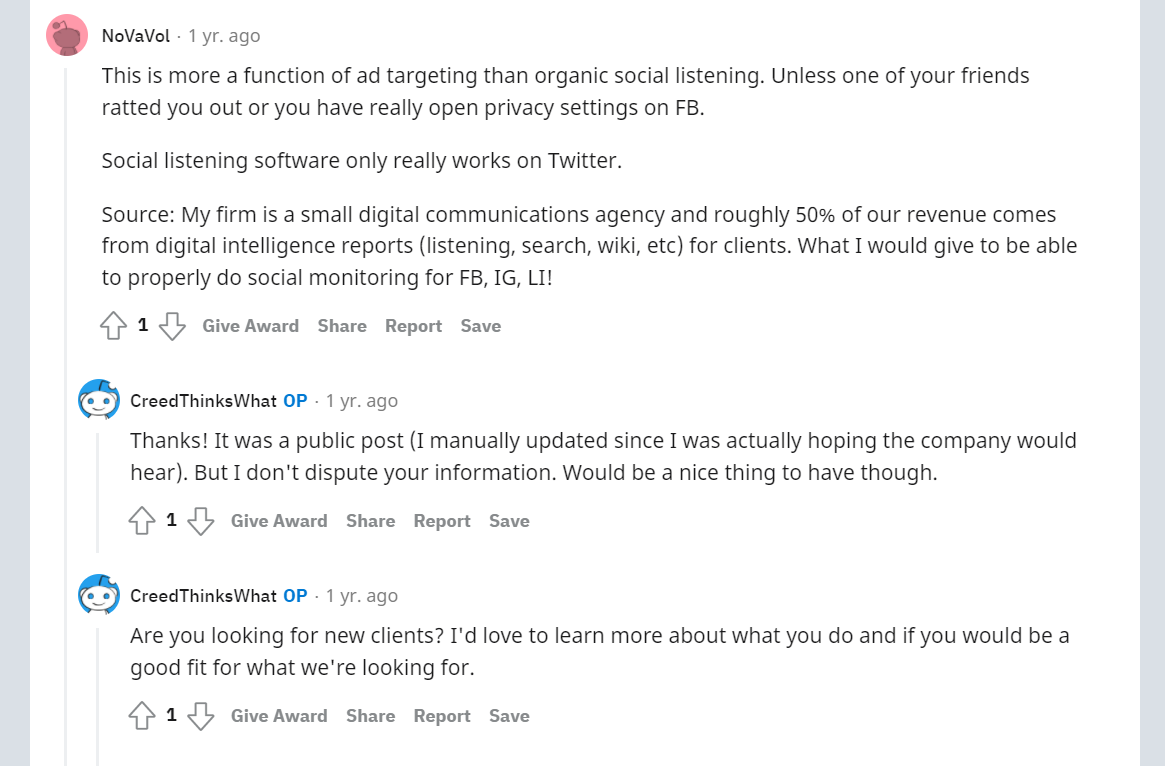 To speed up the searching process, employ social listening tools.
Online communities (including social media groups)
Focusing on B2B lead generation methods, you will typically take advantage of communities around a certain profession, your buyer persona. People look for solutions to their specific daily challenges there. You can comment or DM individuals who mentioned the problem you can help with.
Notion! Avoid directly selling in groups or cold messaging the participants in an unpersonalized way.
Online communities are easily googled. There are often articles with lists of platforms.
Social media groups (LinkedIn, Facebook) are rarely genuinely active. Pick up the groups which ban promotions and ads. Remove from your list those groups which have few discussions and likes.
Summary
Commonly used lead generation channels are LinkedIn, email, phone, and social ads.
Less common channels to try are Reddit, Twitter, online communities, and reviews of products from your industry.
Test not only new channel but popular too. Sometimes LinkedIn, email, or calls aren't the most effective way for you.
The majority of methods can't work in isolation.

The key is to test and approach all B2B lead gen ideas to your business and create a working multi-channel outreach.

To have good results out of the methods of lead generation, turn your searching mode from volume to quality. Dedicate extra time to looking for people who will find your offer relevant and personalizing to them. By the way, it doesn't mean you will lose in quantity. It is about the right balance and approach.