A persuasive sales pitch may enthuse your prospect about the possibility you're providing and persuade them to go forward with you.
But for your presentation to be convincing, you need to think through all the details: what type of pitch you need, what structure it should have, and prepare scripts.
We will help you with it by providing templates & sales pitch examples, tell you how to start a presentation and provide some tips.
The better way to start the best sales pitches
Step 1. Begin with the issue
Step 2. Describe how your product meets their demands
Step 3. Share your desired result with the buyer
You need to capture your prospects' attention so they will want to learn about the benefits of your product and how it can improve their company.
Step 1. Begin with the issue
They will not be receptive to hearing how much your product is a solution until they are aware of the problem you can fix.
Step 2. Describe how your product meets their demands
You must now specify why they would purchase from you. What distinguishes you from your competitors?
Step 3. Share your desired result with the buyer
Sales proposals that are based on facts and statistics perform best. Even the coldest potential buyers may be subsequently persuaded to buy by relying on compelling data in the sales pitch.
Note. Don't forget to add a call to action after your sales presentation.
How to write a sales pitch? Use our sales pitch templates to all main types
To successfully create your own presentation, you must choose the best sales pitch template that suits your offer.
Type 1. Great pitch examples: one-line sales pitch
A one-line sales pitch, as the name suggests, a one-line sales pitch creates a pitch that is just one line long yet compelling enough to grab your audience's attention immediately. It usually simply has one or two strong sentences that will pique your client's attention.
Describe how your product or service may assist the potential customer in achieving their aims and solving their problems. Tell the prospect about particular advantages rather than simply product characteristics.
Type 2. Pitch ideas examples: elevator pitch templates
Pitch template 1:
Pitch template 2:
The name comes from the concept that you should be able to use the same time it would take you to travel in an elevator (it's about 21 seconds – the average NYC elevator ride). An excellent elevator pitch conveys what your product is and how it works.
Type 3. Template for sales pitch: email sales pitch
An email sales pitch is a succinct explanation of the key features of your solution, service, or product addressed to a specific customer.
An efficient sales pitch provides the reader with all the information they need to make a purchase or convince them to schedule a meeting. It is brief, professional, and individualized.
Type 4. Template for sales pitch: follow-up sales pitch
Why do you need this pitch? After your first presentation, you should do a sales follow-up to motivate the potential client to act.
There are several ways to execute sales follow-ups, but the two most popular ones are via phone and email.
You can try to launch the first personalized interactive email campaign to your potential customers, from a Welcome email to Follow-ups using GetProspect Sequences(link) tool with the help of the templates above and see if that sales pitch example and the pitch you send first will work for your product with A/B testing that we also have in our tool.
Type 5. Sales pitch script example: social media pitch
A social media pitch is a presentation of your company and the products/services you offer, your strong points, and the benefits of cooperating with you. It may include some brief examples of successful work with other clients and their feedback.
Note. Before creating sales pitch scripts, it's crucial to speak with the prospective customer to ascertain their wants and objectives.
Type 6. Template of the right sales pitching structure: one-minute sales pitch
A one-minute pitch is a concise overview of your company, your personal brand, or your big idea. A pitch is what the buyer purchases; it is not what you sell.
B2B sales pitch examples
In this section, we have selected sales pitch examples and cases for you, which, in our opinion, are excellent for B2B sales pitches.
Example of sales pitch by Vidyard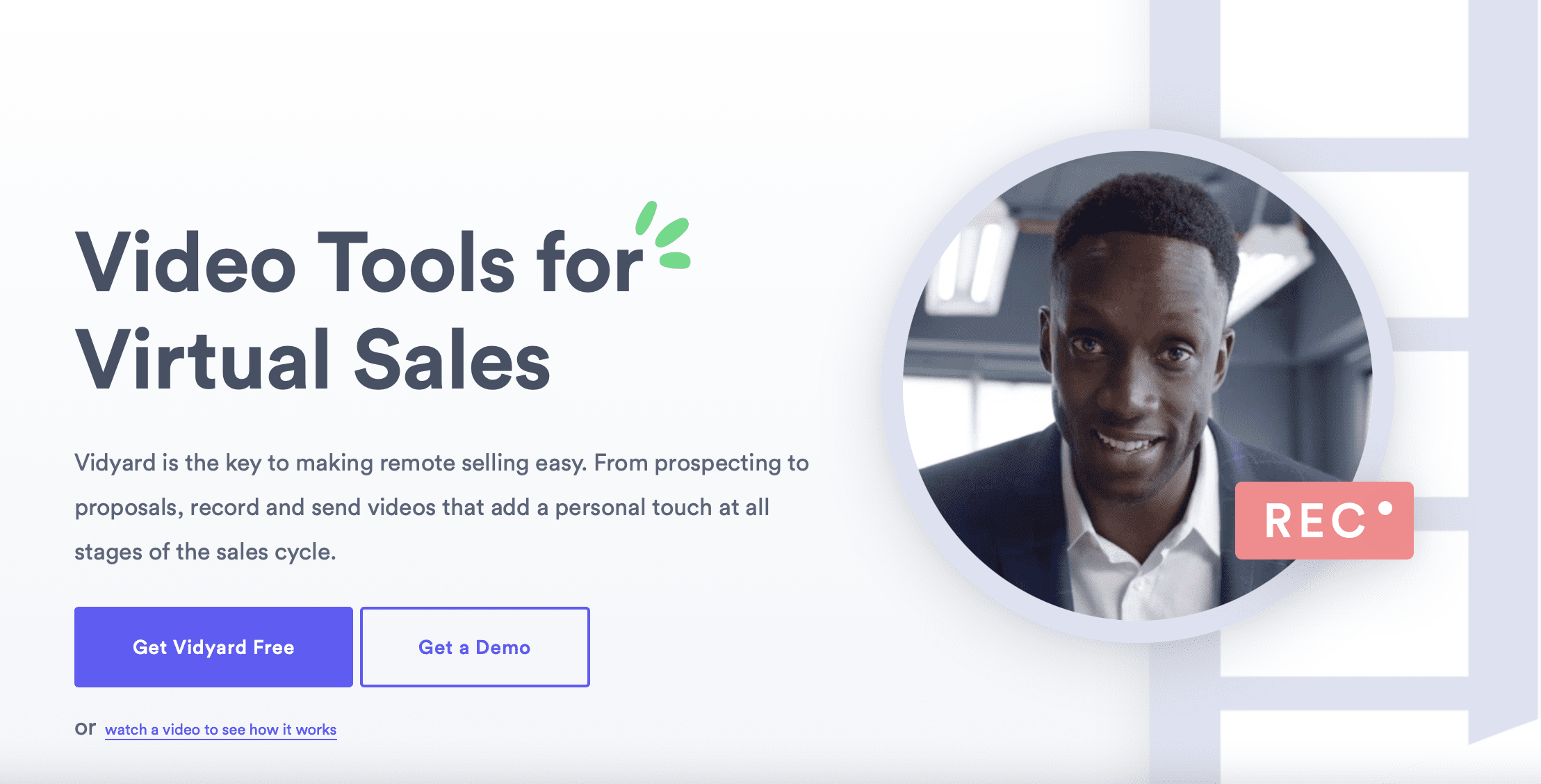 Vidyard has gained popularity primarily because every salesperson finds a video an efficient prospecting tool. They discovered that the best opening sales pitch examples are tailored, and what better way to achieve so than to give your message a human face?
They clearly define their target market in their product presentation (salespeople who find email time-consuming and unproductive), and immediately emphasize their competitive edge. They don't simply promote this service; they also make remote selling simple, which is essential.
Pitching example by LinkedIn
Here's another good example of a sales pitch. The pros of this message are that it doesn't take more than 10 seconds to read, there is a tempting offer, and the reason you need it: «We want [you/your company] to be well prepared for the next [e.g., sales growth to 50%] move», «Get 50% off 2 month of LinkedIn Premium».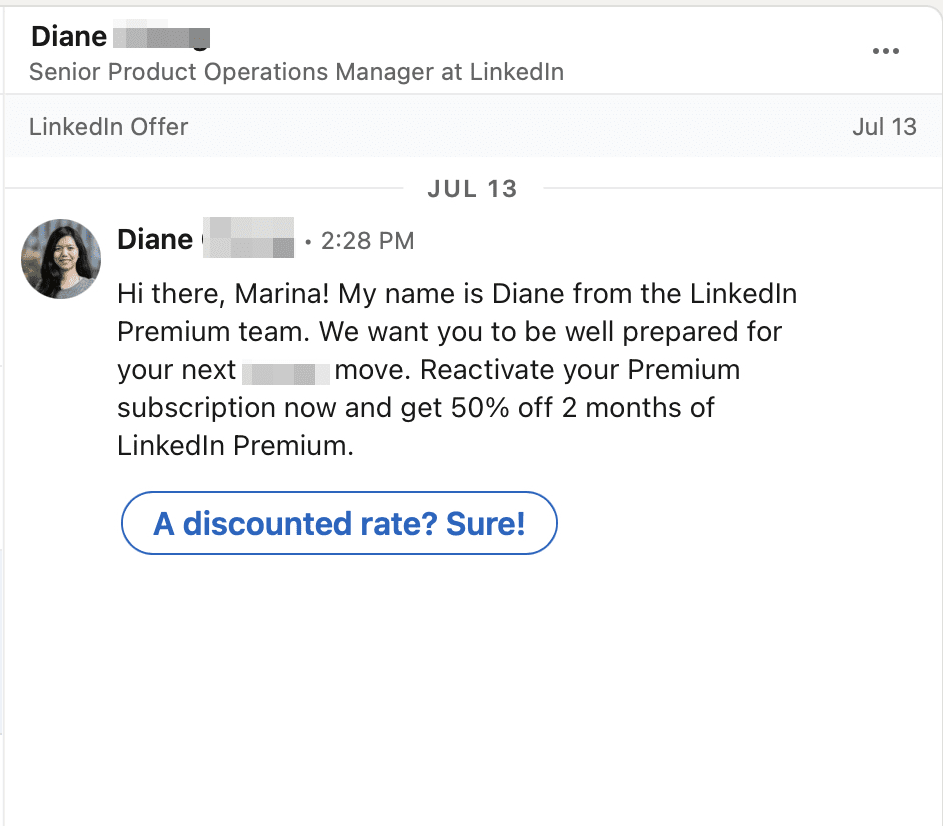 Effective sales pitch example by Ryan Robinson
To contact prospective customers, content marketing expert Ryan Robinson uses cold emailing – but only after completing his research.
Robinson offers genuine upfront value to his recipients before sending them cold emails by either promoting their articles on Twitter or bringing up their companies or goods on his blog.
Ultimately, Robinson sent the following email and was paid a $10,000/m retainer: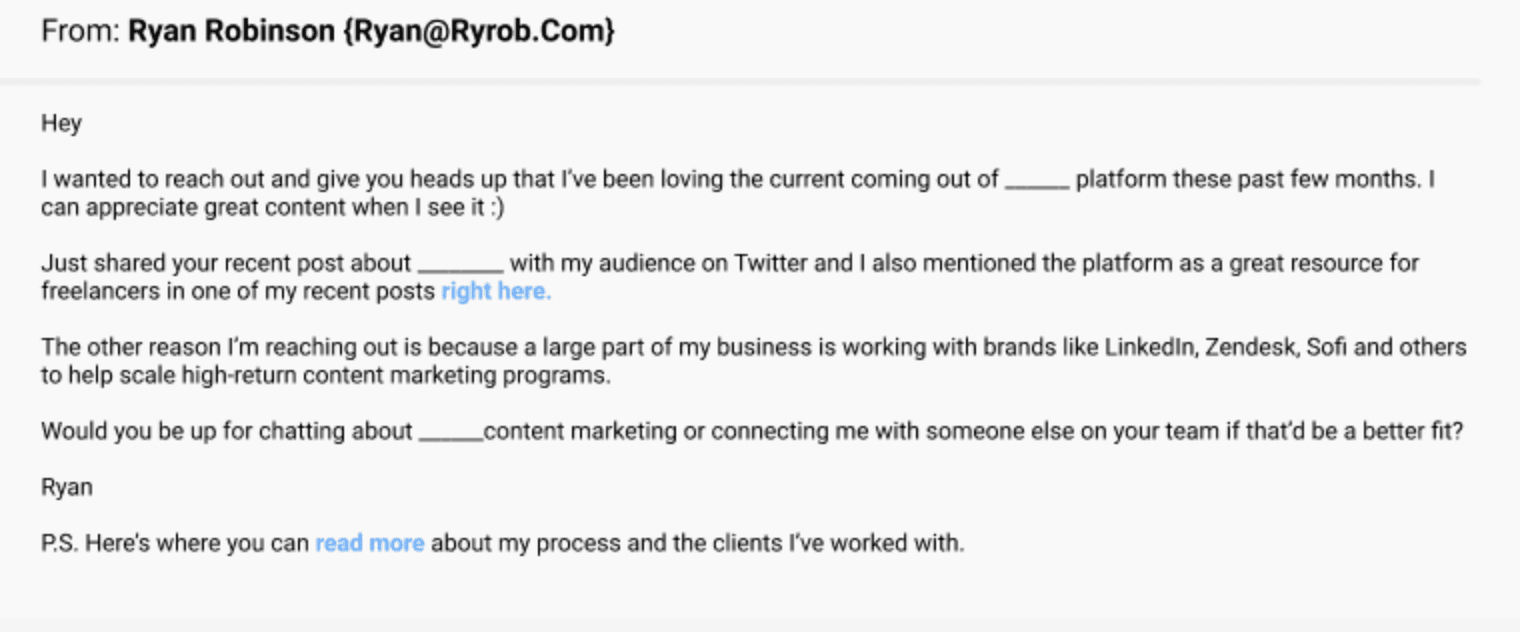 To be heard above the other emails in your prospect's inbox, your email pitch has to stand out. Send your prospective consumer a resource or guide that enables them to solve a problem.
How big should the most effective sales pitch be?
After looking at all the templates and examples, the obvious question arises: How big should your pitch be?
If it's a one-line sales pitch it can be from 15 to 20 words, and less than a minute of reading of course.

As for the elevator pitch, as we said earlier, it should not take the reader more than about 21 seconds (the average elevator ride in New York City) to become familiar with it&. It can be from 20 to 50 words.

If it is an email or message on LinkedIn, it should preferably not take the recipient more than a minute or two minutes to read it, because no one wants to read a very long email. As for the word count, 50 to 125 is the optimal size (you can also add tabs to your message/email).
So, as you can see, sales pitches are divided into different types, so their length can differ. You just have to choose the type that you need and start creating your own script.
Summary
To create the most effective sales pitch you need to start from issue, after that describe how your product meets leads demands and share your desired result with them.
Don't forget to add a call to action after your sales presentation.
The main types of sales pitches are one-line, email, elevator, follow-up, social media, and one minute pitch.
Sales pitches can take from 21 seconds to 2 minutes, and be from 15 words to 125.