Do you devote most of your time loading your pipeline every day, and it doesn't seem the efforts match the pay-offs? This is a fairly common problem.
Pipedrive reports that more than half of respondents regularly (24%) or usually (21%) fail to find enough sales leads. 
It is a hot topic, and we are ready to offer ways to generate B2B leads with social media that you can implement into your strategy and start boosting the number of prospects and sales now.
What is social media lead generation?
Social media lead generation is the process of using social platforms (e.g., LinkedIn, YouTube, TikTok) to attract leads, increase conversions, grow the number of potential customers, and, consequently, drive sales. This can range from posting relevant content on your personal or company leader's page (e.g., CEO, Owner, Sales lead) to targeted advertising.
What are the benefits of generating leads on social media?
Allow brands to get highly qualified social media leads.
Social media has a high level of user engagement.
Find potential customers' contact information in bulk.
Ability to obtain additional data about target leads to personalize the first communication with them.
Can run targeted ads to your target audience to increase brand awareness and conversions.
Get emails of prospects on LinkedIn faster
With the GetProspect LinkedIn Email finder extension, you can bulk save leads, their contact data, and other relevant information for qualification in seconds.
Test it now
How to use social media for lead generation?
Determine your target audience and define the tone of voice
Determine your target audience, where it can be – on LinkedIn, Facebook, Twitter, or other social networks, and define the tone of voice that should be present on your page from design to publication.
Subscribe to social media leads & publish useful content
Regularly (within the allowed rules on a particular social network) subscribe to social media leads who may be interested in your content and to influencers.
Find out the most effective type of content for your target leads - if it's videos or photos; if videos - what kind of videos they are interested in - helpful guides, testing, with humor added, or completely serious topics?
Publish useful content that will solve potential customer's pain points, making sure to add a link to your website and product.
Collaborate with Influencers and promote your product
Collaborate with Influencers, create expert content, and order promotional videos to be released on their pages. Also launch targeted ads with beneficial offers.
Promote your product or services by launching live streams and webinars on social media.
Note. To generate leads on social media better - constantly analyze the work done to improve the strategy of getting customers through such a channel.
Regularly connect to relevant social media groups
In addition to social media lead generation campaigns, study your audience by connecting to relevant groups. You can comment on posts there or DM individuals who mentioned the problem you can help with.
And don't just put links to your product in comments everywhere, but help users solve their problems and earn authority that way.
Note. First, avoid directly selling in groups or cold messaging the participants in an unpersonalized way. Second, online communities are easily googled. There are often articles with lists of platforms.
And the last one is that social media groups (LinkedIn, Facebook) are rarely genuinely active. Pick up the groups that ban promotions and ads. Remove from your list those groups that have few discussions and likes.
7 ways to generate leads on social media
How to increase lead generation through the social media platforms?
1. LinkedIn lead generation
LinkedIn is the world's largest professional social network. It already has more than 930 million users, and their number does not stop growing.
Why is this network so good for lead generation? Because this is where you can find social media leads for B2B companies (from small to large businesses). According to statistics, about 80% of B2B prospects come specifically through LinkedIn.
There are filtering options when searching to find hundreds and thousands of decision-makers at once. Here you can find prospects' contact information and learn more about your target audience - their interests, pain points, and goals.
Actions to take to make social media lead generation with LinkedIn work:
Find out if your audience is on LinkedIn and if they use it regularly.

Make sure you reach proportionally: those actively posting and commenting on LinkedIn and those with «nothing to see for now» in their Activity section. Focusing only on the first group, you are considerably limiting yourself. They might be active readers or visit LinkedIn to check messages and connections once a week.

Forget mass outreach throughout InMails. According to LinkedIn data, it usually fails to usher planned outcomes. You can use it as an additional tool for social media lead generation, only with a proven offer targeting a narrow audience.

Have a completed profile that may be of interest to a quality social media lead. It should be up-to-date, professional, and reflect your brand and expertise. It doubles the chances of meeting or overperforming your goals with the platform.
For example: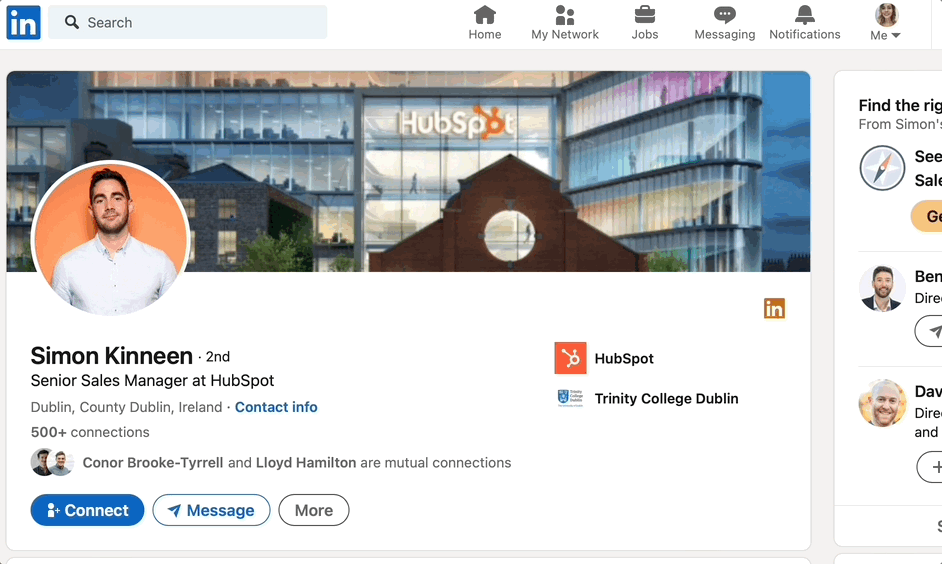 Position yourself as someone committed to a mutually beneficial partnership rather than pushing unwanted products. It means sharing industry knowledge, engaging with customers in comments and groups, and showing genuine curiosity.

Post useful and relevant content on your page. It can be the latest successful cases of your company or your clients, new articles in your blog that will be useful to your followers, updates on your products, etc. This way, you will establish yourself as an opinion leader, get more new content in the network, and, accordingly, social media leads.

Make posts with the tags on influencers. Namely, those who will be interesting to your target audience and whose page can bring new potential customers to you.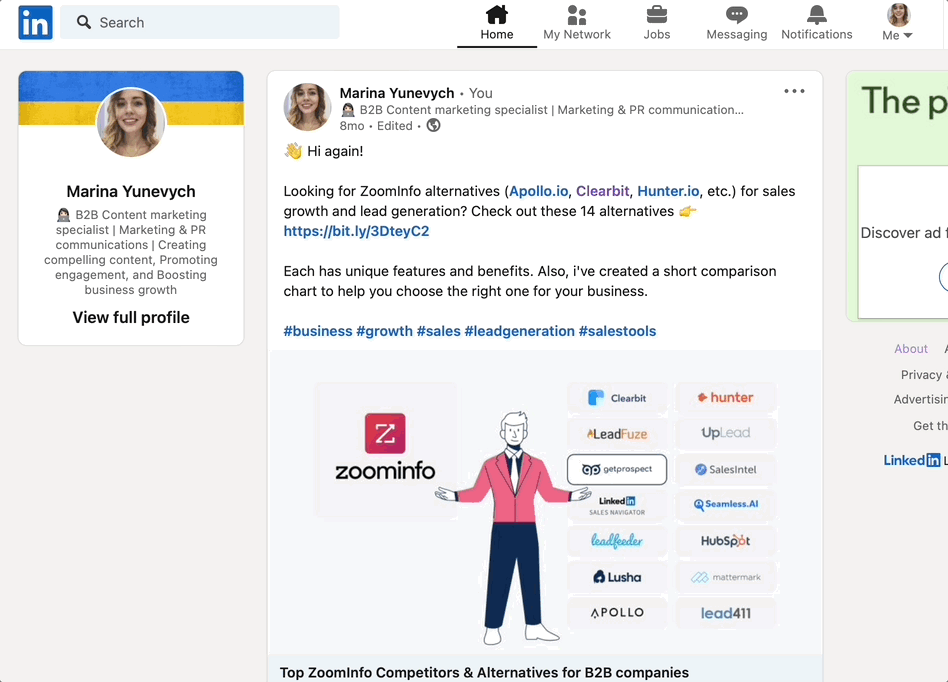 Implement special tools for sales lead generation growth. For instance, Cloud Campaign for consistent and automated posting, and GetProspect for bulk scraping email addresses to collect a list of qualified leads into your database.
GetProspect B2B database and LinkedIn
For better LinkedIn social media lead generation, add to your strategy GetProspect. As a result, youll get tens of thousands of leads interested in your product, may quickly collect a database of potential customers, and increase lead generation and sales.
Sign up
Launch LinkedIn Live. This is another way to reach your target audience and get leads. Don't stop at one event to evaluate what content users prefer and what kind of videos you can get more results from.
2. Twitter lead generation
This social network is one of the excellent SaaS lead generation strategies. In 2023, Twitter will have more than 350 million users.
According to Statista, 49% of B2B marketers worldwide use this channel to promote their lead-generation campaigns.
Typically, it is employed for additional touchpoints and gathering customer data. Prospects are less overwhelmed here compared to inbox and LinkedIn. It is easier to catch their attention and initiate communication.
Here are a few ideas to use in your social media lead generation strategy:
Look for prospects in the likes and comments of industry influencers.
Mention experts and companies with a larger audience in your publications. There is a chance that they will respond, and more of your target audience will be able to see you.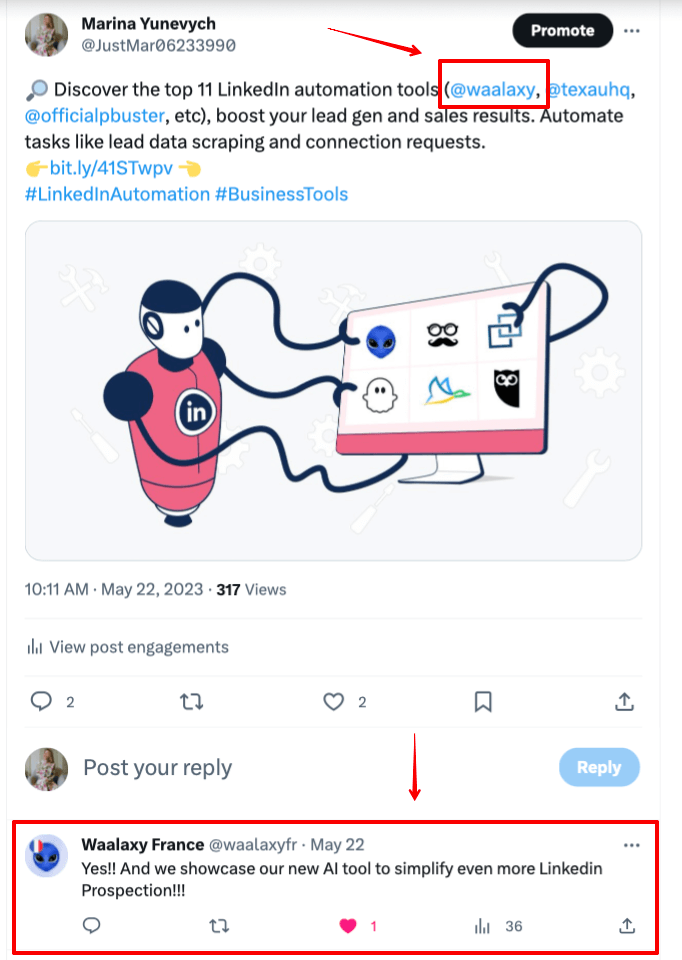 Of course, your content here (despite the firm character limit) should be helpful and hook the reader. So that they will want to subscribe to you, see who you are, learn about your business, and comment on the post.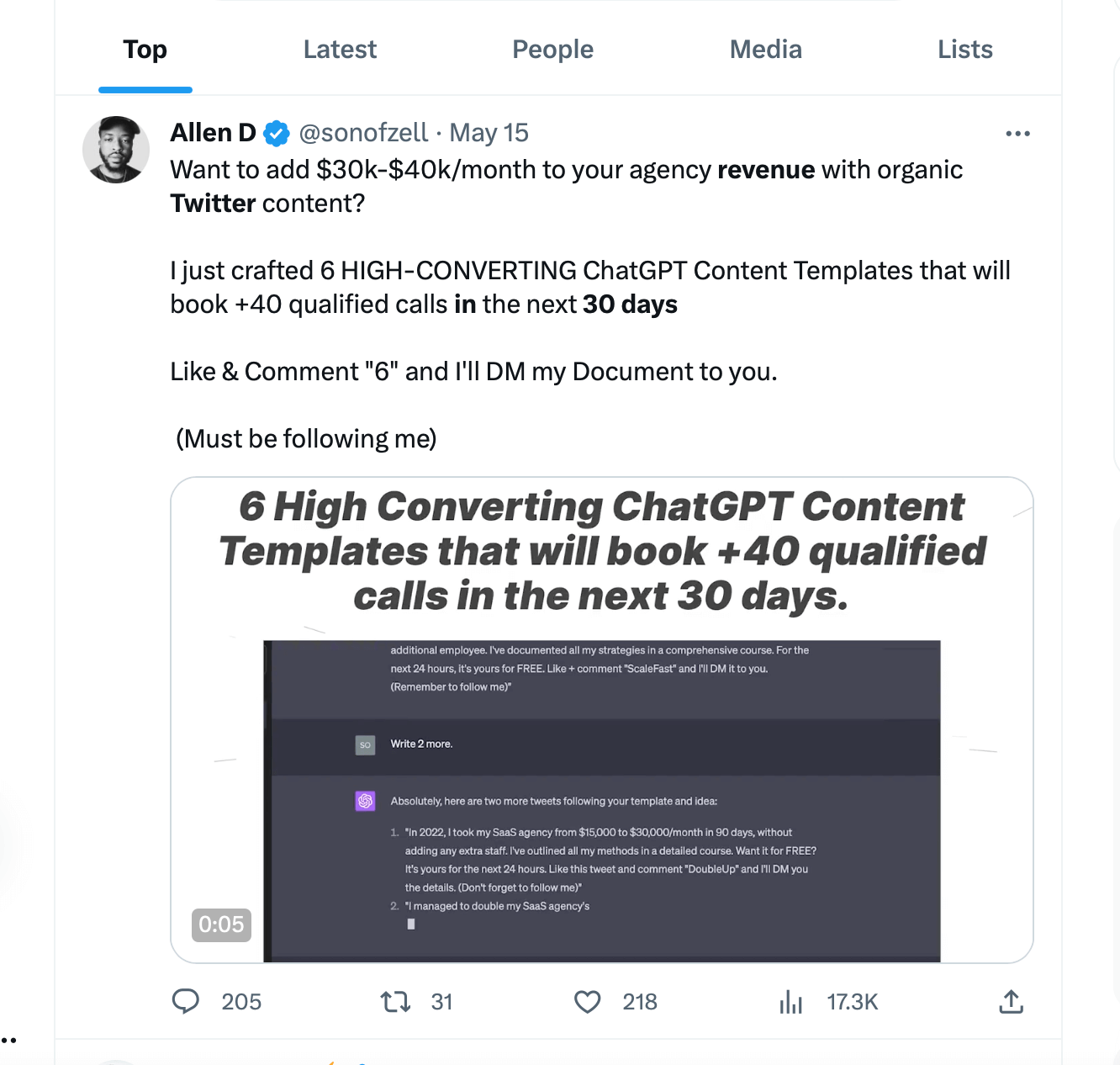 Subscribe to relevant profiles to gather intel (you will find nuggets for your personalization) and engage.
For better B2B social media lead generation add potential customers in private lists to segment and observe them.
Search the appropriate keywords from potential customers related to the pains your product deals with. Offer your help in the comments or DM.
Watch your social media leads to be on time when they complain about specific problems related to your product.
Leverage industry Twitter chats as online events. Ask questions, provide valuable information to earn trust, and keep an eye on the intent of attendees.
3. Reddit lead generation
Reddit is one of the most popular social networks in the world. The number of monthly users is 4.82 billion. On average, each user is on the site for more than 17 minutes per visit.
As described in one of the articles by Chris Marpo, Sr. Manager, B2B Partnerships & Dan Suh, Industry Manager, B2B Tech & Telco:
«Reddit, home to the #2 largest audience of B2B decision makers».
However, the platform is known as vulnerable to any selling and marketing. Most subreddit admins instantly ban promotions, while visitors lash out at such messages. It indicates that Reddit owns high-quality users for a ton of niches.
Social media lead generation tactics via Reddit:
Routinely look for subreddits and comments where users describe problems your service can help with. For example, you can do this with the GummySearch tool or BuzzSumo.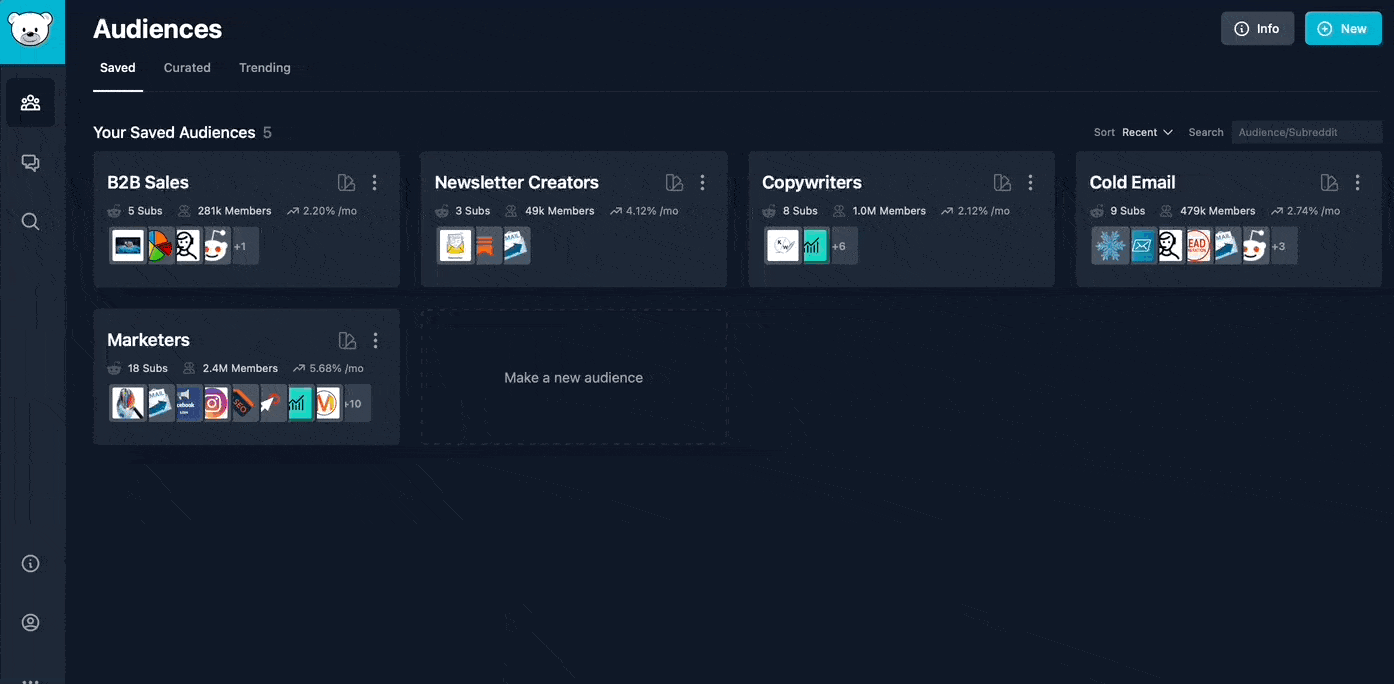 Spot when it is supernatural to add that you are actually selling a solution for their challenge. For example, one of the features of GetProspect is a LinkedIn email finder. LinkedIn has limits for viewing profiles and searching.
Our tool protects you from being banned, as it will stop when the amount of opened social media leads is achieved. So we commented on the post sounding off about LinkedIn account restriction.
Forget about manual search for decision-makers
With GetProspect, you can save as many leads as you want simply by selecting the number of pages to save. No need to manually select. Just filter the profiles you want and save them in bulk.
Start searching for free
Note. Avoid naming the service or adding a link to your website. Below are the cases of how salespeople are prospecting right in the comments.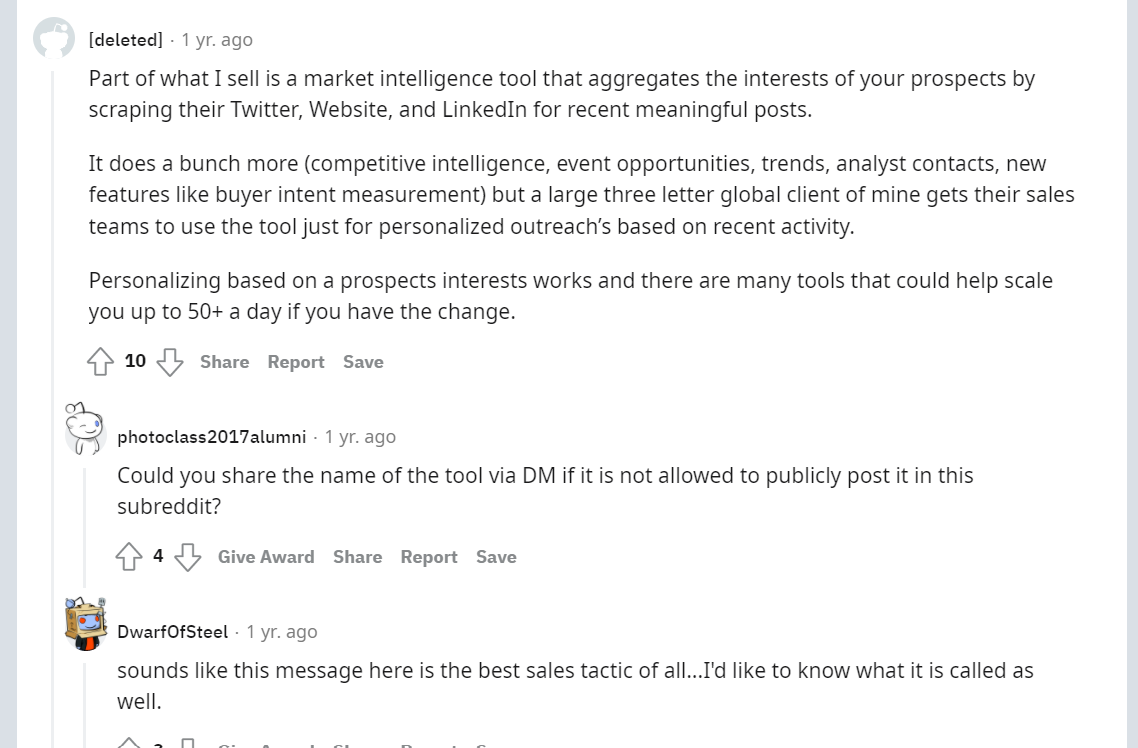 Check how many social media leads they acquired. The users are eager to know details, try, and even have a call shortly.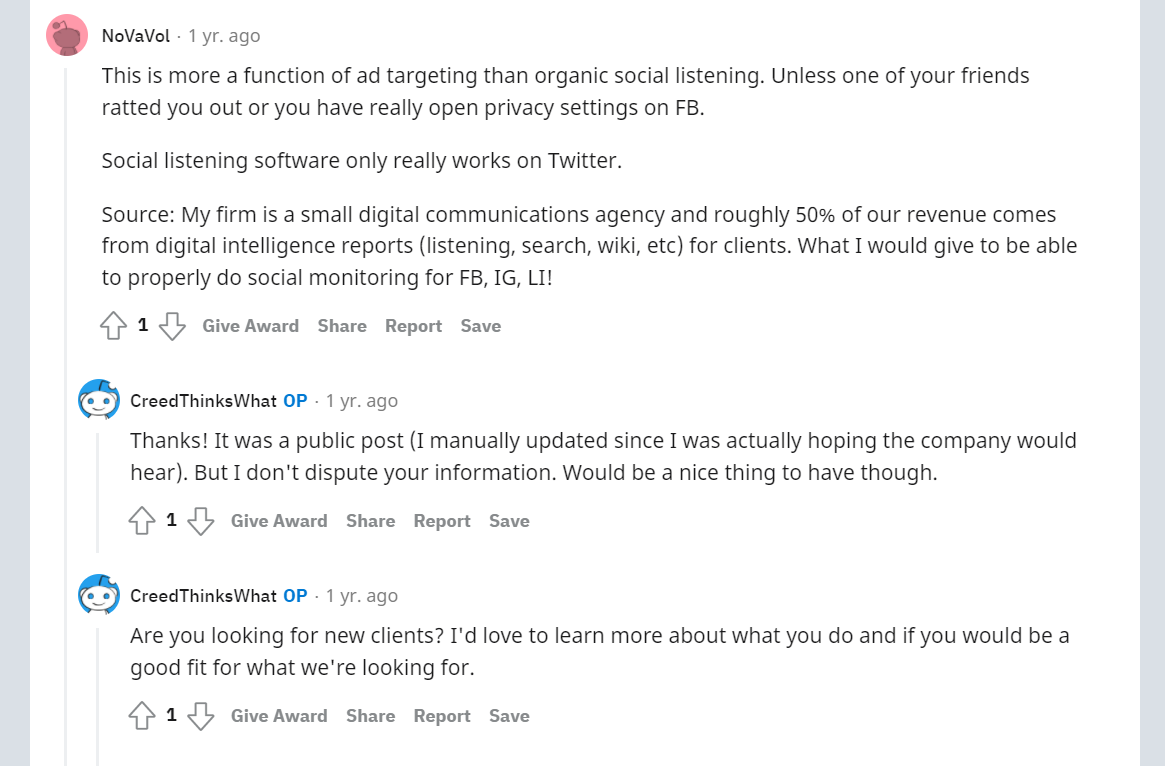 To speed up the search process, employ social listening tools.
4. YouTube lead generation
This year, the number of users on YouTube is already over two billion, and that's incredible.
It's one of the best platforms for social media lead generation and increases sales accordingly. More than half of the active users there who use this channel to increase lead generation are B2B marketing and sales professionals.
Steps that are critical to growing leads on YouTube:
Obviously, your company needs its own YouTube channel where you will regularly publish helpful content for your target audience, or run live broadcasts.
The main thing to remember when creating content is to always ask the question «Will this really be exciting and useful to my subscribers?».
You can focus on «The E.L.S.A. Story Selling Formula».
Make the content plan based on the trends of this social network. Optimize the titles and descriptions of the videos on your YouTube channel. Including keywords and phrases will help your content appear in search results.

Include CTA and links to your products in the description. This will help your quality social media lead find what they are looking for and links to the signup form so that your videos not only build up your YouTube subscriber base but also bring prospects or future business partners.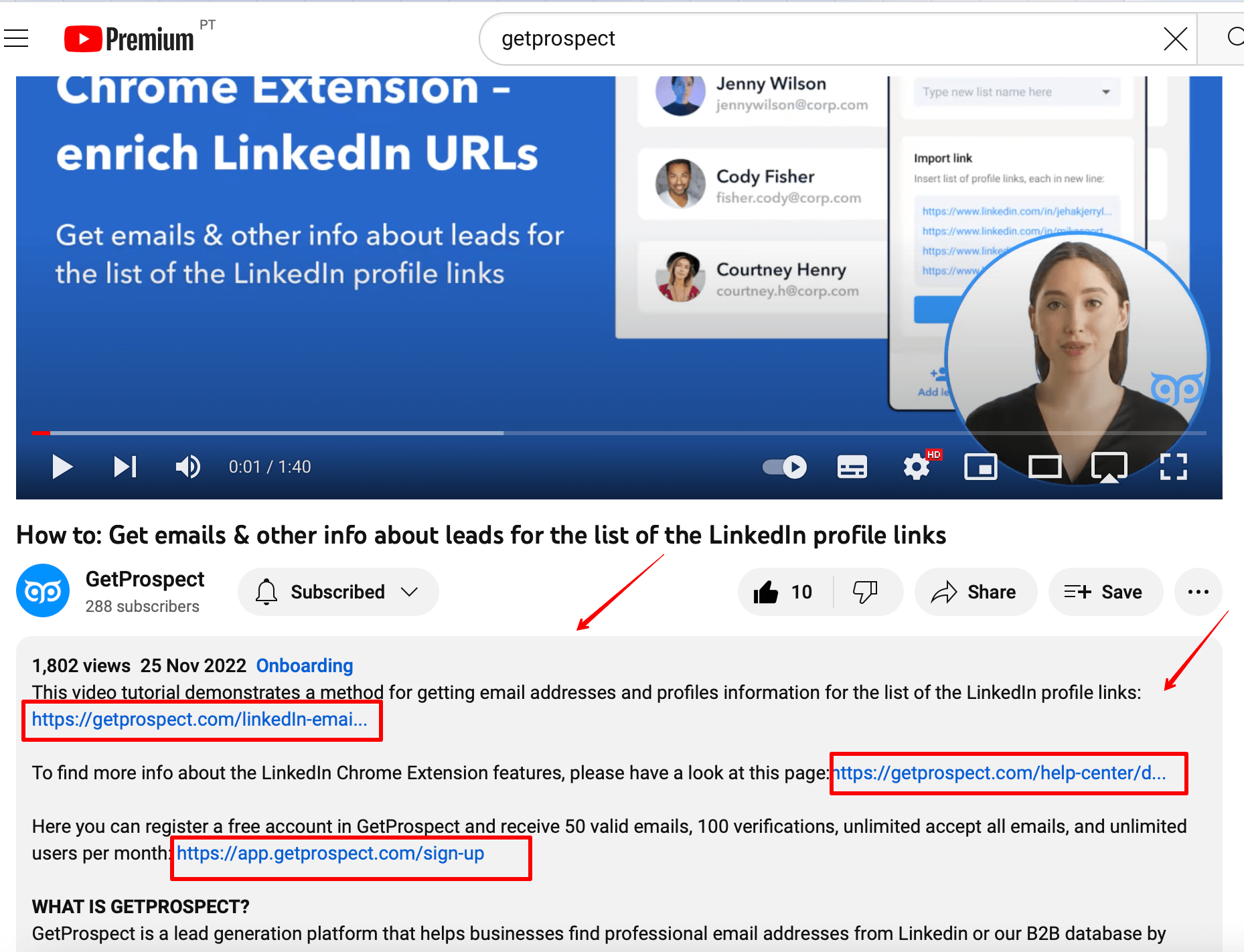 Engage with commenters, gently work through objections if there are any, and answer questions from subscribers and passing viewers - they could all be your potential customers.
5. TikTok lead generation
A few years ago, many people thought that TikTok was a social network for fun. Back in 2017, it had 100 million users. Now, a powerful platform has more than 1.7 billion users.
The social media platform is growing, with 17% more users this year than last. All kinds of businesses run advertisements there, start cooperation with Influencers, and get quite a lot of social media leads from there.
Here's a story of successful leads and sales growth via TikTok
Famous TikTok influencer Sam Despo released a video exposé that helped him rack up millions of views, and David Park, CEO of Jenni.ai startup, earned an increase in social media lead generation and a profit of $77,336.
Mr. Despo, knowing that a considerable number of users copied his content, created and published a video where he secretly hid a fake AI tool on the list («Tome»). In this list was Mr. Park's tool, Jenni.ai.
After Despo announced that everyone who downloaded this tool, all these Influencers, were thieves of his content. He made a video exposé that got more than 3 million views.
«Many of the copycat videos were also going viral because Sam's fans would comment and engage with any video that had «Tome». As a result, some of these copycat videos also reached millions of views! And any video that listed «Tome», had a high likelihood of also having Jenni.

This virality helped us bring in 162 THOUSAND social media leads in December. With the «Tome» effect, we made $77,336.55 in one month. What's even cooler is that there are still copycat videos being made to this day! And now, we are on track to hit $100,000 this month in January!»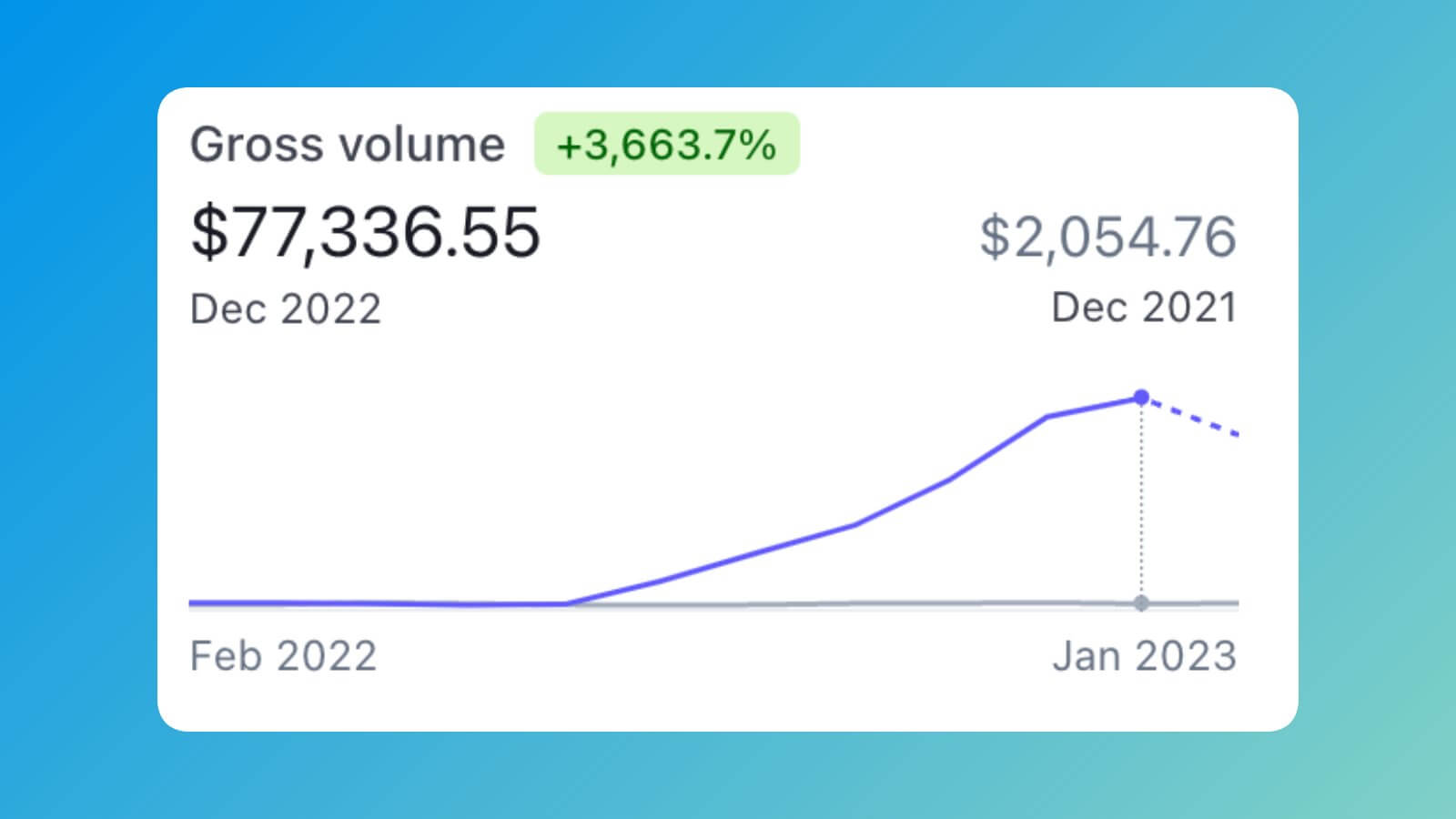 Source: Mr. Park's Twitter page
The case study of social media lead generation is described in detail in this publication and in the comments.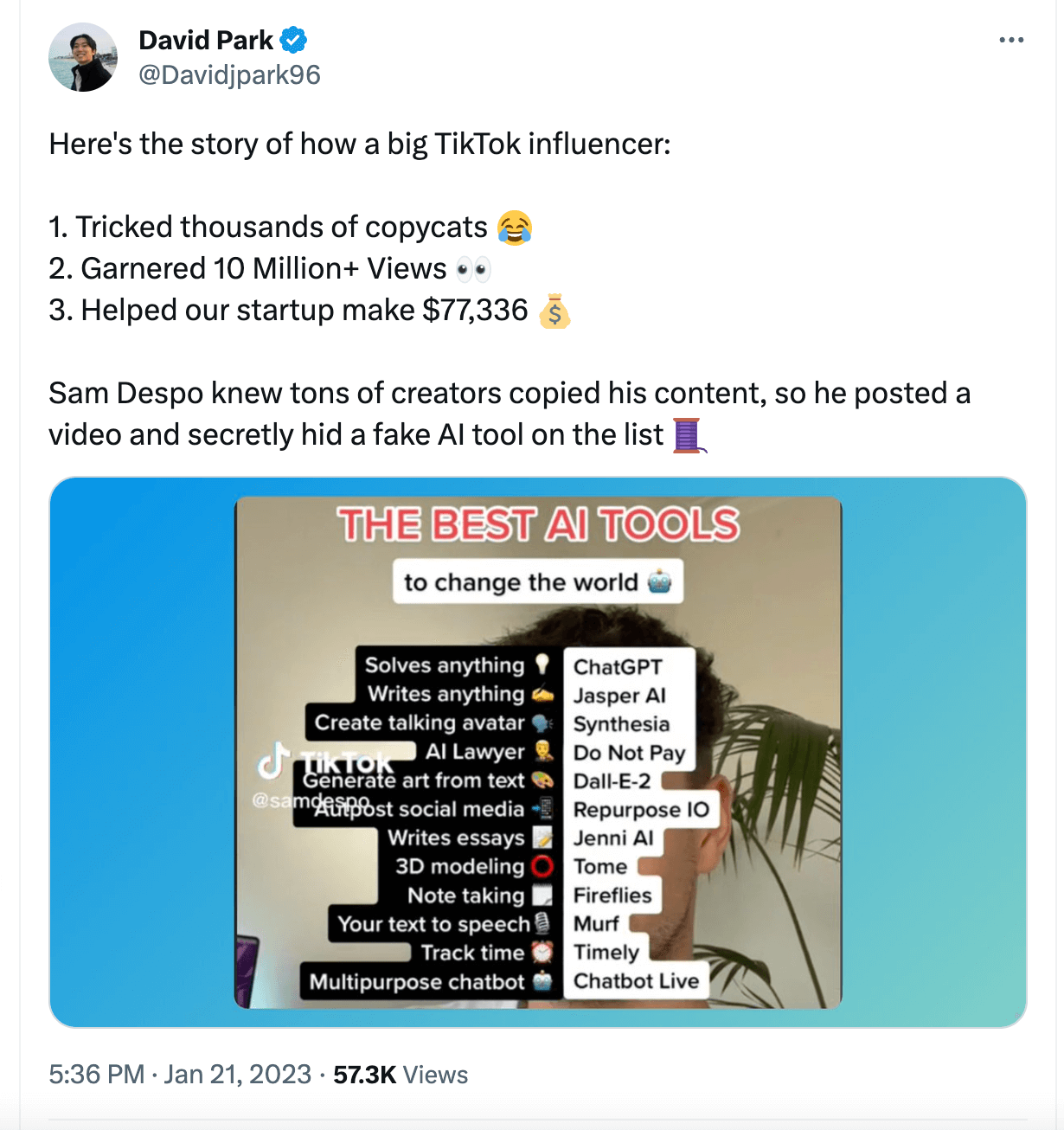 Note that this post is also some kind of additional promotion. A great example of a social media lead generation tactics combination.
What do you need to get social media leads with TikTok?
Collaborate with well-known and successful people in your market. Order promotional videos from them, which they will publish on their pages for millions or at least thousands of active subscribers; make shared videos with influencers, which you will release on your page with a tag on the influencer; and launch live events with opinion leaders.
Don't ignore TikTok trends. Yes, they're constantly changing, and it can make your head spin, but it really is an important detail. Develop your account according to the platform's updates. Add the right hashtags, popular audio, new effects and filters to your videos.

And, of course, for B2B social media lead generation, you should try launching ads on TikTok. This probably will allow you to boost the number of leads and attract new customers.
The growth of possible customers can certainly not be from the first advertising launch. Then you can get such advantages as studying in more detail your target audience, who was interested in your advertising video - demographics, age category, and so on.
And then, based on the new data, run ads that will be more effective by changing the parameters. For example, launch advertising for a different country or age category.
Note. Social media lead generation on TikTok (and other social networks) through targeting advertising is always an opportunity to tell a huge number of people about your product. Even if the first time there will not be impressive figures on registrations and purchases the first time, more people will know about your product or services.
6. Instagram lead generation
The number of Instagram users in 2023 is 1.35 billion. Statista says more than 70% of B2B marketing professionals are actively using this channel.
Just like TikTok previously, Instagram was not taken seriously. About ten years ago, it was a photo-sharing app. But now, it is the most successful platform that allows many B2B businesses to get a lot of customers.
So, for generating leads on social media via Instagram:
Start advertising. There are many options for Instagram ads. It's almost all content formats - posts in the feed, stories, videos, or live events.
If your budget allows, test ads in each format and then analyze the results. This way, more people will learn about your product or services, and by making changes to the next ad, removing formats that don't work, and choosing better parameters, you'll get more leads and increase conversions.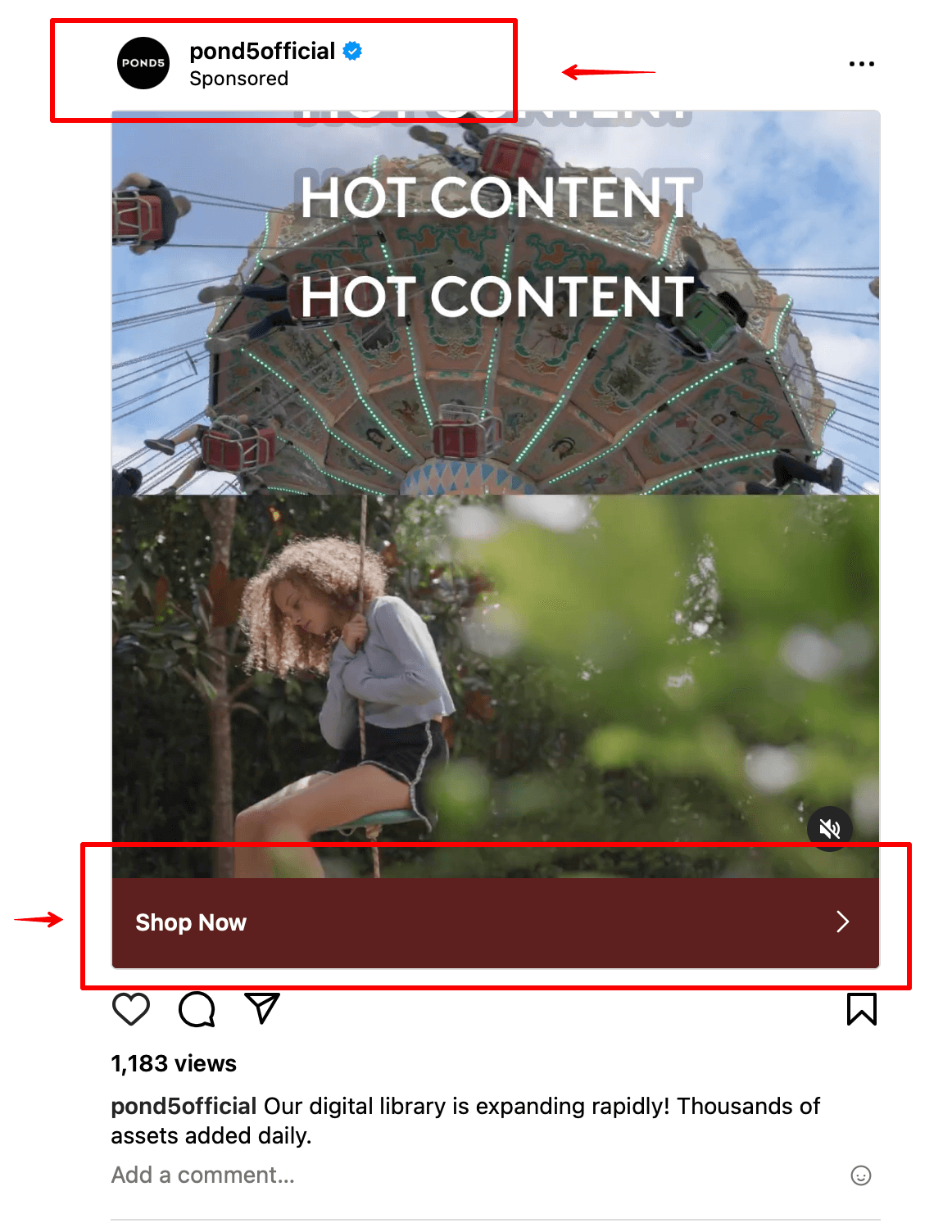 Develop your brand's page on Instagram. Use videos. Instagram has Reels for this, like TikTok posting Reels, you can get views from many social media leads. 

Post educational content like this, for example, «How to find 1000 valid emails for just [amount]», and show how to do this through your product. Talk about customer pain points and give practical solutions.
Here is an example of a great Instagram account that belongs to HubSpot company.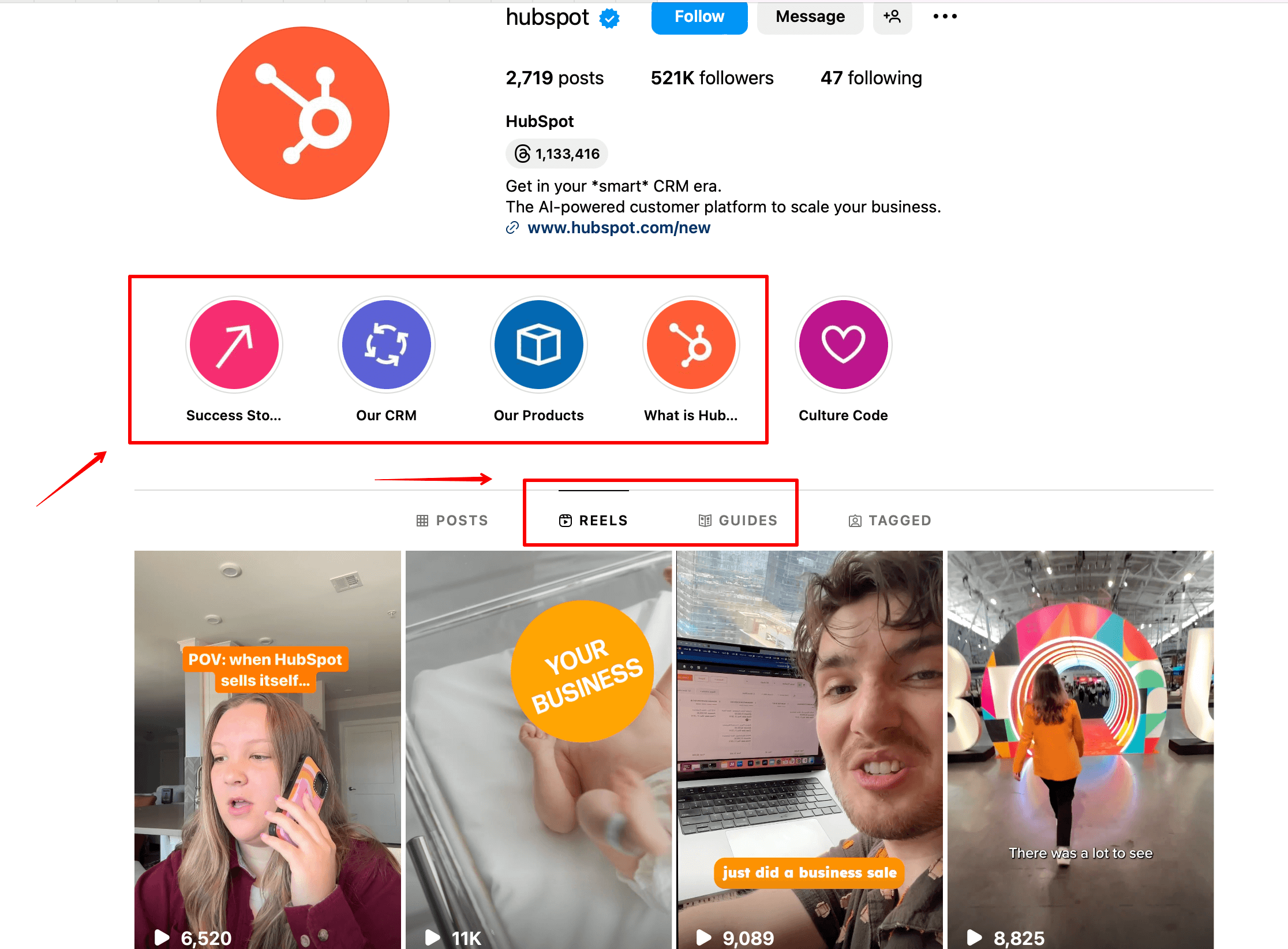 Pay attention that everything is very structured. You can look separately at products, successful cases, and about the company.
In the publications area, there is a separate Guides block if you don't want to look at the general list of publications. Or you can go to Reels to watch company videos in different formats.
Also, here, you can make videos on trending topics and, at the same time, mark your products and services in the description of the video. The main thing is to logically link all of this into one. So that you don't have a video about one thing and a description about another.

Communicate with subscribers with your social media leads and answer questions that are important to them. Then, they will be able to recommend your page to their friends.

Collaboration with Influencers is also appropriate here. Absolutely, in any format. For example, a famous person in your field can make a publication advertising your product and tag your page, or you can create joint Reels with some stars in your market.

Social media lead generation campaigns on Instagram should be creative. Don't forget that all visuals on Instagram must be creative and of good quality, both photos and videos and Stories.
Here, the first impression is even more important (no less than the text itself and the company's unique offer). When users see a feed with recommended posts on Instagram, they won't click on a post that doesn't visually catch their attention.
7. Facebook lead generation
As of 2023, the number of Facebook users has surpassed 3 billion. More than two hundred companies use this social network for business growth.
Now, a marketing specialist can potentially reach over two billion users with ads here.
A few ideas to use in your social media lead generation strategy:
Create a Facebook group for your company and develop it - send invitations to the target audience, pre-optimizing it (should contain clear information about the company, products, and so on), filling the community with exciting content (several publications, but quality, will be enough to start) and working on the appearance of the group.

As for the majority of social networks above, it is also important to join relevant communities and participate in discussions, win the trust of social media leads, and unobtrusively advertise your product, experience, and services.

Run advertising based on factors like industry, position, size of the company, etc. It will be effective if you run it to the right audience. 

Create videos about products and add to your strategy, generating leads on social media - Facebook Live. Hold question-and-answer sessions or presentations.

Don't forget to install a messenger bot. This way, users can get answers faster, and you can generate client leads. And, of course, this channel will help work with objections and not lose the target audience's loyalty. Most importantly, respond quickly to queries and direct users to the appropriate resources.
A successful case of growing leads and sales on Facebook:
Summary: how to do social media lead generation 
Use one of the most popular social media for B2B lead generation - LinkedIn, Twitter, Reddit, Youtube, TikTok, Instagram, Facebook, or a combination of them.
Advantages of social media that help growth lead generation – get highly qualified social media B2B leads, find potential customers' contact info in bulk, obtain additional data about target leads to personalize outreach, etc.
Best of them for B2B companies according to Statista data are LinkedIn and Facebook.

To get social media leads from these platforms, you need to determine your target audience, regularly add relevant contacts to your network, publish useful content that will solve potential customers' pain points, collaborate with Influencers, and more.