In case you are sending occasional emails one by one, cold campaigns, and newsletters and would like to locate tracking at zero cost or for affordable budgets, you will surely find something in the article.
In the material, we collected the most trusted and best email tracking software backed with honest opinions from real users.
We link people (and their companies) who shared their feedback with us so that you can see what type of company benefits from what tool.
Most tools on the market come along with emailing and CRM features, though by no means all of them provide opportunities to use email stats as a separate tool.
We grouped the email opening tracking tools based on what they are best at. It doesn't mean, though, that those for the mass campaign don't have chrome extension or CRM integration to track how your prospects behave beyond emails.
Read on to find out which reporting app suits your needs best.
A short introduction to tracking email software
Email stats refers to how potential clients or partners react to your messages and what happens with emails following the click «send». Once you start outreach people via emails routinely, tracking becomes an integral part of the process:
Monitoring insights navigate you about effective next steps. If recipients open, read and click the link, they may be interested in your offer.

Email reports make it possible to optimize outreach along the way. So you gain positive results faster.
If you see high bounce rates in your email analytics, check the health of your list
Find up-to-date contacts of people you plan to outreach
Best email tracking extension for Gmail
Alternative 1. Mailtrack
Alternative 2. Streak
Alternative 3. Yesware
Alternative 4. EngageBay
Tools like these are ideal for freelancers and sole entrepreneurs who send individual personalized emails. Most of the recommended apps can be used solely for email analytics.
Alternative 1. Mailtrack
Mailtrack is the sole email tracker on the list that is focused only on email analytics. With 2M+ downloads, the extension is also the most popular.
You will get alerts about opens, link clicks, and PDF engagement (opens, the time spent reading the document, and whether potential clients downloaded it).
The email tracking history component makes it possible to learn how many times recipients open and click.
Pricing: open stats, open alerts, and daily reports are for free, but there will be Mailtrack signature on your emails and customer support won't be available.
For €1 per user/month, you will get link stats and tracking history + use the wight-label email campaign tracker.
PDF analytics and mail merge are available in the advanced plan for €2.49 per user/month.
Provides a 50% discount if you pay annually.

Alternative 2. Streak
With Streak, you can leverage CRM and mail merge features besides email stats.
The email opened tracker is really simple, don't expect sophisticated features. You will have opens and read time data, browser, and email alerts about the events. Once the email is opened, you will also see the location and device it was opened with.
Rosmy Barrios, Director, Health Reporter, actively uses the tool and shared his experience with us:
«Streak is my go-to email tracking software for cold outreach. It's an easily accessible, user-friendly platform that helps me keep on top of all my communication with potential prospects.
Streak provides me with invaluable analytics, such as read times and open rates, so I can quickly determine which tactics work best. What I really appreciate about Streak is its automated workflows; it allows me to streamline processes like follow-ups and send bulk emails effortlessly.
The major downside is Streak's lack of sophisticated features when compared to other email tracking tools; it isn't as extensive as I would prefer. Despite the points, Streak fits my requirement marvelously by providing a simple yet effective way to track my emails in real-time».
Pricing: basic email analytics + CRM and mail merge are at zero cost. For link analytics, prices start from $15 to $129 per user/month. You will get a 20% discount if you pay annually.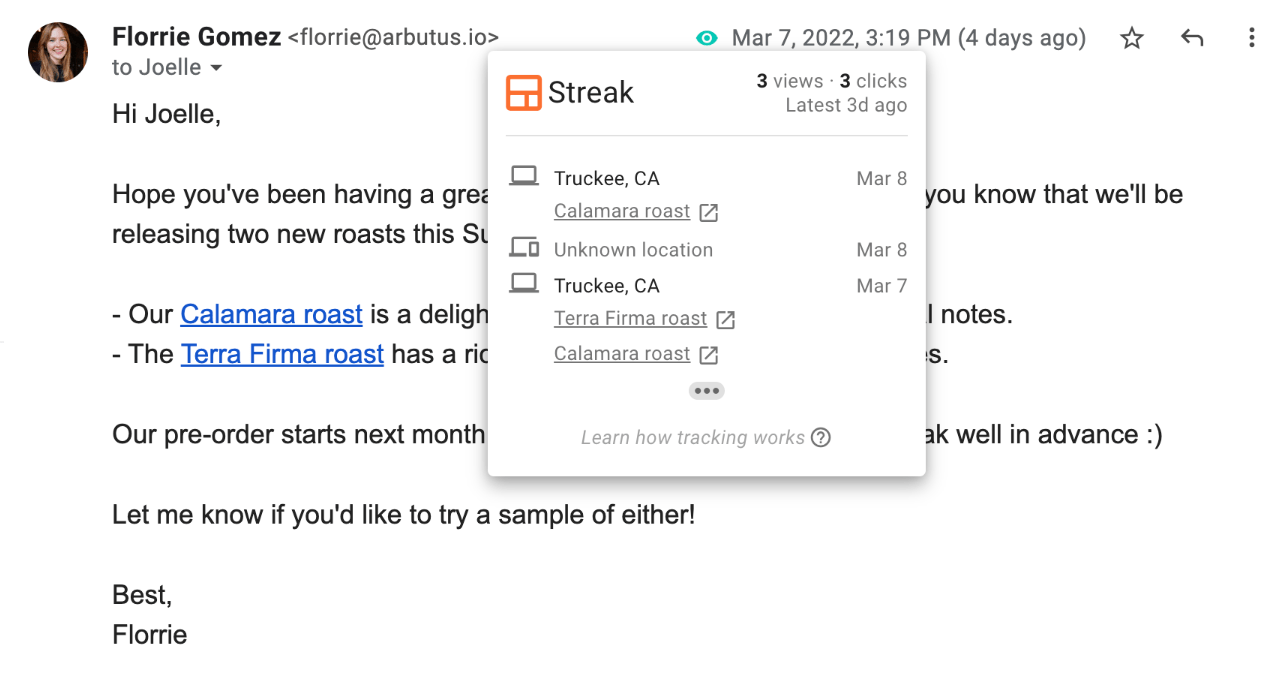 Alternative 3. Yesware
Yesware is a full-fledged sales email outreach tool for startups and SMBs, based right in your Gmail or Outlook inbox. Email tracker software is their main feature.
Besides opens, clicks, time spent in the email, and attachment engagement, you will see the recipient's device and location. Users consider the latter very useful to understand whether several team members have reviewed the email for discussion.
For us, it looks strange, though, that they mention customer support among features in each subscription plan.
Matt Teifke, Founder, CEO, & HR Head, Teifke Real Estate, uses the email tracking tool for cold outreach. He shared his feedback with us:
«Yesware helps me track which emails get opened, clicked on, and responded to so I can personalize my follow-up messages better. The reporting features are significant, and the user interface is quite intuitive. I also like that it integrates with Gmail, making it possible to use it without leaving my inbox.

The biggest downside of Yesware is that it can be quite costly. I also find its customer support slow and unhelpful, ‌which is a bit frustrating. Despite these drawbacks, I think Yesware is still one of the best email tracking tools for Gmail. The features are robust and the data helps me craft more effective cold outreach.
Overall, Yesware has been a great tool for my cold outreach campaigns, and I would definitely recommend it to anyone looking to track and measure the performance of their outbound emails. It's worth the cost for the insights it can provide».
Pricing: basic open and attachment stats and meeting scheduler — for free. $15 per user/month for unlimited email open, link, and attachment stats, personal activity report, and recipient engagement review. The email tracking system offers a 23% discount if you pay annually.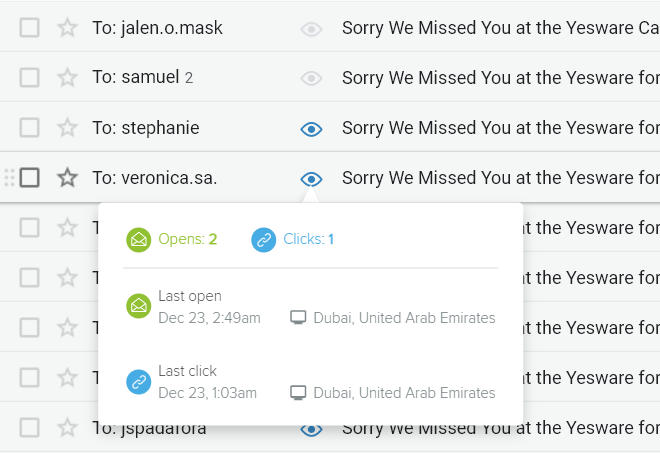 Alternative 4. EngageBay
EngageBay is multi-purpose marketing, sales, and support cost-effective tool. On top of that, they have free email tracker software. The extension is available for Gmail, Office 365, and Outlook. You can track opens, links, and individual attachments.
You can also use the email analytics feature as a part of their Sales CRM platform at zero cost.
The email tracker software is often recommended for email stats, though keep in mind that as a multi-purpose app, it isn't focused on email analytics. Don't expect high accuracy.
Here is what Ryan Rottman, Co-Founder & CEO, OSDB Sports says about the tool:
«With tracking emails for cold outreach, I'm a big fan of EngageBay. It offers me the perfect blend of features and convenience without getting too complicated (which, trust me, happens more often than you'd think with email tracking tools). It integrates well into my process, which keeps me moving along quickly while not always missing something important or leaving anything behind.
EngageBay alerts me when messages have been opened or read and gives time metrics breakdowns to ensure every conversation is timely and on-point. All-in-all, this tool reliably gives me the information I need to stay on top of my outreach efforts so that nothing slips through the cracks».
Pricing: it is one of the free email tracking tools. Paid plans only in the plans with other CRM features for sales or marketing.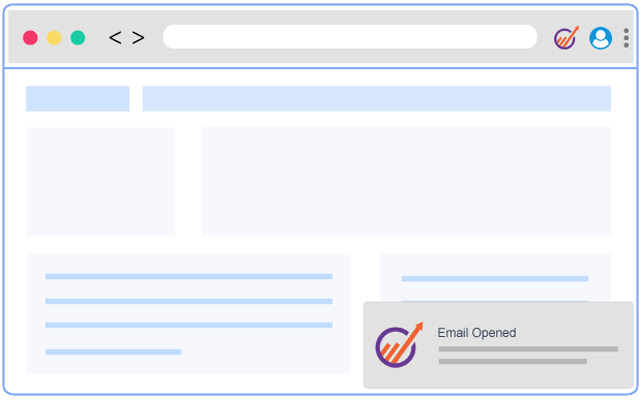 Email tracking system integrated with CRM
Alternative 1. MixMax
Alternative 2. Hubspot Sales Hub
Alternative 3. Saleshandy
Alternative 4. Mailshake
The apps are the best email tracking software for you in case you want to track the full journey of each prospect: from being cold to buying your product. It provides valuable insights into how email activity early in the funnel influences further steps.
Alternative 1. MixMax
MixMax is a sales engagement app for Gmail that is actually among those tools focused on email stats. Opens, clicks on links and attachments, time spent in an email, and content downloads are tracked.
Talking about alerts, MixMax provides flexible options based on actions recipients performed with your email. For instance, you can get a Slack alert when a prospect opens your email more than once.
With the best email tracker, you will also get detailed analytics on individual and campaign performance, as well as the results of your sales team members.
Marketing Manager from Spacelift, Kate Wojewoda-Celinska, shares her opinion on using the tool:
«I use MixMax for email reports. You can integrate it with Gmail to show you when your email has been opened, how many times it's been opened, and how long each recipient spent on your email.
The email tracking software is also apt to send «delayed» emails, which will only email when the recipient has opened it. This information is really helpful when you cold outreach because it gives the possibility to gauge whether the prospect is interested in what you are to say.
Overall, I've been thrilled with MixMax and would highly recommend it to anyone who does cold outreach».
Pricing: free plan is available — tracking is limited to 100 emails per month. Paid plans of the email campaign tracker are from $24 to $69 per user/month.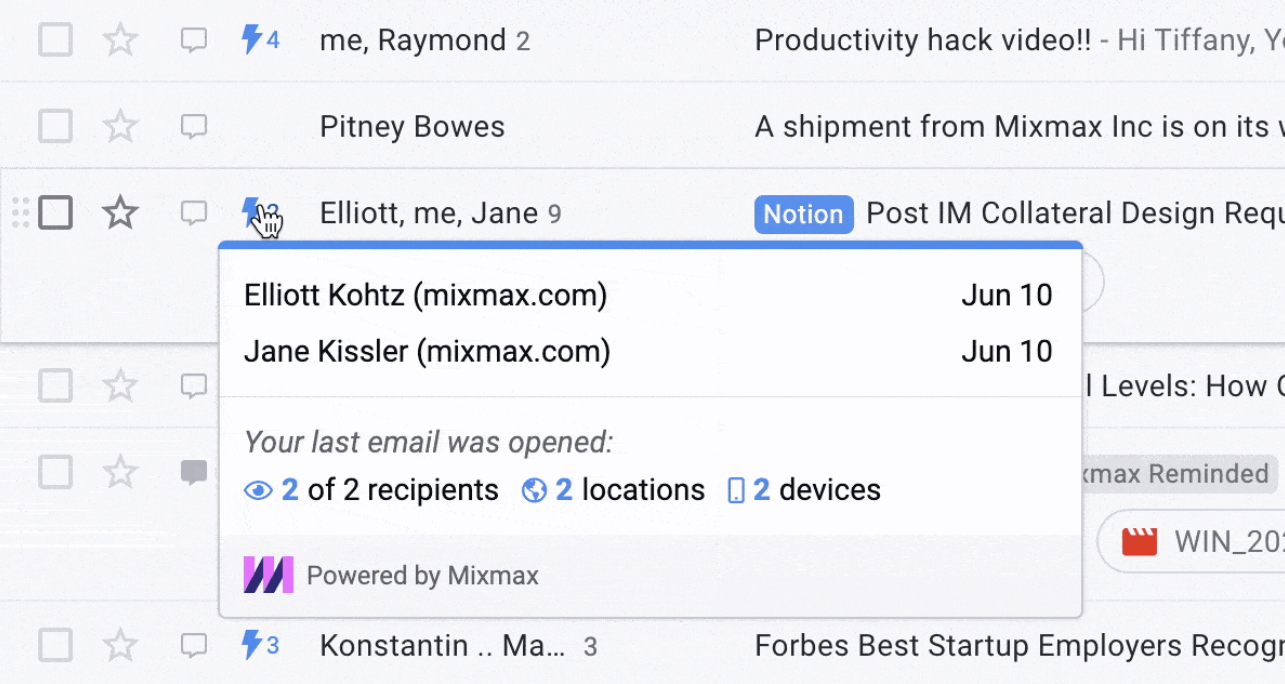 Alternative 2. Hubspot Sales Hub
You likely know that Hubspot for Sales is a CRM with CPQ features, sales enablement tools, and powerful sales data for growing businesses. The app has email analytics feature. It works with Outlook or Office 365, Gmail, and G Suite.
Monitor opens, links, clicks, and attachment downloads. With the email tracking system, you can set up alerts in a browser, desktop, Hubspot web app, or another CRM you use.
We talked to Elyse Flynn Meyer, Owner & Founder, Prism Global Marketing Solutions, about her experience with Hubspot for email analytics:
«For cold email outreach tracking, we use HubSpot Sales. The product allows us to track email opens and clicks for cold emails while also connecting these emails and responses back to our Customer Relationship Management (CRM) tool.
This helps us track sales activities, see prospect responses, and move prospects through the sales funnel faster by seamlessly monitoring outreach communication and other sales activities».
Pricing: email stats feature is at zero cost. Alerts are limited to 200 per month, though.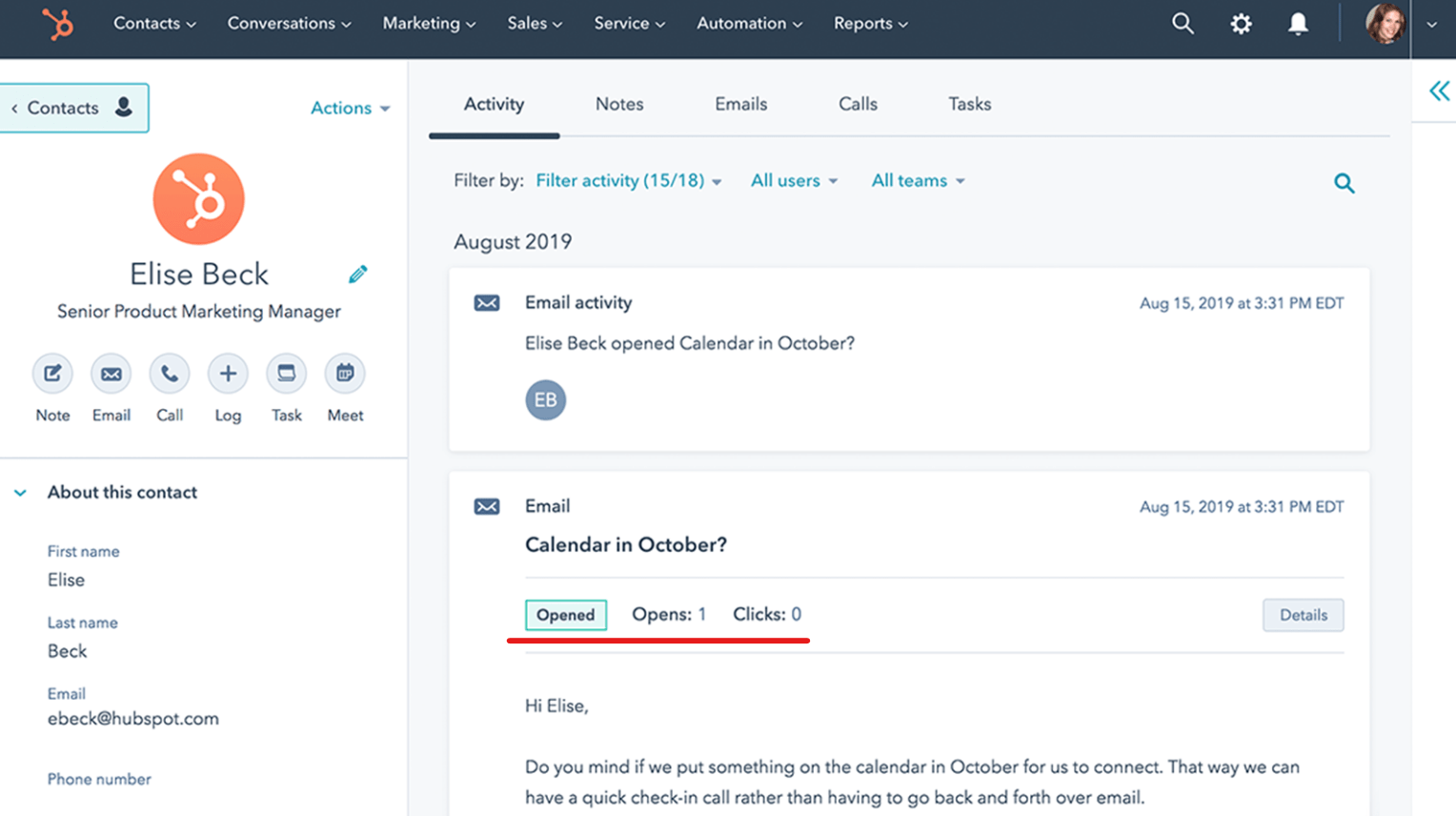 Alternative 3. Saleshandy
Saleshandy is a cold email app focused on email deliverability. Email tracking is one of the key features of the product.
You can track several email accounts with one Saleshandy account, which is really valuable in case you want to send cold emails in bulk and don't face deliverability issues.
With the tracking history of individual emails, you will see the number of opens and clicks. Desktop alerts are also in place in the tracking email software.
Antreas Koutis, Administrative Manager, Financer explains why he chose Saleshandy:
«For my cold outreach email campaigns, I use Saleshandy—an email tracking solution that integrates with my Salesforce CRM. It has streamlined my workflow and enabled me to make more personalized emails by leveraging Salesforce contact data.
I appreciate the comprehensive set of features Saleshandy offers; among them are email opening tracking, recipients' alerts, and IP address determination.
What I like the most is its automated scheduled email-sending option, which ensures we send messages at the right time, every time. My only issue is with their customer support; it isn't always prompt or informative enough when I need help troubleshooting an issue».
Pricing: no free plan. They have a 14-day free trial for paid plans from $27 to $150 and customized.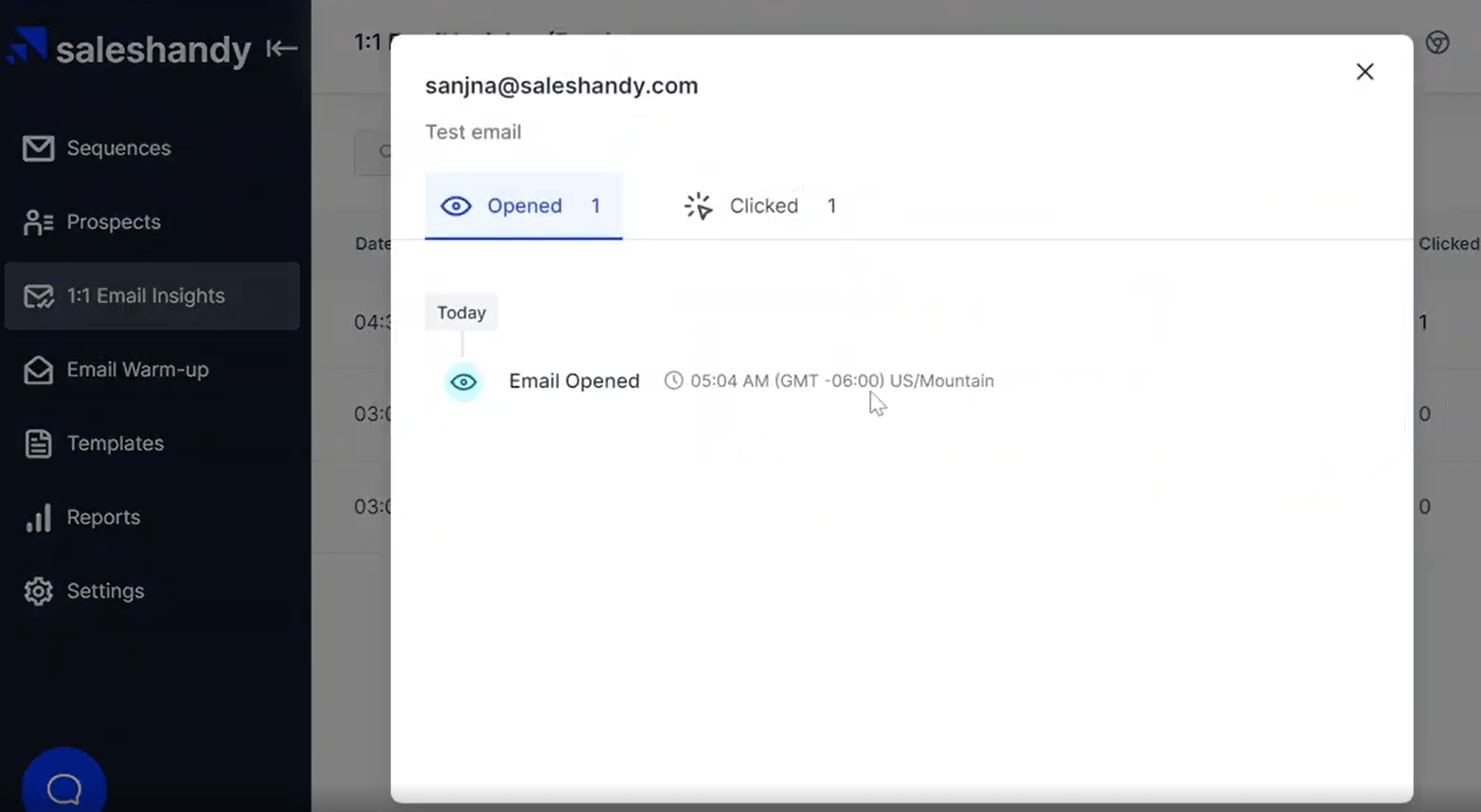 Alternative 4. Mailshake
Mailshake is a sales multi-channel platform that natively integrates with popular CRMs. With email tracking services, you will also get solid deliverability features and assist in writing personalized messages faster.
You can track emails, calls, and social media outreach in one place. You will see opens, clicks, and unsubscribes from each outreach campaign.
This tool is the case when multi-purpose means email opening tracking features aren't as extensive as in specialized tools. It might be a good choice if your sales strategy requires an integrated system since the pricing is far from cheap.
Here is what Anthony Martin, Founder & CEO, Choice Mutual, tells about his user experience with Mailshake:
«Mailshake offers an easy-to-use, comprehensive platform that has helped us track email opens and follow up on cold outreach much more successfully. It connects perfectly with G-suite and integrates with our CRM, making our cold outreach initiative seamless across all departments.
We have found the pre-made email templates so handy, and every email we send is mobile-optimized. Mailshake helps take the guesswork out of cold outreach, so it takes much less time to write the perfect email and allows us to move on to other big-picture tasks».
Pricing: zero-cost options aren't available. $699 or $999 per/user per year. You cannot pay monthly.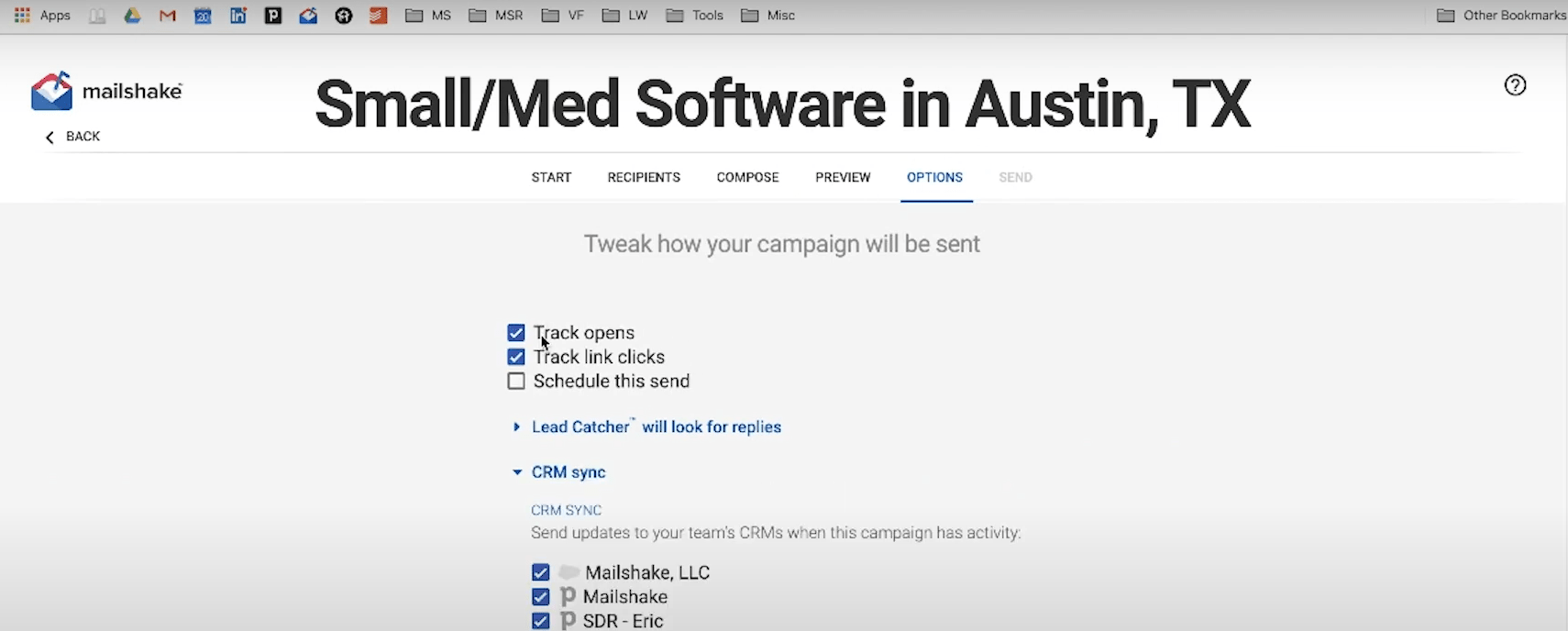 What are some of the best email tracking tools for mass outreach?
Some of the best email tracking tools for mass outreach are GMass and Campaign monitor. In case you plan to mail and monitor thousands of emails, the 2 email tracking software alternatives might be a fit.
Alternative 1. GMass
GMass is suitable for mass automated marketing and sales outreach. It has many features for better deliverability which might be an issue in bulk emailing.
This is a mass emailing tool, so don't expect detailed individual analytics. Campaign reports are sent directly to your inbox. The email tracker data include unique link clicks, unique opens, unsubscribes, bounces, replies, etc.
You can block open-tracking pixels for yourself to get more accurate data. Because when you check bounce messages or open your sent messages — all of those count as opens.
Pricing: free subscription option isn't available. From $19.95 to $49.95 per user/month.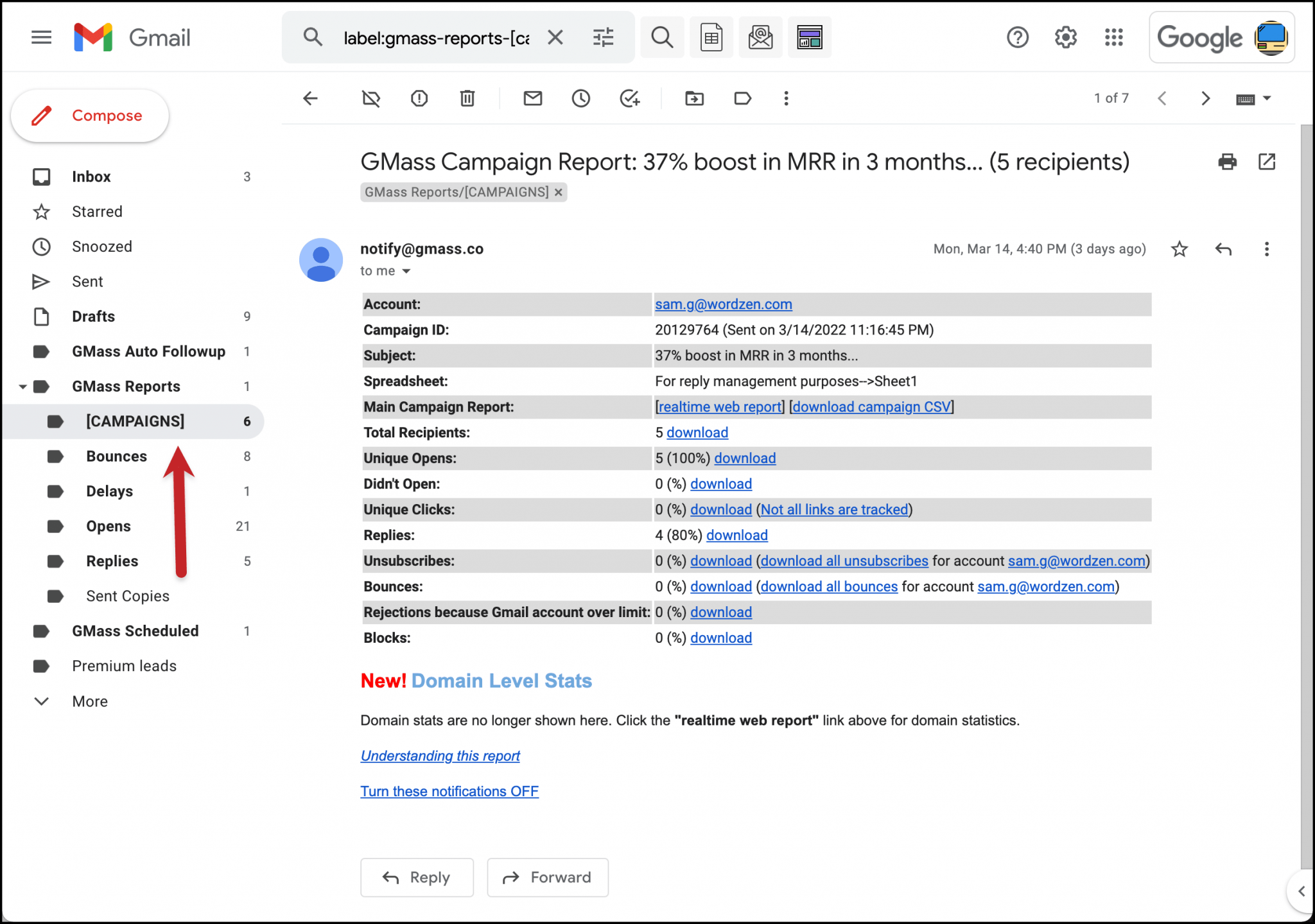 Alternative 2. Campaign Monitor
Campaign Monitor is an app for marketing campaign management. I read about its powerful analytics, so I decided to get it listed. Campaign stats show you unique opens, shares in social media and email, link clicks, and bounces.
By using email marketing tracking software, you can tell what campaigns performed well and sort by what campaign was the most opened or clicked. You will also see what results come from each audience list, segment, and region, as well as details on where subscribers check your emails the most.
Campaign monitor's users mention good customer support and an intuitive interface.
Pricing: free trial and paid subscriptions are customizable based on the size of your contact base. As per your needs, you will pay from $29 to $149 per Campaign Monitor account for 1000 recipients.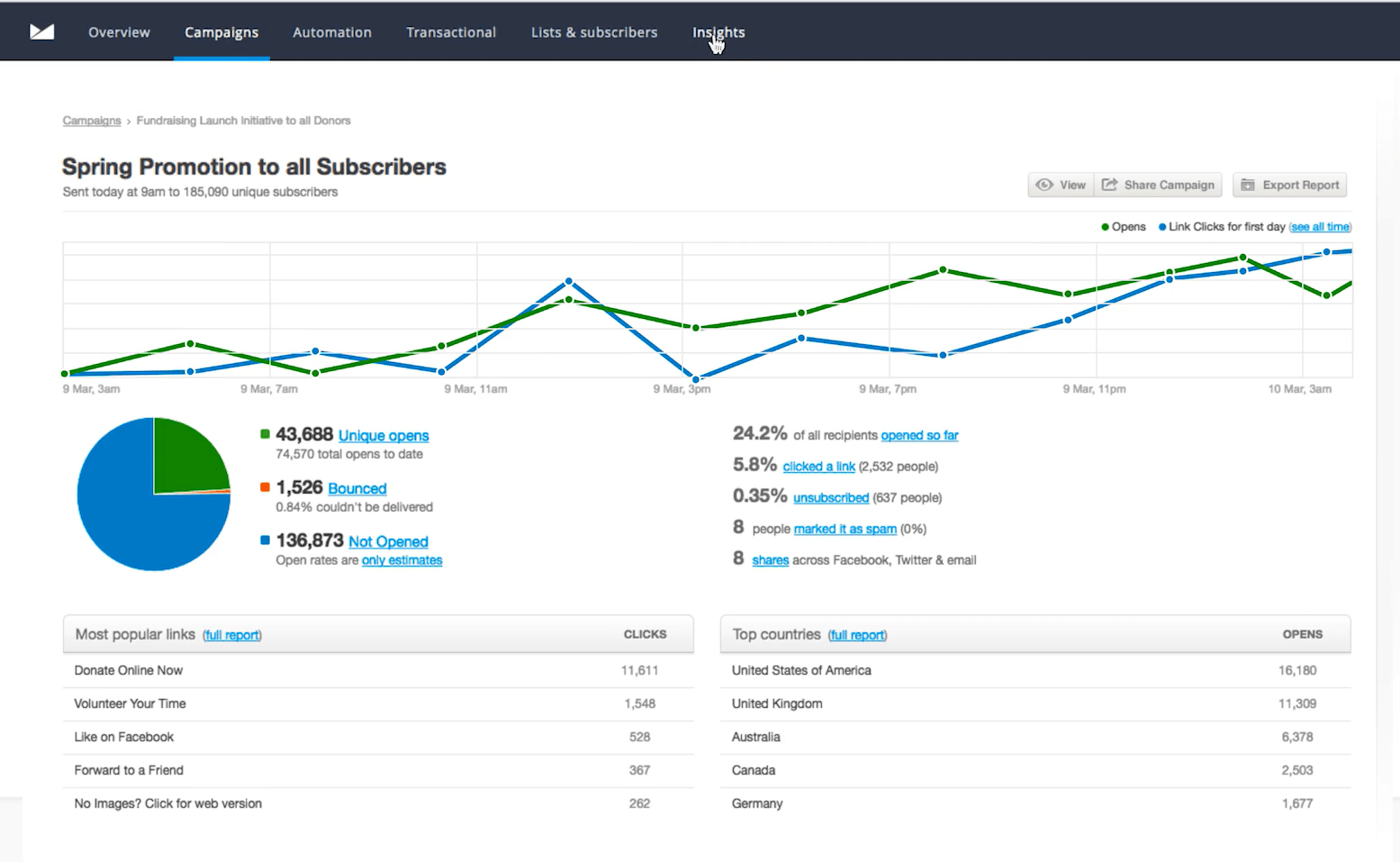 How to treat email tracker data
You should accept that opens and clicks are just assumptions about the interest of particular recipients.
The number of emails opens isn't reliable in measuring your outreach's success. Some recipients simply block tracking pixels. Some corporate emails are pre-screened before reaching the recipient and will be marked as opened.
Moreover, some email providers' spam filters open your email too. There are also email providers that offer their customers email previews, so they can read your message before opening it.
That's why some email tracking tools offer alerts only after the third opening of the email. The information increases the odds that the recipient indeed opens the email.
The main metrics to focus
Deliverability is the baseline metric. Soft and hard bounce rate, spam complaints, blocks, backlists — we recommend keeping it on your radar to verify your email and at least get it to the prospect inbox.
Use the tool to have a guaranteed 95% deliverability
Verify your prospects' contacts to make sure they won't bounce
The key metrics that can definitely evidence positive results out of your outreach are «interested» replies and conversion in calls, interviews, partnerships, sales, job offers, etc.
Summary
Choose the best free email tracker chrome extensions such as Mailtrack, Streak, EngageBay, and Yesware to track individual emails and small batches of merged emails.

Go with Hubspot, Mailshake, MixMax, or Saleshandy if your strategy involves a more professional sales software and reporting system that seamlessly integrates with your CRM.

For marketing and mass emailing, choose GMasss or Campaign Monitor.

Don't expect cheap tools providing extensive and reliable analytics :) It is always a trade-off.

All-in-one tools won't be the best email tracking software. Let's face it. At the same time, in many cases, you need sequencing, personalization, multi-channel outreach, CRM, and other features combined with email stats.

Use opens, clicks, downloads, and time spent as proxy indicators of outreach success. We recommend gauging your campaigns primarily by interested replies and conversion rates.
Frequently asked questions
Can I see if someone read my email?
To see if someone read your email, you will use either a third-party chrome extensions tracker or request a read receipt in Gmail if you are a Google Workspace user.
Is there any free email tracking tool?
Most email trackers have a free forever subscription plan. It is often limited in the number of tracked emails and features, though. For example, you can try Mailtrack, Yesware, or Streak. If you are using email outreach tools, most likely, they are equipped with an email stats feature.
How can I stop the tracking tools inside emails?
To stop tracking, you need to block auto-loading images:
In Gmail, click on the settings icon in the right corner and then on the «See all settings» section.

In the General tab, scroll to the images section.

Choose the bubble «Ask before displaying external images».

Save settings at the bottom of the page.
What are secure tools for email tracking, CRM, and email marketing?
Secure tools for email tracking, CRM, and email marketing are those that:
GDPR compliant

Have two-factor authentication

Data is end-to-end encrypted

Control of the tech stack on its platform
Check the software docs and ask the software help team for clarifications to ensure you won't lose money and earn reputational problems.