Black Friday Sale: our plans with 50% OFF for first 100 users
Email finder
Get e-mail addresses with the highest authenticity using all the variety of GetProspect features
In a bulk and one at a time
By name and by domain
On LinkedIn or on any company website
With Chrome extension or in extracted database
Using API or using human-readable filters
Whatever feature you choose to use, the GetProspect email locator will find valid emails with the highest authenticity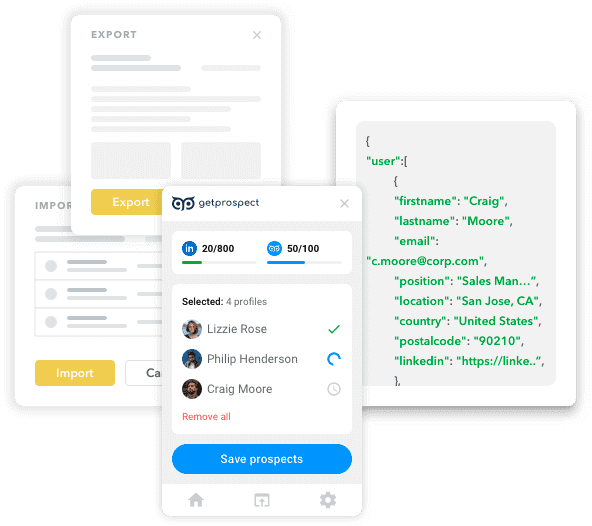 Search emails for every business goal
GetProspect was specially designed to simplify the process of contacting the right people whatever task you face:
Lead generation and prospecting
Preparing cold email sequences
Searching for relevant job candidates
Gathering information before a substantial deal
Advertising and other marketing channels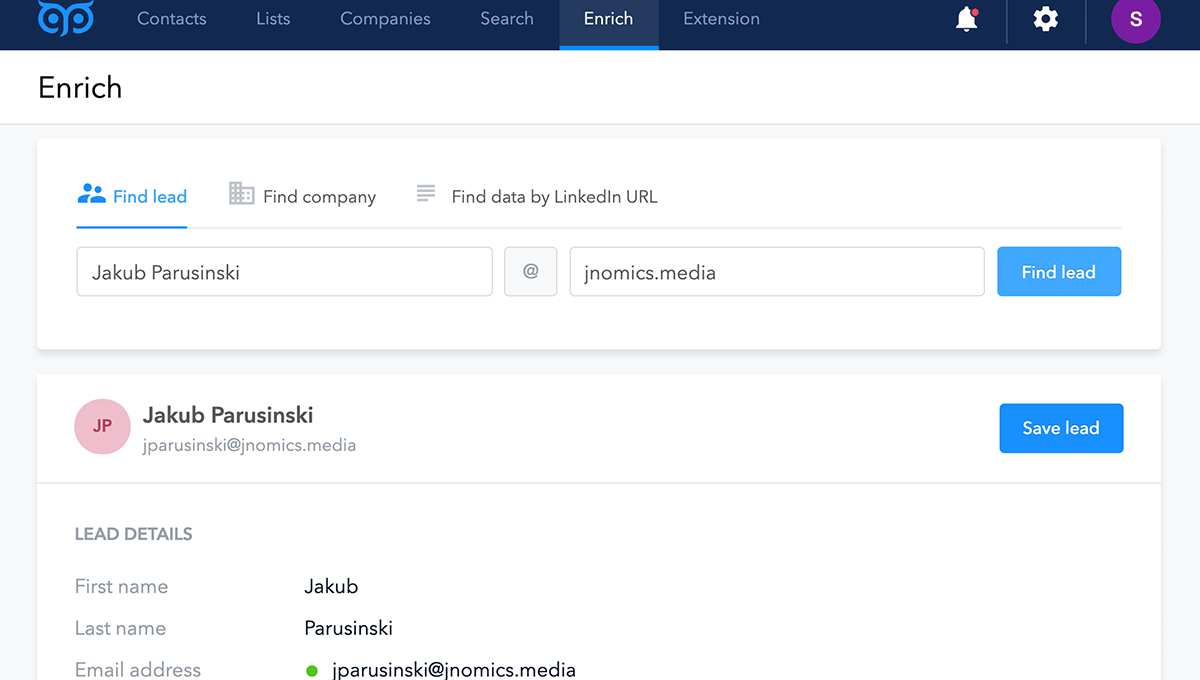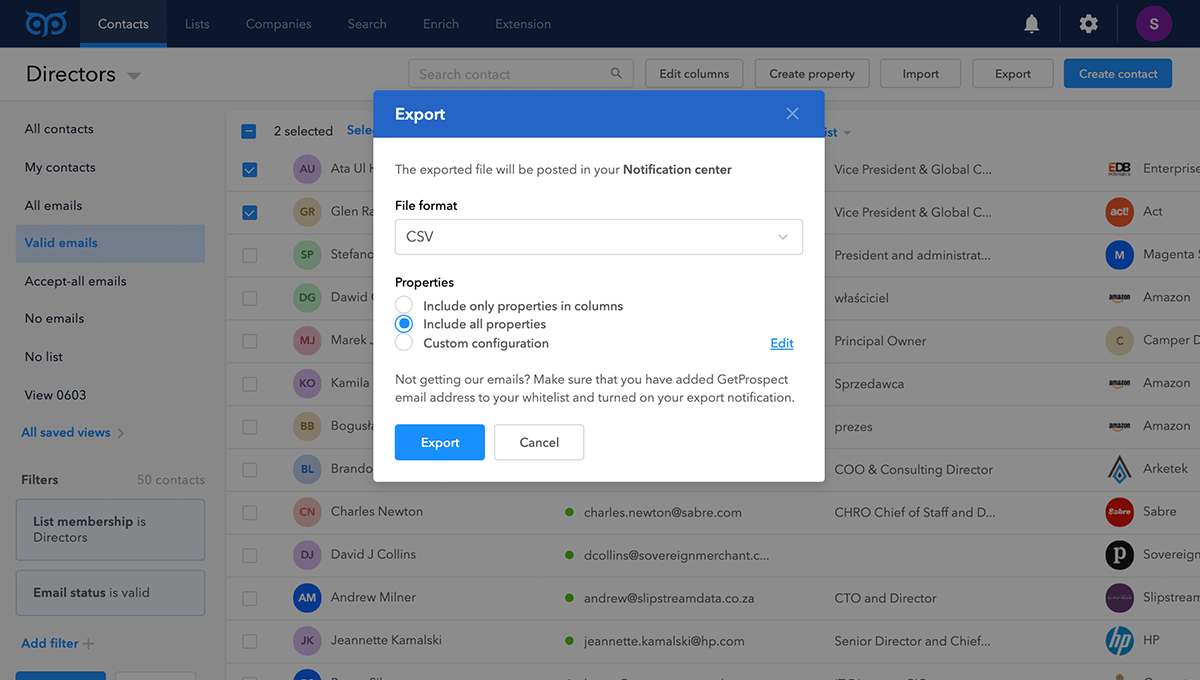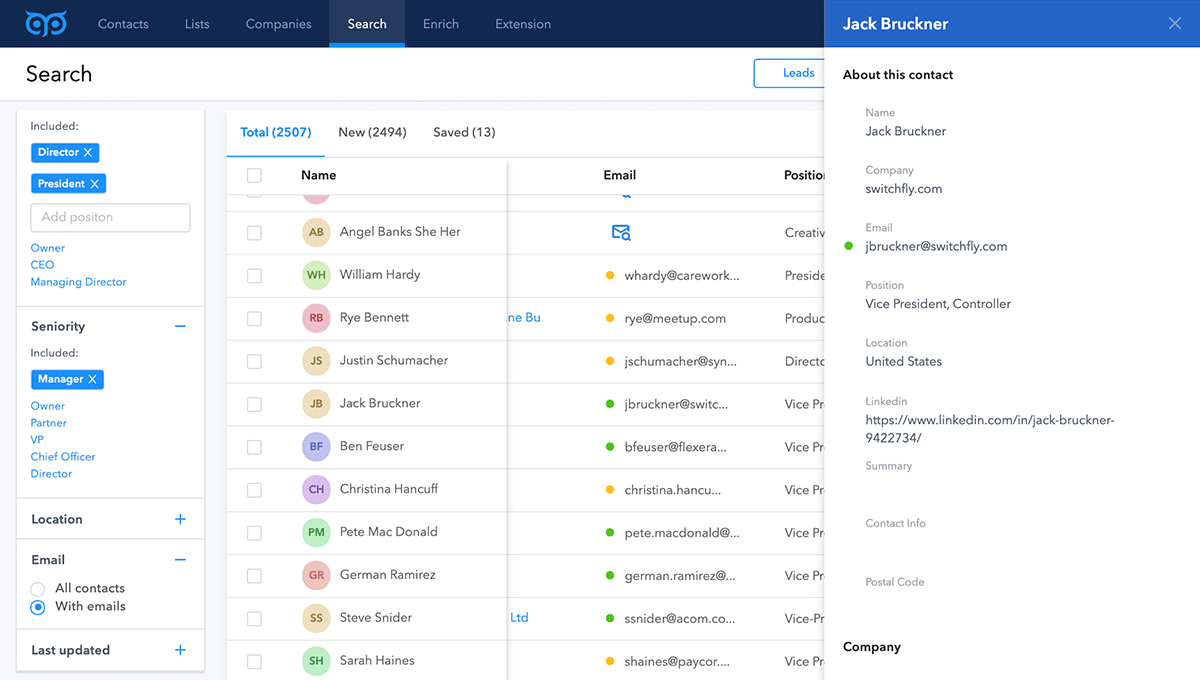 Find emails and enrich contact data
The Email finder could improve your work in different ways depending on the information you have and the goals you pursue.
Why GetProspect could be the best email searching tool for you?
High authenticity of email addresses
We know all kinds of email patterns could be used in every company and verify this email address with high accuracy.
Multifunctional tool
Searching for emails is another additional feature that users rate GetProspect 4.8. It could be a good help in organizing your contacts, cold mailing, verification, etc.
Free verification
Whatever type of email search you choose we check every email on its authenticity for free in this case.
Large data volumes
The Email finder tool is effective for gathering large contact databases and is specially designed to upload and download files of any size.
Duplicate detection
GetProspect will notify you if it finds the mail addresses that already exist in your contact lists or folders.
Lead organization system
We know how to keep all the contacts in a well-organized system. Just create dynamic lists, filter your data, and group emails in folders.
Connections and integrations
We provide lots of connections with famous services and tools to provide a convenient lead generation process.
Frequently asked questions about the Email Finder
What data should I upload for finding an email address?
To find a verified email address for a prospect the following data set is required: first name, last name and the company name of domain. Based on this information, GetProspect will provide the email address and other prospect data.
How can I extract an email address from a website with Getprospect?
The GetProspect email finder extracts business e-mail addresses from any website. Once the extension is installed, it can be used for fetching the email addresses of employees from a company website. There are several other ways to find email addresses depending on the source of the data: email domain search, or the b2b contact database where it is possible to find business email addresses, etc.
Is there a directory for email addresses?
The GetProspect does not sell email lists or contacts databases. To create a targeted list of prospects with business emails, any of the GetProspect email finder search features can be used. All of them will allow getting a list of accurate and 100% relevant leads.
How to find a prospects' email address?
GetProspect offers a few ways to find prospects' email addresses.
Some of them are: lead generation database inside GetProspect with 50 million contacts, finding leads with LinkedIn Chrome extension, importing a file with existing contacts for enrichment.
Is the Getprospect Email Finder a free service?
GetProspect provides lifetime access to 100 free new email addresses each month.
There is much more in GetProspect tool