Tried popular CRMs and, in anger, returned to Excel? So you're in the right place to find the way out of the mess.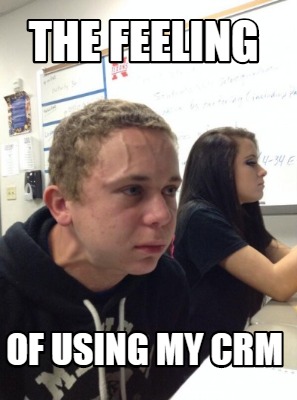 It is possible to have good sales in the absence of the lead management process. Though it is almost unreal to scale and manage how you move toward your sales goals in the lack of CRM.
It is wise to plan and deploy CRM when starting your company. For now, you may have 5 leads, and CRM seems useless. You bear everything in mind or have a simple sheet. While in a year, you might have 300 leads, and you'll find the client history extremely beneficial. Processes are easier to set up when you have 5 leads, agree?
Even freelancers and sole entrepreneurs take advantage of CRMs to stay organized, keep client history.
Yet, many businesses struggle to design a helpful tool from CRM lead management. According to Forrester's research, 68% of executives don't think their CRM has complete information about their clients and interactions with them. Lacking a significant part of what is going on, the system can't provide accurate data.
What is lead management
Lead management is structuring potential clients' info during the sales cycle. It helps not miss important steps and have a clear picture of what works and doesn't. Using simple software allows you to save any information about the client and your interactions quickly (screen below).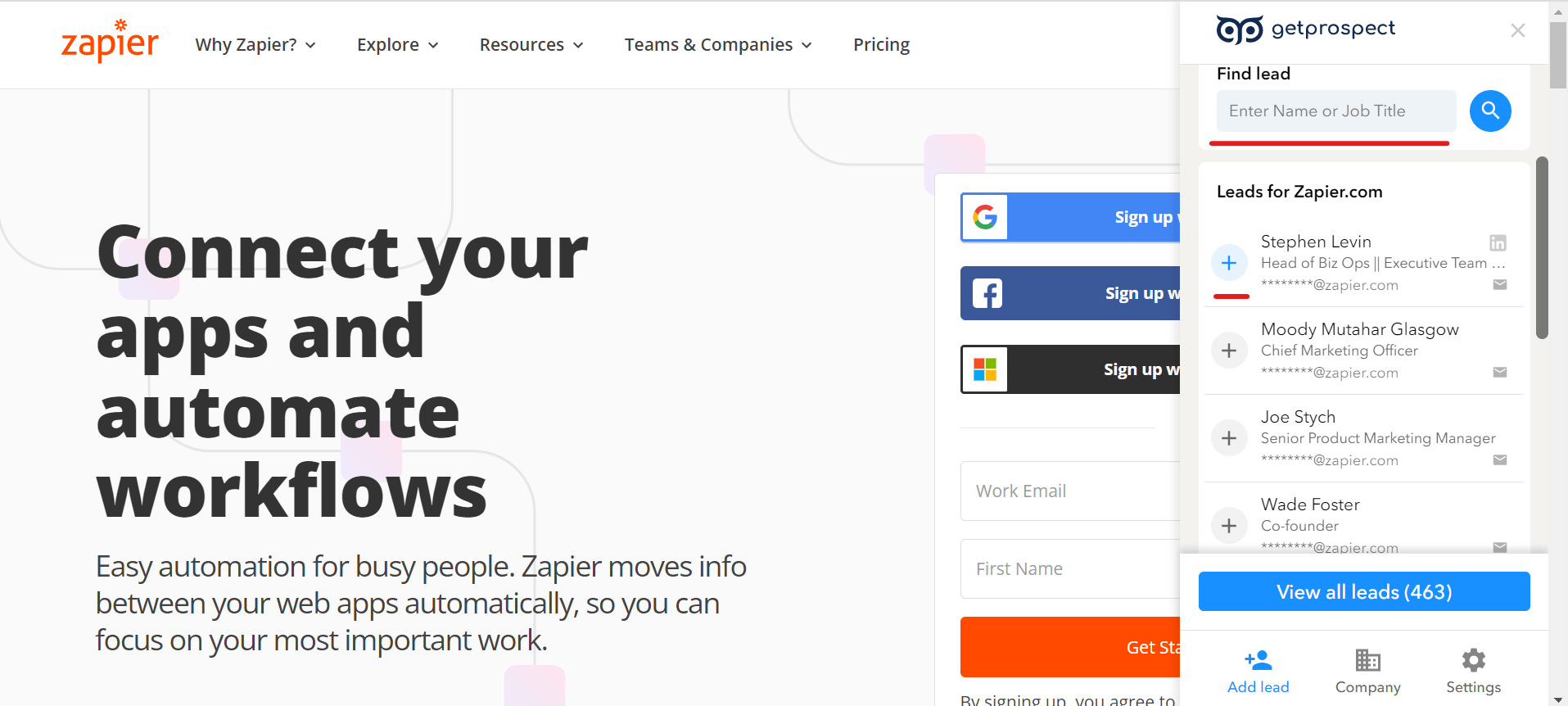 Check the Chrome Extension
With the plugin, you find and save prospect and their real emails on the go
Lead generation vs. lead management. Lead generation is how you find new interested customers. While lead management is organizing client information on their way to further touchpoints. Some tools (GetProspect, too) mix the functionality.
What is a lead management system
A lead management system is a tool that assists in managing potential clients effectively. It may be in notes, Excel spreadsheet, more often — CRM, or any other convenient form. The system should be as seamless as possible to be used every day. Otherwise, it won't be helpful and can turn into a falter for other tasks.
How to create a lead management system (and don't go crazy)
1. Lead management strategy
Sketch the current sales flow. Let's say you find the committed person (where?) → there is a trigger of a purchase (what?) → contact them (where?) → touchpoints in other channels → follow-ups → … → expected final result. You can untwist the chain both from the beginning and from the end. It will come in handy when you choose and set up the lead management software for your project.
2. Ease of use
Always think about usability. It is a critical feature. Your system should deliver advanced functionality and automate manual tasks while being as painless as Excel. First, stop manually duplicating information in several fields. And don't hurry up to integrate marketing, customer service, and other departments in a single software.
According to Forrester's research, 24% of respondents note self-serve education capabilities are the way to make CRM lead management software more effective. At the same time, many CRM tutorials are still either too big (unreal to read in a month), outdated, or need extra training with experts.
3. Features
Start with fewer features, and then add as you go. When you have functions galore, you spend an enormous amount of time deciding whether you will use this or that option and then turning it off. Moreover, in some tools, unnecessary features can't be fully removed, hindering your workflow.
For outbound channels, basic functionality is customized properties, lists, folders, automatic data entry and keeping emails verified, integrations via Zapier, followups, alerts, lead stages.
4. Proper setup
Dedicate enough time to customizing the chosen CRM. The default version of the software makes the process especially challenging. Design the system based on your channels and buying triggers. For example, you might need to add fields to fill your typical client's characteristics or integrate with WhatsApp.
If you didn't find all the necessary functionality in one tool, first, consider whether the missing feature is a true must-have. Don't push forward with developing your own system.
5. Metrics and data
Choose metrics that tell you whether the B2B lead management process moves you toward your goals. Proper metrics help to uncover your team's falters, as well as room for improvements. For instance, number of actions, number of sent cold emails, response rate, response-to-meeting rate, win rate. Or sum of calls, conversations, purchases.
For example, you see 50 calls, 2 conversations, and 0 purchases. You start the investigation and determine that your team member called 2 clients all day, whereas they had a voice mail. Then you understand how to fix it.
Key metrics can be split into more detail: number of effective actions, overdue tasks, the conversion rate from various channels, leads' characteristics that resulted in deals, etc.
6. Consistency
Forrester reports that less than 50% of sales teams are using CRMs in some way.
Usage significantly drops at later stages of the customer lifecycles (buy, use, ask, engage) and is used by 12-19% of teams.
You miss data and, consequently, miss out on revenues if you and your team do not use CRM fully.
To sidestep the situation, grasp how the CRM software works yourself and regularly (every 1-2 weeks) check how others use it. Check how useful the tool is in practice and endlessly ask for feedback to improve the system.
This helps build a solid knowledge base that will bring you value for years to come.
7. Training
The less CRM training, the better. The 3 month CRM course doesn't turn the software into more usable. Choose a simpler option from the start. So your team can understand how to use it on their own.
In the beginning, show the measurable gains for performance from using the lead management tool. Then set specific filing standards, so everyone can understand each other notes.
Customize your system in that way, your team has little to fill manually. For example, create a dropdown menu for a client organization form, so salespeople just choose the appropriate option.
As a complementary measure, you can state that if the action with a customer is not in CRM, it doesn't exist. So they can't prove their work is done well. Still, it won't fly if the chosen tool is not convenient and easy to use.
Lead management best practices: what's next?
Thoughtfully select metrics to track. You should understand why you check the figures, what actions you will take on their changes, how you can modify the process to improve the metric, what affects the indicator. Also, keep in mind that some metrics might be incorrect due to a lack of data at your company.

Regularly revise your B2B lead management software. You can't build a flawless design for ages. Your product, processes, market, clients are evolving. After a while, you'll understand how to upgrade it.

Create a lead qualification system to reach prospects with the highest chance to close first. How to frame the process — find instructions in the previous blog article.

Keep your data healthy. It means removing duplicates (GetProspect has automatic deduplication of your contacts) and having your contacts actual automatically.
Best free lead management software
GetProspect. Embedded lead generation options, automatic data entry, keeping your contacts verified, and removing duplicates. Workspaces if you have several products. Free unlimited team members in one workspace. Customized properties, lists, groups. 2000 integrations.

Fucking Easy CRM. Absolutely free lead management B2B tool (non-profit project) for B2B sales made by sales professionals for sales professionals. Integration with all your inboxes.

Streak. The app is right in your Gmail inbox. Perfect if your main outreach channel is email. Automatically add leads based on your letter, automatically add all email interactions. Email tracking — know when an email is open and read.

Wobaka. One more simple software. Email follow-ups automation. Analytics. It doesn't have a free plan, while the free trial is 2 weeks.
Based on your sales workflow, choose a simple solution that has all the necessary features for the first time. Then try the process on 1-2 clients to see if it is comfortable, what functions you lack.
Proper sales lead management rewards
All client data saved in one place => ↑ quality interactions => better client experience => ↑ value and amount of sales => ↑ loyalty => ↑ upsells

Data-driven decisions and strategy. CRM comprises all success cases and best practices.

Client history. So you stay in touch with past customers and won't contact someone twice with the same message.

Single source of truth — yeah, you can ask salespeople, though who proves their statement?

Correct CRM maintenance drive minimized salespeople-leadership communication. Managers see each client's flow and details and the whole picture.

Smother employee turnover. Particular individuals don't hold client data.
Lead management - FAQ
What lead management means?
Lead management is a workflow designed to optimize your sales operations. It assists in finding new prospects, organizing info about them, and communicating.
Why is lead management important?
Lead management allows you to see and remove bottlenecks in sales, opens opportunities for constant sales development, amplifies your customer experience, and helps you in leads prioritization. If you are planning to scale your business, lead management is integral to your sales process.
How to create a lead management system?
Plan your sales workflow before you choose any tool.

Identify features you'll need in your process.

Start with simple tools.

Train yourself and your team on how to take advantage of the system.

Choose and track metrics to know the sales go in the right direction.

Make sure the system stays simple when you will develop it.
What is lead management software?
Lead management software is an application that assists you in organizing all information about your clients and automating related activities. For example, data entry, keeping your contact list clean, alerts of new leads matching your ICP.