Nowadays, there are a lot of opportunities to boost B2B sales – there are different automation/optimization tools and a bunch of case studies to guide you on how best to do business.
And since you're here, that means you're on the lookout for the best solutions for your company.
So, let's have a look at the most useful recommendations that help you take your sales team's performance to the next level, and put together a better B2B sales strategy that will help increase sales and add valuable customers.
How to be successful in B2B sales? Use tips from the experts
After listening to the opinions of various experts, we identified a number of points that are important to implement in the strategy to increase business-to-business sales:
Revisiting sales strategy.

Use the main sales tools.

Don't forget to identify the ICP (ideal customer profile).

Provide a strong online presence and implement personalization.

Communicate and post in groups/forums with a target audience.

Quick responses to user inquiries.

Implement user onboarding.

Don't forget to take care of your existing customers.
Below we will look at each of them in more detail.
Top ways to increase B2B sales
#1. To improve B2B sales, you need to revisit your sales strategy
Сo-founder of Founder Jar Martin Luenendonk is sure that you have to look back before you can move forward:
«Start your new sales year by taking a look back at the strategies that worked last sales year, and analyzing your sales performance in general. There's a lot you can learn from the data in your CRM. Once you know what works and what doesn't, you will have a clearer plan in mind.»
#2. Use the main sales tools
You can only make increasing B2B sales by using powerful tools daily. For this, you need such types of helpers: productivity tools, CRM software, and prospecting tools.
Sales productivity tools optimize various processes. From communication to planning, these tools make daily administrative tasks more efficient so you can focus on the overall picture.

CRM helps improve B2B sales by collecting all prospects and customer data in one place, helping to optimize sales processes and to manage relationships with your leads and existing customers, automating sales department workflow, giving advanced reporting, and helping you control the quality of the sales department. Also, CRM promotes successful B2B sales, increasing the result in customer retention rate, B2B sales conversions, company growth and profitability.

Lead searching tools provide increasing B2B sales with such opportunities as: finding prospects who will really be interested in your product, increasing lead generation, and a faster lead-to-customer conversation process. Also, you can automate some manual processes, just like with CRM, which will help you spend less time on some routine tasks.
#3. Successful B2B sales are impossible without identifying your ICP
Beth Womersley from Pod Digital Marketing is confident that the more correctly you profile your customer, the more sales will result. Why? Because all your efforts will be focused on how to approach B2B customers.
«This is the foundation of any successful marketing campaign; and without it, you simply cannot form worthwhile campaigns and increase sales.»
This process usually included defining leads industry, revenue, businesses goals, primary challenge, and job position.
It is one of the first things you need to increase sales counts and founder of Octiv Digital Jeff Romero. He believes that in addition to determining the ideal customer profile, it is necessary to choose the right tool for search qualification leads using LinkedIn.
«With this social network, it's incredibly easy for sales professionals to view their leads' latest activity and learn about their concerns. Plus, you can always visit the client company's website to see what details you can engage in your sales cold calls.»
What about the right tool for finding potential customers? You can get qualified leads using LinkedIn and GetProspect email finder tool. This helps you find more contacts, interact with prospects, and boost B2B sales.
LinkedIn plus GetProspect Extension
Download the extension and take advantage of the many benefits of advanced search on Linkedin: automatic bulk lead saving of multiple pages from Linkedin search, Scan Mode for unlimited profiles viewing, importing a list of Linkedin profile URLs to enrich data about leads.
Additionally, you can search leads without Linkedin, directly on the GetProspect platform in your personal account. Or if you have some data about leads, use the Import feature for finding email addresses in bulk and get more info about them.
#4. Increase sales with a strong online presence and personalization
It is logical that users trust more companies that are mentioned on the Internet and are better known. Therefore, it is important to use all channels to be heard by the target audience.
When potential clients know even a little bit of information about you before you write to them, there's already a better chance of closing the deal.
You must also include something else in your strategy to increase B2B sales. According to Mr. Dimitar of CLICKVISION, you will increase your chances of success by personalizing the customer experience.
Take a personalized approach in your sales pitch, whether your first message is on social media or email. How can you do this? Always address the lead by name, try to determine some available personal information about them, and use it to personalize your message.
For example, you saw that your potential customer wrote a post on their page about not being able to find the perfect automation tool. Start with that pain point and offer a solution. But don't push the person in any way.
According to Michiel Schipperus, CEO of Sana Commerce, another expert who considers personalization one of the main components of the strategy for sales growth, it has a number of advantages.
The main components of the strategy for sales growth
#5. Communicating/posting where your target audience is
Find forums that focus on your industry. You can find B2B communities on Facebook, LinkedIn, Reddit, Quora. This also applies to telegram channels. So you found the forums where your target audience lives, and what to do? Just communicate with them, and publish your expert posts there.
Calvin Willis, founder of Moo Soft: «They are a great marketing channel because they give you direct access to your target market without having to pay for it. This is one of the most effective ways to increase your B2B sales.»
#6. Increase business sales with quick responses to user inquiries
Chatbots (on websites and social media) and the Support service link (often on the website or in emails) can help you respond to users' inquiries. However, it's not enough just to set up chatbots or place a link to managers, you also need to respond promptly to users to increase their loyalty.
The advantages of a quick response system are
Remember. If you don't respond in time to a user's request, you could lose a lead or a customer. Do not give your target audience to competitors.
#7. Increase business sales through user onboarding
Educate your users through onboarding on the site, tutorial videos on YouTube, and webinars, and encourage your leads/customers to book a product demo.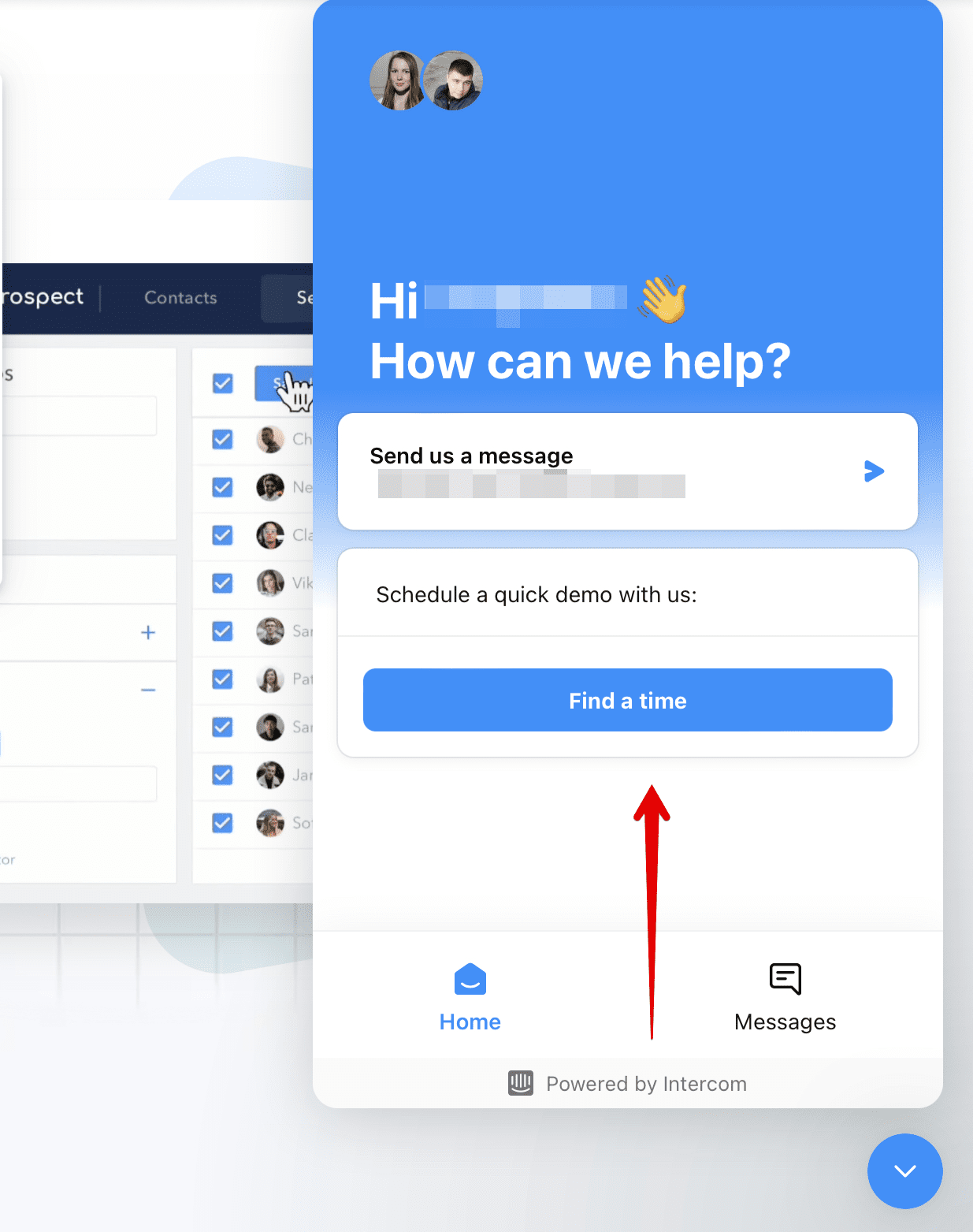 This makes it easier for users to understand the use of your product and they are more likely to stay with you/your product rather than switch to a competitor, and you will significantly increase sales.
#8. Taking care of existing customers
One of the important ways to improve b2b sales is not to forget to take care of current customers. It is also important. As we've said before, prompt answers from managers at Support Chat or something like this will work positively for the loyalty of leads to your brand and the loyalty of your existing customers.
Owner Vilop Digital Calvin Jacob: «Your existing customers can be the source for new highly qualified leads, which are more likely to convert and buy from you. Your current customers can attest to the quality of the products that you offer, which can be a huge influence so that you can increase your sales.»
Improve B2B sales by showing concern for users
Create useful content (videos, blog articles, newsletters) for them that will help them grow their business with your product/services.

Introduce periodic discounts, and offer special favorable terms for regular customers.

Assign a permanent manager to the user, to whom he/she can turn in in case of additional questions and get a prompt answer.
How do you keep your customers, keep their loyalty, keep them with your brand and recommend you? You can do this by looking at online reviews, doing surveys, sending out emails to customers, or making a special form on your website.
Once you clearly understand the needs of your customer, and turn these ideas into reality, you will get satisfied customers, increase lead generation and therefore significantly increase sales.
Summary: how to increase sales in a business
To be successful in sales you need to consider other B2B company experiences. Draw conclusions about their successes and mistakes.
Top tips for B2B sales growth: revisiting sales strategy, use the main sales tools, don't forget to identify the ideal customer profile, providing a strong strong online presence and implementing personalization, communicating and posting in groups/forums where there is a target audience, quick responses to user inquiries, implement user onboarding, and take care of existing customers.