Generating high-quality leads that convert into customers is a critical task for sales specialists and marketers. Simply increasing the number of them is not enough, though. Moreover, you must do it without reducing quality. That's the only way you'll boost your revenue.
How can you do that? By avoiding unqualified contacts/companies and ensuring a steady flow of prospects. Having applied the sales lead generation techniques provided to you in the article, you will be able to effectively find, qualify and convert B2B sales leads.
What is lead generation in sales?
The B2B lead generation process in sales is identifying and cultivating potential customer interest or inquiry into a business's products or services. The goal is to generate a list of qualified prospects who can be further turned into paying customers.
Each lead generation technique can include a range of tactics, such as email marketing, content marketing, search engine optimization, etc.
Identifying prospects in minutes
You don't have to spend a lot of time qualifying leads anymore. With our advanced filters, you'll start interacting with partially qualified prospects right away.
How to generate sales leads? The best six strategies
Here are the best of the lead generation tactics that lead to sales:
Email marketing

Content marketing

SEO

LinkedIn

Referral Networking

Online events
Below you will find out the main info about methods of lead generation and a few cases from experts.
#1. Email marketing for increase lead generation in sales
One of the most effective business to business lead generation strategies is email marketing. Email marketing involves using email to communicate with potential customers and encourage them to become paying buyers. This can be done by sending targeted and personalized emails that offer value to the recipient and motivate them to take a specific action, such as filling out a form, scheduling a call, or making a purchase.
According to Alexander Hollingsworth, SEO Marketing Associate at Oyova, to improve sales lead generation through email marketing, businesses should use tools such as email marketing software, landing pages, and forms to automate and streamline the process.
Some tips for this lead generation technique:
Segmenting your email list to send relevant messages to specific groups of leads;

Personalizing emails with the recipient's name and other relevant information;

Providing value to the recipient by offering helpful content, exclusive offers, and other incentives;

Measuring and analyzing the success of your email campaigns to improve and optimize your approach continually.
Ben Lack, founder & CEO of full-service digital marketing agency Interrupt Media also thinks this method is one of the great ways to generate sales leads and grow sales. But to get the desirable results, you need to use tools like email marketing software, customer relationship management (CRM) systems, analytics platforms, content management systems (CMS), and social media automation tools.
Organize your prospects with GetProspect CRM
Keep your leads in one place, search for new ones in the database, and lead them through the sales funnel.
«These tools can help you automate tasks such as prospecting, nurturing leads, tracking response rates, and measuring analytics. By leveraging it, you can streamline your leads generation process to reach larger audiences and increase conversions.

One example of successful sales lead generation is our case study of an enterprise data and document management company where we implemented an extensive segmentation exercise, personalized their email outreach, and A/B tested the landing page and email copy, among others, to increase their webinar registrations.

Through proper segmentation and targeted messaging, we increased the webinar registrations by up to 90% compared to the previous webinar, as well as a 100% increase in booked meetings.»
#2. Content marketing to improve lead generation in sales
Content marketing is an effective lead generation strategy that involves creating value-driven content that resonates with your target audience and provides them with valuable resources in the form of blog posts, whitepapers, e-books, videos, podcasts, or other types of visual media.
The content should always focus on your customers' needs and provide solutions to their problems. Once you have created valuable content, promoting it on all available channels, including your website, social media, and email campaigns is important.
Tom Hamilton-Stubber, the Managing Director of TutorCruncher, says it is essential to include a hyperlink on your website in the offer to improve lead generation:
«You should still give a mechanism for your leads to find you again that isn't through email. This is especially necessary if your leads are more likely to disregard emails from strangers than from those they already know. If they did love your whitepaper (which is incredible, so of course, they did!), make it easy for them to remember where they got the whitepaper from by including a link to your website on the cover page of your whitepaper.»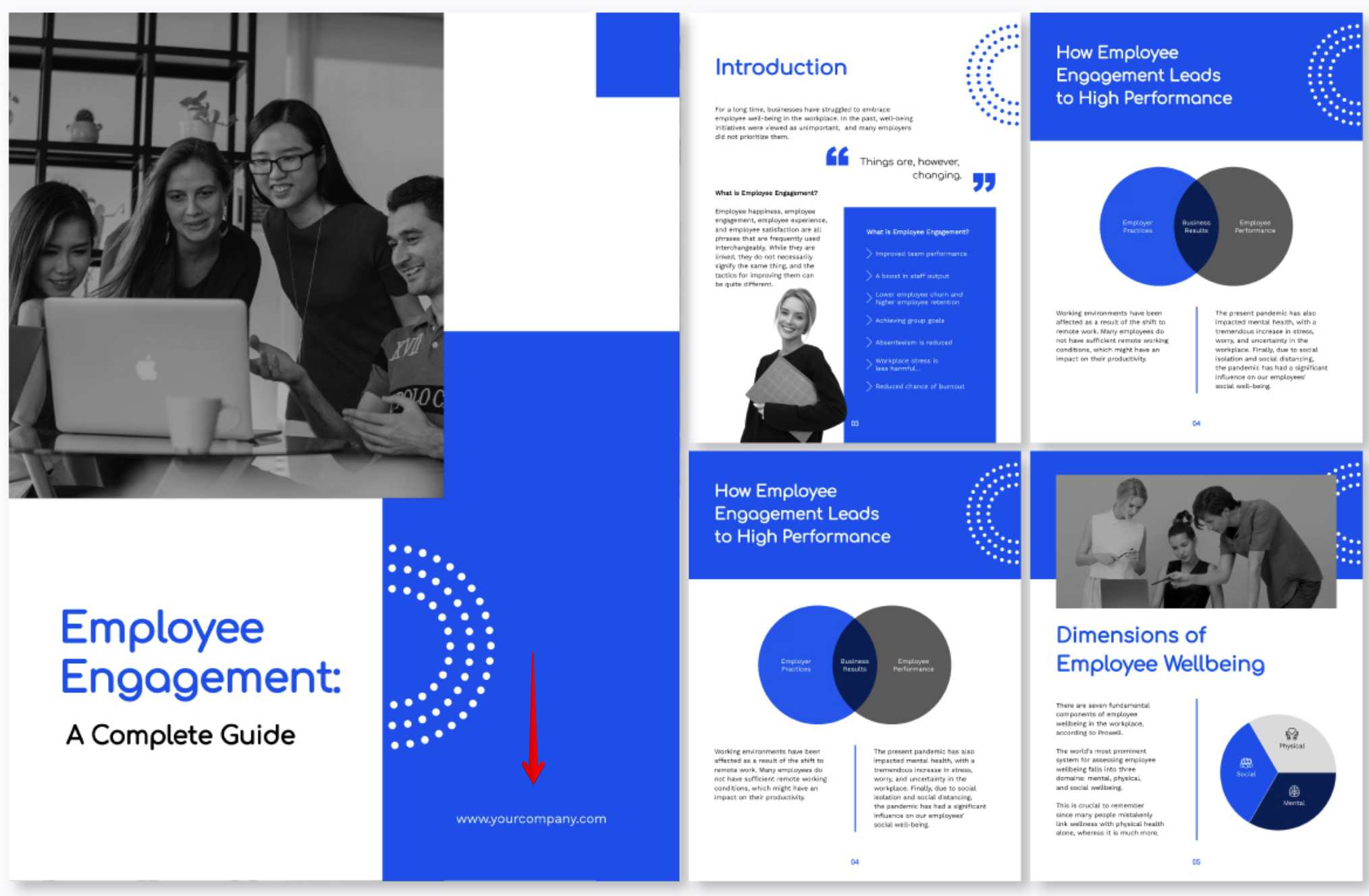 Source: Visme
Also it is necessary not to forget about the visual part. For instance, Canva, VistaCreate, Figma is one of the best tools to help you create more aesthetically pleasing content, if you're looking for the DIY approach.
Last but not least, to succeed at content marketing for growth leads generation process, you need to consider diversifying your content formats and including video into the mix. It's so easy and affordable to do so that there are no excuses not to.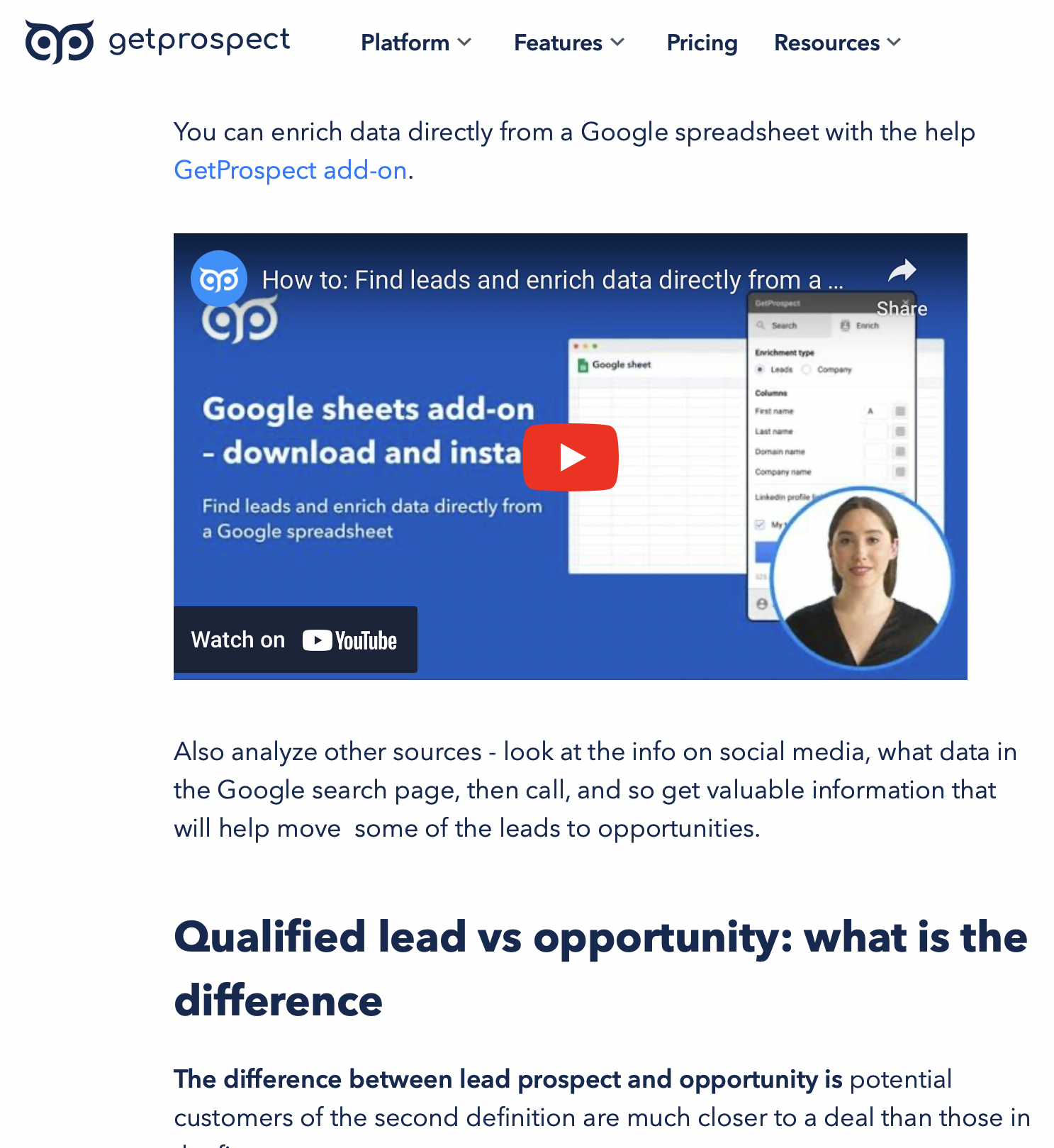 Remember. Constantly analyze your content marketing efforts and refine your approach based on what works best. This can include experimenting with different types of content, promotion channels, and calls to action.
#3. SEO to improve sales lead generation process
It is also recommended to add SEO to your content marketing to make it easier for potential customers to find you, increasing website leads.
Here is one example of the optimization we use in GetProspect. This is about microdata in the FAQ page.
Head of SEO at GetProspect Elena Osipova:
«We've collected real users' questions from our technical support. With the JSON's help, we showed Google that this content is related to Frequently Asked Questions. Thus, the content on these pages could take positions in SERPs and get organic traffic.»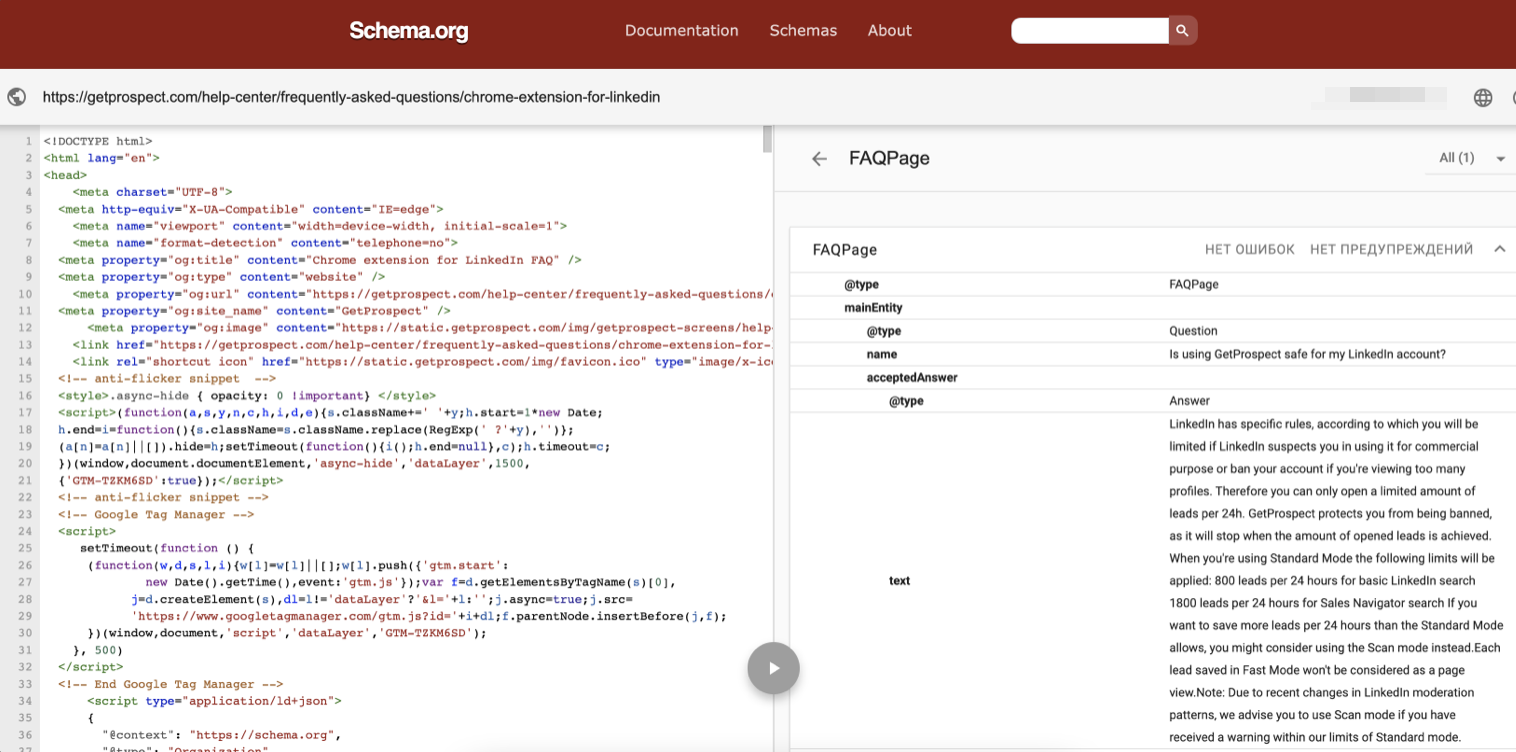 Such a small article/note at the site can bring a good result, if you add there code is generated in a similar tool as in the screenshot above. It will be useful both for the user and your SEO optimization to attract more and more leads.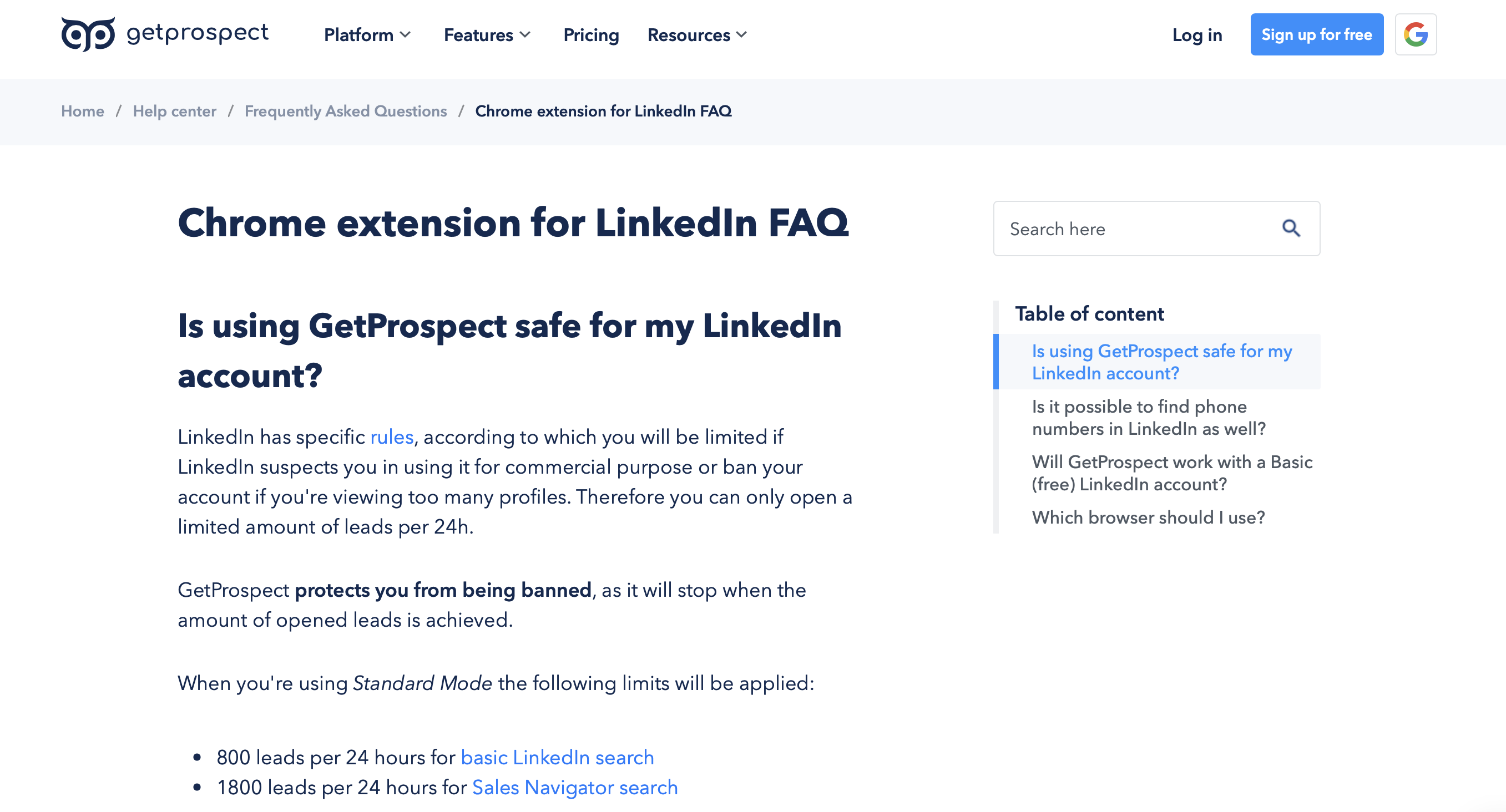 This post was published in 2021 and still brings daily traffic to the site. 🥳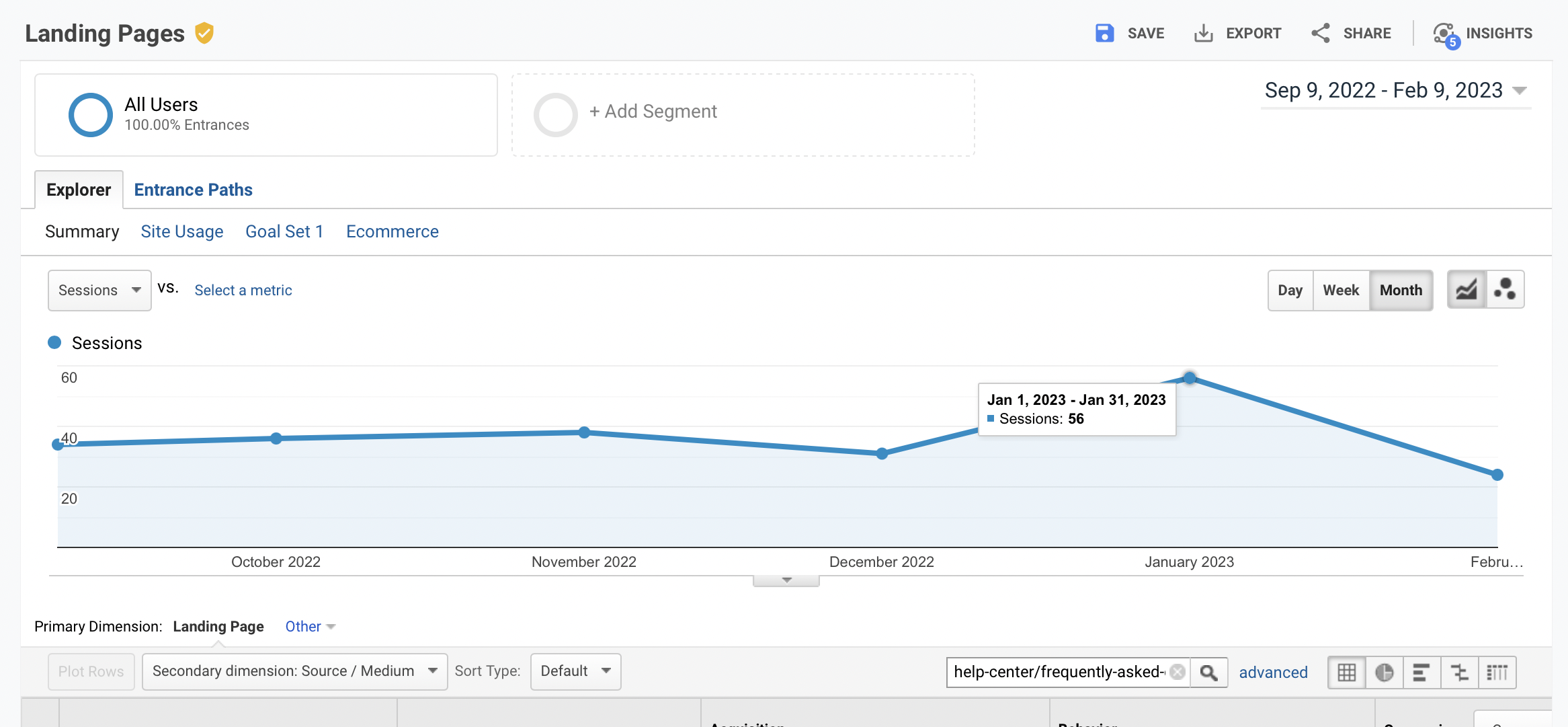 Here's another example that confirms that content marketing plus SEO definitely can help handle the growth in the leads generation process for sales.
Nebojsa Savicic, a co-founder of Plainly:
«Content marketing, combined with SEO, helped us get on the first page of the US Google results for relevant bottom-of-the-funnel keywords such as «automated video creation» (ranking #2), «video automation software» (ranking #4), «video personalization software» (ranking #5), which has resulted in a new sales and leads level.

We have created a funnel that works really well for minimum costs and that ultimately leads users to book a 15-min demo with me via Calendly. We noticed an almost 30% increase in conversions thanks to our new content approach (see the screenshot from the analytics below).

What helped us achieve it? We laser-focused on search intent and invested an extra effort to beat our high-ranking competitors and improve lead generation. A good example of this is the article that ranks for «video personalization software».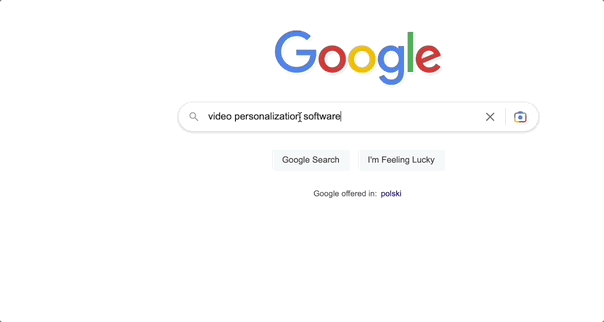 Originally, it was a lot shorter and limited to my top three video personalization software picks. We couldn't get it to rank very high. But then we realized our prospects wanted more, a true deep-dive on the topic, an actionable buying guide. So we rolled up our sleeves, tested all the tools, did a content refresh, and made it to page #1 in SERP. Today, it converts continuously on a monthly level.»
Here are a few tips for boosting the lead generation process in sales with SEO:
Research keywords that are relevant to your product or services. These keywords should be included in your website content, meta tags, and URLs to improve visibility in search engines.
Nebojsa Savicic is sure that using tools like Ahrefs or SEMRush can help with keyword research, which helps you understand people's online behavior and the search intent behind each phrase.
Make sure your site is optimized for both search engines and users. This includes a user-friendly design, fast load times, and mobile responsiveness.

Create high-quality, relevant content that is of value to your target audience. It should be optimized for search engines.

Create high-quality backlinks from other reputable websites to your own.

Track your site's performance and monitor your SEO efforts.
#4. LinkedIn for sales leads generation growth
Use LinkedIn to connect with potential clients, join industry groups, and participate in discussions to build relationships and attract prospects.
Dante White from Oppuous:
«At Oppuous, we rely heavily on Linkedin marketing. Our current strategy involves leveraging features such as messaging, groups, and content creation. We use this to interact with target audiences and build brand awareness.

Our outreach marketing serves various purposes: lead generation, thought leadership, brand building, and relationship development. For example, sales use LinkedIn outreach to connect with leads and build relationships with them over time. Marketing uses it to create and share content that positions our company as an opinion leader in the tech industry.»
How can you improve lead generation in sales using Linkedin?
Make sure your LinkedIn profile is up-to-date, professional, and reflects your brand and expertise. This will make it easier for potential customers to find you and understand your offer.

Connect with potential customers, influencers, and other stakeholders in your industry to expand your outreach and visibility on LinkedIn.

Be ready to participate in relevant LinkedIn groups to engage potential clients and share your expertise. This can help you build relationships and generate leads.

Use LinkedIn to share relevant and helpful content with your network, such as blog posts, articles, and updates. This can help you establish yourself as a thought leader and drive more leads.

Use LinkedIn's messaging and other tools to nurture leads and build relationships with potential customers. Remember that these processes take time, so be patient and persistent in your outreach efforts.

Use special tools for sales leads generation growth. For instance, Cloud Campaign for consistent and automated posting.
#5. Referral Networking to make better business lead generation
It can also be considered one of the most effective strategies for generating leads to sales. What results will you get by implementing this method?
First of all, use your current loyal customers, suppliers, industry partners, etc., to meet and attract potential ones.
Okay, let's say you've done that, but the next question comes up...
What do you do to make the lead generation technique work?
Step 1. Provide excellent service. Do everything you can to make your customers happy with your products/services. This will increase the likelihood that they will recommend you to others.
Step 2. Ask for referrals from customers or partners. Provide referral cards, incentive offers, or a referral program. Keep the process simple.
Step 3. Provide value to your referral network. Offer resources, info, or incentives to help them succeed. This will help strengthen your relationship and increase the likelihood that they will recommend you to others.
#6. Online events to generate sales leads faster
Online events (e.g. webinars) involve live or pre-recorded presentations, often with interactive elements like Q&A sessions, polls, and chat functions. They offer a unique opportunity to interact with potential customers, build trust, and educate them about the product or service being offered. By offering valuable data and insights, webinars can help to establish a brand as a thought leader in its industry and attract more leads.
Flynn Zaiger, CEO of Optimistic Social Media:
«To improve the «generate sales leads process» with webinars, you can use tools such as email marketing, landing pages, and lead magnets to increase registration and attendance.

Additionally, incorporating interactive elements, such as Q&A sessions, can help to build engagement and encourage attendees to share their contact information. Other tools that can help to enhance the webinar experience include video conferencing software, live streaming platforms, and webinar management platforms that provide analytics and tracking capabilities.»
Additional tips to generate sales leads through online events:
Clearly define your target audience, their needs, and their interests. This will help you create events that are relevant and valuable to them.

Choose the right platform for live events depending on your target audience and goals. For example, Zoom or GoToWebinar.

Promote webinars through several channels at once, including email, social media, and paid advertising. Offer incentives for participants (a discount on your products/services).

Communicate with participants during the broadcast and encourage them to ask questions and provide feedback. This will help you build relationships and establish yourself as a thought leader/expert in your industry.

After webinars, keep in touch with attendees by providing them with additional resources and information. Don't forget about CTAs - encourage them to take the next step, buy a product/service, or schedule a consultation with you.
Remember. The best methods of lead generation in sales are those that target the right prospects and provide them with relevant, valuable data. By doing so, businesses can build relationships with potential customers and eventually turn them into paying customers.
One last thing! Combine tactics to generate sales leads effectively
Not only content marketing and SEO optimization work well in tandem. You can attract leads, which will bring in sales by working with all of the above methods or with some of them simultaneously.
Use a combination of tactics. For example, leverage content marketing to build brand awareness, SEO to drive organic traffic, and LinkedIn outreach to connect with leads. It's normal practice not to get hung up on one thing.
The main thing is to ensure you have enough resources to pay enough attention to each strategy. Otherwise, it will work against you.
Summary about lead generation in sales
Lead generation in sales is the process of identifying and cultivating potential customer interest or inquiry into a business's products/services. The goal is to generate a list of qualified prospects who can be further turned into paying consumers.

To generate sales leads, you must actively develop strategies for these areas: email marketing, content marketing, SEO, LinkedIn outreach, referral networking, online events.

You can use all six tactics at once to increase lead generation and sales growth if you have enough resources to do everything perfectly.