If you are already suspended from LinkedIn, move to the next 2-4 sections to understand what to do. Then reread the piece from the beginning to consider the situation with LinkedIn bans and prevent it in the future.
Even if you aren't new to LinkedIn prospecting, you also risk seeing the error when you try logging in one day: «this account is currently restricted».
First of all, you, like many others, might skip reading LinkedIn User Agreement and Professional Community Policies. And then, when you try to use LinkedIn to its full potential — «why not?» — you get restricted.
Then, once it seems you've learned LinkedIn prescribed and unspoken rules, they are updated as well as its algorithms, and your tactics are again at risk of LinkedIn jail.
Restrictions occur even in LinkedIn premium plans and even if you set aside all automation tools. There are cases when salespeople work manually and end up with their LinkedIn account restricted for using suspicious automation.
With regard to all the unpredictability, you are still can decrease your chances of getting banned.
Read on to understand how to prospect and use automation on LinkedIn without the risk of interrupting your work or losing your account altogether.
Warning vs temporary ban vs permanent ban: LinkedIn restricted account how long until I get it back?
Based on the severity of the violation, there are 3 types of measures that Linkedin takes.
Once you approach the free commercial use limit, you will see a warning. In case you reach the limit too promptly, you might be restricted from viewing profiles that aren't your connections without initial notice.
For minor violations of other rules, you will see the notice first.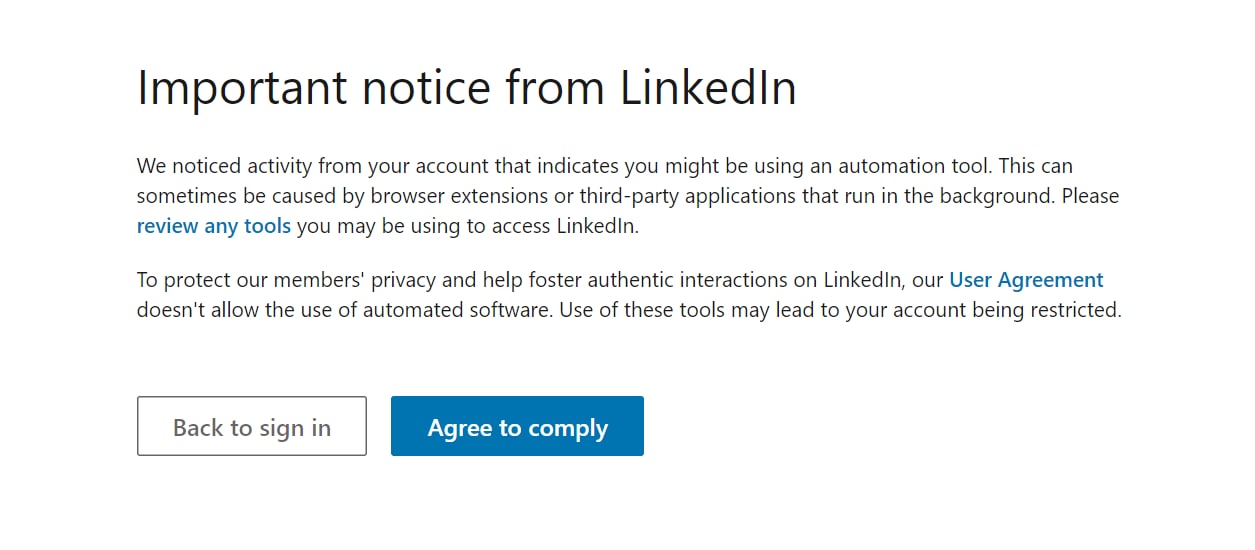 Temporary account restrictions typically last from several hours to one week. The time will be specified on the «your LinkedIn account has been temporarily restricted» error after you log in. It depends on whether it is your first or repeated restriction.
Permanent account restrictions are the result of repeated temporary bans. It's pretty rare and is still not the end of the world. You can appeal your case by following an onscreen notice once you log in or in the Help Center (see how to contact LinkedIn below). As a last resort, use an account of your employee, relative, or friend. It is very hard to bypass the LinkedIn decision and create a new account.
Once you are banned temporarily or forever, users will see the message in your profile: «this profile is not available on LinkedIn».
What happens to your LinkedIn account when it is restricted
Once you are temporarily restricted, you can't access your account while the LinkedIn team reviews the issue. In case it is your first ban, you will have your account back in several hours. If repeated — you might be suspended for up to a week. It happens because LinkedIn algorithms detect suspicious activity from your side that violates their User Agreement or Professional Community Policies.
How do you fix a temporary restriction on your LinkedIn account
Temporarily disconnect automation tools

Verify your ID if applicable

Wait till the end of the restriction period

Contact LinkedIn

Maintain honest and polite communication
Temporarily disconnect automation tools
Disconnect tools associated with your LinkedIn account. It doesn't matter why your LinkedIn account is restricted, we recommend disconnecting all LinkedIn productivity software from your account and browser. Log out and clear browser cash.
Wait till the end of the restriction period
DON'T try to create a new account. You might be detected and permanently banned.
How to recover a restricted LinkedIn account from the permanent ban?
To recover your LinkedIn activity after a permanent ban — better to use your colleague, friend, or relative account. Attempts to create a new account typically lead to a new ban.
Contact LinkedIn
There are several ways to reach the LinkedIn Help team when you have a LinkedIn account restricted.
1) Appeal the case following the instructions when you log in to your profile.
2) Use their contact form.
3) Tag their Help account on Twitter describing your case.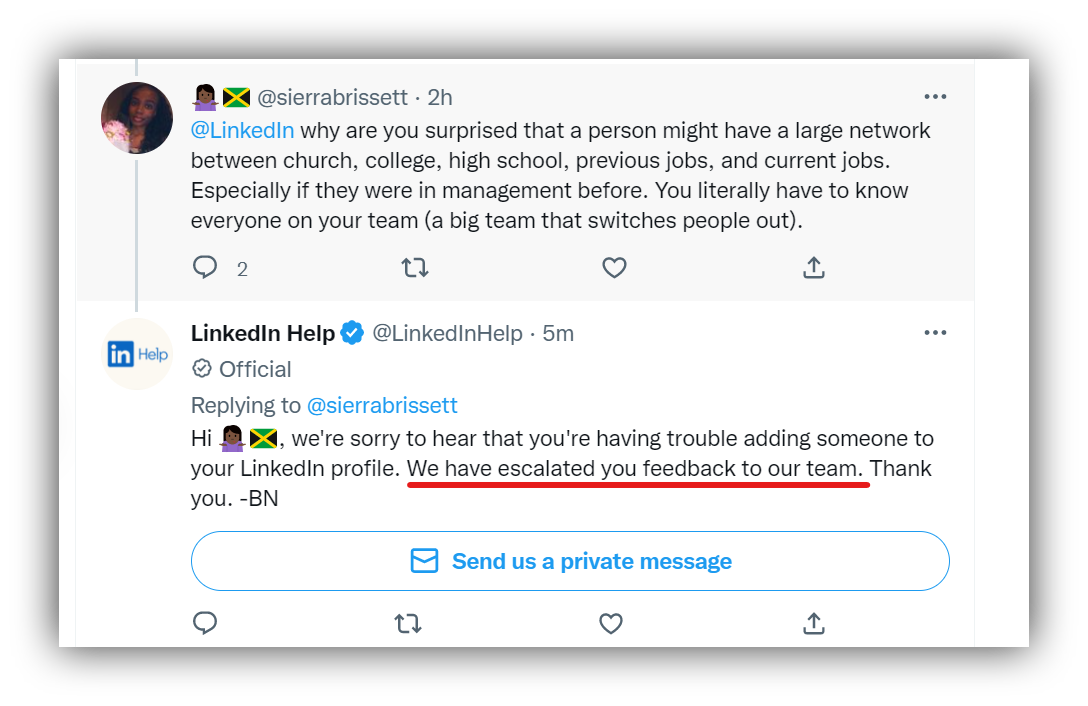 In case they don't reply, try to reach them again in 1-2 months.
Maintain honest and polite communication
Though «honest» doesn't mean telling extra information, they don't ask for. For example, it isn't necessary to share the automation tools you are using. The company already knows about it if you use them. And if you didn't, it wouldn't matter.
Ask what actions exactly lead to a LinkedIn account being restricted and seek ways to put it right.
Specify how the restriction affects you and your professional life.
What to do after you recover a LinkedIn account
1. Eliminate any prospecting activity for a week or two.
2. (Re)read User Agreement (especially section 8) — activity-related bans and Professional Community Policy — content-related bans. It is easy to read and not dramatically large. With the rules in mind, you will be able to avoid suspicious behavior during the first weeks after recovery and beyond. Because if it's the case, you might find your account restricted indefinitely.
3. Consider moving to a premium subscription and discover their limits too. If you were restricted for viewing too many profiles and sending too many invitations — this might be the best option.
4. Take a break from using automation tools — at least one week. Some tools provide safe options, such as GetProspect scan-mode, so prospects' information is saved without visiting the profile. With such tools, after 1 week, once you recover a LinkedIn account, you can start using it in safe mode for 2-3 months. Then gradually move to the regular mode.
Read the automation software reviews. You may uncover it is completely unreliable.
Consider contacting the support team of the tool and asking how to decrease the chances of being restricted again.
5. Clear pending connection requests, those that you've sent and that haven't gotten any reaction. Many pending invitations are one of the restricted account reasons.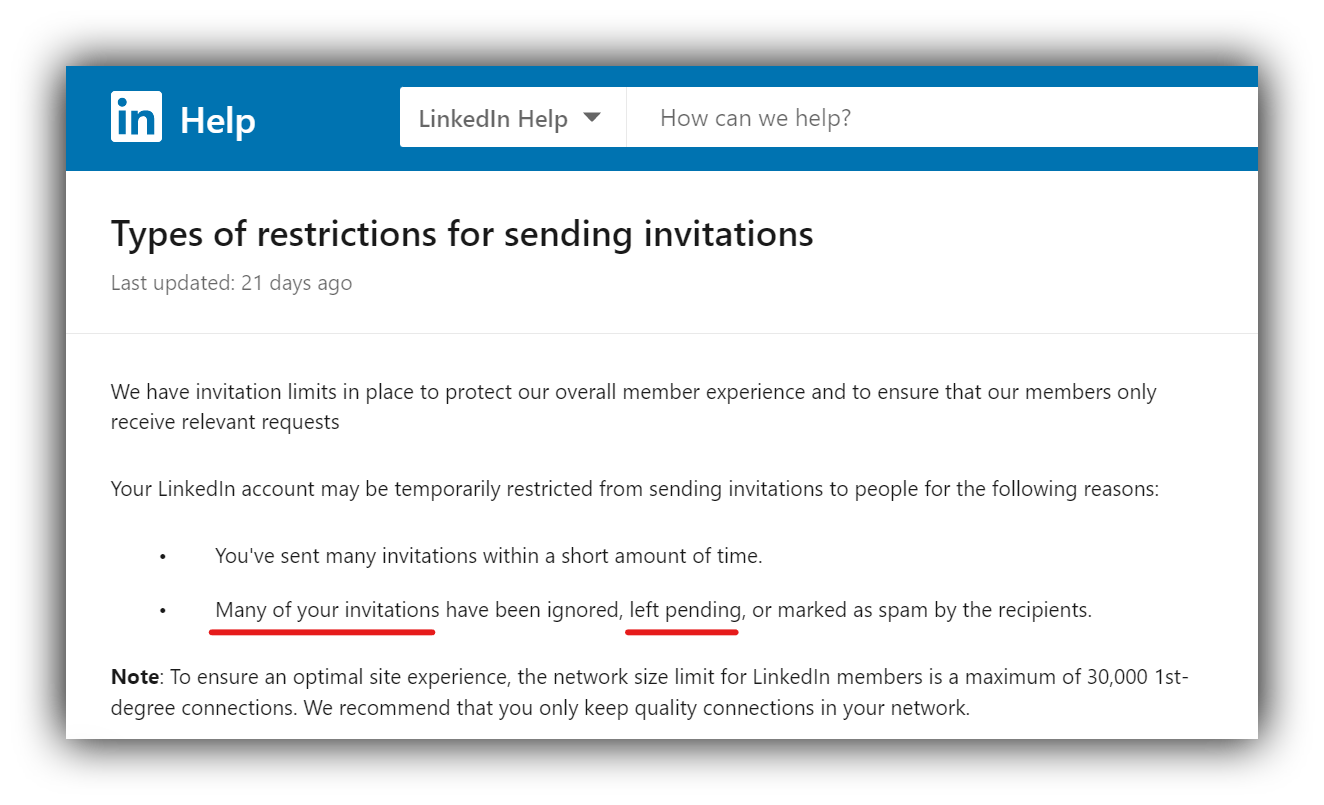 Here is how to withdraw previous invitations from your account:

↓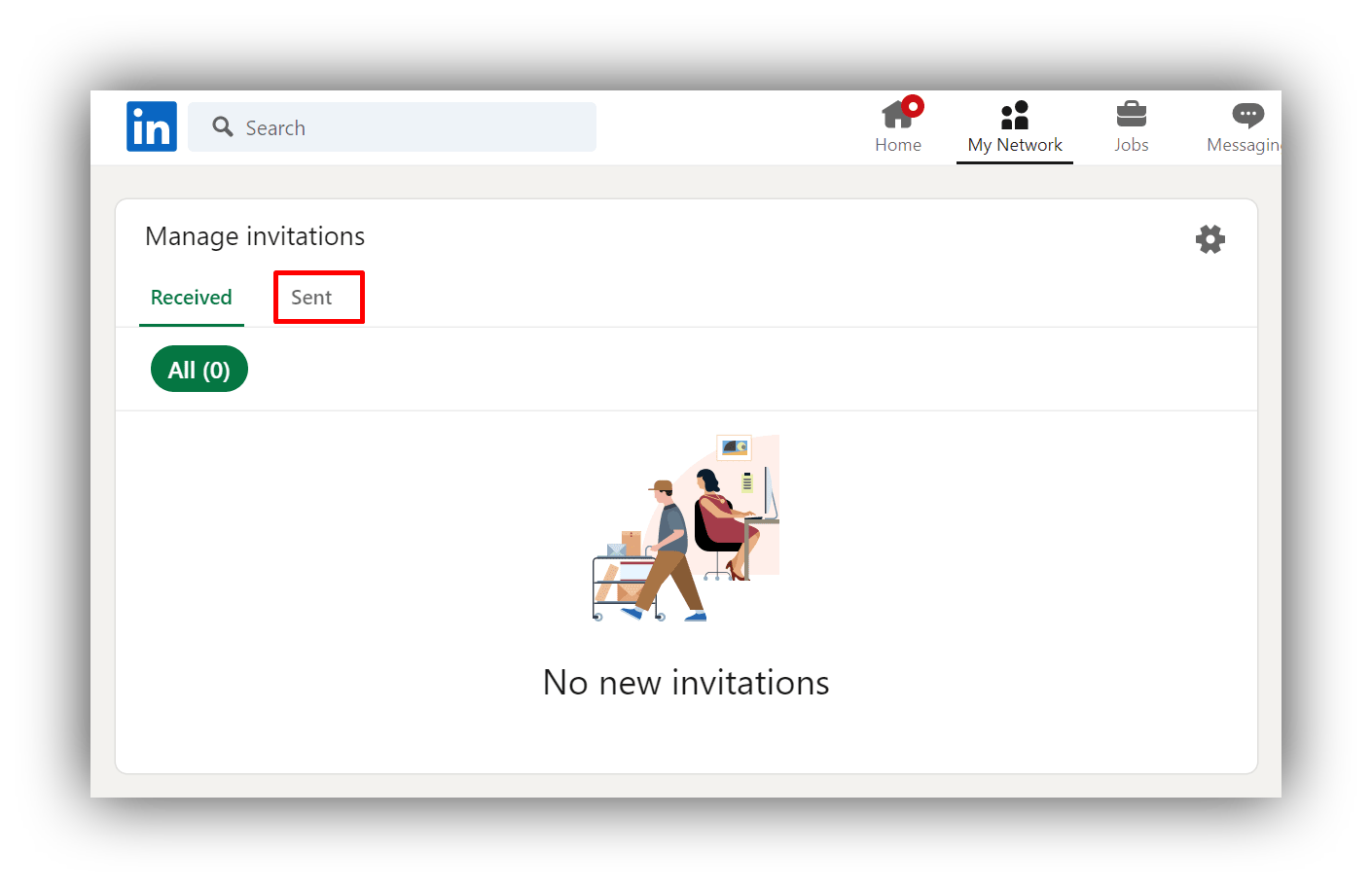 ↓

Important: once you withdraw an invitation, you won't be able to resend a request to the same user for up to 3 weeks.
6. Warm-up your account. Once you recover your LinkedIn account, you should earn your reputation back.
After a couple of weeks from recovery, start manually sending 5-10 connection requests per day. Then gradually increase it to 100 per week in the free LinkedIn plan.

At first, connect with mutual connections and users who are most likely to accept your request (we consider it in detail here).

Personalize your request by adding notes explaining why you want to connect.

Comment on others' posts, update your profile, share your own posts, participate in groups, etc.
In a couple of weeks after recovery - leverage safe features of LinkedIn tools
For example, the plugin has scan mode feature that allows the extension to scrape leads from the search page without viewing the profiles
Why is my LinkedIn account restricted, and how to prevent bans
Reason 1. Automation tools or bot-like behavior
Reason 2. Low connections engagement rate
Reason 3. Spam-like messaging
Reason 4. Inappropriate content
Reason 5. Hacking and suspicious activity
Reason 1. Automation tools or bot-like behavior
There are many helpful productivity tools and people who use them for good. Though another side of them hinders LinkedIn's mission to maintain a quality community of professionals: spamming and privacy risks.
LinkedIn is trying to protect its users from the side effects. That's why sometimes, even using reputable tools and following best practices, you may see the message «this account is temporarily restricted».
Moreover, automation tools are not the key evil :) LinkedIn also bans users with bot-like behavior. Here is an example from a Reddit user: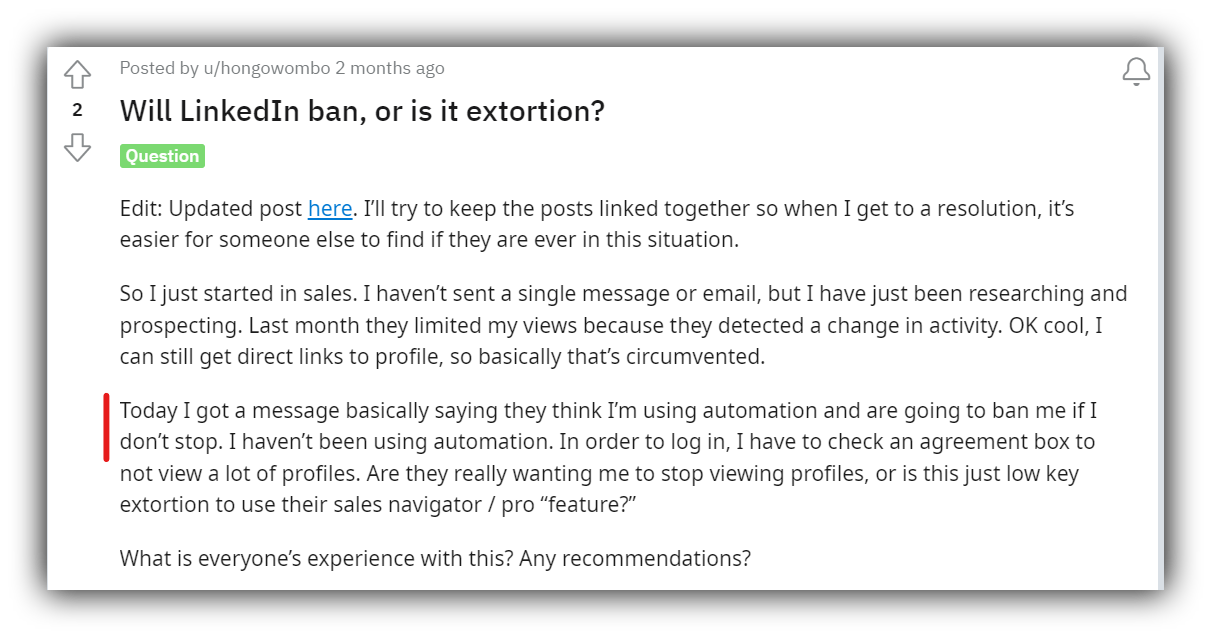 How to use automation tools and avoid restricted accounts
Note: Clearing cash or static IP won't decrease your chances of a ban, so beware of such tips.
Go through the automation tool reviews — to ensure there are no obvious negative sides of the software.
Look for other evidence that the tool is reputable. For instance, check whether Google features the extension.
Pay attention to whether the tool has protective features. For example, the GetProspect LinkedIn extension has a profile view tracker and a scan mode.
Scan mode is a function that allows our extension to scrape leads from the search page without viewing the profiles. Keep in mind that the protective feature also should be used moderately to avoid a restricted account, i.e. we don't recommend parsing 300 pages per day :)

Note

: you won't see a profile view tracker in Scan mode.

Even if you haven't received warnings and notifications that the «user has been restricted», we highly recommend collecting part of the leads using scan mode.

We are continuously adapting to algorithm changes and looking for solutions to make your prospecting on LinkedIn safer.

If you want to be especially careful, try to keep within 100 LinkedIn daily actions on the free LinkedIn plan: profile visits, invitations, and messages combined — advises Briana Dilworth, Creative Marketing Manager at Lemlist.

Leverage other similar lead gen channels. LinkedIn regularly changes its algorithms. Sometimes you may find your account restricted, even in case you follow all the tips.
If you got a warning and LinkedIn is valuable to your pipeline... consider doing the work manually. Or use other places to find leads, such as the B2B database with advanced filters, or leverage our extension to collect leads and their emails via company websites.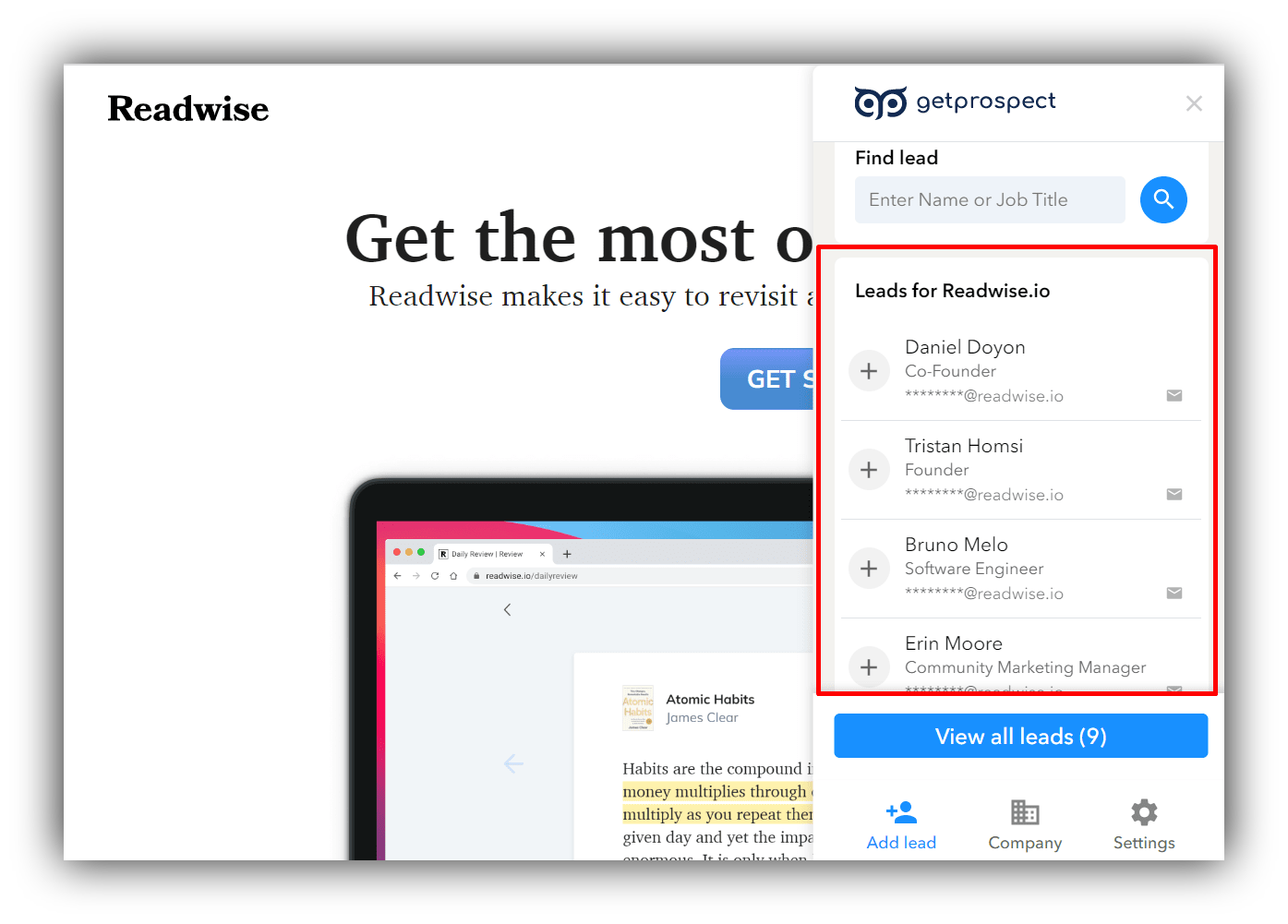 Reason 2. Low connections engagement rate
Once many recipients don't respond to your connection requests and messages, LinkedIn supposes you are a spammer. It results in your LinkedIn account being restricted. E.g., you sent recommended 100 requests per week, and around 70% of them haven't accepted your invitation.
For account safety, try to keep your # of invitations under 100 (current approximate limit) connection requests per week and an acceptance rate under 20%.
Here are some tips to avoid a low engagement rate:
Seek mutual connections. Lukasz Zelezny, SEO Consultant from SEO Consultant London, recommends sending invitations to people who have already connected with someone you know. For example, if you're trying to connect with a decision-maker at a large company, search for someone in your network who also works there. Chances are good that they'll have a first-degree connection with the person you're trying to reach.

Choose connecting with users that have something in common with you. E.g. from the same industry, region, alumni of the same NGOs, schools, colleges, universities, or companies as you.

Use groups and influencers' comments to get to know new relevant prospects.

Add in Notes why you'd like to connect with them. But don't start with your offer. The practice usually has lower acceptance rates.

Remove pending invitations. Withdraw them 1-2 times per month and try to keep them under 500. In the section above, we've discussed how to do it to avoid restricted account.

Try out different sending hours.

Make sure your profile looks reputable and has all the necessary information
Reason 3. Spam-like messaging
This activity implies copy-pasted content sent to multiple recipients. It is often left ignored or even reported as spam.
The tips to avoid your outreach being considered spam:
Make a point of building a quality list, so your message reaches relevant users.

Personalize your offer and try to stand out and look human

Limit messages even to your 1st connections. Practically speaking, it is unreal to craft 100 pieces of personalized content by one person per day. So it will look suspicious. We recommend sending up to 50 messages per day if your account is well-warmed.

Apply the rules above to InMails as well. «I can see «my account is restricted» if I send too many InMails in a short period or a single InMail to too many people. In case you have many new prospects or if you have a lot to pitch, try to send your InMails one by one. It will show you as someone who is personalizing their outreach and also give you a chance to see if the recipients open or click on your InMail.
Also, avoid InMail automation unless the other person is active on LinkedIn. Automation can be helpful to avoid manual optimization, but if the other person isn't active on LinkedIn, you are likely to end up with a restricted account». — as Matthew Ramirez, CEO, Rephrasely shared with me.
Here are the LinkedIn InMail limits for each account type.
Reason 4. Inappropriate content
I think most of the readers don't share harassing content or offer illegal products or services. Still, there are cases when you can be restricted for what seem to be innocent activities:
Comment with potentially reasonable but rude phrases

Offering free downloads such as eBooks

Reshare believed to be fake news

Offering surveys for free goods

Conducting market research
Reason 5. Hacking and suspicious activity
All the violations described above might be done by the hacker — to protect you and other users, LinkedIn considers that the user was challenged on LinkedIn and restricts your account. So LinkedIn advises:
change your password every 3-4 months

don't use the same password for many other platforms

look after the email and phone number linked to your profile. The contacts registered to your account might no longer be valid. For example, you didn't use the email, and it was compromised.

enable two-step verification
These activities related to location and IP are also considered suspicious and result in a restricted account meaning you lose account access. LinkedIn just wants to make sure you aren't hacked:
Logging from different regions within a short time frame

You forgot to sign out from your account in the office or a public computer and then another person unintentionally opened your account

Your assistant or agency that help you manage account logged in at the same time frame as you from a different location

Mass outreach campaigns in unusual hours. E.g., at night your time or on Sunday.
Preventive practices against a restricted account on LinkedIn
Warm up your account
If you are a new user, haven't used LinkedIn for prospecting before, or just recovered your LinkedIn account, you should increase your LinkedIn activity slowly.
You need the tactic so LinkedIn admins get used to your activity level and don't flag you as suspicious because of an unexpected spike of views, invitations, or messages.
For example, in case you want to save 300 leads with GetProspect, you can save 100 of them via regular mode and the rest via scan mode. Over time, you can progressively raise the number of saved contacts via regular mode.
Look into the account upgrades section
As Andrew Gonzales, President, of BusinessLoans.com, shared with me that once a LinkedIn account is restricted, one of the best ways to maintain momentum is simply to upgrade your account. This might be an obvious piece of advice, just in case — if you see LinkedIn as a profitable channel for your company and actively use it, it is worth paying for the Sales Navigator. You better spend $100 than lose your valuable account forever.
Important: even premium plans have commercial limits, so don't be too enthusiastic with your prospecting efforts. From our recent observations, Sales Navigator allows around 1800 profile views and 1100 connection requests per day if you have a warmed-up account and have used automation tools. Though the limits aren't fixed, they may change with the platform algorithms.
Add more LinkedIn accounts to your strategy
Nancy Eichler, Sr. VP of Marketing & E-commerce from iwi life, shares with me the following in this regard. «If you want to increase your business's LinkedIn prospecting efforts and avoid ending up with a restricted account, bring more of your employees on board. They can help with this initiative so that you can use multiple LinkedIn accounts rather than one.
Splitting up the prospecting duties will lessen the prospecting limits set for each account».
Summary
Review the LinkedIn rules in detail: User Agreement, Professional community policies + search for rules related to your typical activity with an account in LinkedIn Help Center

Pay special attention to warnings and temporary restrictions because you might be banned forever

Don't try to create a new account once restricted

Once you recover a LinkedIn account: warm up your account, delete pending invitations, take a break from using automation tools

The most common restriction reasons are automated activities, low invitation acceptance rate, a spike in account activity, running out of the allowed limit, spam-like messaging, hacking and suspicious activity, inappropriate content

You could be banned for using automation software even if you did everything manually

Automation tools can be used safely while increasing your productivity

To prevent a restricted account outcome, consider: moving to a Sales Navigator subscription, integrating more LinkedIn accounts to your strategy, looking after your account privacy and security, limiting your LinkedIn activity and tracking your outreach metrics
To prevent LinkedIn bans leverage safe features of LinkedIn tools
For example, the plugin has scan mode feature that allows the extension to scrape leads from the search page without viewing the profiles
LinkedIn account restriction - FAQ
What does LinkedIn account restricted mean?
LinkedIn account restriction means you will be suspended from your profile for a specified period or, in rare cases, indefinitely. It happens because LinkedIn algorithms identify your behavior as incompatible with Professional Community Policies and User Agreement.
What actions on LinkedIn cause the temporary restriction of anyone's account?
The actions may cause restrictions: you exceeded the connection or profile view limit, you are suspected of using automation software, you posted or engaged with inappropriate content, or you were hacked.
How many restricted accounts can you have on LinkedIn?
LinkedIn doesn't provide an official limit. Though we strongly discourage creating a new account. It is almost impossible to bypass the LinkedIn decision, and creating a new account will be harder each time.
How long will my LinkedIn account be restricted?
In case of a short-term ban, the restriction period will be prescribed in the message once you try to log in. In case it is your first ban, you can try logging in again in a few hours. Otherwise, your suspension may last for 1 to 7 days. After several restrictions, you might be banned forever.
How do I unrestrict my LinkedIn account?
In order to unrestrict your LinkedIn account, you may: wait till the end of the restriction period, fill the help center form (keep in mind they might review your problem up to 5-7 days), describe your case and tag @LinkedInHelp on Twitter, appeal following the notification after you log in.