We won't lie to you that Snov.io or any other alternative is perfect for all cases and companies. Snov.io has more features and is cheaper. While GetProspect has a more accurate database (more valid emails) and is far easier to use.
Some GetProspect users don't choose between the two products and use several alternatives. It isn't a problem with integrations and import/export opportunities.
In the article, we will offer alternatives for various companies and cases and go deeper into Snov.io vs. GetProspect comparison. 
Email prospecting tools like Snov.io
1. GetProspect.
Snov.io and GetProspect can look similar in some aspects. Read the detailed comparison in further sections. 
Perfect for: collecting LinkedIn emails in bulk, safely sending cold emails
Top features: 
Extensive B2B database with 17 filters and actual emails

Automating cold outreach campaigns

All-in-one email finder Chrome extension for LinkedIn and websites — worthy Snov.io alternative.

Google Sheets add-on
Price: Free plan includes unlimited users, 50 emails, 100 verifications, 1 email account for cold emailing, 1 sequence. Paid plans start from $49 per month.
Test our new database filters to find high-quality leads
Now you can sort prospects by technology, department, founded year, company and contact keywords, industry, seniority, domain, job title, etc.
Try for your niche
2. RocketReach.
Perfect for: getting professional and personal emails and phone numbers.
Top features: 
Extension to collect contacts on websites, CrunchBase, AngelList, Google, and Linkedln.

Targeted search. There are dozens of filters, including education, location, revenue, and industry. 

Bulk contact search — efficient alternative to Snov.io. Upload your list and get detailed professional data and contact info such as phone numbers and social media profiles (Twitter, Facebook, LinkedIn).
Price: For emails only — $80 per month per user for 80 emails. A monthly plan is 50% cheaper if paid annually. For emails and phone numbers — $150 per month per user for 200 searches. A monthly plan is 30% cheaper if paid annually. The team subscription (up to 5 users) and enterprise have custom pricing.
3. Hunter.
Perfect for: finding emails from websites and simple cold email campaigns.
Top features: 
Finding and verifying emails one by one and in bulk

Automating cold outreach campaigns

Email finding extension for Chrome, Firefox, and Edge to locate emails on websites — worthy Snov.io alternative.

Google Sheets add-on
Price: Free plan includes unlimited users, 25 emails, 50 verifications, and 1 email account with 500 recipients. Paid plans start from €49 per month.
4. Apollo.
Perfect for: locating leads with high buying intent (1600+ topics), Salesforce, and Hubspot integration.
Top features:
Data enrichment to get detailed data about each prospect from your list.

Job changes and buyer intent alerts

Top Snov.io alternative in providing sales workflows (rules engine builder, dialer, call recordings, custom stages, and advanced reports)

Cold email campaigns 
Price: Unlimited emails, 5 phone numbers, 10 contacts to export, 250 emails to send daily for free. Paid subscription starts from $49 per user per month and is $10 cheaper per month if paid annually. You can set a custom number of credits and the corresponding price.
5. Lusha.
Perfect for: direct and landline phone numbers of decision makers.
Top features: 
LinkedIn Chrome extension

Solid B2B database

CRM data enrichment
Price: 5 free credits for emails, direct, and landline phone numbers — available only for one user. Paid plans start from $39 per month per user (up to 5 users) for 40 credits. 
You cannot manage your lists in the free plan, in comparison with Snov.io, GetProspect, and many other alternatives. You can access job change alerts, buyer signals, and technology information only on custom plans. 
6. ContactOut.
Perfect for: recruiting, finding contacts on GitHub, and candidates' personal emails
Top features: 
Candidate database

LinkedIn extension

Data enrichment — get structured data out of your LinkedIn profiles list

Choose the alternative to Snov.io for email campaigns embedded in the extension to send emails, not leaving the LinkedIn tab.
Price: 40 emails and 5 phone numbers — for free. The paid subscription starts at $29 for 150 emails and 15 phone numbers. You can use the tool with Recruiter Lite and other LinkedIn premium accounts only with a Sales plan for $99 per user per month.
The features of Snov.io vs. GetProspect
Snov.io email finder vs. GetProspect email finder
With both tools, you can:
Get emails from name+company individually or in bulk

Get contacts and data from single and multiple domains

Get contacts from LinkedIn URLs individually or in bulk
The email finder feature in email prospecting tools like Snov.io is evaluated by a discovery rate metric. It means for how many emails the status is known — it is valid, accept-all, and invalid. The metric evidences how extensive your database is.
GetProspect discovery rate ranges from 50 to 80%. It varies based on the niche and job title. Based on our last analysis, the Snov.io discovery rate is around 80% too.
Snov.io credits are spent on identification if the email is valid or invalid. It means you will be charged both for valid and invalid emails.
You will lose money and, more importantly, time on useless emails. 
GetProspect, as the efficient alternative to Snov.io, charges for valid emails only. Soon, we will have a large update, and you will see only valid email addresses.
Email look-up time
I ran several tests with a single prospect, and Snov.io was faster than GetProspect. It isn't always an advantage, though.
Email verification is a considerable part of the email-finding process. It involves dealing with third-party systems. 
If the email prospecting tools like Snov.io give you an email too fast, it means the email isn't verified in real-time. The fact, in its turn, signals that the status may have changed during the storage time, e.g. from valid to accept-all or invalid. Misleading information might damage your deliverability.
You can find details about what is behind email discovery speed + comparison with other email finders in our Help Center piece.
Snov.io email verification vs. GetProspect email verifier
The functionality is pretty similar in both tools. There is individual and bulk email verification. An important characteristic to compare is the deliverability rate. It means how many valid emails won't bounce during an email campaign. 
Snov.io reassure you will have up to 98% deliverability with their emails.
GetProspect, a Snov.io alternative, also guarantees 98% deliverability. Actually, it isn't feasible to reach 100% with our approach to finding the email data. GetProspect software «guesses» emails based on the patterns of how domains create email addresses. 
GetProspect also makes additional verification after you save contacts. In a while, some emails may turn from accept-all to valid.
The 98% deliverability implies a 2% email bounce rate. The acceptable bounce rate is set by email-sending software. Typically for cold emails, it is under 10%.
Snov.io extension vs. GetProspect extension
Snov.io has 2 separate Chrome extensions for saving leads and their emails — Email Finder and Li Prospect Finder. The former is for websites, Google, Twitter, and Yelp, and the latter is purely for LinkedIn. While GetProspect has an all-in-one extension — website + LinkedIn email finder. It is one of the reasons why GetProspect is the best Snov.io alternative.
The Snov.io Li Prospect Finder is quite cumbersome to install. This is what I see when I click on the button to install the extension.

Note: Typically, companies provide manual set-up for tools that are blocked by Google and can not be published in Web Store.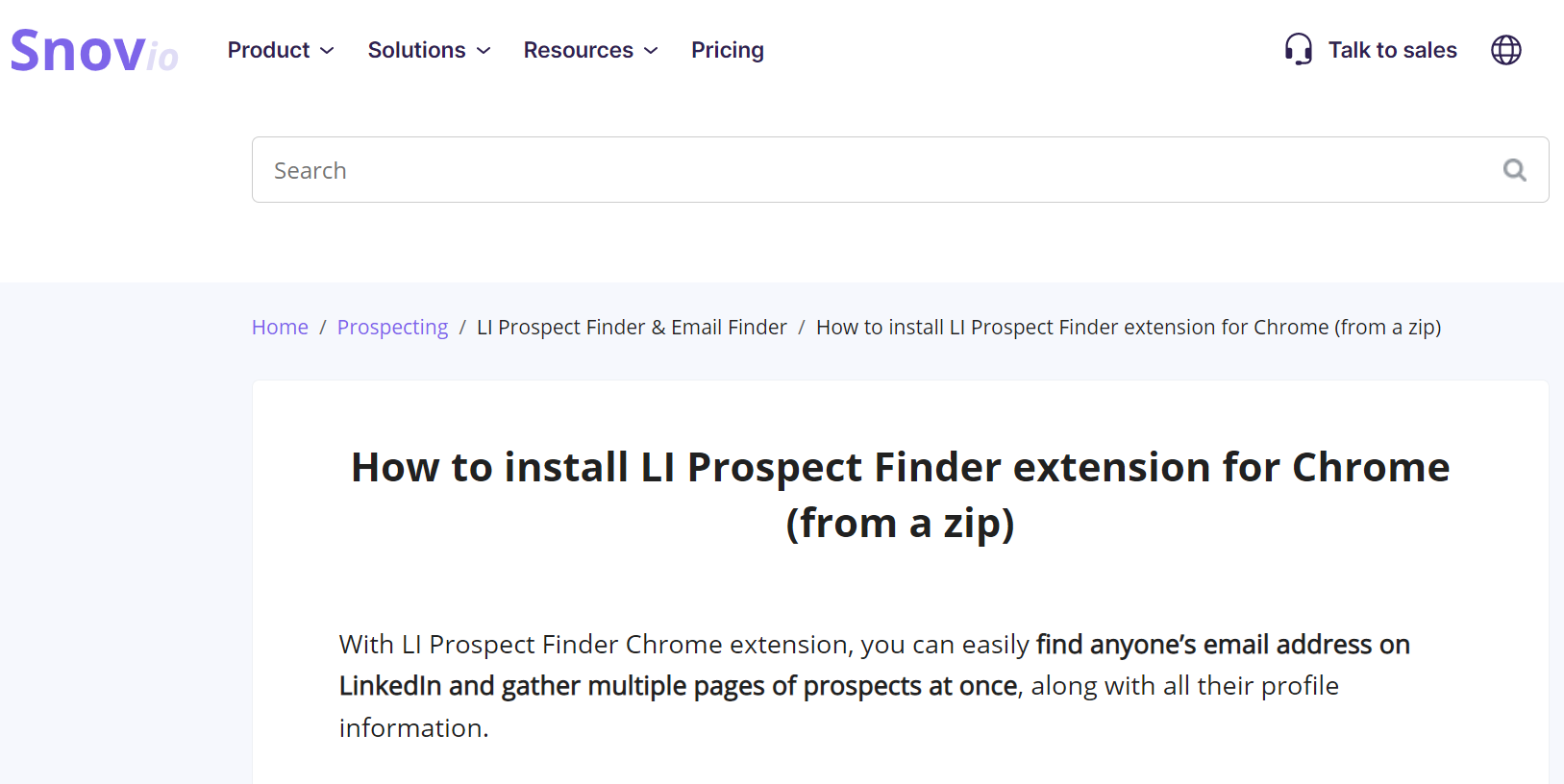 During my experiment with the Snov.io extension, I faced one inconvenient moment. When you click to save several leads from a LinkedIn search, a new browser tab automatically opens to download them. In GetProspect, you save emails in the same LinkedIn tab.
LinkedIn safety features
You've probably heard that the rules about LinkedIn automation tools have been getting stricter since last spring. It considerably influences the market, and such software companies try to make your prospecting more reliable.
The best Snov.io alternative, GetProspect, offers safety features for saving LinkedIn leads. The tool has a profile view tracker and a scan mode. The first feature allows you to control how many profiles you visit.
Scan mode is a function that allows our extension to scrape leads from the search page without viewing the profiles. Remember that the protective feature should also be used moderately to avoid a restricted account, i.e. we don't recommend parsing 300 pages per day :)
The Snov.io alternative customers are increasingly using Scan mode — only for the last month, the number of users has grown by 50%. Here is how the feature works:
To make your LinkedIn prospecting even safer  —implement practices from our guide. 
Note: you won't see a profile view tracker in Scan mode.
Snov.io has the following safety features for their LinkedIn extension. You will see advanced search settings when you save several contacts at once. Here you can increase timeout between profile visits, making your activities more human-like. Besides, you can limit the number of pages to save. The best Snov.io alternative, GetProspect, has the option too.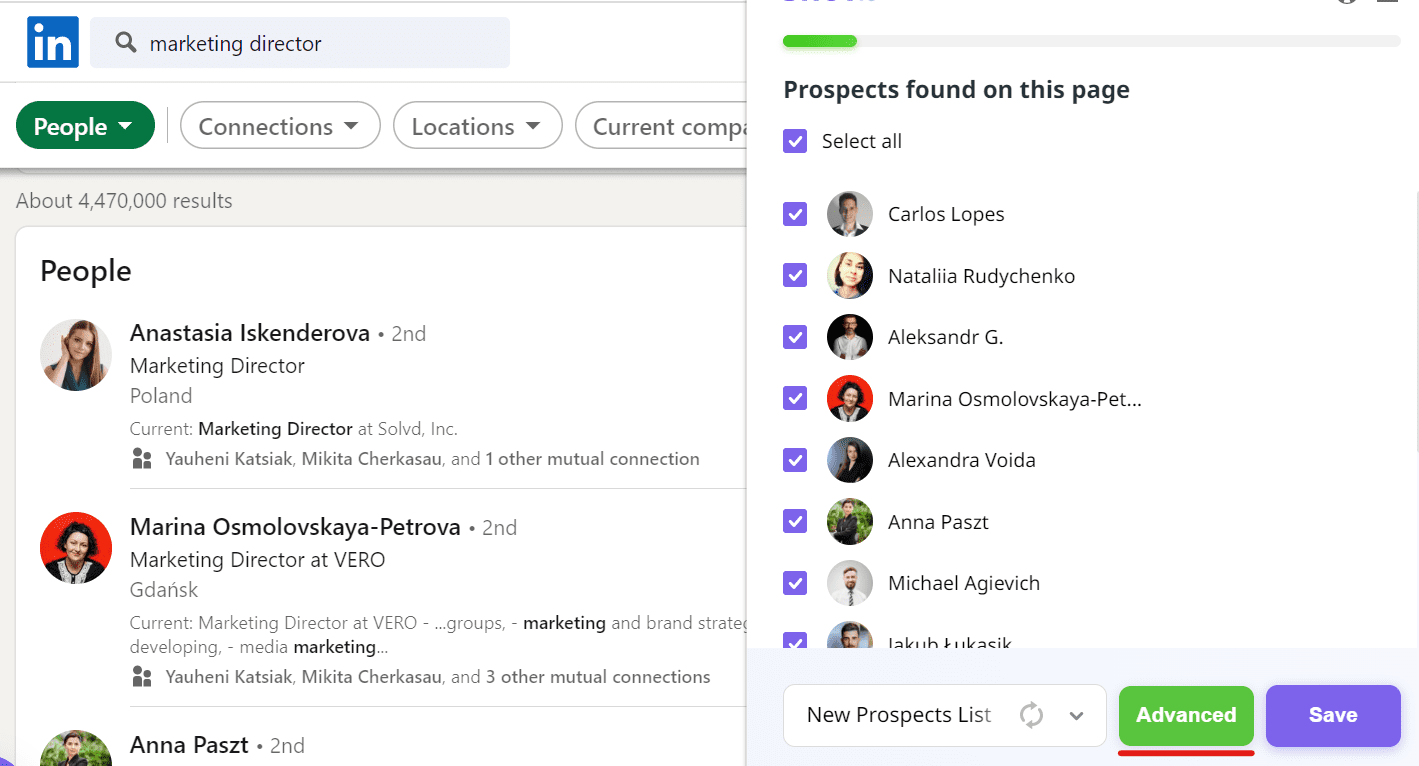 The tool also stops saving new contacts once you reach the preset daily limit of 150 people for the Free LinkedIn account, 550 for Premium LinkedIn, and 1550 for Sales Navigator.
Snov.io Email Finder extension
Getting contact information from Twitter profiles and Google search results is really convenient. From Google, you can save only companies. Saving emails is a premium feature. GetProspect doesn't have such options yet. 
Talking about Yelp, it didn't work as intended during my experiment. From their help pages, I understand that it is supposed to save company info. Once I opened it, instead, it offered me to save all Yelp employees' contacts.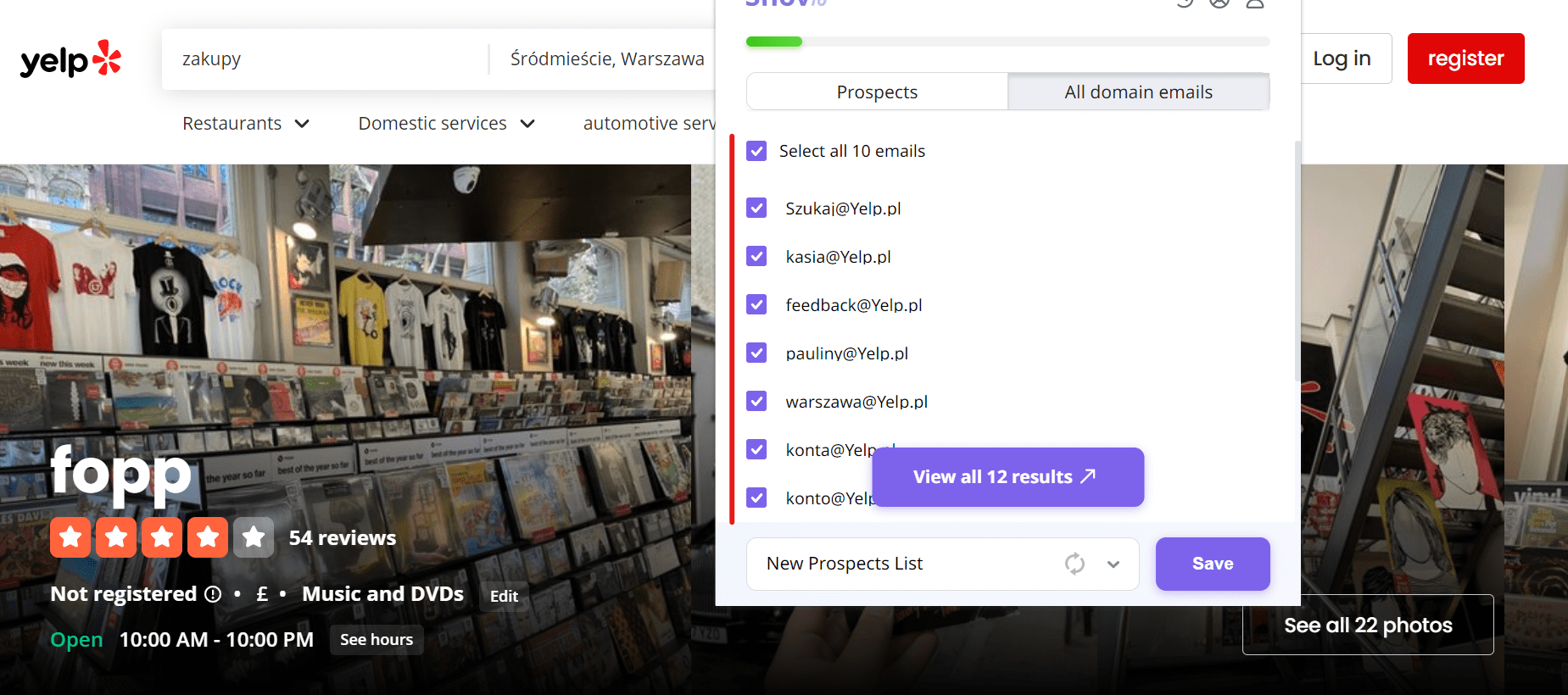 Snov.io website technology feature vs. GetProspect
The option helps to learn what CMS, email tools, CRMs, e-commerce software, programming languages, and other solutions are used to create, run or manage a website.
Snov.io has a separate tool — Technology Checker. You will get a list of organizations that use specific technologies.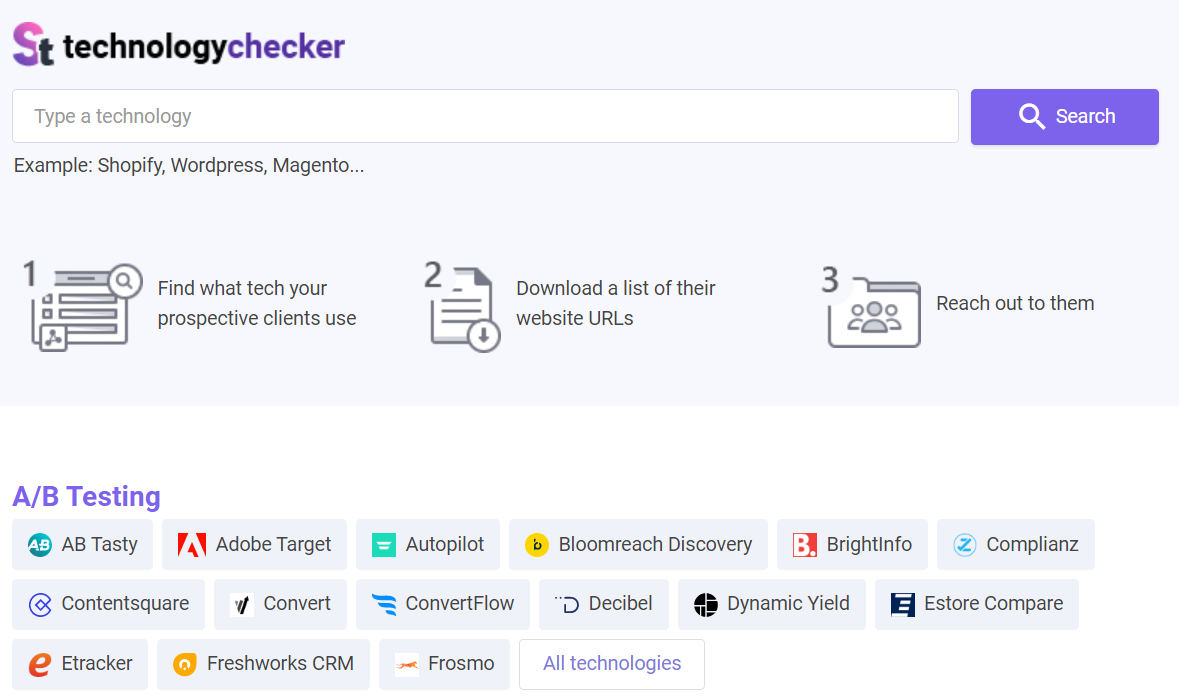 There is also a separate Chrome extension for the feature— Website Technology Checker.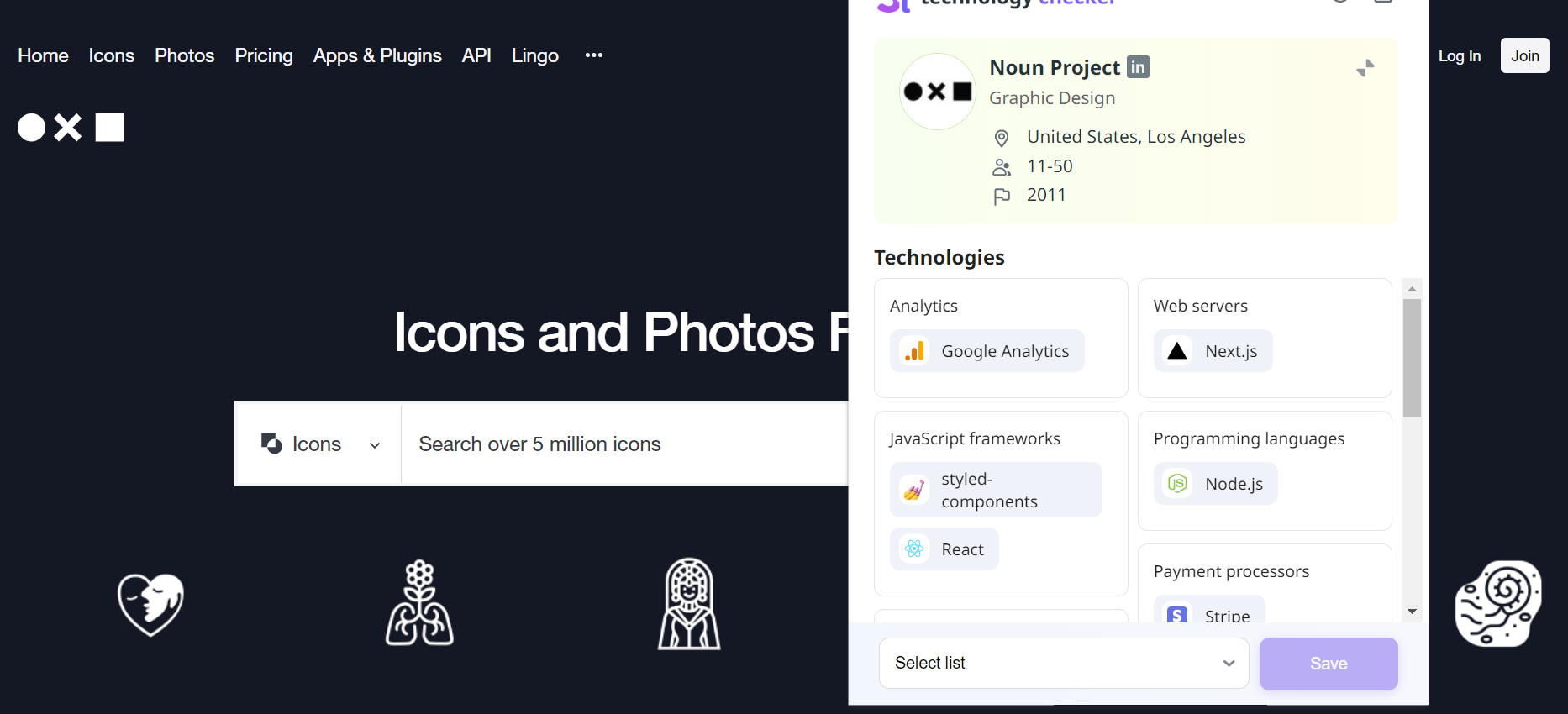 GetProspect has the feature in its B2B database. Choose the alternative to Snov.io, so that you can filter companies from the database or your list of contacts to locate companies using this or that tech.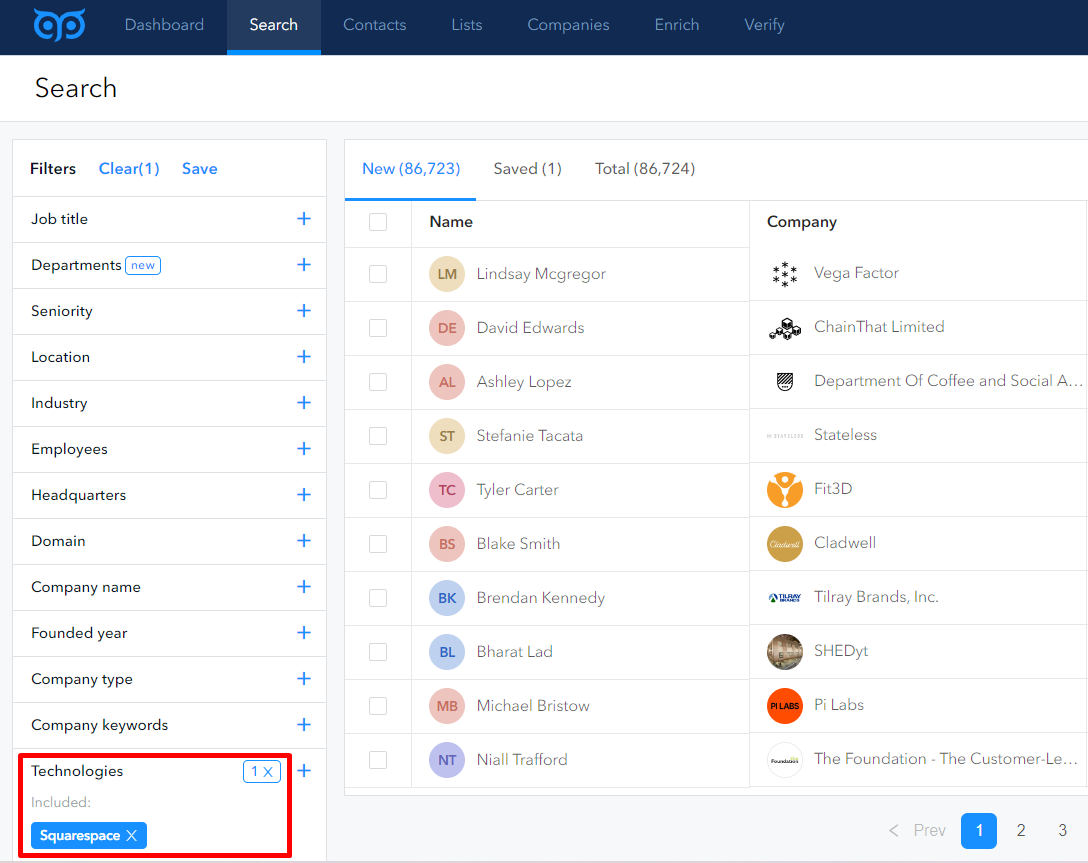 On top of this, you can also get to know company tech with the extension. Open it and head to the Company section → scroll to the Website analyzer section.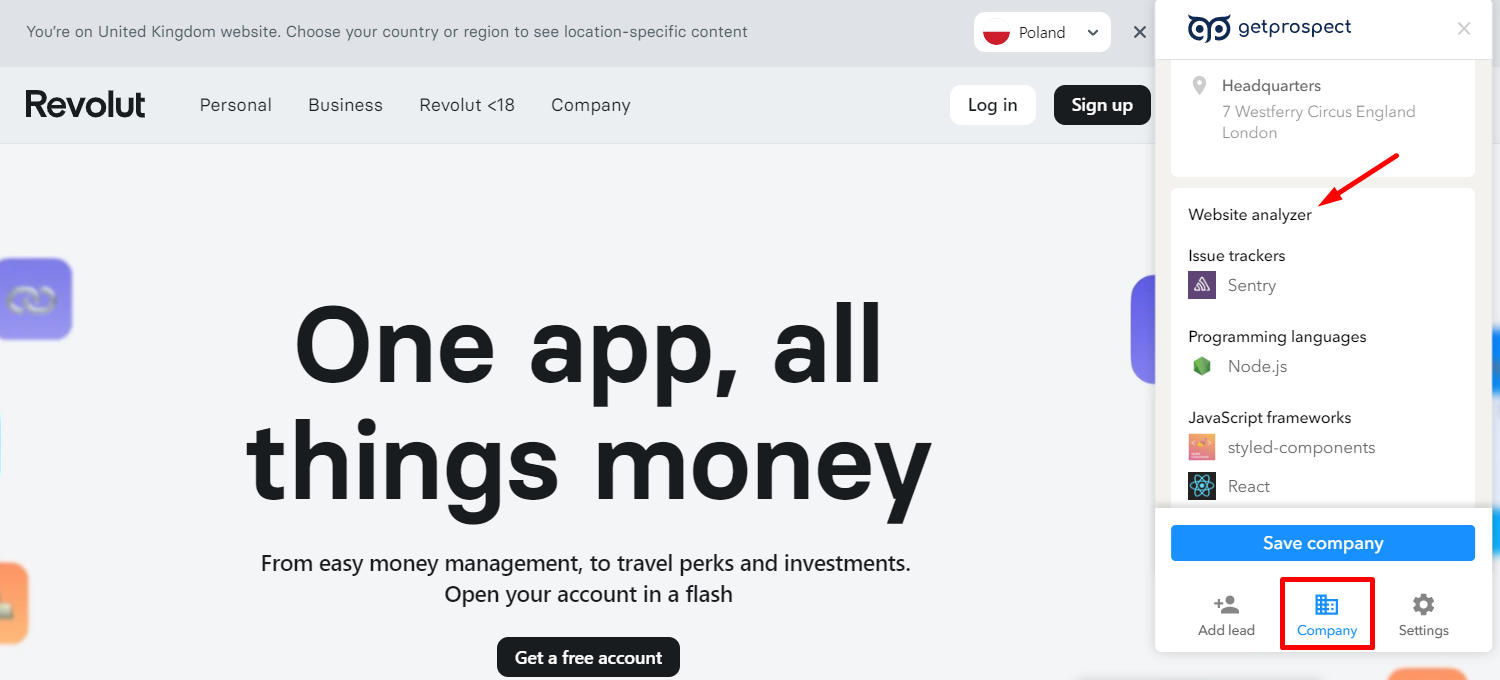 Pricing
Snov.io has 4 main pricing plans. They differ in the number of credits, email outreach recipients, and warmup mailboxes. Note that Snov.io email verification charges 0.5 credits per contact.
Trial. It is a free renewable option. You will get access to 150 credits, 100 recipients and 1 email account warm-up monthly. 

Starter — $30/mo for 1000 credits and 5000 recipients, a warm-up for 1 email account.

Pro — $75/mo for 5000 credits and 10 000 recipients. You can get more credits for a higher price in this plan.

Custom — starting from $999. Includes prospecting and outreach services.
GetProspect has 5 plans. They differ in the number of valid email search credits and verifications, and the number of email accounts you send your campaigns from. The full stack of cold emailing features is available starting from the Basic plan and upwards.
Free — 50 valid emails and 100 verifications. In comparison with Snov.io, you can search by LinkedIn URL in the free plan. 

Starter — $49/mo for 1000 valid emails and 2000 verifications. 

Basic — $99/mo for 5000 valid emails and 10 000 verifications

Plus — $199/mo for 20 000 valid emails and 40 000 verifications

Pro — $399/mo for 50 000 valid emails and 100 000 verifications
You can calculate what pricing plan suits your needs here. Just scroll down.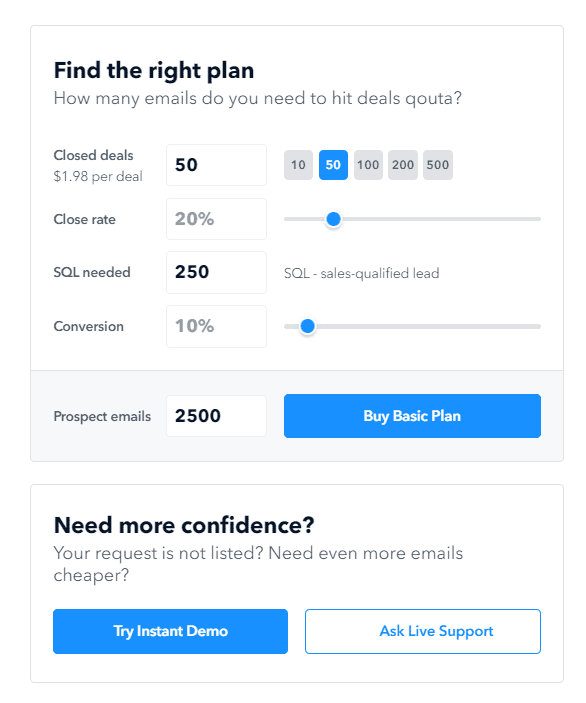 Why GetProspect, the Best Snov.io Alternative: summary
GetProspect is the best Snov.io alternative in terms of time and money — you are charged for valid emails only, more in-depth email verification, and ease of use (e.g. you need one extension instead of 3 Snov.io extensions).
In GetProspect, credits are charged for valid emails only, while in Snov.io — for identification of the email status (i.e. as for valid as for invalid).

Snov.io has 3 independent extensions: for LinkedIn, for websites, and for checking website technology. While GetProspect is an all-in-one Snov.io alternative: LinkedIn email finder, website technology check, and getting emails from websites. 

GetProspect has a Google sheets add-on (find emails directly from google sheets)

Snov.io has an email warm-up tool. 

Both tools have a cold email campaign feature. In GetProspect, the worthy Snov.io alternative price depends on # of email accounts, while Snov.io charge for the  # of recipients.

GetProspect has 17 filters in its B2B database for the more targeted search
Test our new database filters to find leads for your niche
Now you can sort prospects by technology, department, founded year, company and contact keywords, industry, seniority, domain, job title, etc.
Try for your niche
Check the video overview of both tools to get an idea of how they look and work.
GetProspect — top Snov.io alternative
Snov.io
Snov.io email finder alternatives - FAQ
What does Snov.io do?
Snov.io lets you automate email outreach, unearth potential clients' contact information, and organize your sales process. Snov.io platform includes a collection of tools for finding and verifying emails, warming up your email accounts, and launching email campaigns.
How much does Snov.io cost?
The monthly fee for Snov.io starts at $30. There are 3 main subscription plans: Starter, Pro and Custom. Pro has 3 suboptions based on how many emails you need to get: from $75 to $554. The starting price for custom plans is $999.
Is Snov.io legit?
Snov.io is legit since it complies with GDPR and CCPA. The personal information you use for outreach is collected from publicly available sources. The tool provides the data so prospects can get offers based on their business interests. Any lead can withdraw their data from Snov.io by request. 
How does Snov.io get their data?
The data provided by its customers

Collected or generated with Snov.io tools

Found on the public web
Where does Snov.io get data?
Snov.io acquires its data from their registered users, generate with its tools, or finds it from publicly available sources, including social media. If you or your prospect need further explanations, contact the Snov.io support team at [email protected] or via live chat.