How does it work and why is it better than canceling?
If you need a short break in the usage of GetProspect to process all extracted leads or due to seasonal aspects of your industry, you can set your subscription on pause for up to 3 months.
The important features of pause are:
You can set it up from 1 to 3 months.
You will receive a 30% discount for the first month after the pause if your pause was min. 1 month.
Discount is applicable not only for the current plan but also for downgrade/upgrade.
The plan will be renewed automatically once the pause period expires. We will notify you 7 days prior to renewal.

The pause will be initiated after the end of your paid subscription plan.

While on pause, you will be able to use our services under the Free plan after the end of billing period for your current plan. Please note, unused credits do not roll over to the next month.

You can resume your subscription plan manually anytime during the pause.

You can cancel your subscription anytime during the pause.

Subscription can be paused not more than 1 time per 3 months.

Only the admin of the workspace can pause the subscription plan associated with the workspace.

Pause is available only for monthly plans.
How to pause your subscription plan?

To pause your subscription, you must go to the Billing section of your profile settings.
Under your subscription status, you will see the Pause button between the Reset and Cancel buttons.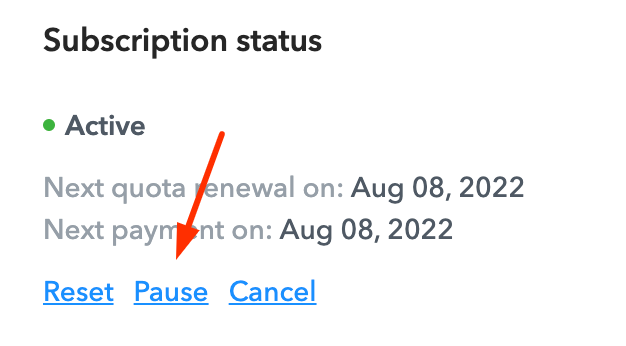 Once pressed, you will be redirected to the window where you can choose the time period for pause.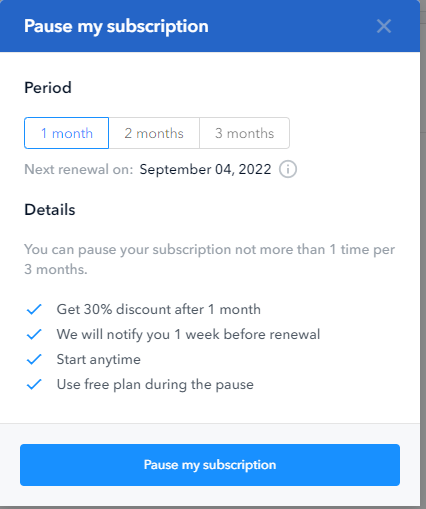 After setting the pause for subscription plan, you will be set to the Free plan until you manually resume your plan or the term of pause ended.
Your plan will be reflected as Paused and you Subscription status will contain 2 dates:

1. Next quota renewal on - date of credits renewal for your free plan.
2. Next payment on - date of your pause expiration, which will follow with automatic payment for renewal.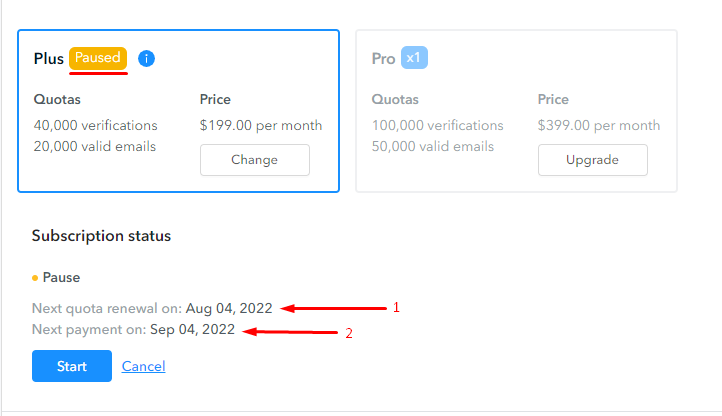 If you want to manually resume your subscription, you can press Start button or you can press the Change/Upgrade buttons if you require an upgrade/downgrade.