Main components of our Pricing plans
Our plans are differed only by the quantity of emails and verifications and not by diversity of features. All our plans (including the Free plan) provide equal access to all our features (contact database, email scraper extension, Google Sheets email finder add-on, CRM, etc).
You can check the pricing of our plans here.
All our plans consist of these main components:
# valid emails - the number of valid emails (email search credits) you can save within the billing period of the plan. We charge only for contacts with valid emails, so the email credit is spent only when you add a contact with a valid email.
# verifications - the number of emails you can verify per month(verification credits). This is related to our separate verification feature, which you can use by following this guide to verify emails obtained outside of GetProspect or your old records. All emails that you find via our search options are verified automatically and emails found via our search options (extension, Google Sheets add-on, database) are not counted against this limit.
Unlimited accept-all emails - since we charge only for contacts with valid emails, contacts with accept-all emails are added for free until you exhaust the limit of valid emails provided by your plan. Once you added all valid emails provided by your plan you can not add contacts from the search independently on the availability or status of their email. Here you can read about our email verification statuses and how accept-all emails are different from valid emails.
Unlimited users - you can share your plan and data with an unlimited number of teammates by adding them to your workspace.
Let's sum it up with an example of a Free plan.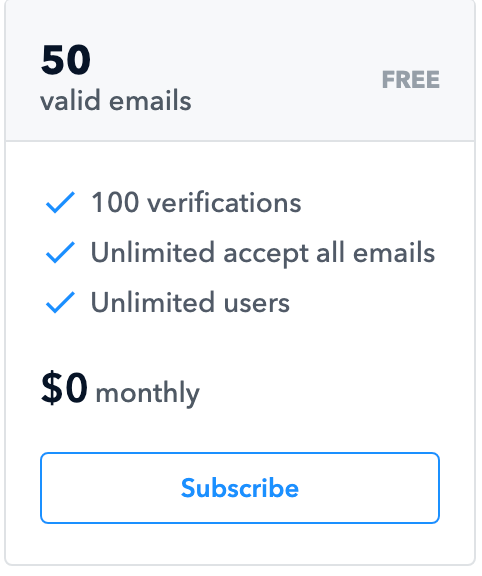 With this plan you can:
save up to 50 valid emails per month;
verify 100 emails per month;
add an unlimited number of accept-all emails until you add 50 valid emails from the search;
add an unlimited amount of teammates to share your plan and data with them;