Using the GetProspect Chrome extension, you can add leads from LinkedIn searches. For that, you can use different types of LinkedIn accounts:
Here is a step-by-step guide on how to begin your search using LinkedIn Basic Search:
1. Install the GetProspect Chrome extension
Follow the link and install the extension into your Google Chrome browser. Press Add to Chrome button.

2. Start searching on LinkedIn
First of all, sign in to your LinkedIn account. Now you can perform a search on LinkedIn and input your search criteria. Learn how to search for people on LinkedIn.
For example, let's search for CEOs in the US. After the search, you can click on the blue button to bring up the extension window.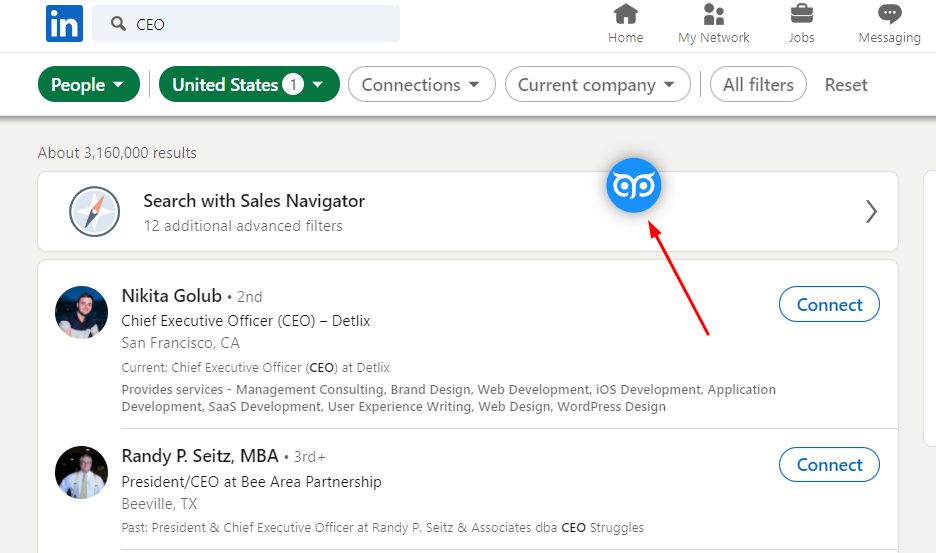 3. Selecting and saving the leads

You can select a list to save the leads to by entering the name of the list into the Save leads to list field. You can also just begin typing the name and it will pull up suggestions, or you can create a new list.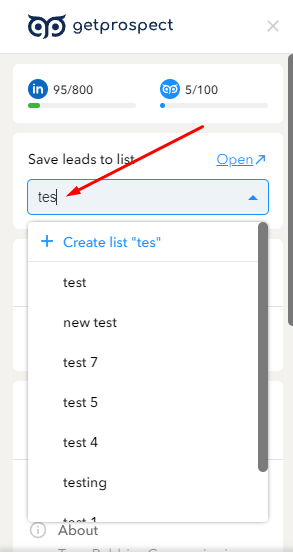 After that, there are a few ways you can use to Save the leads:
Select leads manually by selecting GP checkboxes next to their profiles and then click on the Save leads button inside the extension window.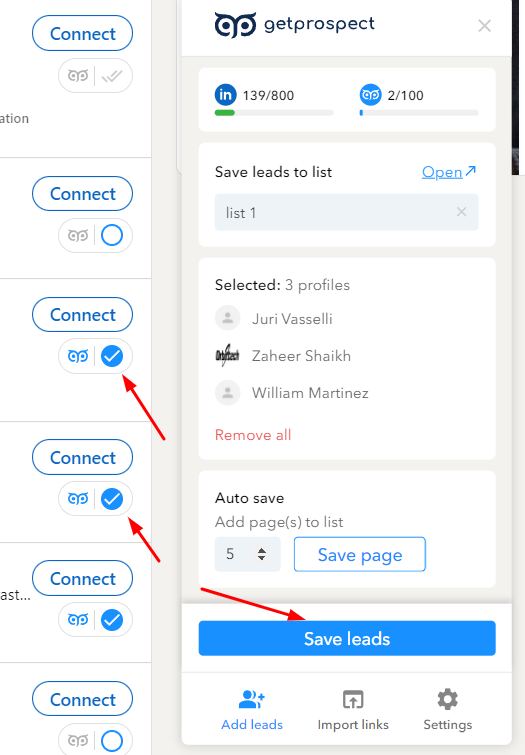 If you need to save most of the leads from the page, but not all of them, you can press the Select All button and unmark those few contacts that you don't wan't to save.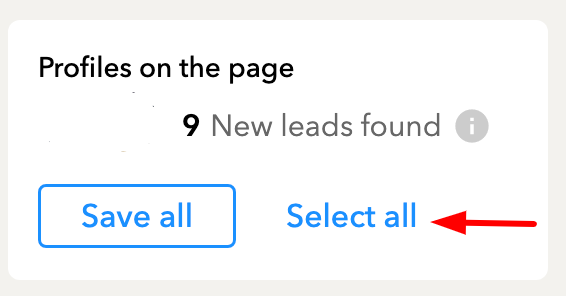 Save all leads on a page by clicking on the Save All button in the extension window.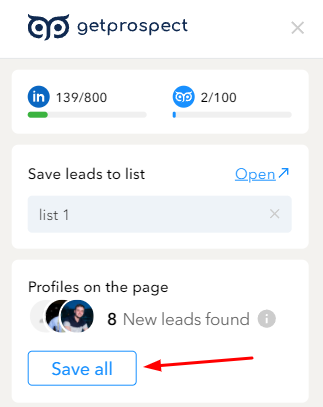 Save multiple pages by inputting the number of pages in the Auto save field and click Save Page in the extension window.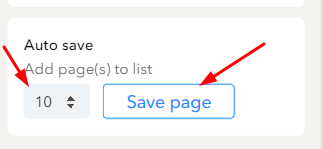 Important Note:
To keep your LinkedIn account active, the extension allows viewing 800 leads per 24 hours. To save more per 24 hours, use Scan Mode.
LinkedIn allows viewing maximum 1,000 leads per search. Learn what to do if you have more than 1,000 leads in your search results.
The extension won't let you save leads if you reach the limit of discovered emails for GP account according to your plan. You'll need to update your plan or upgrade to bigger.
It's not possible to save leads without discovering their email addresses.
Keep the Google Chrome tab open during saving leads in LinkedIn; otherwise, Google Chrome will stop adding and will continue when you open this tab.
4. Avoiding duplicates
GetProspect system always checks the leads for duplicates. The leads that were saved earlier won't be added to your account again, therefore you won't be charged any credit.
You can see if the lead had been saved before. The checkboxes beside such leads will be greyed out, so you won't be able to add those leads again.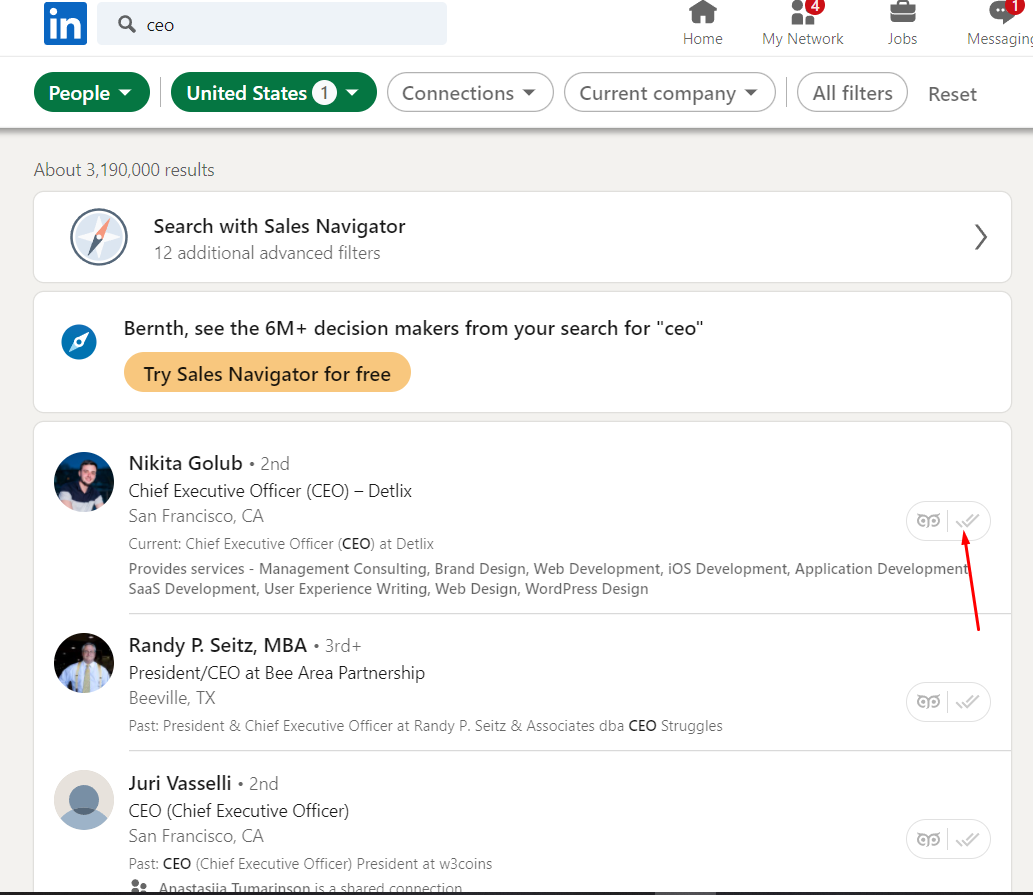 If you have leads from other apps that you don't want to add again by GetProspect, you can upload CSV with them. Check how to upload this file.
5. View and export saved leads with emails
After saving leads in the plugin, you'll be able to view them with emails inside GetProspect at Contacts page.
You can view, export, delete or move them. Learn more about how to manage your contacts. On the top right corner, you'll see an Export button. By clicking on it, you can export the current view of contacts into CSV or XLSX file. Learn how to export the contacts.

6. Extension settings

The Settings tab can be accessed by opening the corresponding tab at the bottom of the extension window.
The Make duplication check before saving leads option is turned on by default, it makes sure that duplicates are constantly checked for by the system.
The Auto open plugin option can be toggled to turn on or off the automatic opening of the extension on a LinkedIn page.
The Display button on LinkedIn option can be toggled to turn on or off the automatic appearance of the button that opens up the extension window.
The Scan mode button toggles on or off Scan mode, which allows you to save more leads per 24 hours than the limit allows.